1bet Review – Rating for 1bet Sportsbook & Casino
In addition to numerous established betting providers, some of which have been around for several decades, we are increasingly coming across new bookmakers that make life tough for the long-established bookies by offering state-of-the-art design and competitive odds, thus creating a lot of competition on the market. Today, we want to thoroughly review one of these newer bookmakers in our detailed 1Bet test.
In our detailed 1Bet review, we will address the following questions, among others: Is 1Bet legitimate? How good are the 1Bet odds? What are the best betting strategies on 1Bet and how quickly do newcomers find their way around at this betting site?
Of course, we will also cover the different 1Bet deposit and withdrawal methods, describe the registration process in detail and inform you about the 1Bet welcome bonus and other promotions.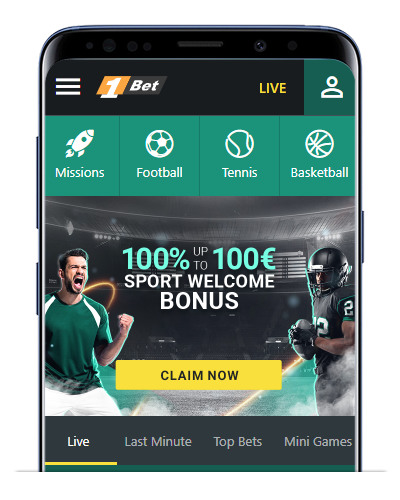 ✚ Trusted Bookmaker with highest payout rates ✚ Deposits and Payouts with numerous different payment methods including crypto currencies ✚ very high stake limits for Sports Betting and Casino ✚ huge betting offers with very attraktive odds ✚ solid Live Betting options and live customer support
Sign up with 1Bet and get 100 € Bonus
---
Table of Contents
---
Strengths & weaknesses of 1Bet
Before we introduce you to this bookmaker in detail, we would like to start by giving you a brief overview of its strengths and weaknesses:
+ Excellent layout
+ Excellent payout ratio
+ Extensive live betting offering
+ Plenty of e-sports bets
+ Many different deposit and withdrawal options
– Strict terms and requirements for the welcome bonus
– Live support not available in all languages selectable on the website
– Betting license only from Curacao
---
---
Important key data & information about 1bet
| | |
| --- | --- |
| Company | Bellona N.V. |
| Adress | Emoore N.V. Groot Kwartierweg 12, Willemstad, Curacao |
| Founded | 2010 |
| Company registration number | 120860 |
| Bookmaker license | 8048/JAZ2010-010 |
| Website | http://www.1bet.com |
| Support email address | csd@1bet.com |
| Live support (chat) | Yes 24/7 |
| Languages | English, French, German, Italian, Portuguese, Japanese, Hungarian, Chinese (Simplified), Chinese (Traditional), Norwegian, Finnish, Greek, Turkish, Arabic, Spanish, Russian, Vietnamese, Czech |
| Supported payment methods | Neteller, Skrill, Bank Transfer, VISA, Mastercard, Volt, Cryptocurrencies (but may vary by country). |
| Bonus | 100% bis zu 100$ & numerous other bonus programs |
---
Is 1Bet trustworthy
Is bookmaker 1Bet legit and trustworthy and will the deposited money be safe in the betting account? First of all, the company holds an official gambling license from Curacao. This comes with some advantages and disadvantages.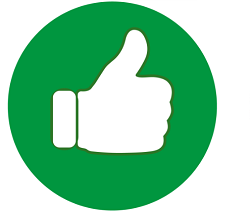 On the plus side, the bookie is particularly well-suited for high rollers who do not have to deal with low deposit and withdrawal limits and also encounter fewer restrictions when it comes to betting limits. Even with high betting amounts, the customer service has proven to be both flexible and helpful in our tests.
The downside is that some countries may suspend providers with a gambling license in Curacao, and/or demand a different gambling license. You should therefore never leave large amounts of money in the betting provider's account for a very long period of time, although we also advise this for all betting providers with an EU gambling license. In any case, the feedback from 1Bet customers on the web is overwhelmingly positive.
---
The 1Bet betting offer
At 1Bet, you will find a very large betting offering that leaves nothing to be desired. On the one hand, this concerns the numerous different types of sports, but also the countless types of bets. Especially for big soccer matches, you can bet on countless events in addition to the usual 3-way bets, half-time/full-time bets and over/under tips.
However, the betting range is also impressive when it comes to more niche sports. In our detailed 1Bet review, we found betting opportunities on hundreds of table tennis matches, for example, which are also neatly compiled in a "Daily Match List":
---
At 1Bet, in addition to betting on popular sports like soccer, you can also find a comprehensive range of more uncommon sports, such as table tennis, MMA, futsal and lacrosse.
Even more impressive, however, are the different bet types that can be found for popular sports like soccer. During our 1Bet test, we found an impressive 121 different betting markets for a Premier League match, each with numerous options to choose from:
---
It takes a lot of scrolling down to see all bet types for popular soccer games. For the bettors, on the other hand, this means that they can place their 1Bet picks as they please and that there are no limits to their imagination when it comes to betting.
In addition, the Bet Builder comes in handy, as it automatically makes suggestions that are coupled with lucrative odds.
---
E-Sports on 1Bet
Esports, which generates billions in revenue and has many loyal supporters through streamers, gamers, fans and betting enthusiasts, is not just a temporary phenomena in the betting business. In fact, it represents a steadily growing industry that is both an exciting and lucrative facet of the sports betting world due to its rapid dynamics.
Those who like to place Esports bets will find it hard to avoid 1Bet. Betting on virtual sports can be easily found in the top navigation bar of the betting provider and you will quickly notice that 1Bet pays just as much attention to esports betting as to classic sports.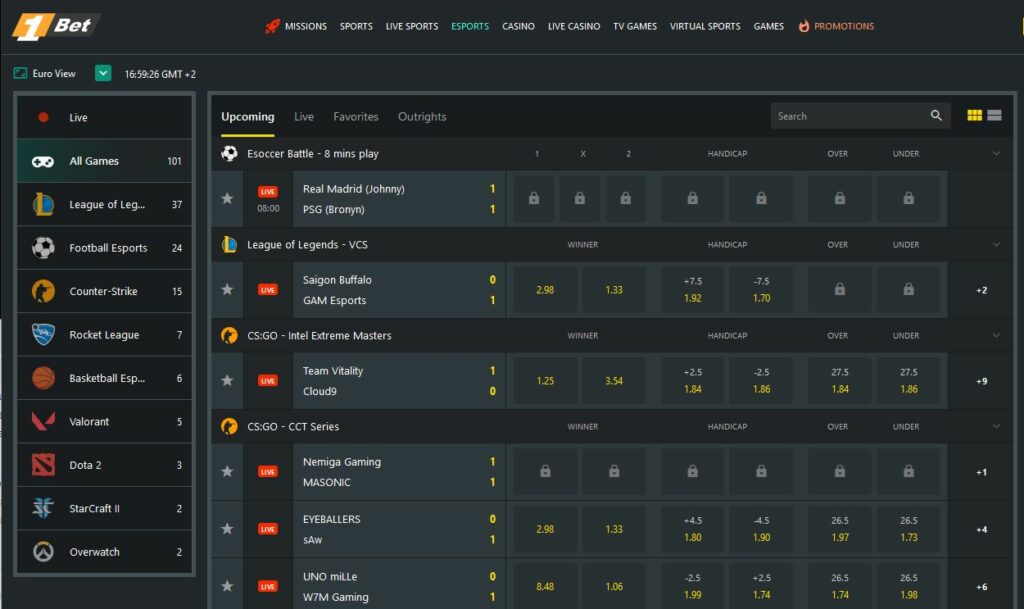 ---
Placing League of Legends bets or wagers on CS:GO is easy at 1Bet. On the left navigation bar one can find all the current Esports events that are being held live at the moment. Esports live betting is easy at 1Bet.
FunFact: In 2013, the U.S. government recognized professional eSports players as "real athletes" and thus made visa access for tournaments easier for them. This led to controversy: Are gamers really athletes, since they are not physically challenged? Nevertheless, intensive training and outstanding skills are essential for them.
---
1Bet Live Betting
Live betting is one of the biggest strengths of this bookmaker, which is why the site is perfect for those who choose this type of betting on a regular basis using the Overlyzer live betting tool. Indeed, the big advantage is that both Overylzer and 1Bet cover countless leagues for live betting.
1Bet Live Betting in combination with Overylzer
It's by no means a matter of course that live betting for the second highest league in Georgia is offered by a bookmaker. At 1Bet, you will not only find games from the big and well-known leagues in the live betting section, but also rather lesser-known divisions and teams.
This makes it the perfect choice for all live bettors who make use of Overlyzer to increase their live betting success rate.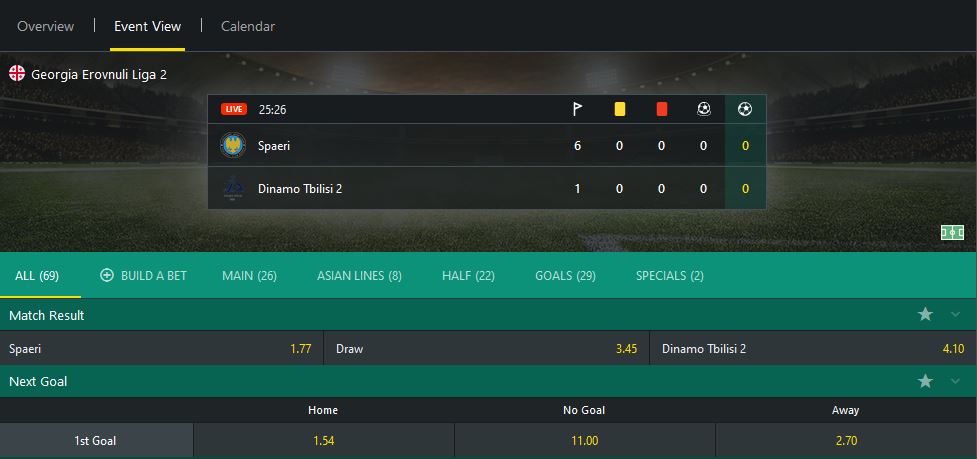 ---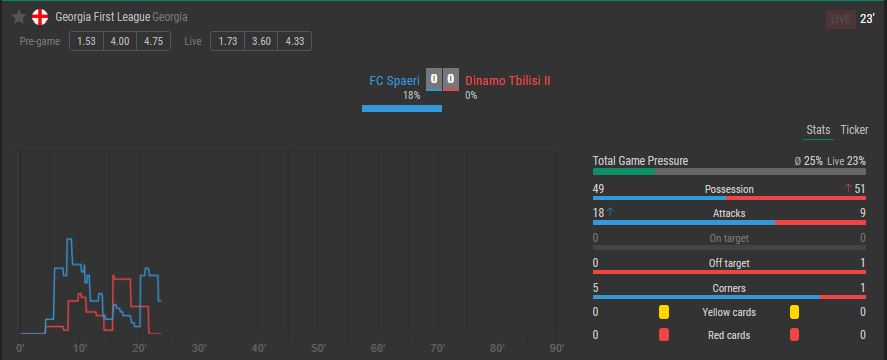 ---
Let's get back to the example from the second Georgian league. The game between FC Spaeri and the second team of Dynamo Tbilisi is available as a live bet at 1Bet. Since the betting tool Overlyzer covers more than 1000 leagues and competitions, you can see at a glance if the match is balanced or if a goal will be scored soon.
While many sports bettors get carried away with spontaneous and ill-considered live bets, with Overlyzer you can analyze every match live and gain a competitive edge by using this exclusive information.
---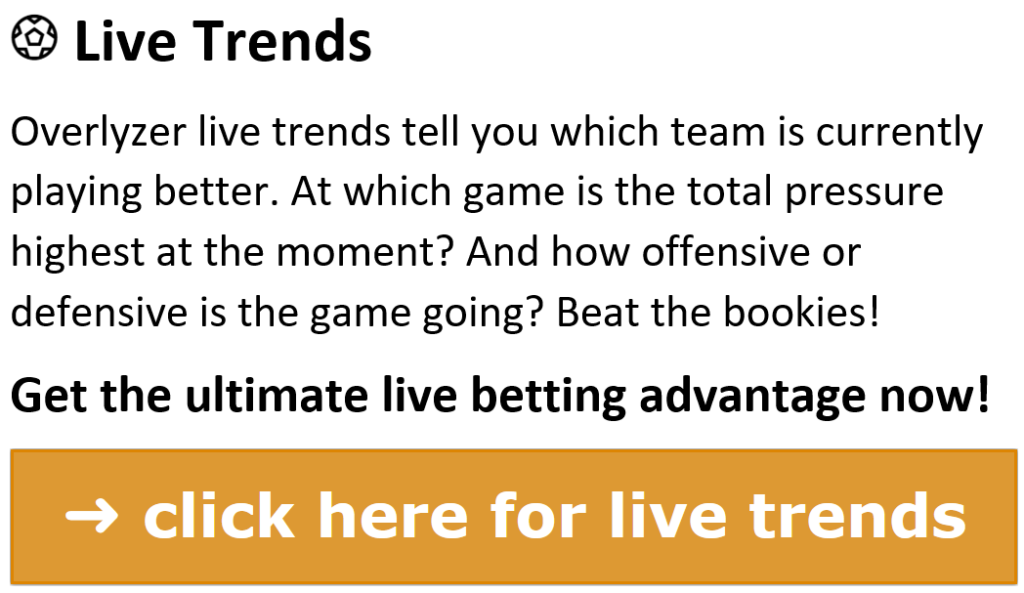 ---
Live betting strategy: Overlyzer features a sophisticated algorithm that automatically converts the pressure ratios of soccer matches into graphs. By using a filter, you can display only those matches in which the chance of a team scoring a goal soon is particularly high.
You can see exactly how this works in this video:

With the sophisticated filters you will see only the games that are relevant for your betting strategy. In this video you will learn how to use these filters properly and how to choose the best games for your betting strategy. On our YouTube channel you can find many more tutorial videos for the best betting tool on the market.
---
Deposit and withdrawal
Before you place your first bet, you will of course need to make a deposit into your 1Bet account first. 1Bet.com has a variety of ways to transfer money to the player account. You can fund your betting account after your 1Bet registration by bank transfer, credit card, electronic wallets or prepaid cards.
1Bet strives to provide a variety of deposit and withdrawal options for customers and continuously expands its offer. For regulatory reasons, it is possible that the existing deposit and withdrawal methods change. Depending on the country, some of the options described below are sometimes not available or only available to a limited extent.
| | | | |
| --- | --- | --- | --- |
| Payment Method | Deposit | Withdrawal | Fee |
| Credit card (VISA & Mastercard | Immediately | 1-5 business days | None |
| Bank transfer | Immediately | 1-5 business days | None |
| Klarna | Immediately | 1-5 business days | None |
| Paysafecard | Immediately | ———————— | —————————- |
| Neteller | Immediately | 1-10 hours | |
| Skrill | Immediately | 1-10 hours | None |
| Bitcoin and other cryptocurrencies | Immediately | 1-12 hours | None |
| Trustly | Immediately | 1-5 business days | None |
| Revolut | Immediately | 1-3 business days | None |
---
Many customers want to know if 1Bet offers Paypal? Unfortunately, like many other bookies, the bookmaker does not currently offer this convenient deposit and withdrawal method for legal and regulatory reasons. However, as you can see from our list above, there are good options for your 1Bet betting account.
---
Registration and betting bonus
The 1Bet registration process is simple and clear and can be completed in just a few minutes. After you have entered your email address, username and password, you need to fill in your contact information.
Again, this step is quickly done. Simply enter your first name, last name and place of residence, as well as the desired currency. Now you only need to enter your cell phone number and date of birth and you can create your account. If you don't want to subscribe to the newsletter, don't forget to remove the check mark at the bottom. If, contrary to expectations, you still have problems creating your 1Bet account, the live chat is available around the clock.
1Bet Bonuses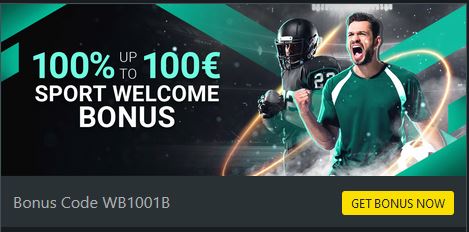 ---
1Bet offers a welcome bonus for all new customers since 2018. With the bonus code WB1001B you get 100% of your deposit credited up to an amount of 100 dollars/euros/pounds. If you already registered an account but haven't placed a bet yet, you can contact 1Bet customer service and the bonus amount will be credited to you.
However, if you have already placed a wager, then unfortunately it is no longer possible to claim the welcome bonus. Players from Estonia, Lithuania, Latvia, Moldova, Romania and Ukraine can unfortunately not participate in this promotion.
Welcome bonus not easy to clear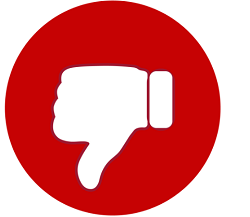 Note: 1Bet is a very promising bookmaker overall, which has many advantages over the long-established betting providers. However, there is room for improvement with this welcome bonus, as the bonus amount has to be wagered a total of 12 times.
This is a high requirement, which must be completed in 21 days on top of that. Customers with an active bonus are also not allowed to place bets with odds of less than @1.80 and certain NHL and NBA bets are also excluded.
Attractive free bets
Somewhat more interesting are other promotions like the 1Bet free bets. For example, before the start of a season, you get a €50 free bet if you bet on the overall winner of a big league. In 2023, you could choose Premier League, Ligue 1, La Liga, Bundesliga and Serie A for this, but the odds of the winner had to be between @1.80 and @3.80 and the bet had to be at least €50.
All promotions at a glance
A big plus is that the current bonus offers are clearly summarized on the 1Bet promotion page! In addition to free bets and other special offers, casino players will also get their money's worth at 1Bet, as there are plenty of casino promotions, some of which are also more generous than the sports betting bonuses.
---
Design and User Experience
The developers who created the 1Bet website design deserve a raise, because the user experience is terrific. The layout looks modern and well-organized, so that not only experienced sports bettors but also novice players will quickly find their way around.
Display your preferred odds format with just one click
Besides 21 available languages, there is another easily accessible option that every betting provider should have on their homepage. To the left of the list of languages, there is another pull-down menu that allows you to change the odds format with just one click.

You can quickly view the odds in your preferred format with just one click. Other betting providers often do not offer this option at all, or you have to search for a long time in the settings.
The navigation design is also well thought out. In the top navigation bar, you can switch between regular betting and live betting with a single click, and you can get to the casino games and Esports betting just as quickly.
In the left navigation bar, there is a search bar at the very top and also a link to live betting, which is a high priority at 1Bet. Below that, you can find the soccer section with the most popular competitions.
If you select the desired type of sport in the navigation bar on the left, you will find further highly useful options under the upper navigation bar, thanks to which you can get to the desired event in a flash.
Brilliant outline for long term bets
In the "Daily Match List" you can find all fixtures that take place on today's day. Alternatively, you can search for the specific match you want to bet on in the "All Leagues" section. If you prefer long-term bets, you can find all long-term bets on the menu item "Outrights" with just one click. This is an enormously useful addition, as with other bookies you often have to search for the respective championship bets in tedious detail.
Build your own bet
The "Build a bet"-option is also located in the mid-navigation bar. With this betting tool you can design your own bets in a matter of seconds. For example, you can combine a 3-way bet with an over bet for the same game.
In addition to the clean design, the fast page speed is also worth mentioning. The user can switch between the menu items without any delay and the website stood out in our extensive 1Bet review with fast loading times. This is a significant factor, especially when it comes to live betting.
1Bet App
Many bettors have asked us if a 1Bet app is available, because they could not find it in the Playstore or Appstore. There is currently neither a 1Bet Appstore nor a 1Bet Playstore app.
However, Android users can download an official 1Bet app from the company's website, which, like the 1Bet desktop variant, has a great design and usability!
---
1Bet betting odds
Where to find the best odds? After all, the best website design is useless if the betting provider's payout ratio is not compelling. The 1Bet payout ratio was slightly above the level of bet365 in our tests, making it one of the best in the betting industry.
How to compare betting odds?
The payout ratio, shows what percentage of the stakes a betting provider pays back to the players as winnings. A payout ratio of 100% would mean that all stakes are returned, but that would not be feasible for the betting provider. Most of the time, the payout ratio ranges between 90% and 95%. This means that the betting provider keeps the remainder, which he then uses to pay his staff and other costs.
This is how you calculate the payout ratio:
For 2-way bets:
Payout ratio (%) = (1/odds + 1/odds2) * 100
For 3-way bets:
Payout ratio (%) = (1/odds1 + 1/odds2 + 1/odds3) * 100
Odds1″, "Odds2" and "Odds3" are the odds offered for the respective outcomes.
On average, we came up with a 1Bet payout ratio of 93.67% for pregame bets. However, the payout ratio for the live bets we tested was even better, averaging 94.43%. Compared to most established bookmakers, 1Bet can impress with its fair payout ratio. Only 22Bet has the edge here, as the bookmaker has even reached a payout ratio of 98.4% for the biggest soccer matches, which is unique in the industry.
The payout ratio can vary depending on the sport and competition. For major events such as a World or European Championship, or the Champions League final, you will usually find a more generous payout ratio than for niche sports or games in smaller leagues.
---
1Bet Casino Review
1Bet gained a reputation as a sports betting provider, but the company is also attractive for fans of casino games. After all, the provider uses the popular CTXM software for the casino games.
CTXM is a Luxembourg-based company specialized in online gambling and part of the Com-Tec-Co SA group. With offices and development centers throughout Europe, they offer a wide range of gaming products and also hold important certifications.
Originally based in the financial sector, the company's main expertise is currently in software development for online gaming. Depending on customer needs, CTXM develops everything from simple apps to complete online gaming platforms for their clients.
At 1Bet Casino you can find the most popular slot games like Book of Dead and Gates of Olympus. Of course, you can also choose from the most popular table games, such as American and European roulette, craps, bingo, keno, video poker and, of course, blackjack.
As with many other providers, the 1Bet Casino welcome bonus is more generous than for sports bettors. With the code 1BWEL500 you get 100% on your deposit up to 500€! The minimum deposit is 20€ and the maximum bonus amount is 500€.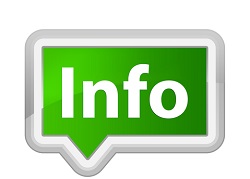 Since the money can be turned over faster in casino games than in sports betting, the bonus amount must be wagered 30 times.
Here is an example: If you deposit 50$ you will automatically receive 50$ with the bonus code. Now you have to wager 3000$ with casino games so that you can withdraw your amount. As with sports betting, you have 21 days to do this. Please consider the list of eligible games and further bonus conditions.
---
Tips & Strategies for Betting at 1Bet
Which types of bets are particularly well suited for 1Bet? As a wrap up, we would like to give you a few betting strategies along the way:
1Bet live betting strategy
As already described above, the bookmaker 1Bet impresses with a very rich live betting range. On the one hand, this concerns the selection of different leagues, but on the other hand also the attractive odds, as the payout ratio for live bets is particularly generous. For a live betting strategy, you should definitely have this bookie in your repertoire, especially since it can be excellently used in combination with our betting tool Overylzer.
Bitte einbetten: https://www.youtube.com/watch?v=uX1TTvBTlsI
In this tutorial video we explain how you can best use Overlyzer for live betting. On our YouTube channel you can find many other informative videos with tips and tricks for live betting.
Betting on a draw strategy
In our detailed review, we noticed that compared to other bookmakers, a bet on a draw for 3-way bets at 1Bet can show slightly higher odds on average. Therefore, a betting strategy is particularly suitable at this bookie, which is often overlooked:
We also cover the strategy "bet on a draw" in our detailed betting strategy section, where you can find 15 great betting ideas!
For the "Bettin on a draw Strategy" you need to look for matches where it will be challenging for both teams to achieve victory. For example, analyze teams from the higher leagues that play at home against slightly favored teams. The guests will often dominate the match due to the higher quality, but they won't always leave the pitch as winners.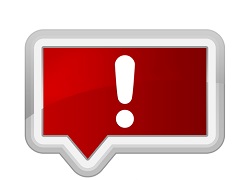 Use this strategy also for live betting. The longer the score is tied, the greater the chance that the bet will be successful. As long as the betting odds are above 2.618, you can also use the Fibonacci betting system. You can also find out how to do this on our betting strategy page.
1Bet fun and politics betting
1Bet is a bookmaker without any major weaknesses, which is why it is not only suitable for live betting. For example, we already made some long-term bets on the champions of different leagues and also use the bookmaker for ordinary pregame bets in our day-to-day work.
However, the bookmaker is also suitable for fancy funny bets. For example, bets can be placed on who will win the next presidential election in the United States: