Cameroon at the 2022 World Cup – Betting Odds & Tips
Cameroon has been a regular at World Cups since the 1980s. The five-time African champions have only missed three tournaments since 1982. At the tournament in Qatar, however, the country was drawn an extremely difficult group.
We analyze the squad of the African top team and provide you with the best Cameroon World Cup 2022 betting tips and predictions.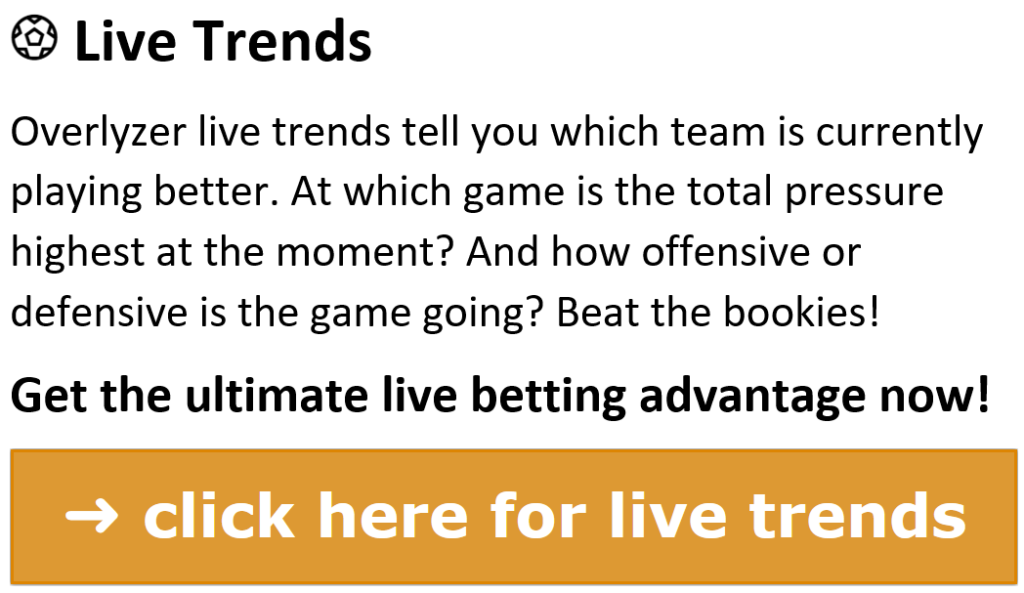 ---
Betting on Cameroon at the World Cup 2022
---

---
Best Bookmaker for World Cup Betting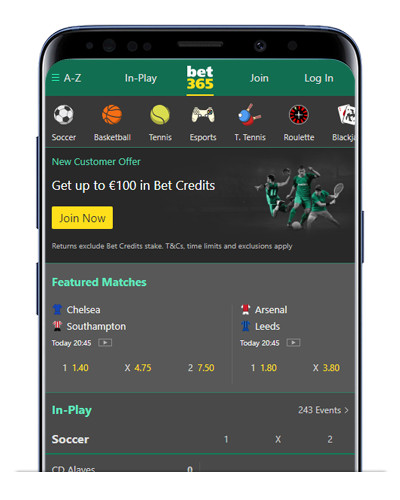 The most established name in world wide sports betting offers a huge range of betting options for new and experienced bettors. Bet365 is well known for great odds on sporting events from around the globe.
Bet365 Review
Sign up with Bet365 and get 100 €/$/£ Bonus
---
Cameroon Odds World Cup 2022
Together with Morocco, Cameroon is considered by bookies to be the second strongest African team at the 2022 World Cup. From the African federation only Senegal has lower odds to win the World Cup.
Football World Cup 2022 Winners Odds – top bookmakers
---
At top sportsbook 22Bet, there are odds of @285.00 for a World Cup win by Cameroon, but that puts the West African country in the bottom half of winning odds.
The tournament tree and the possible opponents in the knockout matches definitely bring advantages for the Cameroonians. However, the difficult Group G with Brazil, Serbia and Switzerland will already be challenge enough.
If Cameroon, coached by their former playing legend Rigobert Song, would get through the group, anything is possible for them. Still, betting on a final appearance – the first ever by an African team – is something for the most risk-averse punters.
Cameroon's group win would, of course, be a tangible sensation. Not only because one of the group opponents are World Cup top favorites Brazil. Serbia and Switzerland also clearly have the claim to qualify for the round of 16. Cameroon has a small advantage in that the Africans will first face Switzerland and then Serbia.
Since it is conceivable that Brazil will rotate a bit on the last matchday of Group G because they are already qualified, Cameroon could be the beneficiary.
Still, Cameroon winning the group would be an extremely risky bet.
Although Cameroon have some quality attacking players, 30-year-old Vincent Aboubakar is the only one who made it to the list for betting on the World Cup top scorer at our top bookmaker Bet365. Should he score more goals than all the stars at the 2022 World Cup, you could win back 151 times your stake.
The sports betting sites thus rate the possibility of a top scorer Vincent Aboubakar as high as, for example, Mexico's Raul Jiménez, Croatia's Ivan Perisic or Canada's center forward Cyle Larin.
Vincent Aboubakar to be World Cup top scorer @ 151.00 / Bet365
---
Current form and results
Cameroon have suffered just one defeat in their first six months and generally displayed strong form in the first half of the year. The highlight was certainly that Cameroon hosted the Africa Cup in January and February 2022, which Senegal won.
✚ check the 15 best sports betting strategies here
However, the hosts were also doing well themselves and certainly had a chance of a "home win." After beating the two surprise teams from Comoros and The Gambia in the knockout phase, they were only beaten by Egypt in a penalty shootout in the semifinals.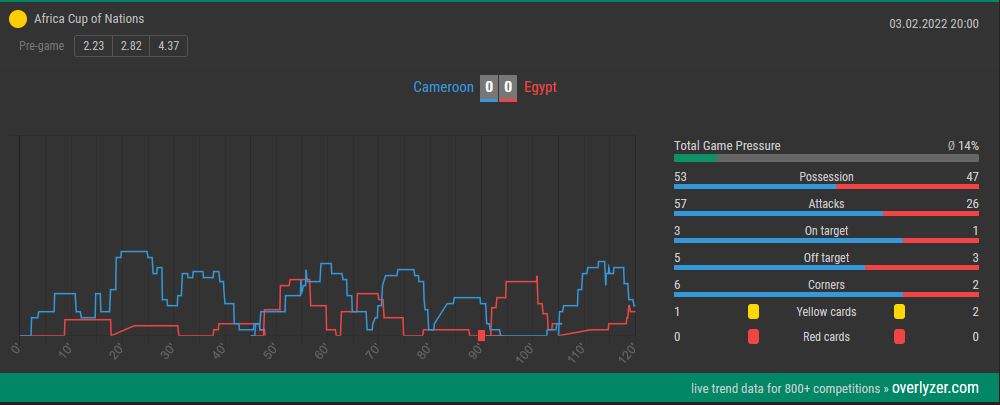 ➜ grab the ultimate live betting advantage with Overlyzer now!

Beat the bookmakers!
---
Thus, Cameroon only took third place at the Africa Cup on home soil after defeating Burkina Faso on penalties in the 'small final'. As a result, Portuguese coach Toni Conceicao had to resign and was replaced by Rigobert Song.
Song settled in well and managed to qualify for the 2022 World Cup after extra time against Algeria. The former fan favorite also brought a new spirit of optimism to the country after the Africa Cup was ultimately considered a disappointment.
However, the international fixtures in September were more than disappointing for Cameroon. In their first friendly they lost 2-0 to underdog Uzbekistan. Cameroon had much more possession than their opponents, but found few solutions against the tightly packed five-man backline.
The second test match in September was also lost – albeit under different circumstances. Against South Korea, the team again had little possession, but also failed to counterattack effectively and create quality chances.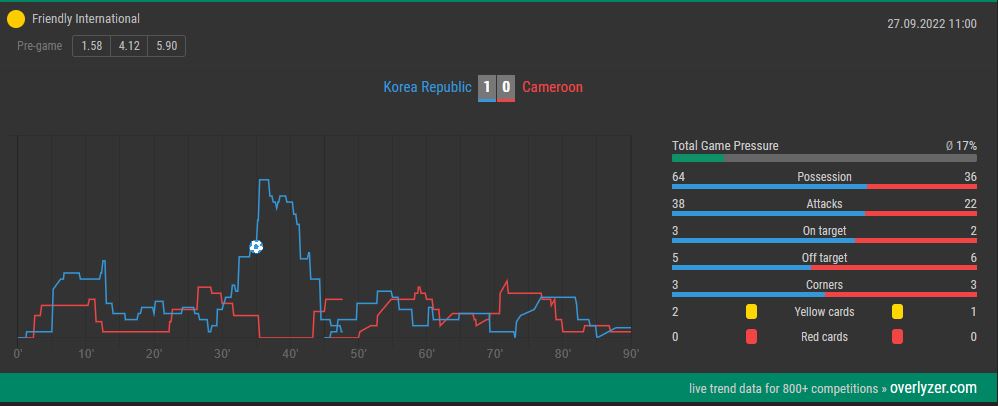 The central midfield in particular was disappointing in the 4-5-1 formation against South Korea. Cameroon will have to improve considerably here if they are to stand a chance of scoring in the difficult group with Brazil, Serbia and Switzerland.
---
Fun fact: Cameroon has never lost by more than a five-goal difference in its entire history. In 1984 against South Korea and in 1997 against Costa Rica they lost 5-0. The highest defeat in history occurred at the 1994 World Cup, when Russia defeated the Cameroonians 6-1. The match was also the main reason for a surprising World Cup top scorer: Oleg Salenko, a complete unknown striker, scored five goals and took the crown…
---
Further preparation and test matches
Currently, no further test matches of Cameroon's national team are scheduled. We update this page continuously and inform you immediately as soon as new dates for friendly matches are confirmed.
Cameroon international games in 2022
| | | | | | | | |
| --- | --- | --- | --- | --- | --- | --- | --- |
| Date | Opponent | Venue | Result | XG | Possession | Accuracy | Duels won |
| 09/01/2022 | Burkina Faso | H | 2 – 1 | 2.44 : 1.49 | 55,08% | 85,38% | 47,24% |
| 13/01/2022 | Ethiopia | H | 4 – 1 | 1.98 : 1.17 | 55,12% | 85,71% | 48,63% |
| 17/01/2022 | Cape Verde | H | 1 – 1 | 1.09 : 0.72 | 60,92% | 87,93% | 39,62% |
| 24/01/2022 | Comoros | H | 2 – 1 | 3.01 : 0.92 | 64,10% | 90,97% | 55,42% |
| 29/01/2022 | Gambia | H | 2 – 0 | 1.68 : 0.08 | 64,32% | 85,34% | 56,38% |
| 03/02/2022 | Egypt | H | 0 – 0 | 0.78 : 0.40 | 49,38% | 81,97% | 43,33% |
| 05/02/2022 | Burkina Faso | H | 3 – 3 | 2.09 : 0.75 | 62,10% | 87,17% | 46,93% |
| 25/03/2022 | Algeria | H | 0 – 1 | 0.32 : 0.84 | 60,01% | 85,88% | 39,71% |
| 29/03/2022 | Algeria | A | 2 – 1 (ET) | 1.25 : 1.89 | 35,36% | 70,57% | 44,35% |
| 09/06/2022 | Burundi | A | 1 – 0 | 1.89 : 0.03 | 62,48% | 86,02% | 55,40% |
| 23/09/2022 | Usbekistan | N | 0 – 2 | 1.03 : 1.20 | 68,50% | 87,29% | 52,51% |
| 27/09/2022 | Südkorea | N | 0 – 1 | 0.48 : 1.09 | 38,68% | 80,86% | 46,26% |
---
How to become a professional in-play tipster
Don't want to miss a match and see which team currently plays better than the opponent in over 1,000 leagues and competitions at a glance?

We recommend you to ➜ register at overlyzer.com – with our sports betting software you can follow matches from 160+ countries, set filters according to your desired criteria and retrieve them at any time.

This is how you become a professional in-play betting tipster!
---
Cameroon match schedule at the 2022 World Cup
Cameroon probably got the best possible draw in their overall difficult group: In the first game they will play against Switzerland and in the second game against Serbia. Thus, the high group favorite from Brazil is waiting only on the last matchday, which is usually the most pleasant option.
---
A lot can happen over the course of the first two rounds, and Cameroon could face a Brazilian team that already uses subs for the starting eleven on the final matchday.
---
Cameroon's World Cup squad
Cameroon travels to the World Cup in Qatar with a rather young team. Especially the density of the squad is quite high and so a big fight for the last remaining World Cup tickets – especially on the attacking positions – will break out before the tournament. The rather inexperienced team will be discussed in detail in our Cameroon World Cup 2022 analysis.
Cameroon Goalkeeper
The question about the goalkeeper is clearly settled for Cameroon. The 26-year-old André Onana, who is currently only second goalkeeper at Inter Milan, but is used in the Champions League, will be in goal for the Africans.
Onana is definitely a solid solution and the other, mostly young goalkeepers have no chance of getting past the thoroughly experienced Onana.
GK – André Onana (Inter Milan)
GK – Devis Epassi (Abha Club)
GK – Simon Ngapandouetnbu (Olympique Marseille)

---
Cameroon Center Back
Cameroon's central defense, which once featured the country's top players such as current coach Rigobert Song and Nicolas N'Koulou, is not ideally equipped in 2022. Most of the country's defenders currently play in France, but are not real performers at their clubs.
It was also visible in the international year so far that Cameroon conceded too many goals – also because the central defenders did not always act safely.
CB – Jean-Charles Castelletto (Nantes)
CB – Nicolas N'Koulou (Aris Thessaloniki)
CB – Christopher Wooh (Stade Rennes)
CB – Oumar Gonzalez (AC Ajaccio)
CB – Enzo Tchato (Montpellier)

---
Cameroon Fullbacks
Cameroon also currently has problems at the full-back positions. With Darlin Yongwa, only one player who plays in Europe is likely to make it into the squad. However, Collins Fai and Nouhou have the best chances to slip into the starting eleven, although they are also hardly international class players.
The two wing-backs are strong runners and fighters, but they are also too imprecise and have no notable strengths in the build-up or transition game.
RB – Collins Fai (Al Tai)
RB – Olivier Mbaizo (Philadelphia Union)
LB – Nouhou (Seattle Sounders)
LB – Darlin Yongwa (Lorient)

---
Cameroon Central Midfield
Because Cameroon operates in a 4-4-2 with two defensive midfielders, there aren't too many central midfielders in the squad. Here, coach Rigobert Song relies on defensive stability and mostly plays with Anguissa and Hongla, which is a good combination and can provide stability.
The density of the squad is not given here and the substitutes fall qualitatively, but the first suit fits quite well.
DM – Frank Anguissa (Napoli)
DM – Jean Onana (RC Lens)
DM – Martin Hongla (Hellas Verona)
DM – Samuel Oum Gouet (Mechelen)
DM – Gael Ondoua (Hannover 96)
DM – Georges Mandjeck (Nea Salamina Famagusta)
CM – Olivier Ntcham (Swansea City)
CM – Pierre Kunde (Olympiakos)

---
Cameroon Attack
Because Cameroon plays mostly with two wingers and also two strikers, with one of them being mostly highly anticipatory, there are plenty of options for the attacking positions. Up front, Vincent Aboubakar and Eric Maxim Choupo-Moting, two very experienced players, are the key players in the team.
But Cameroon also has plenty of quality on the wings, for example through Brentford's shooting star Bryan Mbeumo or the experienced and powerful Karl Toki Ekambi.
Given the great individual quality and balance in the attacking positions, it is not surprising that Cameroon always scores a lot of goals for an African team who normally tend to be 'low-scoring'.
RW – Bryan Mbeumo (Brentford)
LW – Karl Toko Ekambi (Lyon)
LW – Nicolas Moumi Ngamaleu (Dinamo Moscow)
LW – Georges-Kevin N'Koudou (Besiktas)
ST – Vincent Aboubakar (Al-Nassr FC)
ST – Jean-Pierre Nsame (Young Boys Bern)
ST – Eric Maxim Choupo-Moting (Bayern Munich)
ST – Léandre Tawamba (Al-Taawoun)

---
Cameroon Competition Flair
Cameroon had their finest hour in major events at the 1990 World Cup in Italy. Led by the legendary Roger Milla, the team advanced to the quarterfinals at that time and became the fan favorites of the tournament. There, they were defeated by England only after extra time.
Since then, however, the country has never made it past the group stage and has failed to reach the knockout phase five times in a row. Cameroon failed to score in its last two appearances at the tournament in 2010 and 2014. Cameroon will face Brazil in the 2022 World Cup for the third time in a World Cup group stage.
At the Africa Cup, Cameroon are always among the favorites and are usually regarded as a team with tournament experience. At World Cups, however, things are different and they tend to be underdogs from whom not much is expected.
The strong 1990 tournament was more of an unexpected runaway success, but since then Cameroon has hardly made a splash.

---

---
Cameroon World Cup History
In 1982, Cameroon took part in a World Cup for the first time. At that time, the team sold itself dearly and managed a draw against Peru, Poland and Italy in the group stage. Nevertheless, they were eliminated from the group in third place.
In 1990 in Italy the team showed its best side and surprisingly won the group with Romania, Argentina and the Soviet Union. In the round of 16, Colombia was defeated after extra time, and only in the quarterfinals the end of the line was reached – also after extra time – against England.
---
Between 1994 and 2014, Cameroon qualified for five of a possible six tournaments, but never made it past the group stage. Of the 15 World Cup matches during that time, Cameroon won only one: a 2002 victory over Saudi Arabia.
Cameroon did not take part in the last World Cup in Russia in 2018 after clearly failing to qualify. The 2022 World Cup in Qatar will thus be the first major global event for Cameroon in eight years.
---
FAQ – Questions and answers about Cameroon at the 2022 World Cup
Who is the coach of Cameroon at the 2022 World Cup?
Cameroon's team manager for the past few months has been Rigobert Song, the country's record national team player, who is considered the most inexperienced coach at the 2022 World Cup. Song was previously been the assistant coach of numerous international bosses, but has virtually no head coaching experience himself.
Who are Cameroon's stars at the 2022 World Cup?
Cameroon's biggest stars at the 2022 World Cup will play in the offense. Vincent Aboubakar is the team's most prolific striker, but Toko Ekambi and Mbeumo are also worth keeping an eye on. Furthermore, midfielder Zambo Anguissa of Napoli is one of the stars of the team.
Who will Cameroon play at the 2022 World Cup?
Cameroon will start the World Cup with a match against Switzerland (November 24). In the second group match, the team will face Serbia (November 28) and in the third match, World Cup favorites Brazil will be waiting (December 2).
How many times have Cameroon been World Champions?
Cameroon has never won the World Cup. The country's greatest success at the World Cup came in Italy in 1990, when it was defeated by England in the quarterfinals.
Who is Cameroon's record international?
Cameroon's record international is the current team manager Rigobert Song, who made 137 caps for his home country between 1993 and 2010. Samuel Eto'o and Geremi Njitap share second place with 118 caps.
Who is Cameroon's record goalscorer?
What is the nickname of the Cameroon national team?
The national team of Cameroon is also called "Lions indomptables", meaning "the untamable lions". However, the team is usually just called "the lions".