Denmark at the 2022 World Cup – Betting Odds & Tips
Denmark is one of the big dark horses at the 2022 World Cup – an assessment that most experts now share. But what makes Kasper Hjulmand's team so strong? Who are the Danes' best players? Where does Denmark have weaknesses?
We analyze the strong squad of the team and look at the best World Cup 2022 odds & bets for Denmark!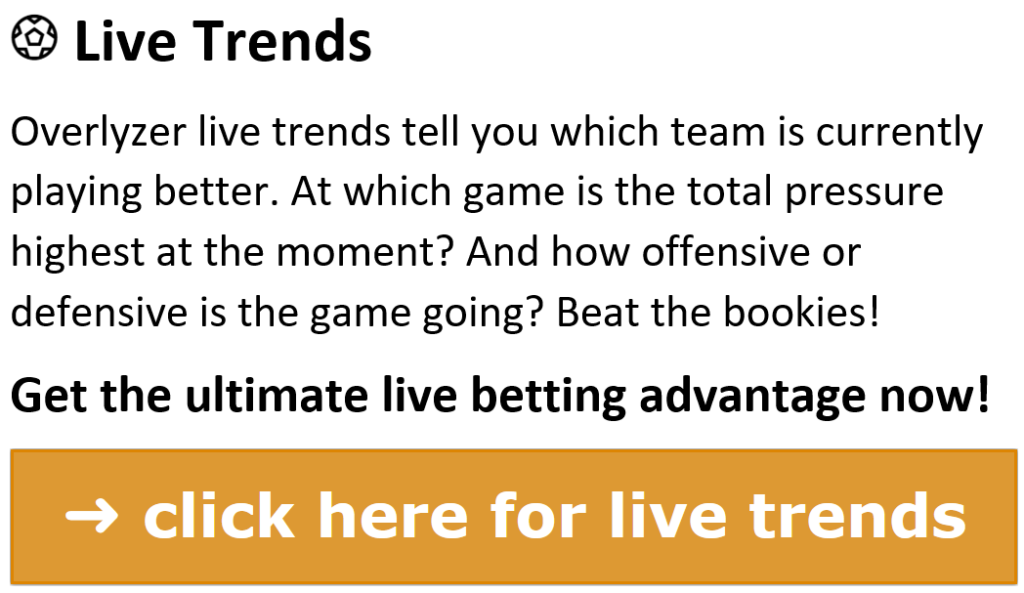 ---
Table of contents: Betting on Denmark at the 2022 World Cup
---
---
Best Bookmaker for World Cup Betting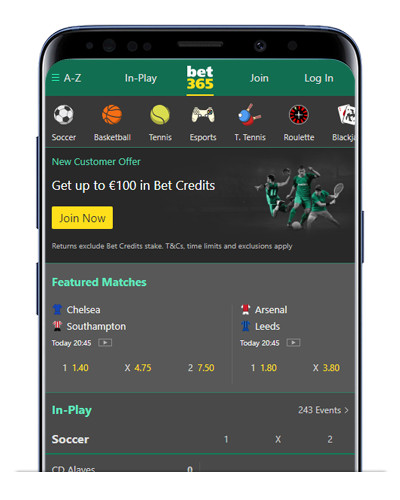 The most established name in world wide sports betting offers a huge range of betting options for new and experienced bettors. Bet365 is well known for great odds on sporting events from around the globe.
Bet365 Review
Sign up with Bet365 and get 100 €/$/£ Bonus
---
Denmark odds World Cup 2022
Most bookies see Denmark as a possible dark horse at the 2022 World Cup in Qatar. At our best sports betting site Bet365, there are odds of @29.00 for a World Cup win of the Danes, which means that only twelve national teams are rated stronger by the bookies.
Football World Cup 2022 Winners Odds – top bookmakers
---
The Danes should not be underestimated, as the 2021 European Championship showed, where "Danish Dynamite" was eliminated in the semifinals.
The road to the final is of course a long and rocky one, but especially if Denmark manages to win Group D, they could get a good draw for the further tasks. At the European Championship last year, Denmark showed impressively how strong they are in knockout games or "finals".
Accordingly, a final appearance by the Hjulmand eleven is probably not impossible.
The big favorite to win Group D is France, who enter the tournament as the reigning World Champions. However, according to the odds comparison, Denmark has the second best chance of finishing first in the group.
In addition, Denmark won its last encounter with France in Paris in the UEFA Nations League. The French will be warned about the strong Danes and will not underestimate the team. Despite high odds, a group win for Denmark seems quite possible.
---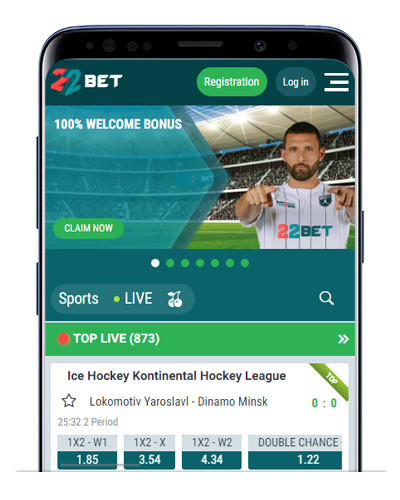 22Bet offers sports betting with high stakes and win limits. In addition, the betting company has a wide range of bets available. Customers who play with higher stakes and do not want to compromise on the betting selection will find 22Bet a great choice!
22bet Review
Sign up with 22BET and get 122 € Bonus
---
A small shortcoming in the team of the Danes is the lack of a real goalgetter, as most other top teams have in their squads. In Denmark, the responsibility of scoring goals is distributed among many different shoulders and there is no classic target player.
In addition, some of Denmark's defensive players are also very dangerous inside the opposing box and score again and again, for example, from set pieces. This "one" super scorer does not exist in the Danish national team and so the odds on a World Cup top scorer from Denmark are very high.
The best chances are given to the two attackers Andreas Cornelius and Kasper Dolberg – but usually only one of the two center forwards of the team will play. Players like Skov Olsen, Wind or Eriksen are given even clearer outsider roles.
Andreas Cornelius to be World Cup top scorer @ 101.00 / Bet365
Kasper Dolberg to be World Cup top scorer @ 101.00 / Bet365
Andreas Skov Olsen to be World Cup top scorer @ 151.00 / Bet365
---
Current form and results
In the first half of 2022, Denmark presented itself extremely confident and delivered dynamic performances and sometimes surprising results. They lost to Croatia at home in the UEFA Nations League, but won against France away in Paris.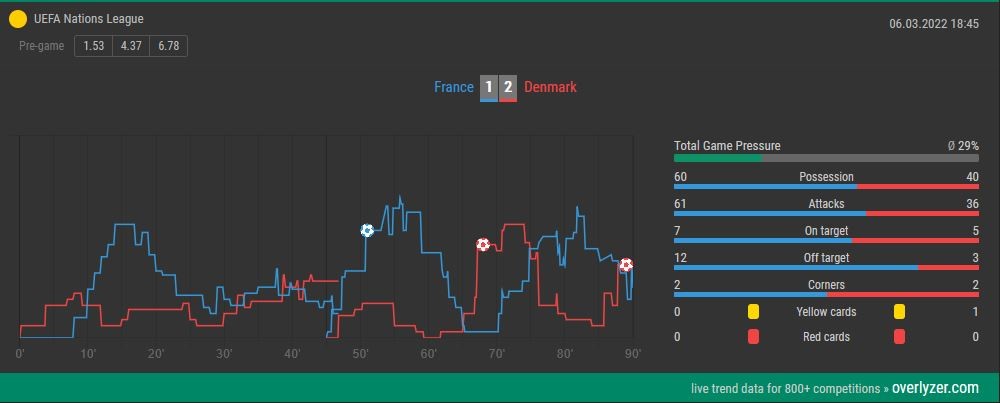 ➜ grab the ultimate live betting advantage with Overlyzer now!

Beat the Bookmakers
---
But it wasn't just the performances in the Nations League that were impressive. In 2021, they played nine consecutive World Cup qualifiers without dropping a single point and also didn't concede eight games in a row.
At the 2021 European Championship, Denmark quickly recovered from the shock of Christian Eriksen's cardiac arrest, knocking out Wales and the Czech Republic in the knockout phase and only losing to England in the semifinals after extra time.
In September, Denmark also wrapped up the UEFA Nations League group with a win over France. The 2-0 victory against the reigning world champions was now the fourth competitive match in a row that Denmark have not lost to France. The last time Denmark lost to France in a tournament was in the group stage of the 2020 European Championship!
However, oddly enough, Denmark did not win the Nations League group – because they suffered the only two defeats each time against 2018 World Cup finalists Croatia.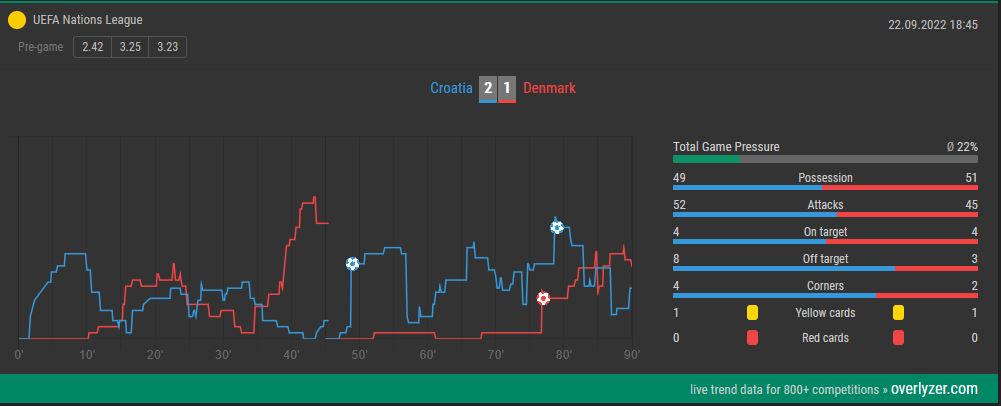 Even if one or the other key player was spared or only substituted in the course of the game, it is striking how Denmark struggle against the strong Croatians. It seems that dynamic, explosive opponents suit the Danes better than a team with a match plan based on strong technique.
The bottom line is that there are few teams more up-and-coming than Denmark in 2022. This team has found itself, is connected like a family and balanced, and arguably has more upside potential to boot.
Fun fact: Denmark slipped into the European Championship field of (only 8) participants in 1992 in place of war-torn Yugoslavia – and became European champions.
Some of the players came to the tournament straight from vacation, and in the course of preparation, the selection didn't stress much and didn't hold big hopes up either. The players reported that in the run-up to the tournament they preferred to eat burgers…
---
Further preparation and test matches
Currently, no further preparation matches of the Danish national team are scheduled.
We update this page continuously and inform you immediately as soon as new dates for friendly matches are determined.
Denmark International Games in 2022
| | | | | | | | |
| --- | --- | --- | --- | --- | --- | --- | --- |
| Date | Opponent | Venue | Result | XG | Possession | Accuracy | Duels won |
| 26/03/2022 | Netherlands | A | 2 – 4 | 0.97 : 2.37 | 39,30% | 89,48% | 54,91% |
| 29/03/2022 | Serbia | H | 3 – 0 | 1.85 : 1.43 | 46,48% | 83,26% | 58,62% |
| 03/06/2022 | France | A | 2 – 1 | 0.97 : 2.12 | 40,48% | 84,25% | 45,86% |
| 06/06/2022 | Austria | A | 2 – 1 | 0.92 : 2.42 | 41,18% | 80,29% | 41,33% |
| 10/06/2022 | Croatia | H | 0 – 1 | 0.55 : 1.01 | 45,55% | 86,51% | 49,13% |
| 13/06/2022 | Austria | H | 2 – 0 | 1.47 : 0.37 | 51,73% | 87,70% | 48,76% |
| 22/09/2022 | Croatia | A | 1 – 2 | 0.56 : 1.03 | 49,39% | 87,10% | 48,87% |
| 25/09/2022 | France | H | 2 – 0 | 1.23 : 1.21 | 50,23% | 83,69% | 45,70% |
---
Don't want to miss a match and see which team is better than the opponent in over 1,000 leagues and competitions at a glance?

We recommend you to ➜ register at overlyzer.com – with our software you can follow matches from 160+ countries, set filters according to your desired criteria and retrieve them at any time.

This way you will become a professional football live tipster!
---
Match Schedule Denmark at World Cup 2022
In the first match of the group stage, Denmark will face the group's underdog Tunisia. The technically good, versatile Tunisians should not be underestimated, but a win here should be possible for the Danes.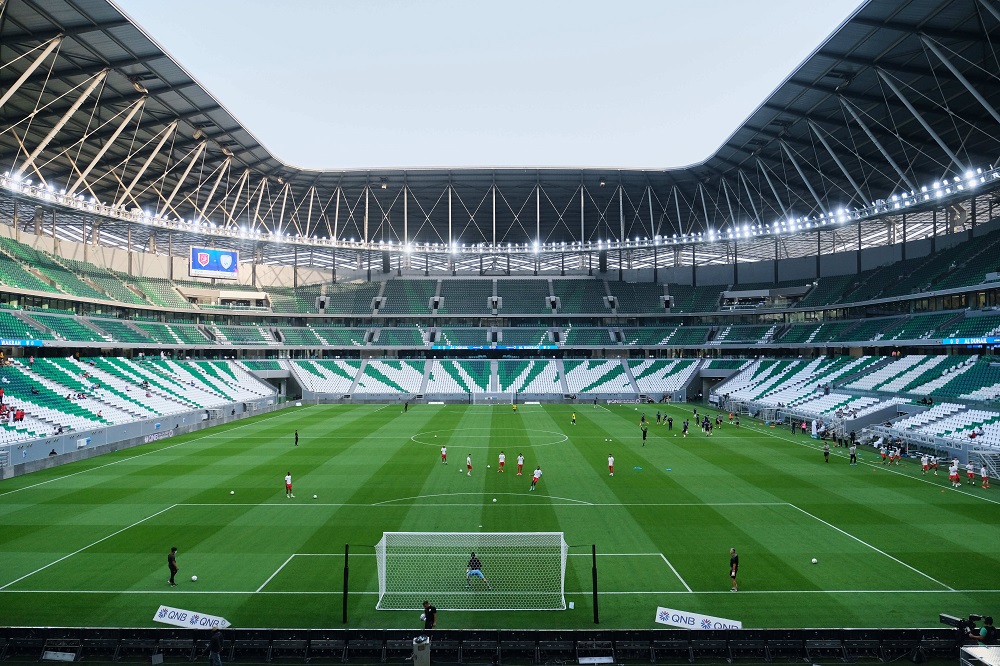 ---
The second matchday in Doha will see the top-of-the-table clash between Denmark and France, before the Danes face the second big underdog in the group, Australia, on the final matchday.
---
Denmark's World Cup squad
Denmark has a well-balanced, strong team that, unlike many other World Cup participants, has already found its first eleven. Coach Kasper Hjulmand should not be up for too many experiments and Denmark will mostly play with their regular line-up. The best players of the Danes are to be found in the defense. We deliver a Denmark World Cup squad analysis for you!
Denmark Goal Keeper
There is hardly any other team where the question of the goalkeeper is as clear as it is for Denmark. Kasper Schmeichel, the now 35-year-old son of goalkeeping legend Peter Schmeichel, is clearly the Number 1 in the Danish goal.
It was only in the summer that he moved to OGC Nice after a decade with Leicester City, where he is the first-choice goalkeeper again and thus be well warmed up for the tournament in Qatar.
GK – Kasper Schmeichel (OGC Nice)
GK– Oliver Christensen (Hertha BSC)
GK – Frederik Rönnow (Union Berlin)

---
Denmark Center Backs
Denmark has several top-class center backs who play for some of the best clubs in the world and are real fighting machines, especially at major competitions. Simon Kjaer, for example, who is no longer a regular, became a true Danish legend on and off the pitch at the 2021 European Championship.
With players like Christensen and Anderson, Denmark has a good mix of build-up strength and physicality. Especially in the air, the Danish central defense is very difficult to overcome.
In addition, team boss Kasper Hjulmand's defensive line is flexible enough to switch spontaneously between a four-man and five-man backline.
CB – Andreas Christensen (FC Barcelona)
CB – Joachim Andersen (Crystal Palace)
CB – Victor Nelsson (Galatasaray)
CB – Simon Kjaer (AC Milan)

---
Denmark Fullbacks
Not only the lineup at the full-back positions, but also the individual players' style of play are one of the heart pieces of the Danish team. The extremely physical constellation with Kristensen on the right and Maehle on the left are one reason why the Danes are so difficult to defend against.
The two wing defenders always fill up their heatmaps, are constantly on the move and have a tremendous attacking drive.
RB – Rasmus Kristensen (Leeds United)
RB – Alexander Bah (Benfica)
LB – Joakim Maehle (Atalanta Bergamo)
LB – Jens Stryger Larsen (Trabzonspor)

---
Denmark Central Midfield
Denmark's central midfield is definitely combative and intelligent in their decisions, though not perfectly balanced. The better players here tend to be found on the offensive side, with Tottenham star Pierre-Emile Höjbjerg becoming a hugely important link player between defensive and offensive areas.
It's the same with Brentford's Mathias Jensen, who is an intelligent box-to-box midfielder.
While Christian Eriksen enjoys the status of a legend in the center attacking midfield, Frankfurt's top newcomer Jesper Lindström quietly moved up and could soon take on an even more important role in the Danes' midfield.
The classic defensive midfield drops off a bit, partly because Sevilla player Thomas Delaney has had a tough time lately and hasn't always played on the top of his potential. Overall, however, the Danes have a good mix of routine, youth and, above all, accurate and technical fine play.
DM – Christian Norgaard (Brentford FC)
DM – Thomas Delaney (Sevilla FC)
CM – Pierre-Emile Höjbjerg (Tottenham Hotspur)
CM – Mathias Jensen (Brentford FC)
CM – Daniel Wass (Brøndby IF)
CAM – Christian Eriksen (Manchester United)
CAM – Jesper Lindström (Eintracht Frankfurt)

---
Denmark Attack
In terms of squad density on the attacking positions, Denmark has some strong players in its ranks, but the "specialists" are a bit lacking. This also has to do with the situation of some important players at their clubs.
Braithwaite in Barcelona, Poulsen in Leipzig and Dolberg in Nice, for example, are not undisputed regulars. The Danish team is therefore currently lacking real "top players" like they had in Jon Dahl Tomasson or Brian Laudrup.
On the other hand, the wingers are very dynamic and are always pushing forward, as can be seen with Brugge's Andreas Skov Olsen or Brentford's Mikkel Damsgaard.
In the Danish offense, the responsibility is therefore distributed on several shoulders, which will probably be more of a disadvantage than an advantage given the lack of a reliable goalgetter.
RW – Andreas Skov Olsen (FC Bruges)
RW – Robert Skov (TSG Hoffenheim)
LW – Mikkel Damsgaard (Brentford FC)
ST – Jonas Wind (VfL Wolfsburg)
ST – Andreas Cornelius (Trabzonspor)
ST – Martin Braithwaite (FC Barcelona)
ST – Yussuf Poulsen (RB Leipzig)
ST – Kasper Dolberg (OGC Nice)

---
Denmark Competition Flair
Never before players stood together united at a tournament as the Danes did at the 2021 European Championships, when their superstar Christian Eriksen collapsed motionless. The Danes put on a model demonstration of team spirit and fair play, and despite the initial shock, they gradually began to play an incredibly strong tournament.
This was not the first time we saw this from the Danes. The 1992 European Championship, when they sensationally lifted the trophy in the end, is also a good example of the sympathetic soccer nation's good mix of looseness and seriousness.
So far, Denmark has only participated in five World Cups, but four times they made it past the group stage. In France in 1998, they lost to Brazil in the quarter-finals.
We are betting that Denmark will at least reach the quarter-finals, because they currently have a really committed and high-quality squad.

---
---
World Cup history of Denmark
Denmark was rather a late starter on the international football stage. The first time "Danish Dynamite" – which got this name around this time – managed to qualify for a World Cup was in 1986. They promptly made it through the group stage before losing against Spain in the round of 16.
Denmark's greatest success at a World Cup came in France in 1998, when they won a group that included the hosts (who went on to become World Champions), South Africa and Saudi Arabia, and also eliminated Nigeria in the round of 16 before narrowly losing to Brazil in the quarterfinals.
Denmark has appeared in three of the last five tournaments, reaching the round of 16 twice, including in Russia in 2018, where they were then eliminated by eventual finalists Croatia after penalties.
---
The 2022 World Cup will now be the first for current coach Kasper Hjulmand, who has an interesting CV and has never been a first division footballer himself. He only played for smaller clubs and ended his career at the age of 26, but is now considered one of the most interesting coaches in Europe who has yet to manage top teams.
---
FAQ – Questions and answers about Denmark at the 2022 World Cup
Who is the coach of Denmark at the 2022 World Cup?
For the past two years, Denmark has been coached by 50-year-old Kasper Hjulmand, who previously coached Nordsjaelland, Mainz and Lyngby. The Dane is considered an excellent judge of character and a good motivator.
Who are Denmark's stars at the 2022 World Cup?
For Denmark, the team is the star. The most famous individual players are Christian Eriksen of Manchester United, Pierre-Emile Höjbjerg of Tottenham Hotspur and Andreas Christensen of FC Barcelona.
Who will Denmark play against at the 2022 World Cup?
In the first group match in Group D, Denmark will face Tunisia (Nov. 22). On the second matchday, there's the clash with World Cup top favorites France (Nov. 26), and on the final matchday, Denmark will face Australia (Nov. 30).
How many times has Denmark been world champion?
Denmark have never been World Champions – their best result at a FIFA World Cup was a spot in the quarter-finals in 1998, although they did sensationally win the European Championship in Sweden in 1992.
Who is Denmark's record international?
Goalkeeping legend Peter Schmeichel played the most games for Denmark. Once the best goalkeeper in the world, he was capped 129 times for his country. He is closely followed by former top striker Dennis Rommedahl, who played 126 games, and center back Simon Kjaer, who is still active and has 119 caps (as of September 2022).
Who is Denmark's record goalscorer?
Jon Dahl Tomasson and Poul Nielsen have scored the most international goals for Denmark. Tomasson scored an impressive 52 times between 1997 and 2010, while Nielsen scored the same number of goals from 1912 to 1925. Current team captain Christian Eriksen is fifth in the all-time goalscorer list with 38 goals (as of September 2022).
What is the nickname of the Danish national team?
Due to the team's dynamic and explosive style of play, the Danish national team is known as "Danish Dynamite" both nationally and internationally. Previously, the team was also known simply as "De Rød-Hvide," meaning "the Red and Whites."