Brazil vs. Serbia Prediction, Betting Tips & Odds | World Cup 2022
Brazil, the number one favorite to win the World Cup, will start the tournament in Group G with a match against Serbia. The game will take place on Thursday, November 24, 2022 at 7pm GMT at the Lusail Iconic Stadium in Lusail.
Here you can find a preview and analysis of the first match of the "Selecao" and we will also provide you with the best Brazil – Serbia betting tips and predictions.
Brazil are hoping that they will not only play the opening game at the Lusail Iconic Stadium, but also the last game of the tournament, as the venue will also host the grand final. On the way there, they don't want to show any weaknesses despite being in a tricky group G.
Latest betting odds Brazil vs. Serbia
Brazil will probably be the favorite in almost every match of the World Cup – including the first duel with Serbia.
One of our top bookmakers Betsson offers best odds of @1.44 for a win by Brazil. A draw is offered at @4.76 at 22Bet and a surprise win for Serbia would bring high odds of @8.00 at Bet365.
---
Fun Fact: The Brazilian national team has never been coached by a foreign coach. To date, there have been 34 national team coach appointments – some of whom have held the job multiple times – and all of them were born in Brazil.
This is something the Brazilians have in common with other proud soccer nations like Germany or Argentina.
---

---
Top Bookmaker for World Cup Betting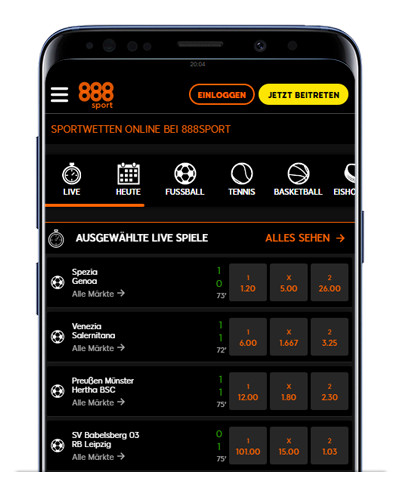 A reliable online betting platform provided by dedicated in-house built software, and a consistently attractive offer of popular and interesting sports make Betsson a favourite sports betting provider for many players worldwide.
Betsson Review
Sign up with Betsson and get 10 €/$/£ Free Bet
---
World Cup 2022 Betting Brazil vs. Serbia
---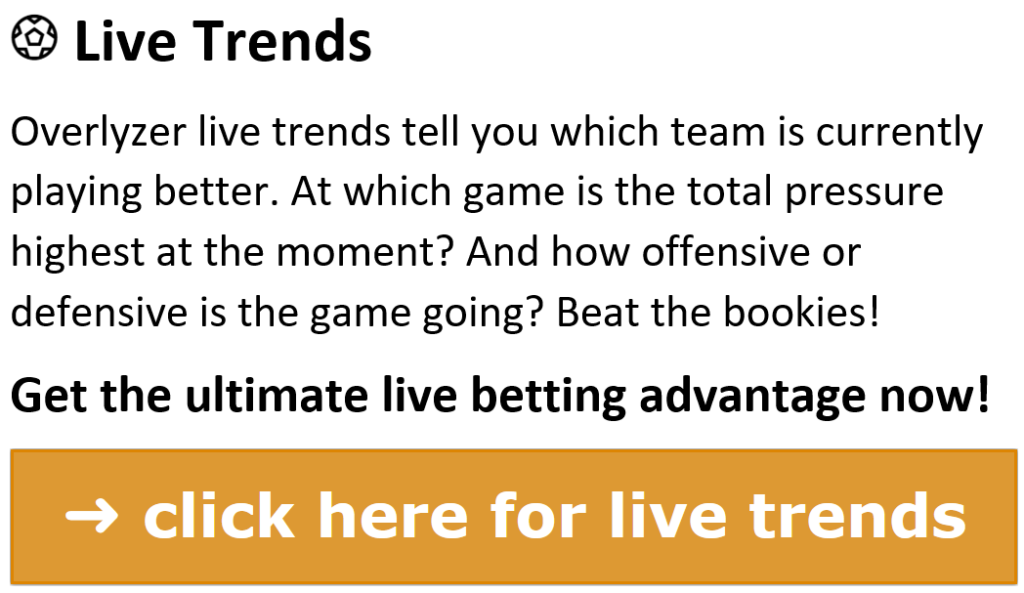 ---
Brazil World Cup 2022 Preview
Brazil have been waiting for a World Cup title for 20 years now. In 2002, the tournament's record winner won the prestigious trophy for the fifth time. Statistically speaking, a new World Cup title for Brazil is long overdue – and there are a number of reasons to believe that the Brazilians can make it happen again this year.
Brazil's team is incredibly well-balanced and bursting with technical class. In attack, team boss Tite can call on stars like Vinicius Junior, Neymar and Raphinha. In midfield, top players such as Fabinho and Casemiro are pulling their weight. And in defense, Brazil can rely on Marquinhos, Eder Militao, or experienced player and captain Thiago Silva.
The most impressive part of the Brazilian team, however, is the goalkeeper. Here, Tite could throw both Liverpool goalkeeper Alisson Becker and Manchester City's Ederson into the race.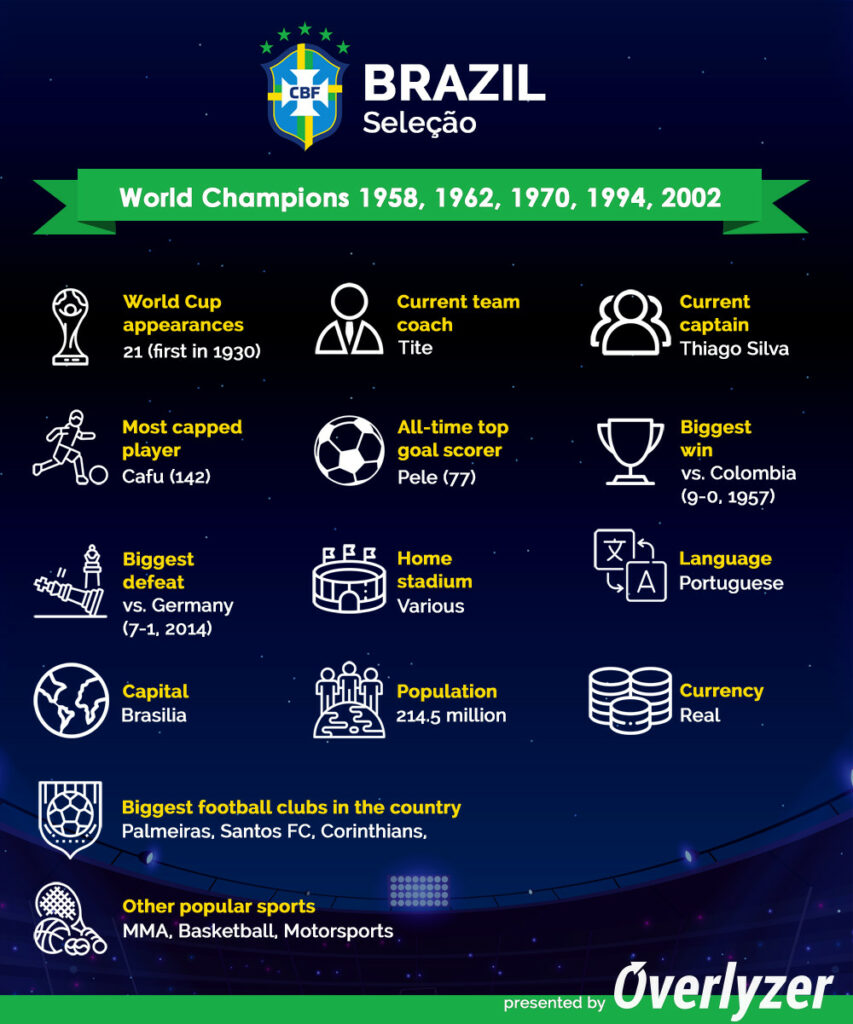 ---
The Brazilians are also well-rehearsed and consistent, as the international matches in 2022 showed. In the last two friendlies against Ghana and Tunisia alone, the team scored eight goals. Brazil have now gone undefeated for 15 games. The last defeat – albeit a very painful one – came against Argentina in the final of the Copa America in July 2021.
If you look at the depth of the squad and the possibilities that Brazil enjoy, you can immediately see why the best bookmakers see the Brazilians as the top favorites to win the World Cup.
It is clear that there is no way to get past the "Selecao" on the way to the title and it can be assumed that the Brazilians will have no problems in the group stage.
> Read all about Brazil´s World Cup squad
Brazil last three games
| | | | | | | | |
| --- | --- | --- | --- | --- | --- | --- | --- |
| Date | Opponent | Venue | Result | XG | Possession | Accuracy | Duels won |
| 06/06/2022 | Japan | N | 1 – 0 | 3.31 : 0.51 | 53.69% | 88.10% | 52.46% |
| 23/09/2022 | Ghana | N | 3 – 0 | 4.66 : 0.53 | 60.98% | 92.68% | 52.55% |
| 27/09/2022 | Tunesia | N | 5 – 1 | 2.30 : 0.62 | 63.00% | 90.61% | 50.97% |
---
Serbia World Cup 2022 Preview
Serbia are coming to the World Cup in Qatar with a number of players who are absolute top performers at their clubs. This is the case, for example, with Lazio midfielder Sergej Milinkovic-Savic, Juventus star striker Dusan Vlahovic, and Serbian and Ajax team captain Dusan Tadic.
Dragan Stojkovic's squad also has some more exciting footballers across the board, although they have not yet gained any major experience at World Cups. This is only the third World Cup for the Serbs, and they were eliminated in the group stage at each of the previous.
In the last UEFA Nations League, Serbia did not take part in the top group, but only played in the B group, which they won. This is a great achievement, as the team faced some difficult opponents in Norway, Sweden and Slovenia, but largely dominated them.
Serbia took 13 points from six games, beating the strong Swedes and Norway with star striker Erling Haaland.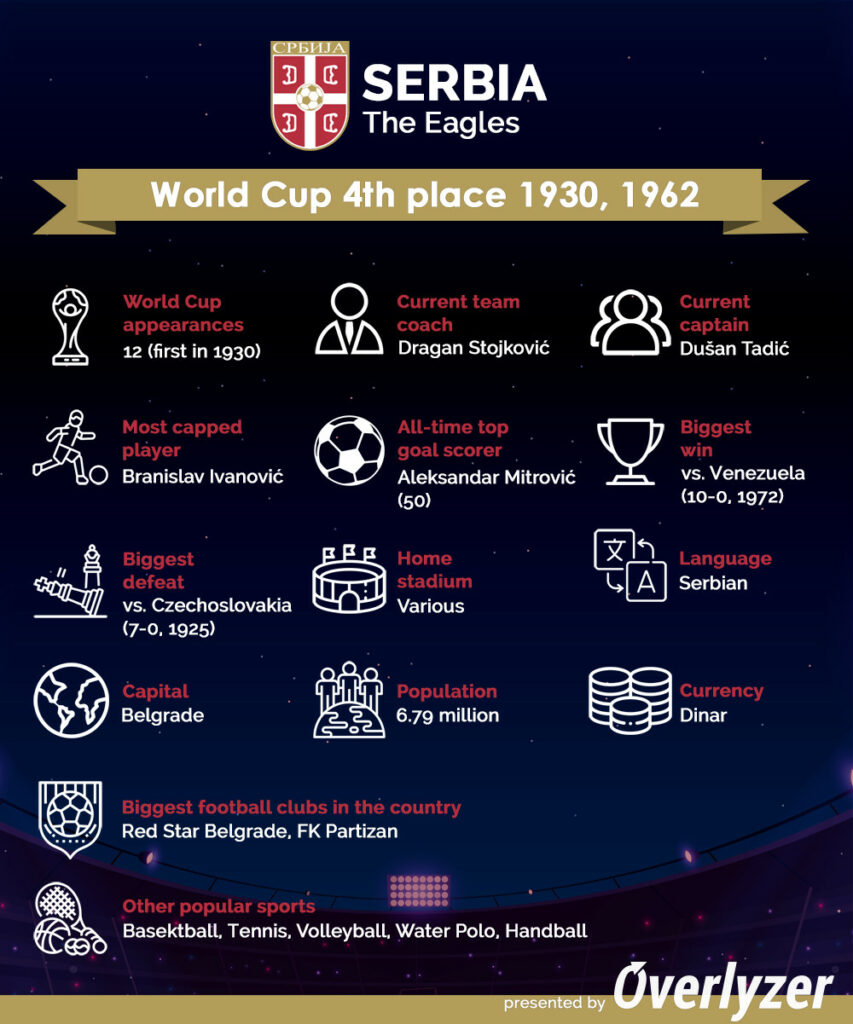 ---
The lack of experience at major tournaments could prove somewhat problematic for Serbia. However, in terms of potential, they are not inferior to their slightly stronger group opponents from Switzerland.
Against Brazil they are of course underdogs, but they can only surprise. The Serbs can therefore go into the first group game of the World Cup without much pressure – they will have to win the points against Cameroon and Switzerland later anyway.
> Read all about Serbia´s World Cup squad
Serbia last three games
| | | | | | | | |
| --- | --- | --- | --- | --- | --- | --- | --- |
| Date | Opponent | Venue | Result | XG | Possession | Accuracy | Duels won |
| 12/06/2022 | Slovenia | A | 2 – 2 | 1.17 : 0.74 | 53.92% | 87.31% | 54.59% |
| 24/09/2022 | Sweden | H | 4 – 1 | 2.72 : 0.91 | 56.72% | 86.90% | 48.37% |
| 27/09/2022 | Norway | A | 2 – 0 | 1.45 : 1.15 | 48.46% | 83.43% | 49.25% |
---
Team comparison Brazil vs. Serbia
In favor of Brazil:
+ World-class footballers at every position
+ Probably the highest quality squad in the entire tournament
+ Rated by bookmakers as the best team at the World Cup
+ Unbeaten for 15 games
+ Coach Tite knows the team inside out, has been coaching them for six years now
In favor of Serbia:
+ Nothing to lose against the heavy favorite
+ Brazil could take the game and the group lightly.
+ Physically strong team
---
The last duel
Brazil and Serbia also met in the group stage at the last World Cup finals in 2018. Back then, Brazil won 2-0 after goals from Paulinho and Thiago Silva. Key players such as Milinkovic-Savic or Tadic on the one side and Neymar, Casemiro, Thiago Silva or Alisson on the other side were also involved back then.
---
Group G Match Fixtures
Date
Time
(local)
Group
Stadium
Match
Result
Nov. 24
1 p.m.
G
al-Janoub
Switzerland – Cameroon
Nov. 24
10 p.m.
G
Lusail
Brazil – Serbia
Nov. 28
1 p.m.
G
al-Janoub
Cameroon – Serbia
Nov. 28
7 p.m.
G
Stadium 974
Brazil – Switzerland
Dec. 2
10 p.m.
G
Stadium 974
Serbia – Schwitzerland
Dec. 2
10 p.m.
G
Lusail
Cameroon – Brazil
➜ World Cup 2022 fixtures
---
Brazil – Serbia Over Under Tip
Will there be a maximum of two or three goals in this match? That is a question that is difficult to answer in the match between Brazil and Serbia. Brazil is likely to have a long tournament ahead of them and won't want to get burned out in their first game.
Even though attacking play is in the Brazilians' DNA, it's quite conceivable that they would manage a lead rather than play aggressively for more goals.
Serbia, on the other hand, also have great attacking power, but will have a hard time creating clear scoring chances against Brazil's strong defense.
We are therefore betting on an "under 2.5", i.e. a maximum of two goals scored in the match.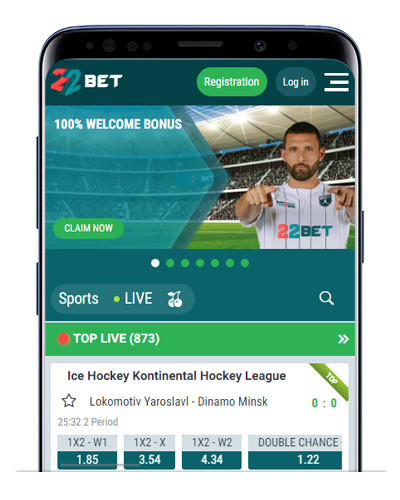 22Bet offers sports betting with high stakes and win limits. In addition, the betting company has a wide range of bets available. Customers who play with higher stakes and do not want to compromise on the betting selection will find 22Bet a great choice!
22bet Review
Sign up with 22BET and get 122 € Bonus
---
Brazil – Serbia Match Prediction
Brazil is the clear favorite in the first group match against Serbia and will not let anything slip. Even in the unlikely event that Serbia catch Brazil on the wrong foot and take the lead, the World Cup favorites have the potential to add to their tally and increase the pressure almost at will.
The fact that Brazil is unbeaten for 15 matches says a lot about the strength of the team.
The Serbians are definitely a force to be reckoned with as the group stage progresses, but Brazil will be too tough for Stojkovic's side to handle in the opener, which is why we're betting on Brazil to win.

---
Brazil – Serbia Correct Score Bet
Brazil will take control of the match against Serbia from the start and dominate the game. Serbia will be on the lookout for counterattacks, but Brazil will be expecting them.
Accordingly, it is to be expected that the favorite will put a lot of focus on the distances between the individual parts of the team, so that Serbia will not have any chances at all in counterattack play.
Sooner or later, the pressure will become too much and Brazil will score. Our guess here is that the Brazilians will score two goals against Serbia, as they did at the 2018 World Cup.
However, we don't expect Brazil to start really tearing Serbia apart after that. Instead, due to the numerous tasks that still await the "Selecao" later in the tournament, they will focus on control and conserving energy. Our result bet is 2:0 for Brazil.

---
FAQ – Questions and answers about Brazil – Serbia at the World Cup 2022
When does Brazil – Serbia start?
The Group G match between Brazil and Serbia will take place on November 24, 2022, at 7 pm GMT at the Lusail Iconic Stadium in Lusail. This stadium will also host the final of the 2022 World Cup.
Where will Brazil – Serbia be broadcasted?
In the United Kingdom the game between Brazil and Serbia can be watched live on the BBC. In the United States Fox Sports will be the place to watch the game and in Canada the match will be aired on TNS. In Brazil, TV Globo secured the rights to the 2022 World Cup in Qatar, while fans of the Serbian national team watch the match on RTS.
Who are Brazil's best players?
Brazil's squad is packed with world-class players. Defensively, these include goalkeeper Alisson Becker and defenders Marquinhos and Eder Militao, while offensively you can look forward to the likes of Vinicius Junior, Neymar, Rodrygo, Raphinha and Roberto Firmino.
Who are Serbia's best players?
Serbia's best players are central midfielder Sergej Milinkovic-Savic of Lazio Roma and Dusan Vlahovic, who is a goal-scoring center forward for Juventus.
What are the Brazil Serbia betting odds?
British bookmaker Bet365 favors Brazil with odds of @1.50. In case of a draw, you can win back 4 times your stake, and in the event of a victory by Serbia, even seven times your wager will get paid out.