Denmark vs. Tunisia Prediction, Betting Tips & Odds | World Cup 2022
The first match in World Cup Group D between dark horse Denmark and underdog Tunisia will take place on Tuesday, November 22, 2022 at 1pm GMT at the Education City Stadium in al-Rayyan.
We provide you with a detailed game preview, look at the strengths and weaknesses of the two teams and give you the best Denmark – Tunisia tips and predictions.
In their first group match, Denmark will be facing an opponent that the bookmakers consider to be the weakest team in Group D. The Tunisians are seen as a big underdog and are also rated below the second underdog in the group, Australia, according to the World Cup odds.
Latest betting odds Denmark vs. Tunisia
The Danes are considered the firm favorites in this match by most bookmakers, but there are still profitable odds for the opening game in Group D.
Top Bookmaker Betsson offers best odds of @1.45 for a Danish win, which are very attractive odds considering the current form of the Danes. For a draw, you get odds of @4.40, while a Tunisia win earns @8.20.
---
Fun fact: It's hard to believe, but the 2022 World Cup in Qatar will be only the sixth World Cup in Denmark's history. The Danes have taken part in the World Cup finals just as often as the Tunisians.
The subtle difference: Tunisia have always been eliminated in the group stage, while Denmark have always made it through the group in four of their five attempts. Their greatest success came in 1998, when they reached the quarterfinals.

---
Top Bookmaker for World Cup Betting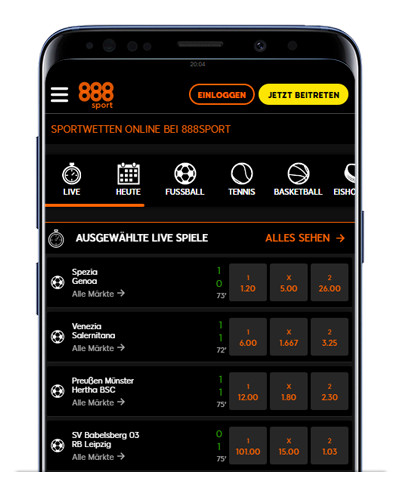 A reliable online betting platform provided by dedicated in-house built software, and a consistently attractive offer of popular and interesting sports make Betsson a favourite sports betting provider for many players worldwide.
Betsson Review
Sign up with Betsson and get 10 €/$/£ Free Bet
---
World Cup 2022 Betting Denmark vs. Tunisia
---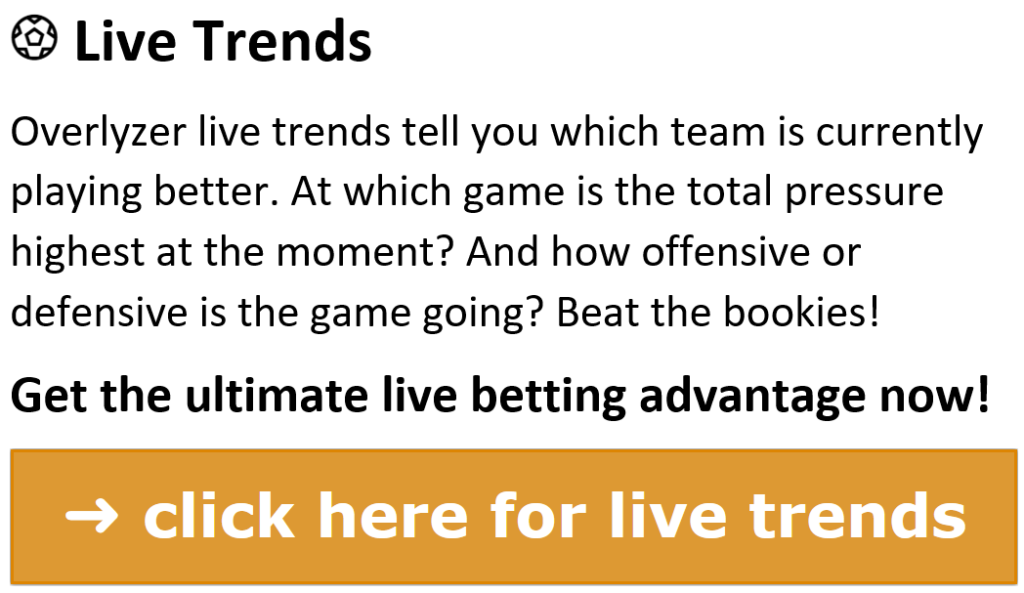 ---
Denmark World Cup 2022 preview
The 1992 European champions have experienced a true revival in recent years. Denmark had problems for many years, had to put up with terrible beatings, but have now been working for some time with a crystal-clear vision and philosophy. And suddenly, the small nation is one of the best that Europe currently has to offer.
The great rise in form in recent years certainly has something to do with coach Kasper Hjulmand, who is not only a great tactician but also an absolute top bloke when it comes to dealing with the players.
The tragic events surrounding Christian Eriksen at the European Championship in 2021 brought the Danish Dynamite even closer together on and off the pitch.
Even if they don't have any great goal scorers (the World Cup may come a little too early for Rasmus Höjlund), Denmark will have an extremely powerful squad in 2022, with plenty of stability and physicality in the defense. The full-back and wing-back positions in particular are superb, and coach Hjulmand also has top players in central midfield available.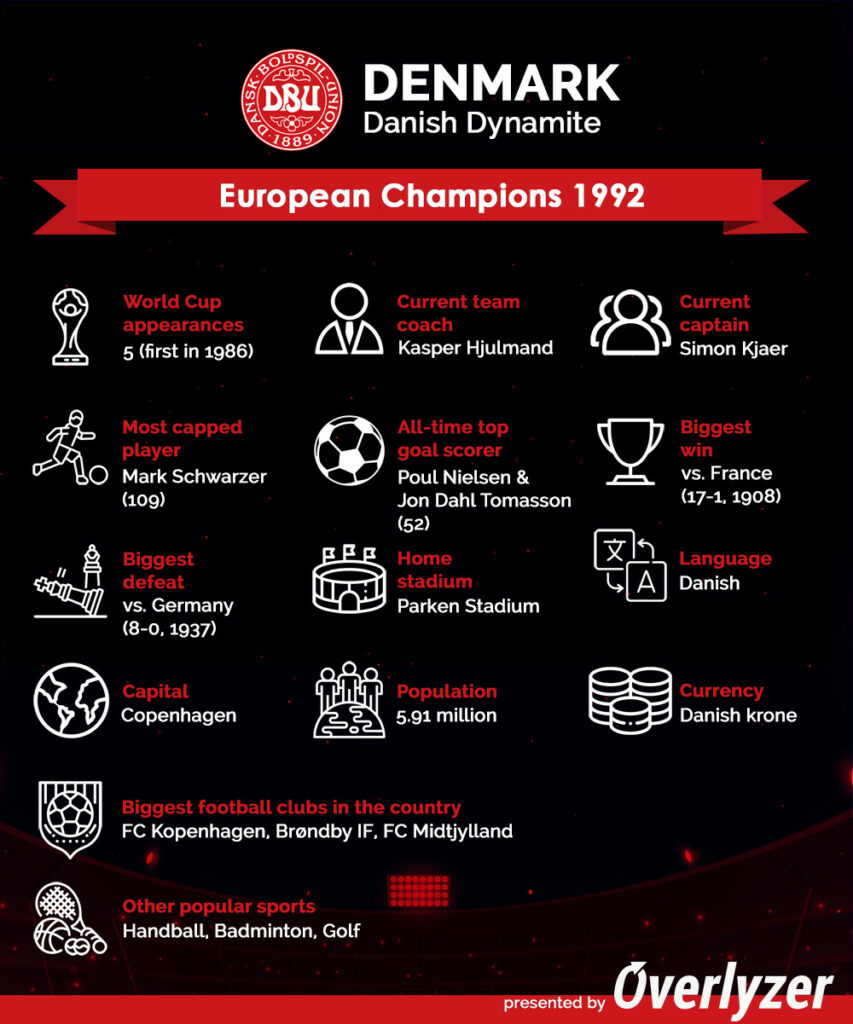 In the UEFA Nations League, Denmark lost twice to runners-up Croatia in 2022, but defeated reigning world champions France twice, which no longer seems like a coincidence.
The Danes are not only physically strong, but also skilled with the ball, very organized and good at set-pieces. So, the opening match could definitely be easier for the Tunisians…
> Read all about Denmark´s World Cup squad
Denmark last three games
| | | | | | | | |
| --- | --- | --- | --- | --- | --- | --- | --- |
| Date | Opponent | Venue | Result | XG | Possession | Accuracy | Duels won |
| 13/06/2022 | Austria | H | 2 – 0 | 1.47 : 0.37 | 51.73% | 87.70% | 48.76% |
| 22/09/2022 | Croatia | A | 1 – 2 | 0.56 : 1.03 | 49.39% | 87.10% | 48.87% |
| 27/09/2022 | France | H | 2 – 0 | 1.23 : 1.21 | 50.23% | 83.69% | 45.70% |
---
Tunisia World Cup 2022 preview
Tunisia is widely rated as the biggest underdog in Group D. But you definitely have to be careful with this prediction, because the North Africans have some exciting players who have always earned their money in Europe or were even born there in the second generation.
For example, we think Tunisia will be stronger this year than their group opponents Australia.
The Tunisians' central axis should not be underestimated: In centre-back and central midfield, team boss Jalel Kadri's squad has some interesting players, such as Ellyes Shkiri from 1.FC Köln or Brøndby's young star Anis Slimane.
Dribbling strength on the wings could also become an important aspect in Tunisia's favor.
Compared to Denmark, however, Tunisia might lack a physical punch. And even though Tunisia is quite tactically disciplined in its very conventionally practiced 4-3-3 system, it faces an opponent that is the epitome of tactical discipline in its first World Cup match.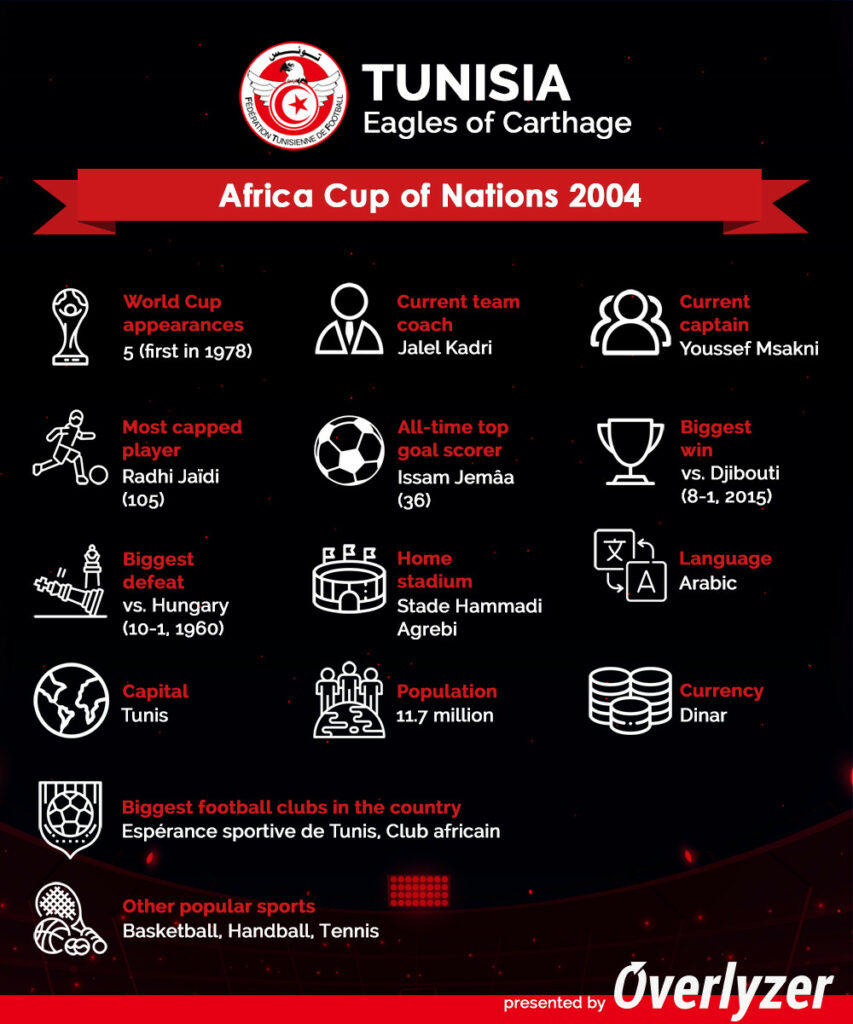 ---
On the second matchday, Tunisia will face Australia and this will be the game in which the North Africans are most likely to gain a point or even win.
> Read all about Tunesia´s World Cup squad
Tunisia last three games
| | | | | | | | |
| --- | --- | --- | --- | --- | --- | --- | --- |
| Date | Opponent | Venue | Result | XG | Possession | Accuracy | Duels won |
| 10/06/2022 | Chile | N | 2 – 0 | 0.97 : 2.83 | 40.80% | 84.12% | 45.37% |
| 14/06/2022 | Japan | N | 3 – 0 | 1.47 : 0.45 | 36.41% | 82.27% | 49.73% |
| 27/09/2022 | Brazil | N | 1 – 5 | 0.62 : 2.30 | 37.00% | 80.34% | 48.39% |
---
Team comparison Denmark vs. Tunisia
In favor of Denmark
+ Highly talented, strong squad with numerous top players
+ Top players in the wingback positions
+ Physical advantages, which can also become important for set-pieces.
+ Strong at tournaments
+ Close-knit squad with good attitude and mood
In favor of Tunisia
+ Strong defensive central axis, which can definitely cause problems even for big teams
+ Good dribblers on the wings
+ Somewhat better acclimatization to the desert climate
---
The last duel
Denmark and Tunisia have only met twice before. The first match took place in 1960 during the Olympic Games and ended with a 3-1 victory for Denmark.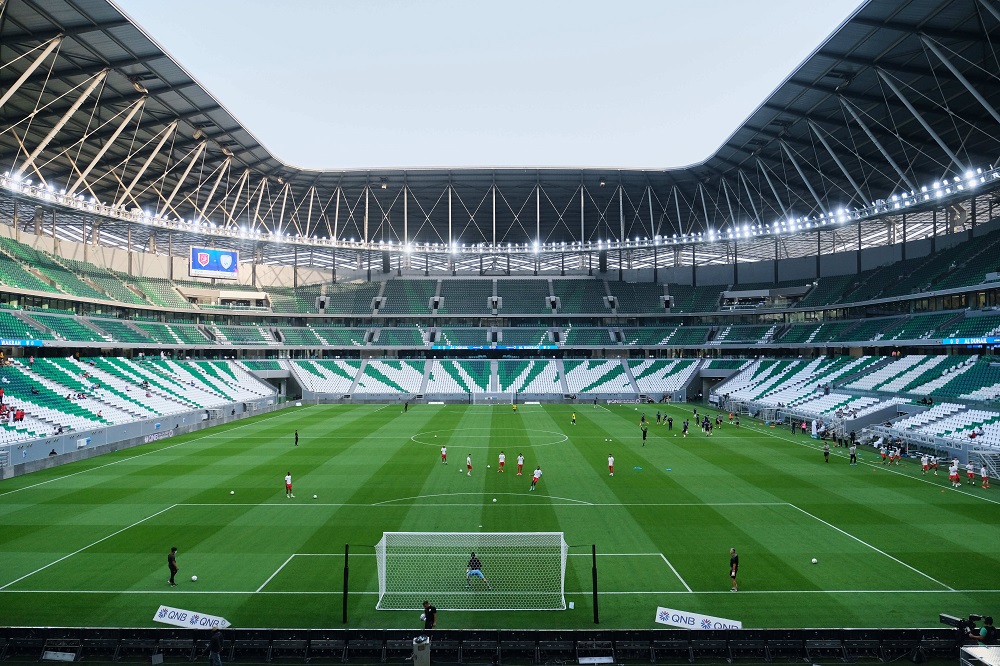 ---
The Danes also won the second match: In a World Cup preparation match in Japan in 2002, Denmark won 2-1, with Jesper Grönkjaer and Ebbe Sand, two of Denmark's legendary players, scoring the goals.
---
Group D Match Fixtures
Date
Time
(local)
Group
Stadium
Match
Result
Nov. 22
4 p.m.
D
Education City
Denmark – Tunisia
Nov. 22
10 p.m.
D
al-Janoub
France – Australia
Nov. 26
1 p.m.
D
al-Janoub
Tunisia – Australia
Nov. 26
7 p.m.
D
Stadium 974
France – Denmark
Nov. 30
6 p.m.
D
Education City
Tunisia – France
Nov. 30
6 p.m.
D
al-Janoub
Australia – Denmark
➜ World Cup 2022 fixtures
---
Denmark – Tunesia Over Under Tip
Defensive stability is a top priority for Denmark for Kasper Hjulmand. Denmark usually plays in a 3-4-3 system, although the team boss also allows variations and uses a four-man backline.
However, the three-man backline is likely to become Denmark's standard formation at the 2022 World Cup. Keeping the back of the box clean is therefore the first task for this team – and since they don't have any classic top goal scorers or extremely goal-threatening wingers up front, you can't expect the Danes to win by a large margin.

Instead, the approach of the up-and-coming team is pragmatic and geared toward results-based soccer.
When Tunisia is playing, there are rarely high scoring games to admire. Tunisia tend to give the ball away, especially against teams of higher quality, and lurk for chances on the counterattack. This will also be the case against Denmark, which is why we have to expect a rather reactive Tunisian team.
Accordingly, we bet that less than 2.5 goals will be scored.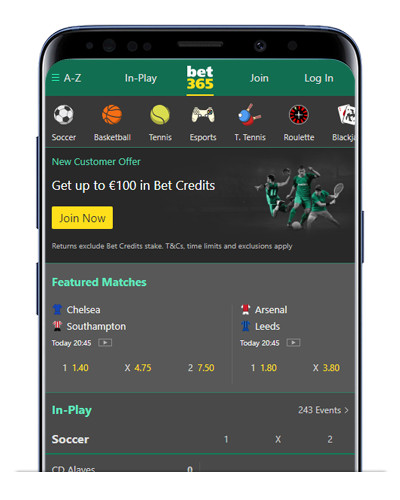 The most established name in world wide sports betting offers a huge range of betting options for new and experienced bettors. Bet365 is well known for great odds on sporting events from around the globe.
Bet365 Review
Sign up with Bet365 and get 100 €/$/£ Bonus
---
Denmark – Tunesia Match Prediction
Kasper Hjulmand's side is considered a well-rehearsed "tournament team", has both technical and physical advantages over Tunisia and is probably also the more tactically disciplined team.
The betting odds of @1.50 on the strong Danes to win the opening match are quite lucrative.
Even though Tunisia may be more resilient than some analysts would currently expect, the difference between the two teams in the basic virtues of soccer is simply too great. We are therefore betting on a success for Danish Dynamite.

---
Denmark – Tunesia Correct Score Bet
Both teams are not known for scoring many goals. They stand for a stable defense and solid defending. So don't expect the Danes to win by a landslide – the match could be a real test of patience for the favorites.
However, we are betting here that Denmark will score sooner or later.
Tunisia would have to play catch-up, because a point against Denmark would be essential if they want to have a say in advancing to the round of 16. That should create spaces for the Danes to counterattack and thus create more chances.
We're betting on a 2-0 win for Denmark in the opener.

---
FAQ – Questions and answers about Denmark – Tunesia at the World Cup 2022
When does Denmark – Tunisia start?
The game between Denmark and Tunisia will take place on November 22, 2022, at 1 pm GMT at Education City Stadium in al-Rayyan. Tunisia will also play World Cup favorites France at this stadium on the final day of group play.
Where will Denmark – Tunesia be broadcasted?
In the United Kingdom, the BBC and ITV share broadcasting rights for the 2022 World Cup. In the United States Fox Sports will be the place to watch the game and in Canada the match will be aired on TNS. In Denmark you can watch this game at DR or TV 2.
Who are Denmark's best players?
Especially in the defense and in the midfield center, Denmark have some star players. Barcelona's Andreas Christensen and Crystal Palace's Joachim Andersen, for example, play at centre-back. In midfield, Pierre-Emile Höjbjerg of Tottenham and Christian Eriksen of Manchester United are the biggest stars.
Who are Tunisia's best players?
Tunisia's best-known player is striker Wahbi Khazri, who plays for Montpellier in France. The biggest talent in the squad is 19-year-old Hannibal Mejbri, who is currently on loan from Manchester United to Birmingham City.
What are the Denmark Tunisia betting odds?
Biggest English bookmaker Bet365 offers odds of @1.50 for a victory by Denmark. A draw earns 3.75 times the stake and a Tunisian win even 7.5 times.