Germany vs. Japan Prediction, Betting Tips & Odds | World Cup 2022
Group E kicks off with the match between Germany and Japan, which will be held at the Khalifa International Stadium in al-Rayyan on Wednesday, November 23, 2022 at 1pm GMT.
We provide you with an in-depth analysis and the best Germany – Japan World Cup tips and odds.
Germany is among the wider circle of favorites at the 2022 World Cup, but not among the absolute top favorites to win the title. In the group stage, however, the positions are clearly defined: Germany and Spain are the two teams that should prevail in Group E, with Spain slightly favored over the DFB team.
Japan and Costa Rica are glaring underdogs.
Latest betting odds Germany vs. Japan
In the first group match against Japan, Germany shouldn't let anything go wrong. Our top bookie 22Bet offers best betting odds of @1.49 for Germany to beat the Asian side.
A draw will bring 4.48 times the stake, a win for the Japanese will be worth 7.5 times the stake at Bet365. In the group match immediately following, Spain is even more favored against Costa Rica than Germany is against Japan.
---
Fun Fact: Germany have never met Japan in a tournament. The previous two internationals were friendly games, with Germany picking up one win and one draw on an overall goal difference of 5-2.
---

---
Top Bookmaker for World Cup Betting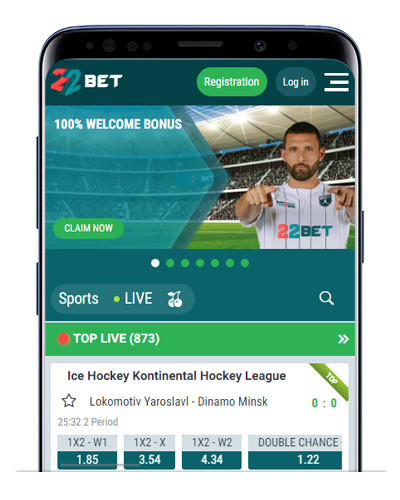 22Bet offers sports betting with high stakes and win limits. In addition, the betting company has a wide range of bets available. Customers who play with higher stakes and do not want to compromise on the betting selection will find 22Bet a great choice!
22bet Review
Sign up with 22BET and get 122 € Bonus
---
World Cup 2022 Betting Germany vs. Japan
---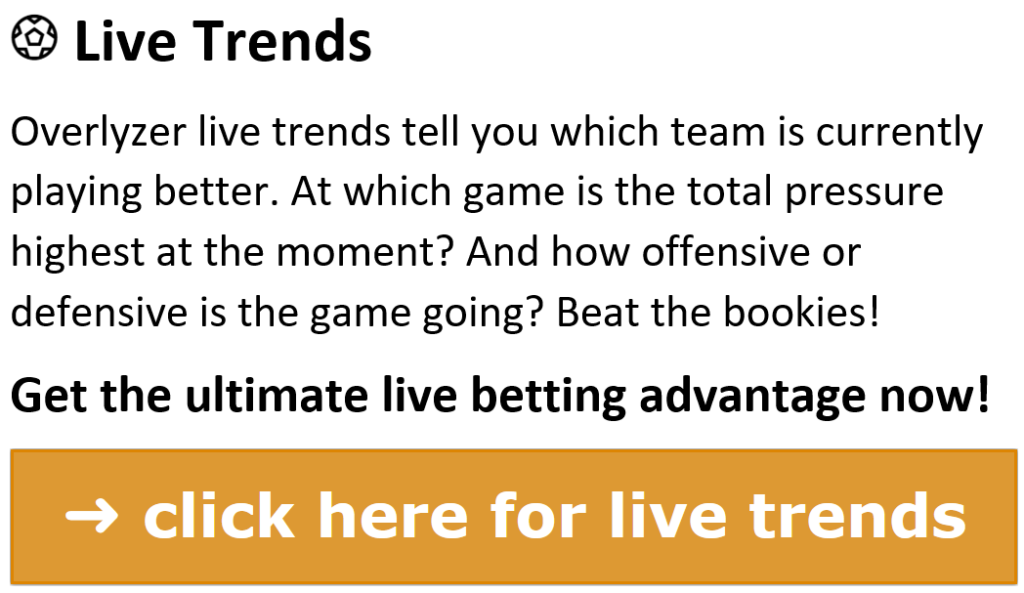 ---
Germany World Cup 2022 preview
It was a logical move that Hansi Flick would take over the German national team in the summer of 2021 as Joachim Löw's successor. Flick had previously been a successful coach at FC Bayern Munich, winning the UEFA Champions League with the Bavarians and gaining DFB experience as assistant coach and sports manager.
With players like Kimmich, Musiala, Sané, Gnabry and Müller making up the core of the national team, the decision to make Flick head of the team was understandable. And it was also seen time and again that he was able to lead the team well and get it back on track tactically and in terms of play after Jogi Löw's weak final phase.
But the 2022 German national team is much more than just Bayern Munich. Some key players, such as Ilkay Gündogan, Kai Havertz and Antonio Rüdiger, earn their money at top international clubs and bring a different dimension to the German team.
Germany under Flick is not yet as consolidated as it was when it won the World Cup in 2014, as some of the international match results in 2022 also show, but the potential is very high and since Germany have always been known as a "tournament team," the World Cup could be a chance for the next big step forward.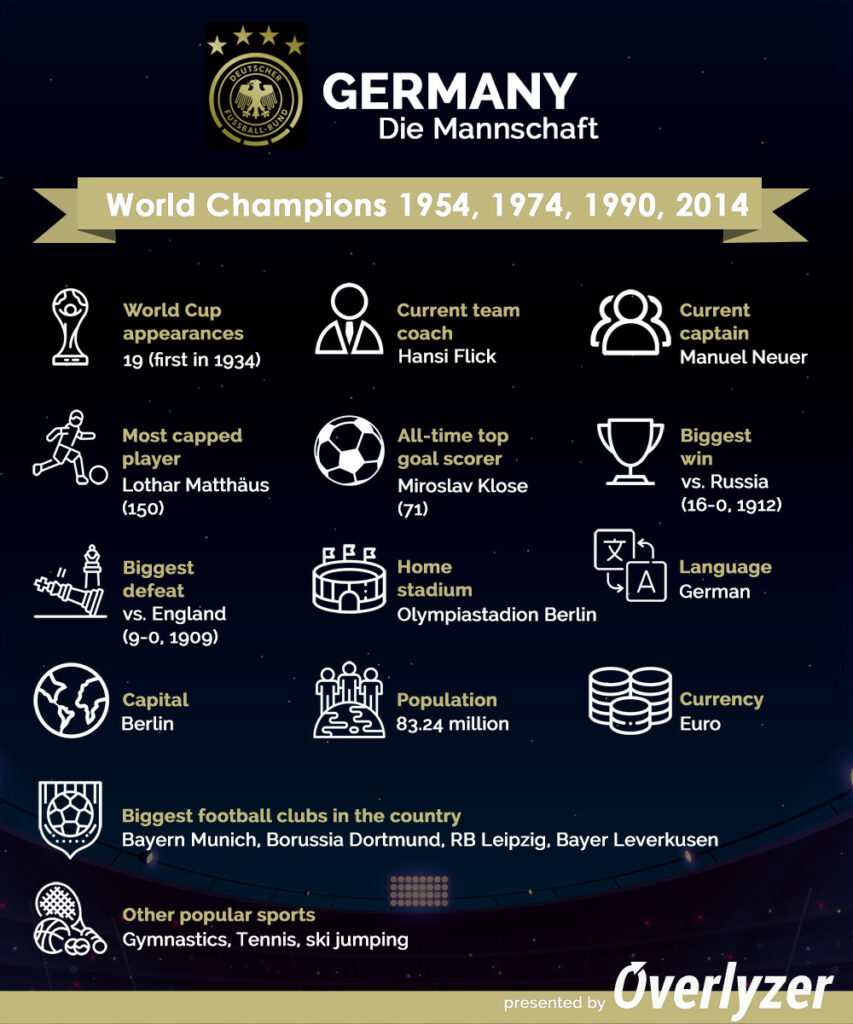 ---
The fact that the first opponent in the tournament is Japan and not group favorite Spain is certainly an advantage for Germany. Against the qualitatively inferior Japanese, they can get acclimatized to the tournament and focus on their first "must-win"-situation.
Expectation creates pressure, of course, but Germany should be strong enough to bend Japan in the first game.
> Read all about Germany´s World Cup squad
Germany last three games
| | | | | | | | |
| --- | --- | --- | --- | --- | --- | --- | --- |
| Date | Opponent | Venue | Result | XG | Possession | Accuracy | Duels won |
| 14/06/2022 | Italy | H | 5 – 2 | 3.66 : 1.90 | 64.69% | 89.26% | 45.74% |
| 23/09/2022 | Hungary | H | 0 – 1 | 0.90 : 0.86 | 72.34% | 85.94% | 53.89% |
| 26/09/2022 | England | H | 0 – 1 | 1.98 : 2.16 | 57.57% | 87.77% | 50.54% |
---
Japan World Cup 2022 preview
Japan is currently a moody diva: At times, the Japanese have outplayed their opponents, collecting an incredible 6.58 expected goals in the 4-1 win over Paraguay, for example.
But then the Blue Samurai miss out again: Against the glaring underdog Vietnam, for example, they scored 4.05 Expected Goals, but the game ended with a 1-1 draw. In one of the last test matches, they went down 3-0 to Tunisia as the inferior team – only to then defeat the USA 2-0 in a surprising and convincing manner.
Players like Tomiyasu, Kamada, Doan and Furuhashi obviously have great potential, but the impression is still that the Japanese team has not fully found its feet.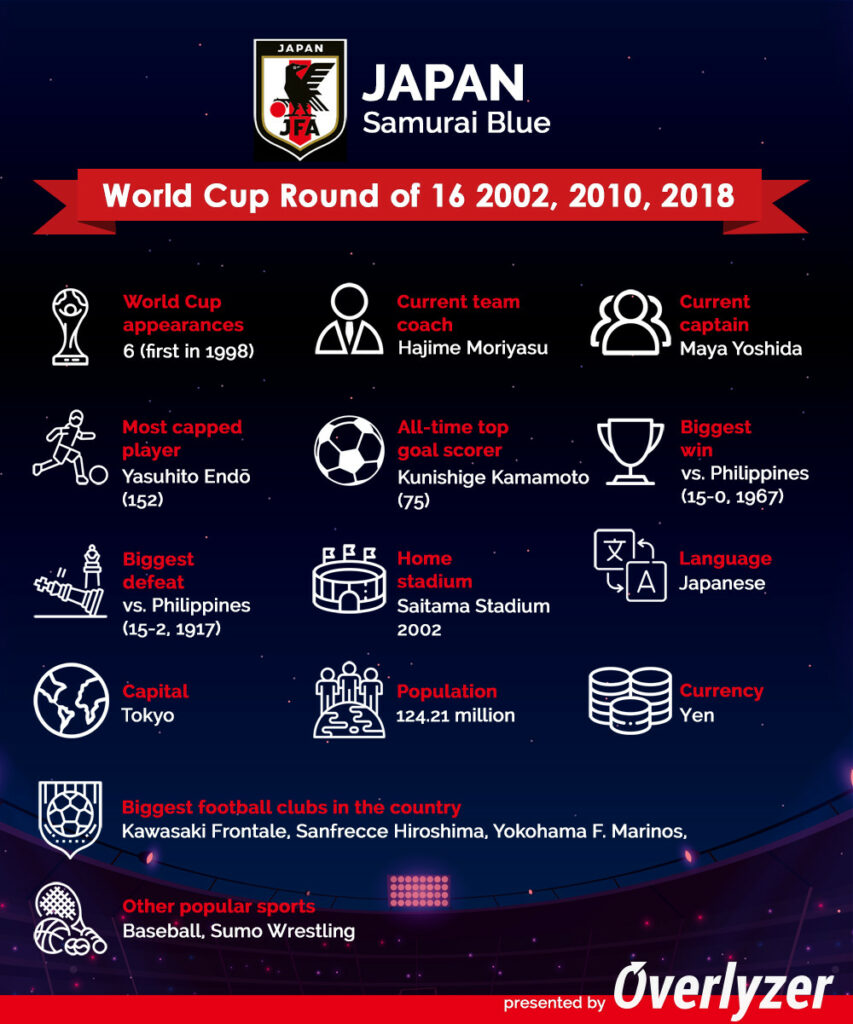 ---
In any case, it seems likely that Japan will mirror Germany's 4-2-3-1 formation and thus engage in a "team section against team section"-battle. However, the Japanese have often not looked particularly resilient at major events and have problems in the defense.
> Read all about Japan´s World Cup squad
Japan last three games
| | | | | | | | |
| --- | --- | --- | --- | --- | --- | --- | --- |
| Date | Opponent | Venue | Result | XG | Possession | Accuracy | Duels won |
| 14/06/2022 | Tunisia | H | 0 – 3 | 0.45 : 1.47 | 63.59% | 89.02% | 46.52% |
| 23/09/2022 | USA | N | 2 – 0 | 1.92 : 0.49 | 42.80% | 83.29% | 55.73% |
| 27/09/2022 | Ecuador | N | 0 – 0 | 1.05 : 1.55 | 50.57% | 85.71% | 47.01% |
---
Team comparison Germany vs. Japan
In favor of Germany
+ Several world-class players who can single-handedly win a game
+ Great dominance in the central midfield thanks to Kimmich and Gündogan
+ Hansi Flick, one of the most pragmatic and best coaches of the tournament
+ Large squad size and the possibility to add quality during a match
+ The German national team is known for often performing at its best during tournaments
In favor of Japan
+ Good mentality, team can work hard on the pitch
+ Several foreign players from Bundesliga who know their opponents well: Kamada, Endo, Ito, Yoshida and Doan.
+ No expectations or pressure against the favorite
---
The last duel
In 2006, Germany and Japan met for the last time in a charity match in Leverkusen.
Up until the 75th minute, Japan was leading 2-0 thanks to a brace from Naohiro Takahara. Only then did Miroslav Klose and Bastian Schweinsteiger, who were later to become world champions, turn the game around and bring the final score to 2-2.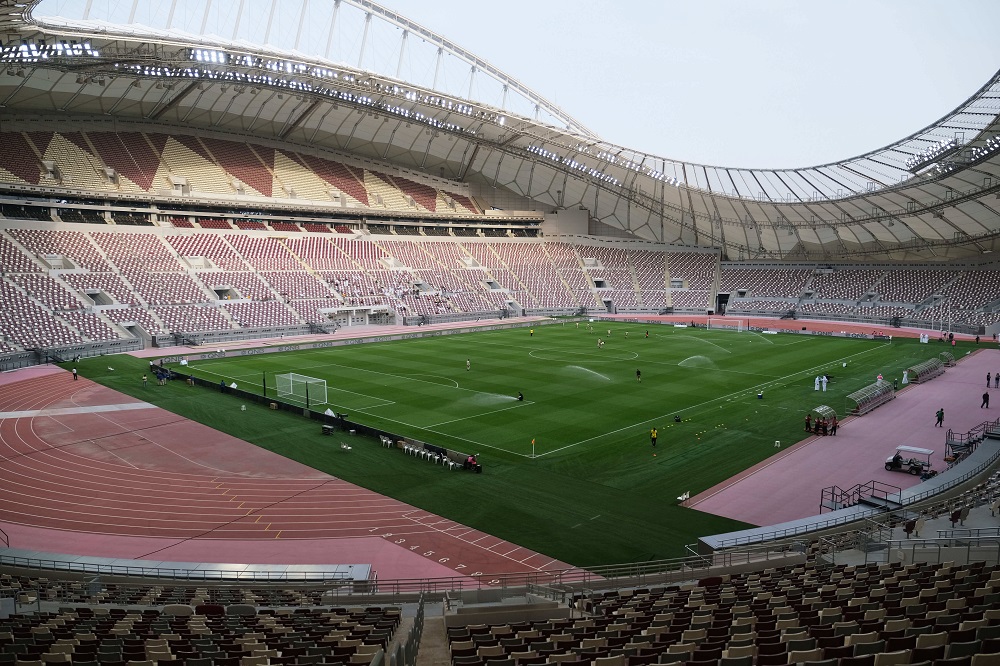 ---
The coach of the German national team at the time was Jürgen Klinsmann and Japan was coached by former Brazilian star player Zico.
---
Group E Match Fixtures
Date
Time
(local)
Group
Stadium
Match
Result
Nov. 23
4 p.m.
E
Khalifa International
Gerrmany – Japan
Nov. 23
7 p.m.
E
al-Thumama
Spain – Costa Rica
Nov. 27
1 p.m.
E
Ahmed bin Ali
Japan – Costa Rica
Nov. 27
10 p.m.
E
al-Bayt
Spain – Germany
Dec. 1
10 p.m.
E
al-Bayt
Costa Rica – Germany
Dec. 1
10 p.m.
E
Khalifa International
Japan – Spain
➜ World Cup 2022 fixtures
---
Germany – Japan Over Under Tip
Germany is extremely erratic when it comes to the number of goals scored. At times, they are very minimalistic, at other times, there are shooting sprees, such as the 5-2 win against Italy or the spectacular 3-3 draw in England.
Half of Germany's international matches in 2022 ended 1-1.
Before the tournament, however, one of Hansi Flick's main tasks will be to further consolidate the defense so that the highly talented attack can better unfold.

Therefore, it can be assumed that Germany will allow little, but at the same time will not attack with all its might, but rather want to achieve success through control and pragmatism.
We are therefore betting here on an "under 2.5", i.e. a maximum of two goals scored in the match.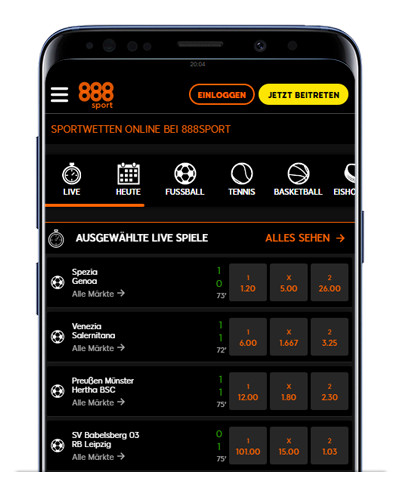 A reliable online betting platform provided by dedicated in-house built software, and a consistently attractive offer of popular and interesting sports make Betsson a favourite sports betting provider for many players worldwide.
Betsson Review
Sign up with Betsson and get 10 €/$/£ Free Bet
---
Germany – Japan Match Prediction
Four days before the highlight in Group E – the clash between Germany and Spain – the German national team will have to impress against Japan. Hansi Flick's men know what's at stake and that they have to come out on top against the first of the two group underdogs.
As is so often the case when there are clear gaps in terms of quality, the match may turn into a game of patience for Germany, however, we expect the team to approach the matter in a very serious manner.
Since the Japanese generally have problems in the defense and in the goalkeeper position, the German national team will be able to prevail in the first group match.

---
Germany – Japan Correct Score Bet
Germany probably lack the attacking power of teams like Brazil or even Portugal or Argentina this year. Still, there are plenty of players who are capable of scoring goals, and unlike at other World Cups, the Germans don't have one target striker who will contribute goal after goal.
Rather, the number of goal scorers on the German team could be very high.
However, this also suggests that we won't see many high scoring wins for Germany, and we don't expect any of those against Japan either. Flick's team will take a pragmatic approach, be solid defensively, and make the right moves at the right times.
Accordingly, we are betting on a 2-0 result here.

---
FAQ – Questions and answers about Germany – Japan at the World Cup 2022
When does Germany – Japan kick off?
The Group E match between Germany and Japan will take place on November 23, 2022, at 1 pm GMT at the Khalifa International Stadium in al-Rayyan. The DFB team will play the other two group matches at al-Bayt Stadium in al-Khor.
Where will Germany – Japan be broadcasted?
In the United Kingdom, the BBC and ITV share broadcasting rights for the 2022 World Cup. In the United States Fox Sports will be the place to watch the game and in Canada the match will be aired on TNS. If you live in Germany, then you can watch Germany – Japan on ZDF.
Who are Germany's best players?
The heart of the German team is the central midfield with world-class players such as Joshua Kimmich, Ilkay Gündogan or up-and-coming star Jamal Musiala. However, other attacking players, such as Thomas Müller, Leroy Sané or Kai Havertz, can also be considered star players.
Who are Japan's best players?
Japan field some top players from strong leagues, such as Arsenal defender Takehiro Tomiyasu or Frankfurt midfielder Daichi Kamada. Also, some attacking players like Furuhashi, Doan or Kubo have to be watched closely.
What are the Germany Japan betting odds?
British bookmaker Bet365 offers odds of @1.33 for a win by Germany. A draw in the first match of Group E gets odds of @4.75 and a win for Japan earns 10 times the stake.