Morocco at the 2022 World Cup – Betting Odds & Tips
Morocco qualified for their sixth World Cup and will face Belgium, Croatia and Canada in Group F. What can we expect from the North Africans at the World Cup in Qatar? We analyze Morocco's squad and look at their strengths and weaknesses.
We also present the best betting strategies for the Moroccan national team at the 2022 World Cup in Qatar.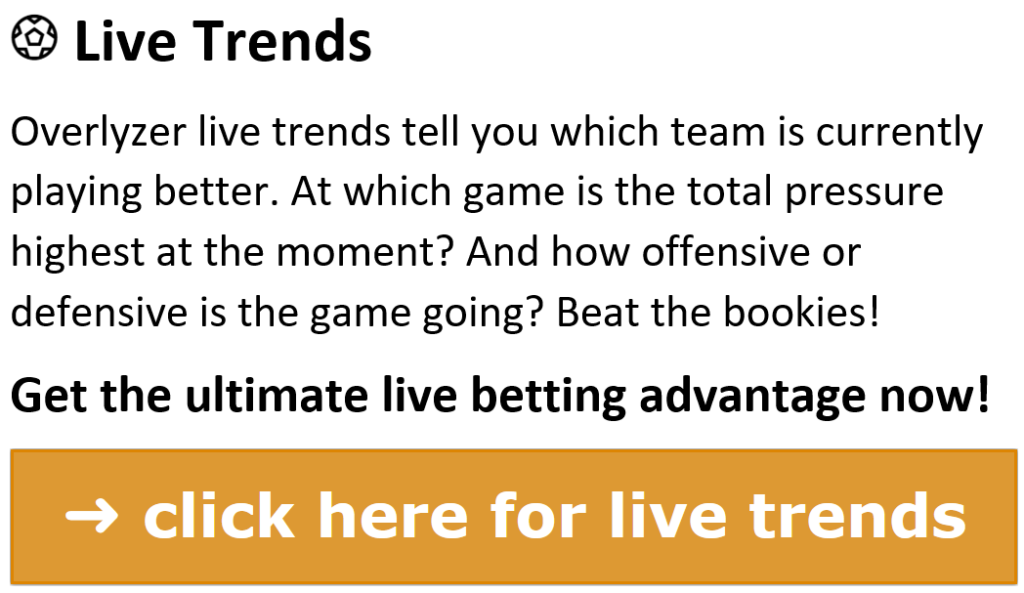 ---
Table of contents: Betting on Morocco at the 2022 World Cup
---
---
Best Bookmaker for World Cup Betting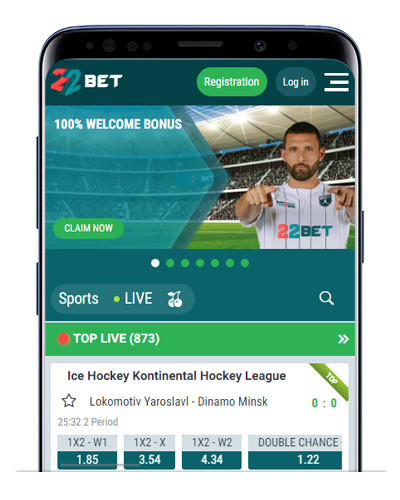 22Bet offers sports betting with high stakes and win limits. In addition, the betting company has a wide range of bets available. Customers who play with higher stakes and do not want to compromise on the betting selection will find 22Bet a great choice!
22bet Review
Sign up with 22BET and get 122 € Bonus
---
Morocco odds World Cup 2022
Morocco have several strong foreign players in their squad, but a World Cup title is extremely unrealistic. Even advancing to the round of 16 would be unlikely considering the strong group opponents Belgium and Croatia.
Football World Cup 2022 Winners Odds – top bookmakers
---
If you still want to place a small World Cup bet on a title for Morocco, our bookmaker test winner Bet365 offers odds of @251.00!
Even reaching the final would be a huge sensation, which is why Bet365 will pay 67 times the stake if coach Walid Regragui's side makes it to the final.
According to the best sports betting sites, Morocco are underdogs in the group stage, as Croatia and Belgium, the runners-up and third-placed team at the last World Cup, are in this tough Group F. If you still believe that Morocco can prevail against these strong opponents, you can win eleven times your bet.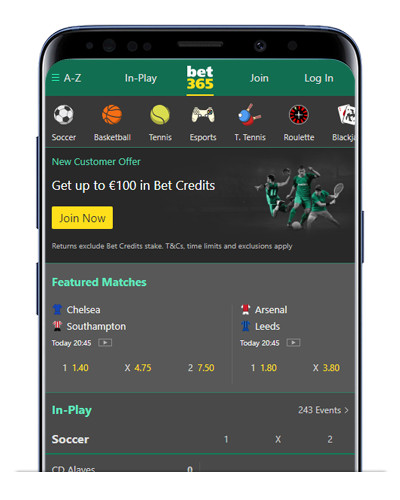 The most established name in world wide sports betting offers a huge range of betting options for new and experienced bettors. Bet365 is well known for great odds on sporting events from around the globe.
Bet365 Review
Sign up with Bet365 and get 100 €/$/£ Bonus
Should Morocco get knocked out at the group stage, it is very unlikely that the team will feature the player with the most goals of the tournament, unless they manage a resounding victory against Canada and a player has an absolute stellar moment.
But that is not particularly realistic either, especially since the Canadian national team should not be underestimated at the 2022 World Cup.
The betting companies are aware of this too, so the odds on a Moroccan winner of the "Golden Boot" are quite high. Youssef En-Nesyri of Sevilla FC and Chelsea foreign player Hakim Ziyech have the best chances of all Moroccans to become the World Cup top scorer.
However, you can see from the high odds that these are highly speculative long-term bets.
Youssef En-Nesyri will be top scorer @ 101.00 / Bet365
Hakim Ziyech will be top scorer @ 126.00 / Bet365
---
Current form and results
As expected, Morocco did not show any weakness against Guinea-Bissau, Guinea and Sudan in the group stage of the World Cup qualifiers, winning six of their six matches and achieving an impressive goal difference of 20:1.
Afterwards, they beat the Democratic Republic of Congo in the battle for a World Cup ticket. In the first leg, they drew 1-1 away from home before celebrating an impressive 4-1 victory at home.

---
In 2022, Morocco also took part in the Africa Cup, where they defeated World Cup participants Ghana, among others, at the group stage. They beat Malawi 2-1 in the round of 16, but then lost 2-1 in extra time to Egypt in the quarter-finals and were eliminated from the tournament.
Their performances during the summer have been inconsistent. In addition to victories against South Africa (2:1) and Liberia (2:0), they lost a friendly match against the United States with a score of 3-0.
In the friendly matches in September, Morocco proved that they have good defensive stability. Especially in the first test against Chile, which they won 2-0, the team allowed very little to happen.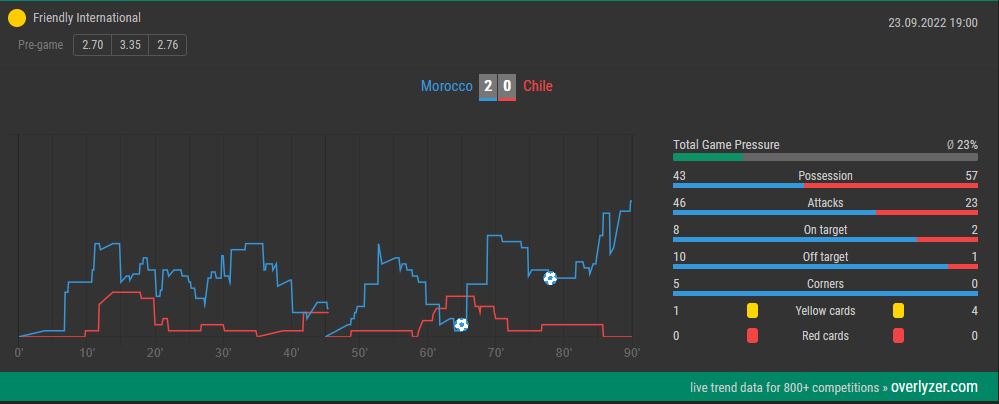 A penalty by Boufal and a goal by substitute Sabiri decided the game clearly in favor of the Moroccans, who could have scored even more goals and also left some of their best players on the bench at the beginning. In this game, you could already see the great potential of the North Africans.
Four days later, in a 0-0 draw with Paraguay, the Moroccans again managed not to concede a goal. This time, however, the Moroccans, who were once again the better team, did not score a goal themselves.
However, a positive development can clearly be observed. In the four games since the 3-0 defeat to the USA, Morocco have remained unbeaten and conceded just one goal.
---
Fun fact: The United States of America should have a guilty conscience after the 3-0 win over Morocco, because the North Africans were the first country to recognize the USA as an independent nation in 1777.
➜ World Cup 2022 Top Favorites
---
World Cup preparation
Currently, no further preparation matches of the Moroccan national team are scheduled.
We update this page regularly and inform you immediately as soon as new dates for friendly matches are set.
Morocco international games in 2022
| | | | | | | | |
| --- | --- | --- | --- | --- | --- | --- | --- |
| Date | Opponent | Venue | Result | XG | Possession | Accuracy | Duels won |
| 10/01/2022 | Ghana | N | 1 – 0 | 0.88 : 0.31 | 57,84% | 83,06% | 50,26% |
| 14/01/2022 | Comoros | N | 2 – 0 | 3.86 : 0.09 | 59,56% | 86,46% | 50,90% |
| 18/01/2022 | Gabon | N | 2 – 2 | 1.58 : 0.71 | 61,43% | 86,03% | 48,17% |
| 25/01/2022 | Malawi | N | 2 – 1 | 4.30 : 0.20 | 76,38% | 84,19% | 55,19% |
| 30/01/2022 | Egypt | N | 1 – 2 (ET) | 1.33 : 1.95 | 47,03% | 73,11% | 48,87% |
| 25/03/2022 | DR Congo | A | 1 – 1 | 1.72 : 0.22 | 54,32% | 76,34% | 47,92% |
| 29/03/2022 | DR Congo | H | 4 – 1 | 3.34 : 0.90 | 61,33% | 86,16% | 59,19% |
| 02/06/2022 | USA | A | 0 – 3 | 2.38 : 1.90 | 47,53% | 88,50% | 49,77% |
| 09/06/2022 | South Africa | H | 2 – 1 | 3.45 : 0.44 | 63,19% | 87,11% | 57,14% |
| 13/06/2022 | Liberia | A | 2 – 0 | 1.12 : 0.19 | 62,03% | 86,99% | 47,89% |
| 23/09/2022 | Chile | N | 2 – 0 | 1.95 : 0.28 | 43,61% | 89,03% | 55,84% |
| 27/09/2022 | Paraguay | N | 0 – 0 | 1.52 : 0.97 | 63,50% | 87,10% | 49,33% |
Morocco World Cup 2022 fixtures
Morocco will face World Cup 2018 runners-up Croatia in their first group match on November the 23rd. Four days later, a tough challenge is waiting for the North Africans as well, as the strong Belgian national team awaits them.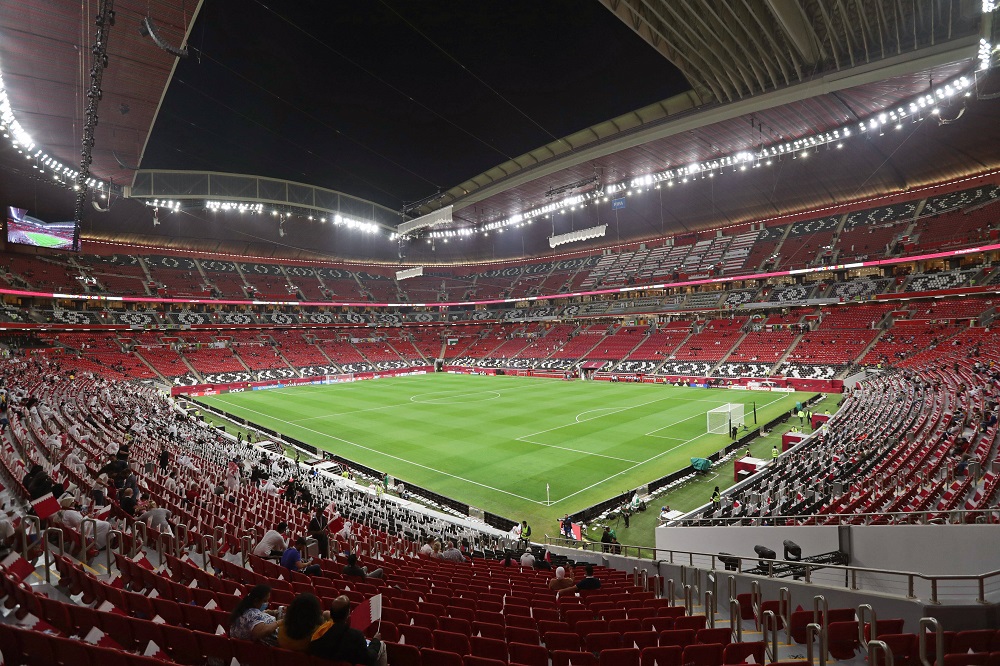 ---
On the first of December, Morocco will face Canada and fans will be hoping that their team will still entertain chances of reaching the last 16 at that point.
---
Morocco World Cup 2022 squad
When you go into a World Cup as an underdog like Morocco, you can't afford to be without your best players. The Moroccan federation thought so too, and parted ways with Bosnian coach Vahid Halilhodzic despite his success in qualifying for the World Cup because he fell out with a few players – most notably Chelsea´s Hakim Ziyech.
With Walid Regragui now coaching Morocco, nothing stands in the way of Ziyech's comeback. Regragui, who spent a long time as an active player in France, led Wydad AC to CAF Champions League victory at the end of May 2022 after defeating defending champions Al Ahly.
He is only the second Moroccan coach after Hussein Ammouta to win this prestigious competition.
Since the coach only took over the national team at the end of August, we can only speculate what formation he will come up with at the 2022 World Cup. The Moroccan national team has used several different formations in this calendar year alone, operating with both a three-man and a four-man backline.
Since Regragui always used a back four at Wydad Casablanca, one can assume that this will also be the case for the national team.
Morocco Goal Keeper
There won't be much discussion about who will be the number one goalkeeper for Morocco at the finals in Qatar. The 31-year-old Bono, who is also undisputed at Sevilla, is one of the players with the most international experience in the squad. Bono's backup Munir is two years older and signed with Al-Wehda in Saudi Arabia.
However, one should not ignore the fact that neo-coach Regragui could also rely on some of his former players at Wydad Casablanca when he nominates his World Cup squad. Nevertheless, it would be a surprise if Bono were not number 1.
GK – Bono (FC Sevilla)
GK – Munir (Al Wehda FC)
GK – Ahmed Reda Tagnaouti (Wydad AC)

---
Morocco Center Back
Whether in a three-man or four-man backline, Romain Saiss is the boss of the defense both in the national team and at his club Besiktas. Next to him plays usually Nayef Aguerd, who is currently suffering from an ankle injury and will have to find his old form again until the World Cup. The other options are not quite as exciting and drop off somewhat in quality.
CB – Romain Saïss (Besiktas)
CB – Nayef Aguerd (West Ham United)
CB – Achraf Dari (Stade Brest)
CB – Jawad El Yamiq (Real Valladolid)
CB – Badr Banoun (Qatar SC)

---
Morocco Full Back
Morocco's biggest star usually plays on the right side of defense, but can also play on the left and as a right-sided midfielder. Achraf Hakimi won the Champions League with Real Madrid in 2018, in addition to an Italian and French championship. The pacey and attack-minded full-back operates all over the wing and always makes life difficult for his opponents.
---
However, with Bayern's talented Noussair Mazraoui, there is another strong player at right back, which is why Hakimi could switch to the left, or simply operate one position further up front.
Udinese Calcio's Adam Masina would have been the favorite at left back, but the defender will miss the tournament due to a ruptured ACL. This increases the chances for Yahia Attiat-Allah, whom his coach also knows from Wydad AC.
RB/RM/LB – Achraf Hakimi (Paris Saint-Germain)
RB – Noussair Mazraoui (FC Bayern München)
LB – Yahia Attiat-Allah (Wydad AC)

---
Morocco Central Midfield
Sofyan Amrabat is the key player in the defensive midfield. The 26-year-old enjoyed his training in the Netherlands and is currently signed with AC Florence. It is not yet certain who will play next to him, as there are several more or less equal alternatives in central midfield.
Yahya Jabrane will also have a better chance with the new coach, as he was the captain of the team at Wydad.
DM – Sofyan Amrabat (AC Florenz)
DM – Yahya Jabrane (Wydad AC)
CM – Azzedine Ounahi (Angers SCO)
CAM – Amine Harit (Olympique Marseille)
CAM – Bilal El Khannouss (KRC Genk)
CAM – Selim Amallah (Standard Lüttich)
CAM – Ilias Chair (Queens Park Rangers)
CAM – Abdelhamid Sabiri (Sampdoria Genua)

---
Morocco Attack
In the centre of attack, Youssef En-Nesyri is the main man, and of all Moroccan players, he has the best chances of winning the "Golden Boot".
If wingers are used, Sofiane Boufal and Hakim Ziyech are two dribble-strong and dangerous choices, and a few alternatives could also emerge. Left winger Tarik Tissoudali of KAA Gent unfortunately tore his cruciate ligament and will miss the World Cup.
RW/CAM – Hakim Ziyech (Chelsea FC)
RW – Zakaria Aboukhlal (FC Toulouse)
LW – Soufiane Rahimi (Al Ain FC)
LW – Sofiane Boufal (Angers SCO)
ST – Youssef En-Nesyri (FC Sevilla)
ST – Abderrazak Hamdallah (Al-Ittihad)
ST – Walid Cheddira (SSC Bari)

---
Morocco Competition Flair
Morocco's successes are modest, as winning the African Football Championship in 1976 was the nation's greatest achievement to date. At World Cups, they were eliminated four times in the group stage and only made it to the round of 16 once.
Morocco have occasionally put in strong performances at World Cup finals, but have often been a bit unlucky as well.

---
---
Morocco World Cup history
Morocco took part in a World Cup qualifier for the first time in 1962, but failed to reach the play-offs against Spain. In 1970, however, the time had come and the team travelled to Mexico for the World Cup tournament, where they were eliminated from the tournament after finishing last in a group with Germany, Peru and Bulgaria.
At the 1986 World Cup in Mexico, the North Africans achieved what is still their greatest success at a World Cup tournament, sensationally prevailing in Group F against England, Poland and Portugal. After two goalless draws against Poland and England, they beat Portugal 3-1 in the last group match.
In the round of 16 against Germany, the score was tied 0:0 for a very long time, but Lothar Matthäus finally scored the only goal in this match in the 87th minute.
In their other appearances, Morocco managed a few notable successes, such as a draw against Spain at the 2018 World Cup, but always had to return home after the group stage.
---
FAQ – Questions and answers about Morocco at the 2022 World Cup
Did Morocco qualify for the 2022 World Cup?
Morocco qualified for the 2022 World Cup in Qatar. They advanced in the World Cup play-off with an aggregate score of 5:2 against the Democratic Republic of Congo.
Which African countries have qualified for the World Cup?
Besides Morocco, Cameroon, Ghana, Tunisia and Senegal qualified for the 2022 World Cup in Qatar.
Who is Morocco's coach at the 2022 World Cup?
Walid Regragui replaced Vahid Halilhodžić as coach at the end of August 2022 and will lead Morocco in the World Cup in Qatar. Regragui won the African Champions League with his club Wydad AC a few months ago.
Who are Morocco's stars at the 2022 World Cup?
The biggest star in the Moroccan team is Achraf Hakimi, who won the Champions League with Real Madrid and was Serie A champion with Inter. Most recently, he won Ligue 1 with his current club Paris Saint-Germain.
Who will Morocco play against at the 2022 World Cup?
Morocco have been drawn into a difficult group and will face Belgium, Croatia and Canada in Qatar.
How many times did Morocco win the World Cup?
Morocco have been far from winning the World Cup in the past. Their best finish was reaching the round of 16 in 1986, when Germany knocked Morocco out of the tournament with a narrow 1-0 victory.
Who is Morocco's record international player?
With 115 caps, Noureddine Naybet is Morocco's record international player. The former centre back spent most of his career with Deportivo La Coruña and played in two World Cups and six African Cups.
Who is Morocco's record goal scorer?
Ahmed Faras scored 36 goals for the Moroccan national team between 1966 and 1979, making him the North Africans' most prolific scorer. Remarkably, he was signed by the Moroccan club Chabab Mohammedia for his entire career.
What is the nickname of the Moroccan national team?
Morocco´s national team is also known as "The Atlas Lions". The name refers to the population of Barbary lions, which were indigenous to North Africa, including the Atlas Mountains, until the 20th century, but are now unfortunately extinct in the wild.