Poland at the 2022 World Cup – Betting Odds & Tips
The Polish national team has not played a particularly big role on the world stage in recent years. In 2022, they would like to reach the round of 16 for the first time since 1986 in their second consecutive participation.
We take a look at the best World Cup 2022 bets, tips and odds for Poland, venture a prediction on the strength of the team and analyze the squad around superstar Robert Lewandowski.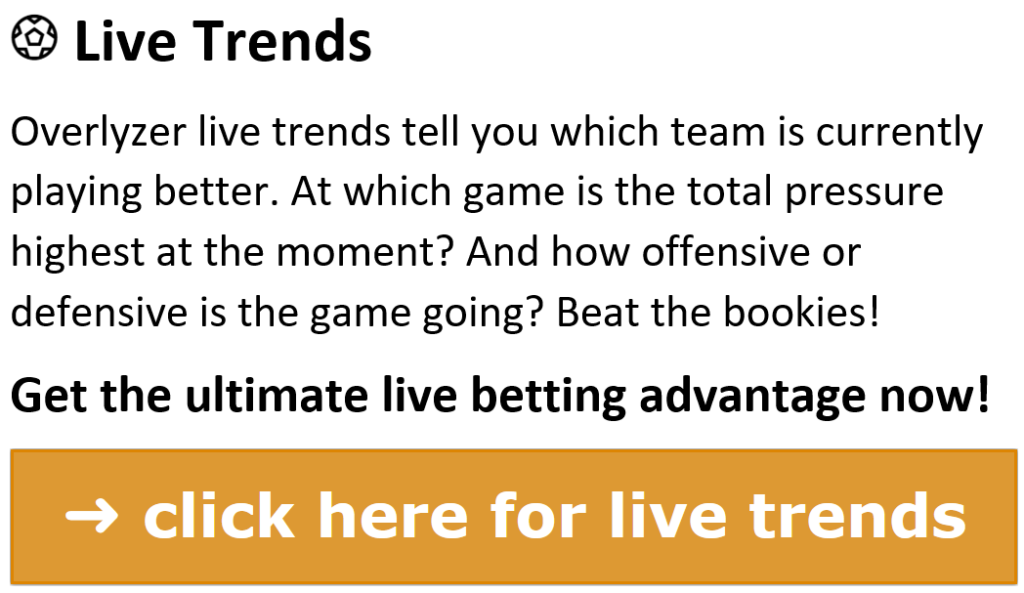 ---
Betting on Poland at the 2022 World Cup
---
---
Best Bookmaker for World Cup Betting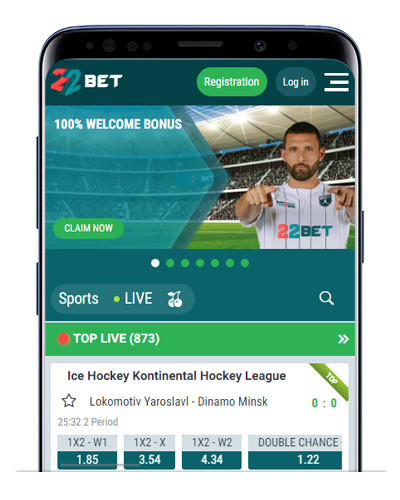 22Bet offers sports betting with high stakes and win limits. In addition, the betting company has a wide range of bets available. Customers who play with higher stakes and do not want to compromise on the betting selection will find 22Bet a great choice!
22bet Review
Sign up with 22BET and get 122 € Bonus
---
World Cup betting odds for Poland
When it comes to winning the title, Poland is of course a clear underdog. Our bookmaker test winner Bet365 sees no less than twelve teams with higher chances when it comes to winning the coveted golden trophy.
Football World Cup 2022 Winners Odds – top bookmakers
---
However, this also puts Poland in the top half of the tournament and the team of coach Czeslaw Michniewicz is definitely expected to pull off a surprise or two.
The road to the final is of course a very rocky one for the Poles and hardly anyone expects the team to go particularly far. However, it should not be underestimated that the Poles have a world-class footballer in Robert Lewandowski, who can always make the difference.
Nevertheless, an advance to the final will bring 41-times the stake at Bet365.
In Group C, there is a proven World Cup top favorite in Argentina around superstar Lionel Messi. It is hard to imagine that Argentina will not win the group, however, the sports betting sites also see Poland and Mexico with outsider chances to win it.
Poland is even slightly favored over Mexico: While a group win by Mexico would bring odds of @6.25, first place for Poland would bring @6.00.
---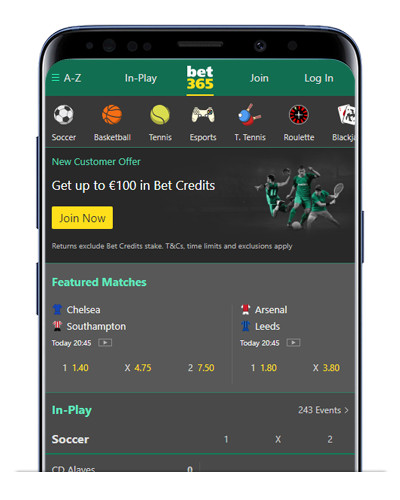 The most established name in world wide sports betting offers a huge range of betting options for new and experienced bettors. Bet365 is well known for great odds on sporting events from around the globe.
Bet365 Review
Sign up with Bet365 and get 100 €/$/£ Bonus
---
Barcelona superstar Robert Lewandowski is one of the most accurate attackers in the world. The veteran can make a lot out of a little, doesn't need many chances to score and sometimes makes the famous "impossible" happen. Nevertheless, his odds of winning the "Golden Boot" for the best scorer at the World Cup are relatively high because the Poles are not expected to go far in the tournament.
Since you get 41-times your stake back for Lewandowski winning the top scorer title, a small bet on Lewandowski being the top goal getter of the competition would be worth a small risk.
Furthermore, Adam Buksa and Krzysztof Piatek are also in the extended circle of candidates for the bookmakers. However, it is extremely unlikely that this will happen, especially since Lewandowski is the clear target player for the Poles and also takes the penalties for his team.
For Poland, everything will be focused on putting Lewandowski in the spotlight and other strikers will suffer as far as their goal tally is concerned.
Robert Lewandowski to be World Cup top scorer @ 41.00 / Bet365
Adam Buksa to be World Cup top scorer @ 101.00 / Bet365
Krzysztof Piatek to be World Cup top scorer @ 101.00 / Bet365
---
Current form and results
If we look at the last games of the Poles, we can see a certain ambivalence. Sometimes the Poles show their potential, play beautifully, score confidently, get their points. But then again there are completely inexplicable dampers.
The UEFA Nations League was a good example: First, Wales was beaten 2-1 at home, then there was a 6-1 defeat in Belgium. They responded with a respectable 2-2 draw against the Netherlands, only to lose 1-0 at home to Belgium a few days later. The squad around superstar Robert Lewandowski can therefore be described as a bit fickle.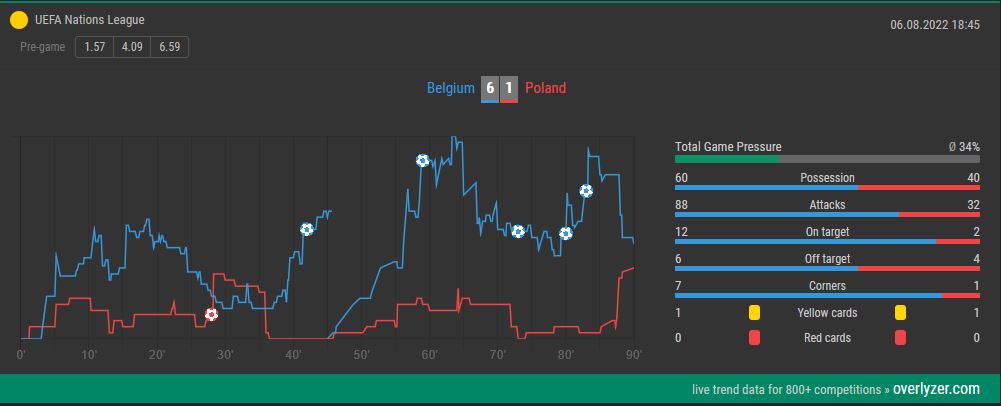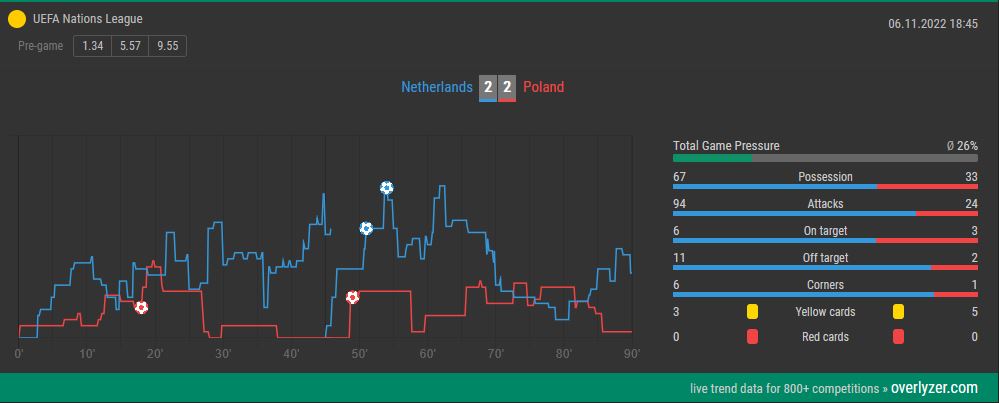 Poland's performance continued to be inconsistent in September. On the second-last matchday of the UEFA Nations League, Czeslaw Michniewicz's team lost 2-0 to the Netherlands. However, the Poles were able to keep the game open.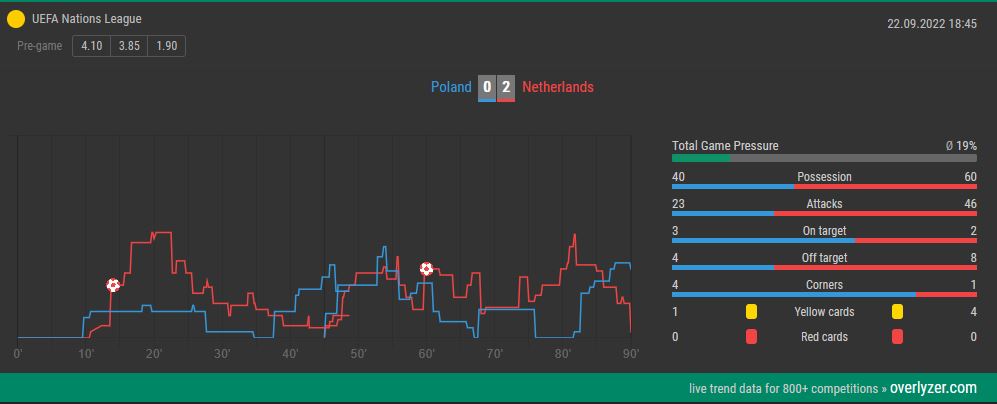 In the away game against Wales, the Poles then claimed a thoroughly fortunate victory in an even match. Following an assist from captain and superstar Robert Lewandowski, his team-mate Karol Swiderski scored the only goal of the game.
However, according to the Expected Goals statistics, the Poles and the Welsh were on an even level. In a game that could have ended either way, nuances decided in favor of the Poles. In any case, the Welsh were not outplayed…
➜ Register here to access our real-time data!

Beat the Bookmakers!
---
Funfact: Robert Lewandowski has scored only twelve goals less in the Polish team jersey than all his colleagues combined. For this statistic, we used 36 players from the current extended Polish squad. They scored a total of 88 times, Lewandowski 76.
---
Further preparation and test matches
One week before the World Cup, Poland will play a friendly match against Chile. This is currently the only known test match until the start of the tournament.
16/11/2022: Poland – Chile
Poland international games in 2022
| | | | | | | | |
| --- | --- | --- | --- | --- | --- | --- | --- |
| Date | Opponent | Venue | Result | XG | Possession | Accuracy | Duels won |
| 24/03/2022 | Scotland | A | 1 – 1 | 1.38 : 1.83 | 48,11% | 84,21% | 42,74% |
| 29/03/2022 | Sweden | H | 2 – 0 | 1.67 : 1.05 | 37,76% | 74,45% | 49,18% |
| 01/06/2022 | Wales | H | 2 – 1 | 1.62 : 0.51 | 54,74% | 83,47% | 47,95% |
| 08/06/2022 | Belgium | A | 1 – 6 | 0.90 : 2.35 | 36,20% | 80,37% | 47,14% |
| 11/06/2022 | Netherlands | A | 2 – 2 | 0.74 : 2.58 | 32,87% | 79,66% | 46,57% |
| 14/06/2022 | Belgium | H | 0 – 1 | 1.17 : 0.92 | 32,66% | 82,92% | 49,66% |
| 22/09/2022 | Netherlands | H | 0 – 2 | 0.63 : 1.13 | 42,34% | 86,00% | 42,96% |
| 25/09/2022 | Wales | A | 1 – 0 | 0.70 : 0.76 | 49,82% | 83,38% | 50,43% |
| 16/11/2022 | Chile | N | | | | | |
Are you interested in live betting and don't want to miss a single match?

Then we recommend you to ➜ register at overlyzer.com – we offer you live graphs on thousands of matches every week. Overlyzer covers all professional leagues, but also amateur and junior leagues and gives you a noticeable advantage against the bookies!
Match schedule of Poland at the World Cup 2022
Poland has to play in Group C and already has a pre-decisive match on the first matchday against an opponent that is rated almost equally strong by all bookmakers. The match against Mexico could already show a tendency for the group.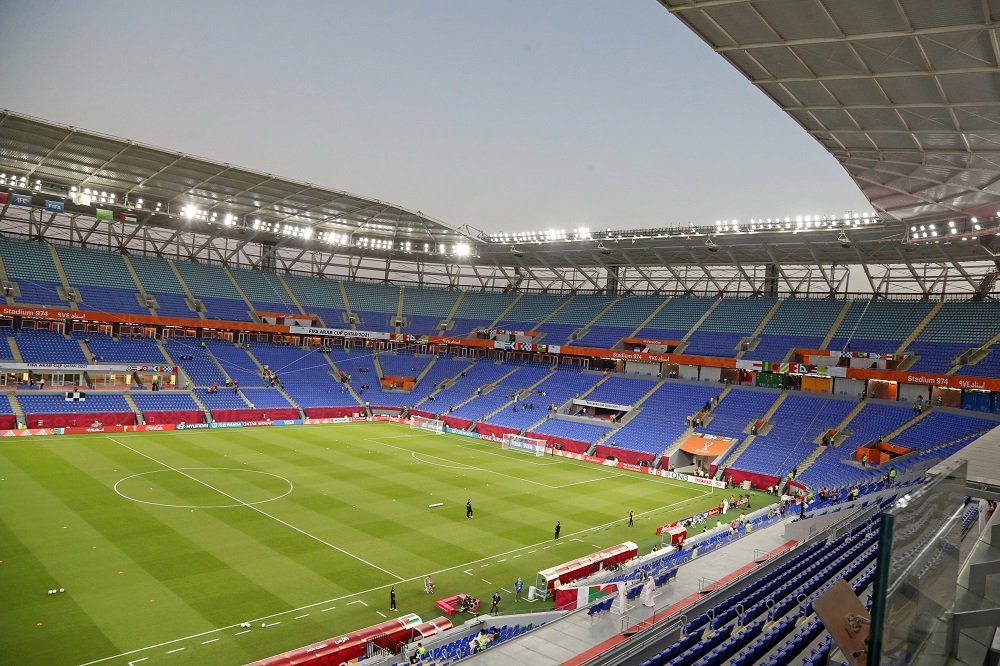 ---
On the second matchday, Poland will face Saudi Arabia, which is of course a game the Poles need to win. The third matchday will be against group favorite Argentina, which could be an advantage for the Poles. If the Argentines do their homework properly beforehand, they could possibly rotate in their last group game.
Date
Time
(local)
Group
Stadium
Match
Result
Nov. 22
7 p.m.
C
Stadium 974
Mexico – Poland
Nov. 26
4 p.m.
C
Education City
Poland – Saudi Arabia
Nov. 30
10 p.m.
C
Stadium 974
Poland – Argentina
Poland's World Cup squad
The Poles have an interesting mix of young and old, though the country's key players are already aging a bit. The great young talents are not moving up for the time being, or the 2022 World Cup comes a bit too early for some top talents who were born after the turn of the millennium. Nevertheless, Poland has a strong squad, which we will now analyze in detail.
Poland Goalkeepers
32-year-old Wojciech Szczesny is, of course, the clear number one in goal for the Poles and a sure key player for his team. However, the Juventus goalkeeper has been struggling with ankle problems of late and his performance has suffered as a result.
The substitutes Skorupski and Dragowski are basically also good goalkeepers, but definitely can't get past the 196cm (6' 4'') tall veteran, unless he is injured.
GK – Wojciech Szczesny (Juventus)
GK – Lukasz Skorupski (FC Bologna)
GK – Bartlomiej Dragowski (Spezia Calcio)

---
Poland Center Backs
In the central defense of Poland, it is clear that Aston Villa regular Jan Bednarek is the key player. However, coach Michniewicz likes to resort to a three-man defensive line to play out of a secure defense, which is why Bednarek has two supporting players for the most part.
Now 34-year-old Kamil Glik has been an extremely safe and strong defender for the Poles in the past, but these days he already has problems when it comes to playing against opponents who bring high speed to the pitch. With Kiwior and Kaminski, the Poles have two left-footed players, one of whom usually starts.
In addition, the strong physicality of all Polish center backs is worthy of note. In direct duels, the players are all very intense and consistent, and they are particularly good at clearing crosses. Only in running duels or against fast, agile players in general, the Polish defense has its problems.
CB – Jan Bednarek (Aston Villa)
CB – Jakub Kiwior (Spezia Calcio)
CB – Mateusz Wieteska (Clermont Foot)
CB – Artur Jedrejczyk (Legia)
CB – Kamil Glik (Benevento Calcio)

---
Poland Fullbacks
Poland are not very balanced at the full-back positions. The right side of the defense is much better occupied than the left, both in terms of quality and width.
Especially Englishman Matty Cash, whose grandparents are from Poland, which makes him eligible to play for the Polish national team, is a great asset for the Poles. The Aston Villa player can play a classic full-back role, but also the more attacking wing-back. At 25 years of age, he is a late newcomer to the Poland squad who significantly increased the quality on the wings.
On the left, however, coach Michniewicz has few alternatives. As the Poles often play with a three-man backline and need primarily attack-minded wing-backs in the full-back positions, a more attack-minded player is often deployed on the left.
RB – Matty Cash (Aston Villa)
RB – Bartosz Bereszynski (Sampdoria Genoa)
RB – Robert Gumny (Augsburg)

---
Poland Central Midfield
Poland's central midfield has one or two players who can make a difference and some hard workers. The star in this part of the team is, of course, Napoli's Piotr Zielinski, who brings great quality especially for the offense and on a technical-tactical level.
In addition, Grzegorz Krychowiak has always been an important architect in the Polish midfield, who is also always good for genius actions from a deeper position. However, Krychowiak recently moved to Saudi Arabia to finish out his career and is no longer able to bring the same level of fitness to the pitch as he used to, and he also repeatedly has to contend with his unbridled temper.
Especially at the position in central midfield, Poland has one or the other problem, although Fiorentina's Zurkowski could solve these problems to some extent. However, the real class players for the transition from defense to offense are currently missing.
DM – Grzegorz Krychowiak (Al-Shabab Riyadh)
DM – Krystian Bielik (Birmingham City)
CM – Szymon Zurkowski (Fiorentina)
CM – Damian Szymanski (AEK Athens)
CAM – Piotr Zielinski (SSC Napoli)
CAM – Sebastian Szymanski (Feyenoord)

---
Poland Attack
The be-all and end-all of Poland's offense is of course Robert Lewandowski, who is also playing strongly for FC Barcelona, scoring and providing the odd game-changing wow moment. "Lewy" is the only real world-class player of the Poles and thus logically also captain, integration figure and record goal scorer of the national team.
The Poles will be constantly on the lookout for him and will want to stage him appropriately.
But the Polish offense is also strong across the board. Due to the 3-5-2 formation, they hardly play with true wingers, but players such as Jakub Kaminski can be deployed there.
The options for the second spot in attack are also fine with Milik and Piatek alongside Lewandowski.
RW – Przemyslaw Frankowski (Lens)
RW – Michal Skoras (Lech Posen)
LW – Jakub Kaminski (Wolfsburg)
LW – Kamil Grosicki (Pogon Szczecin)
ST – Robert Lewandowski (FC Barcelona)
ST – Arkadiusz Milik (Juventus)
ST – Krzysztof Piatek (Salernitana)
ST – Karol Swiderski (Charlotte FC)

---
Poland Competition Flair
Poland has not reached the round of 16 since 1986. Given that some of the team's top players will probably be playing their last World Cup, now would be a great opportunity to make up for that, and thus to return a little to the golden 70s and 80s.
The routine that Poland will bring with them suggests that they will take a hard-nosed and pragmatic approach to the World Cup finals. Coach Michniewicz is also known as a pragmatist and control is clearly more important to him than risk.
This could give Poland an advantage over Mexico's exuberance. So it could well be a group stage for the perhaps somewhat aging, but still quite solid Poles!

---
---
Poland's World Cup history
Up until the 2022 World Cup, Poland managed to qualify for a World Cup eight times. The greatest times of the Polish association were the 70s and 80s. In both 1974 and 1982, Poland finished third in the World Cup.
In 1974, the only defeat in the intermediate round – which no longer exists today – was to host Germany. In the third-place match, Poland beat Brazil 1-0 thanks to a goal from star striker Grzegorz Lato. Lato ended up as the tournament's top scorer with seven goals.
In 1982, Poland was defeated in the semifinals by Italy, the eventual World Champions. In the third-place match, Poland beat France 3-2, but the latter was without its tired superstars Michel Platini and Alain Giresse. Poland's best player in 1982 was the brilliant offensive player Zbigniew Boniek, who scored five World Cup goals.
At the 2002, 2006 and 2018 World Cups, Poland was knocked out in the group stage. The elimination at the last World Cup – in Russia in 2018 – was particularly bitter because the Poles didn't actually have any overpowering group opponents. They won the last match against Japan 1-0, but before that they lost 2-1 against Senegal and 3-0 against Colombia.
---
FAQ – Questions and answers about Poland at the 2022 World Cup
Who is the coach of Poland at the 2022 World Cup?
The coach of Poland since the end of January 2022 is 52-year-old Czeslaw Michniewicz. The defensive-minded advocate of the three-man backfield has previously coached several Polish clubs and the U21 national team.
Who are Poland's stars at the 2022 World Cup?
The biggest star in Poland's national team is, of course, Bayern legend and current Barcelona star Robert Lewandowski, who is the captain and record goal scorer for the national team. Attacking midfielder Piotr Zielinski and center back Jan Bednarek are also among Poland's strongest players.
Who will Poland play at the 2022 World Cup?
Poland started the tournament with the important match against Mexico (November 22). In the second game of Group C, Poland will face Saudi Arabia (Nov. 26) before the group's favorite, Argentina (Nov. 30), awaits in the final group game.
How many times have Poland been World Champions in football?
Poland has never won the World Cup before. At the 1974 tournament in Germany and the 1982 tournament in Spain, Poland finished a respectable third, with striker Grzegorz Lato being the top scorer of the tournament in 1974.
Who is Poland's record international?
The Polish record international is Robert Lewandowski, who is still active today, having played 128 games for the national team (as of September 2022). Lewandowski thus clearly outstripped his former teammate Jakub Blaszczykowski, who made 108 international appearances.
Who is Poland's record goalscorer?
The clear and probably unassailable record goal scorer for Poland is Robert Lewandowski, who has scored 76 goals in team kit so far (as of September 2022). The second most goals were scored by Wlodzimierz Lubanski, who marked 48 goals between 1963 and 1980.
What is the Polish national team colloquially known as?
The Poles are known as "Bialo-Czerwoni", which is Polish for "the white and red". Based on their national flag, the Poles play exclusively in a kit combination of white and red or red and white.