Team Qatar at the 2022 World Cup – Betting Odds & Tips
Despite not having any football tradition as a country, the host of the 2022 World Cup is Qatar. What to expect from the unknown team and who are the most important players of Qatar, we analyze in detail here.
We provide you with the best Qatar World Cup tips and predictions ahead of the tournament.
Betting on Team Qatar at the 2022 World Cup
Team Qatar odds World Cup 2022
Current form and results
World Cup preparation
Team Qatar World Cup 2022 fixtures
Team Qatar World Cup 2022 squad
Team Qatar World Cup history
FAQ – Questions and answers about Team Qatar at the 2022 World Cup
---

---
Best Bookmaker for World Cup Betting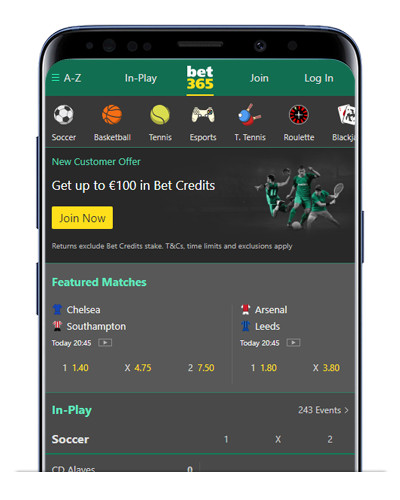 The most established name in world wide sports betting offers a huge range of betting options for new and experienced bettors. Bet365 is well known for great odds on sporting events from around the globe.
Bet365 Review
Sign up with Bet365 and get 100 €/$/£ Bonus
---
Team Qatar odds World Cup 2022
It is quite a rare situation that the host of the World Cup is unlikely to play for the higher stages of the tournament.
Football World Cup 2022 Winners Odds – top bookmakers
---
A bigger underdog than Qatar has never hosted a FIFA World Cup. At our top bookmaker 22Bet, you would win back 285 times your stake for a sensational World Cup title for Qatar.
This means that only four teams are rated weaker by the sports betting sites than the host of the tournament.
➜ Qatar to win World Cup 2022 @ 285.00 / 22Bet

Best Odds
Even reaching the knockout stage would be a huge sensation for Qatar. In a group with the Netherlands, Senegal and Ecuador, they are considered clear underdogs. The bookies give the Qataris 101/1 odds of reaching the final, with only Saudi Arabia, Iran and Costa Rica less likely to do so.
➜ Qatar to reach the World Cup final @ 101.00 / Bet365

Best Odds
To prevail in Group A will require some absolute top performances, but especially the technical superiority of the Dutch and the physical advantages of Senegal will be very difficult for Qatar to crack. Only Ecuador seems to be more or less on a par with the hosts, but even they are rated much stronger than the team from the Arabian Peninsula by the bookmakers.
Qatar's only advantage over their group opponents is probably that they will be better accustomed to the climatic conditions. Still, a Qatar group win seems very unlikely.
➜ Qatar wins Group A @ 15.00 / 22Bet

Best Odds
---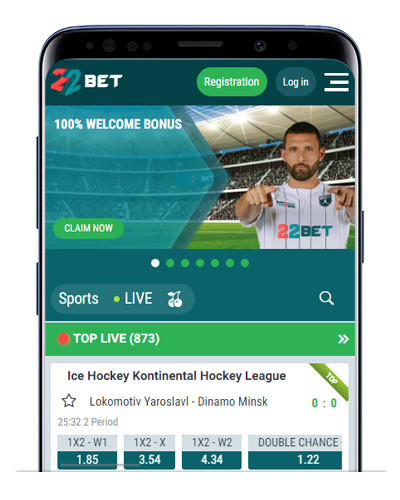 22Bet offers sports betting with high stakes and win limits. In addition, the betting company has a wide range of bets available. Customers who play with higher stakes and do not want to compromise on the betting selection will find 22Bet a great choice!
22bet Review
Sign up with 22BET and get 122 € Bonus
---
The best bookmaker Bet365 currently trusts only two Qatari team players to score one or the other goal: Akram Afif and Almoez Ali are the only Qatari players in the list of odds on the World Cup top goal scorer.
Even though there have been numerous sensations at World Cups, it is practically inconceivable that one of these players will be able to join the fight for the "Golden Boot" for the tournament's top scorer.
Akram Afif will be World Cup top scorer @ 251.00 / Bet365
Almoez Ali will be World Cup top scorer @ 251.00 / Bet365
---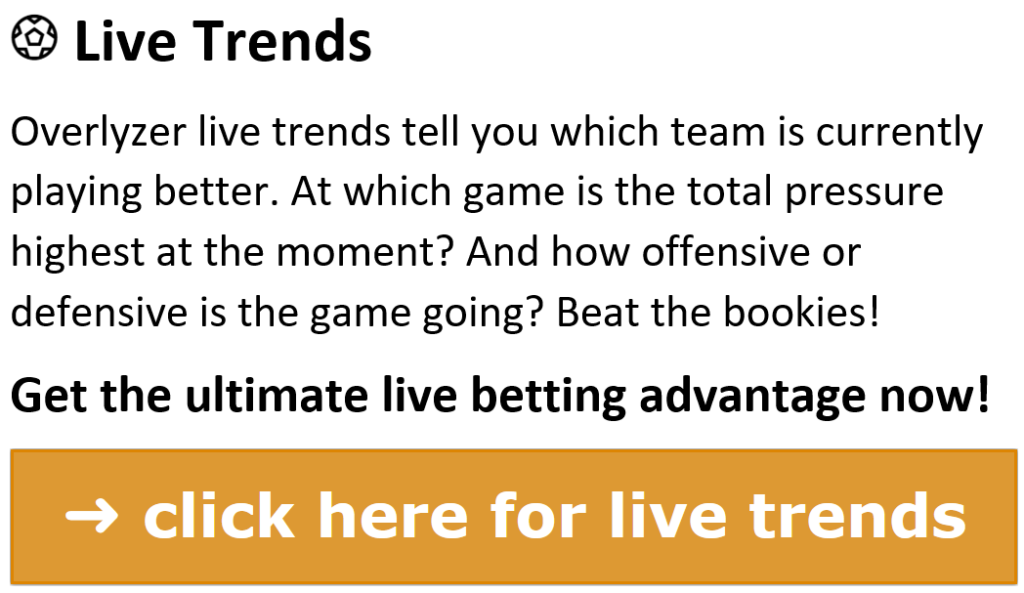 ---
Current form and results
Under their Spanish coach Félix Sánchez Bas, Qatar have been focused on playing as many international games as possible against as many different teams and defensive/offensive approaches as possible. In 2021 alone, Qatar played 24 international matches. They failed to reach the semifinals of both the 2021 Gold Cup, where they were the visiting team, and the FIFA Arab Cup.
Qatar played eleven friendly matches in 2021, winning only against Luxembourg, Azerbaijan and El Salvador. They lost 4-0 to Ireland and twice to Serbia, for example. Moreover, Qatar lost to Portugal once 0:3 and once 1:3.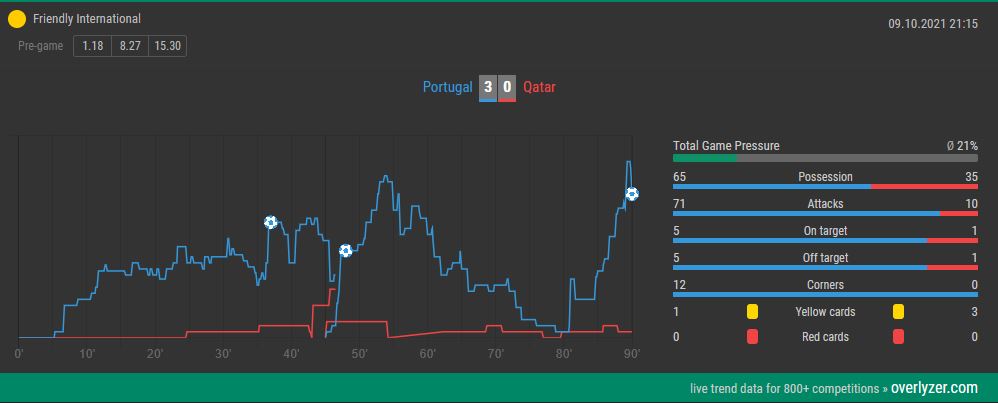 ---
➜ grab the ultimate live betting advantage with Overlyzer now!

Beat the bookmakers!
In 2022, Qatar played six matches by the end of August and the results gradually got a little better. They managed a goalless draw against Lazio in a friendly, for example, and defeated a Ghana selection – though not Ghana's first eleven – 2-1.
Back in March, they tested against two European national teams and did quite well, beating Bulgaria 2-1 and holding a goalless draw against Slovenia.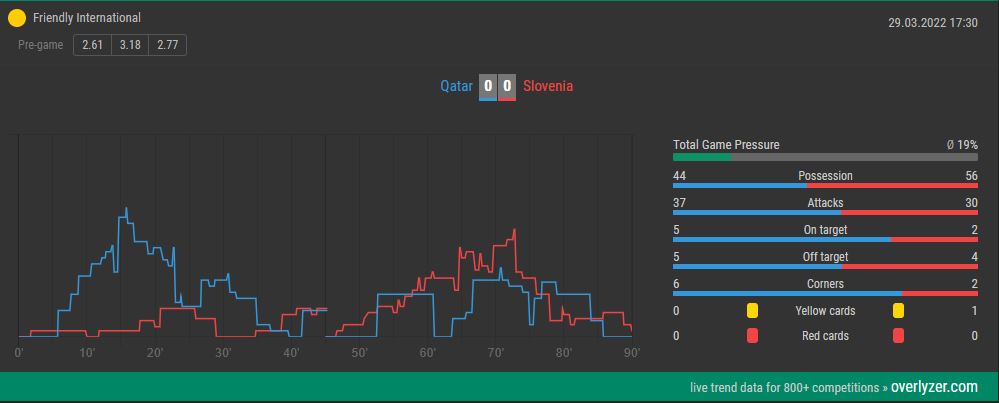 No statistics are shown for some of these internationals because they are not considered official FIFA games or were even played against club teams. This is definitely a novelty for a World Cup host.
Qatar was scheduled to play four friendly matches in September. However, a match against Bolivia had to be cancelled and the 0-3 against an U23 team from Croatia is not considered an official international match.
The World Cup hosts therefore only tested against Canada and Chile at the end of September. The 2-0 defeat to the up-and-coming Canadians was to be expected, but too low overall. Canada had a strong 3.24 Expected Goals.
Against Chile, however, Qatar managed a respectable 2-2 draw. The Chileans missed out on World Cup qualification by a relatively wide margin this time.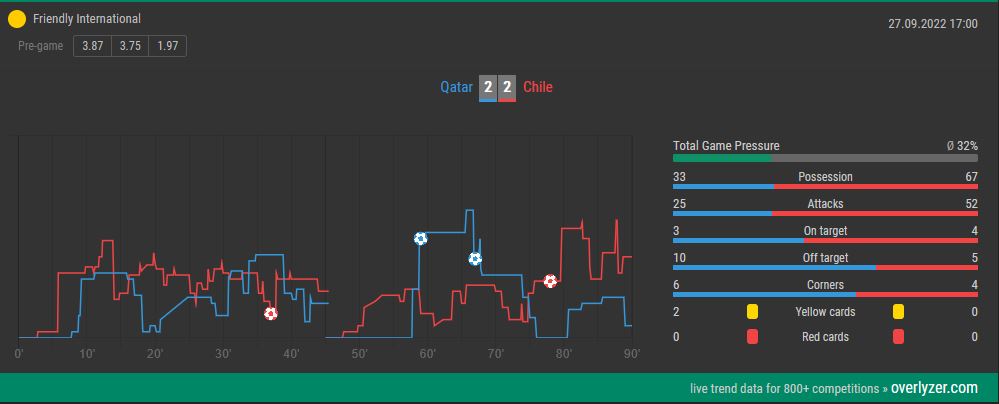 ---
Team Qatar international games in 2022
| | | | | | | | |
| --- | --- | --- | --- | --- | --- | --- | --- |
| Date | Opponent | Venue | Result | XG | Possession | Accuracy | Duels won |
| 26/03/2022 | Bulgaria | H | 2 – 1 | 1.62 : 0.45 | 51,80% | 82,26% | 45,16% |
| 29/03/2022 | Slovenia | H | 0 – 0 | 0.67 : 0.20 | 49,01% | 84,39% | 55,41% |
| 23/09/2022 | Canada | H | 0 – 2 | 0.41 : 3.24 | 41,42% | 85,27% | 66,39% |
| 27/09/2022 | Chile | H | 2 – 2 | 1.35 : 1.74 | 35,24% | 79,21% | 54,76% |
---
✚ check the World Cup 2022 top favorites here
Fun fact: Only three times in the history of the federation, the Qatari national team was coached by a local coach – and none of the three stayed in office longer than one year. Spaniard Sánchez Bas has now been Qatar's coach since 2017, making him the longest-serving team boss in modern times. Before him, the national team was coached by Uruguayan José Daniel Carreño and Algerian Djamel Belmadi.
---
Further preparation and test matches
It is to be expected that Qatar will play a few more friendly matches before the start of the World Cup – some of which will again be "unofficial" matches, i.e. not recognized by FIFA.
But there will certainly be one or two tests against stronger opponents as well. As soon as new dates are published, we will inform you on this page.
---
Want to see at a glance which team is currently in the push in over 1,000 leagues and competitions from 160+ countries? We recommend you to ➜ register at overlyzer.com – with Overlyzer you can follow thousands of matches LIVE every week, set filters according to your betting behaviour and retrieve them at any time.

This is how you become a professional live tipster!
---
Team Qatar 2022 World Cup Fixtures
Qatar opens the 2022 World Cup with a clash against Ecuador. This match was originally scheduled to take place on November 21 – after the match between the Netherlands and Senegal – but Qatar asked for a postponement of the match to November 20 in order to be allowed to play the opening match of their home World Cup.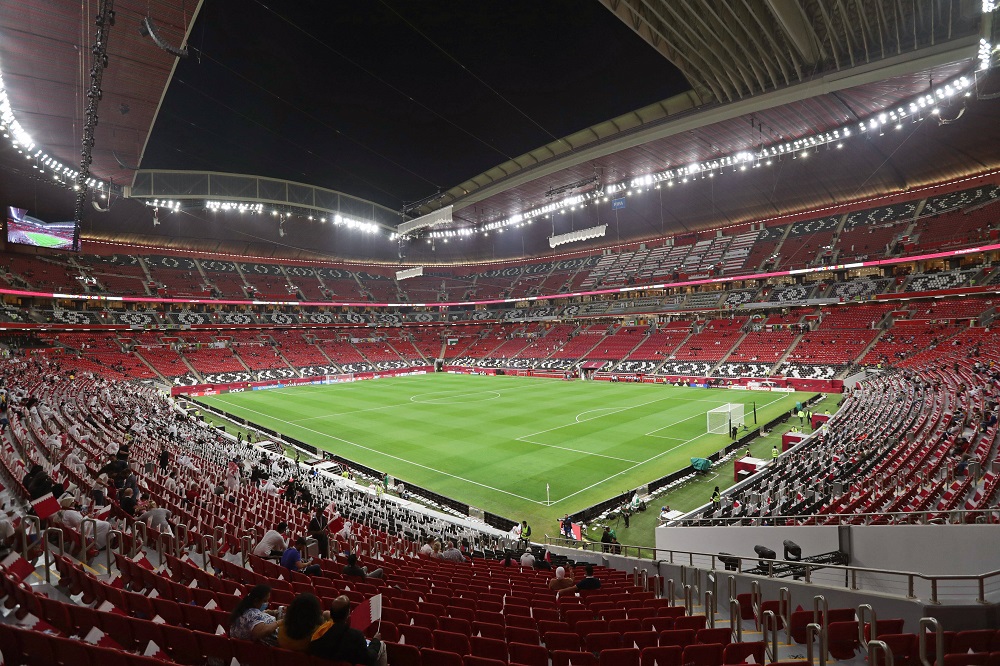 ---
In the second match, Qatar will take on Senegal before what is likely to be the most difficult match against the Netherlands on the final day of the group stage.
---
Analyzing Qatar's World Cup squad
There is not a single player in the Qatar national team squad who plays in a foreign country – all players earn their money in the domestic Qatar Stars League. So they know each other well, whether as teammates or opponents.
We now analyze Qatar's individual team parts in detail, venture a Qatar squad analysis and take a look at where the strengths and weaknesses of the only World Cup debutants in 2022 lie.
Qatar goalkeepers
Qatar's regular goalkeeper is 32-year-old Saad al-Sheeb, who is also a first team regular for Al-Sadd. He is one of the most experienced players in the entire squad and has spent his entire career at the same club. In international comparison, however, al-Sheeb is a small number and the keeper, who measures only 184cm (6'), does not stand out with the best decision-making in his play.
GK – Saad al-Sheeb (Al-Sadd SC)
GK – Meshaal Barsham (Al-Sadd SC)
GK – Yousef Hassan (Al-Gharafa)

Qatar center backs
The central defense is where some of Qatar's key players play. For example, Boualem Khouhki, a native of Algeria who will play his 100th international match just before the tournament. Portugal-born Pedro Miguel is also a mainstay for Qatar's defense.
Qatar's central defense may not be top-class in terms of quality and is primarily focused on defending rather than building up the game in a creative way, however, virtually every constellation is very well-rehearsed and, above all, physically strong and equipped with a lot of stamina.
CB – Tarek Salman (Al-Sadd SC)
CB – Pedro Miguel (Al-Sadd SC)
CB – Bassam Al-Rawi (Al-Duhail)
CB – Boualem Khoukhi (Al-Sadd SC)
CB– Jassem Gaber (Al-Arabi SC)

Qatar full backs
Left-back Abdelkarim Hassan is one of the team's strongest players for the left-back position. The physically strong veteran, who has already played more than 120 international games, is particularly important because he repeatedly moves into the center which is very important for the Qataris' very defensive game, thus compacting the center even more.
The right side of the defense is clearly inferior in comparison. Ismaeel Mohammed, who is mostly set as a regular starter, is more of an offensive player than a full-back and has to move to the back more due to a lack of alternatives.
RB – Musab Khoder (Al-Sadd SC)
RB – Ismaeel Mohammed (Al-Duhail)
LB – Abdelkarim Hassan (Al-Sadd SC)
LB – Homam Ahmed (Al-Gharafa)

Qatar central midfield
The Qataris' central midfield also serves mainly defensive duties and is not primarily known for its creative and inventive style of play. Therefore, it is no coincidence that half of the central midfielders in the squad are likely to be typical defensive midfielders. Naturalized Algerian-born Frenchman Karim Boudiaf is a key player here, as is the more offensive Abdulaziz Hatem.
Abdullah Al-Ahrak could have added a bit of playmaking flair, but he will miss the World Cup due to a torn cruciate ligament.
DM – Karim Boudiaf (Al-Duhail)
DM – Assim Madibo (Al-Duhail)
DM – Salem Al-Hajri (Al-Sadd SC)
CM – Abdulaziz Hatem (Al-Rayyan)
CM – Mohammed Waad (Al-Sadd SC)
CM– Mostafa Meshaal (Al-Sadd SC)

CAM – Ali Asad (Al-Sadd SC)

Qatar attack
In the attacking row, which at Qatar is a couple of center forward instead of one forward and two wingers, there are three quite interesting players in the squad. First of all, there is record international Hasan Al-Haydos, who has 160 caps for Qatar (as of September 2022), but has weakened significantly over the last two years.
Almoez Ali, who played in his younger years in Austria with LASK and in the third Spanish league, has been considered a national hero since he scored nine tournament goals to help Qatar winning the Asia Cup in 2019. And 25-year-old left winger Akram Afif is widely regarded as the country's best technician. They also have an assertive, tall (194cm/6'3'') striker in naturalized Ghanaian Mohammed Muntari, who can act as a target man especially as a joker.
By international standards, however, the power of Qatar's offense is still very low. One reason for this is that the offensive players are often left on their own, as Qatar pays close attention to the rest of the defense and safety.
RW – Hasan Al-Haydos (Al-Sadd SC)
RW – Naif Al-Hadhrami (Al-Rayyan SC)
LW – Akram Afif (Al-Sadd SC)
LW – Khalid Muneer Mazeed (Al-Wakrah)
ST – Almoez Ali (Al-Duhail)
ST – Ahmed Alaaeldin (Al-Gharafa)
ST – Mohammed Muntari (Al-Duhail)

Qatar competition flair
It is quite a curiosity that the only World Cup debutant can be said to have some impressive competition flair. But under coach Félix Sánchez Bas, Qatar already proved that they can succeed in tournaments, especially in the 2019 Asia Cup which they won.
In addition, all the players know each other very well from their clubs and are well attuned. The disciplined squad implements Sánchez Bas' tactical guidelines well and has also played an exceptionally large number of international matches, which further contributes to a better understanding within the team. Qatar also has the advantage of being well adapted to the climatic conditions, whereas other teams might have problems.
Qualitatively, however, Qatar is at least clearly behind the Netherlands and Senegal, so anything other than elimination in the group stage would be a real sensation.

---

---
Qatar World Cup History
Qatar's World Cup history is quickly told: The 2022 World Cup will be the nation's first appearance at a World Cup. As hosts, they were qualified automatically – Qatar has therefore never survived a World Cup qualifier campaign before. It's never been close, and Qatar has been swept in previous qualifiers rather than coming close to a World Cup ticket. So the host of this year's World Cup can confidently be described as a real football underdog.
---
FAQ – Questions and answers about Team Qatar at the 2022 World Cup
Who is the coach of Team Qatar at the 2022 World Cup?
The Qatari national soccer team has already been coached by Spanish coach Félix Sánchez Bas since July 2017. The Catalan, who used to coach FC Barcelona's youth team, has now been working in Qatar for over 16 years. He worked his way up from academy work through the junior national teams to the Qatar national team.
Who are Team Qatar's stars at the 2022 World Cup?
Qatar's best players are winger Akram Afif, as well as center forward Almoez Ali. There are also important key players in central defense with Pedro Miguel and Boualem Khoukhi, as well as on the full-back position with Abdelkarim Hassan.
Who will Team Qatar play against at the 2022 World Cup?
Qatar will play the opening match of the World Cup against Ecuador (November 20). On the second matchday, the host will play Senegal (Nov. 25), and on the last matchday of Group A, Qatar will face the Netherlands (Nov. 29), which is supposed to be the most difficult match of the group stage.
How many times has Qatar participated in the World Cup?
Qatar is participating in a World Cup for the first time in 2022. Before that, the country has never qualified for a FIFA World Cup.
Who is Qatar's record international player?
Qatar's most capped player is Hassan Al-Haydos, who played 163 games for the national team (as of September 2022) and is still a member of the Qatari team squad.
Who is Team Qatar's record goalscorer?
Qatar's all-time record goal scorer is still Mubarak Mustafa, who scored 41 international goals between 1992 and 2004. Behind him, however, lurks the only 26-year-old center forward Almoez Ali, who has scored 39 goals so far (as of September 2022) and will thus probably soon catch up with the already retired record holder.
What is the nickname of the Qatari national team?
The Qatar national team is popularly known as "al-Anabbi," which means "the wine reds." This nickname comes from the main color in the Qatari national flag and of course their jerseys, which are the same color.