Saudi Arabia at the 2022 World Cup – Betting Odds & Tips
Saudi Arabia are considered one of the biggest underdogs in the entire field of participants at the 2022 World Cup in Qatar.
What advantages and plus points the players from the Arabian peninsula have nevertheless and what the best Saudi Arabia World Cup 2022 tips are, we explain in this article.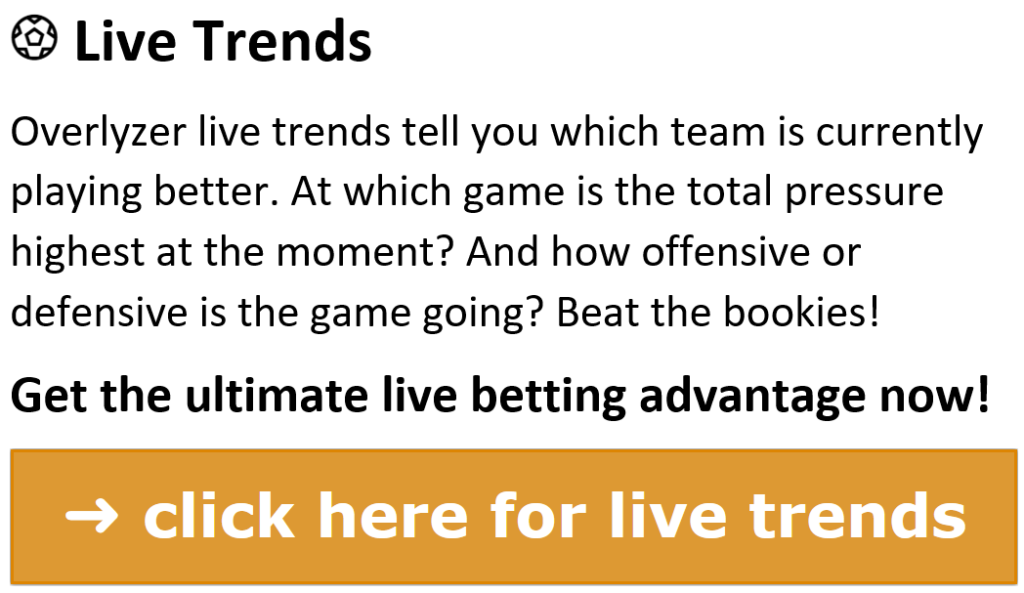 ---
Betting on Saudi Arabia at the 2022 World Cup


1. Saudi Arabia Odds World Cup 2022
2. Current form and results
3. Further preparation and test matches
4. Match schedule of Saudi Arabia at the 2022 World Cup
5. Saudi Arabia's World Cup squad
6. World Cup History of Saudi Arabia
7. FAQ – Questions and answers about Saudi Arabia at the World Cup 2022
---

---
Best Bookmaker for World Cup Betting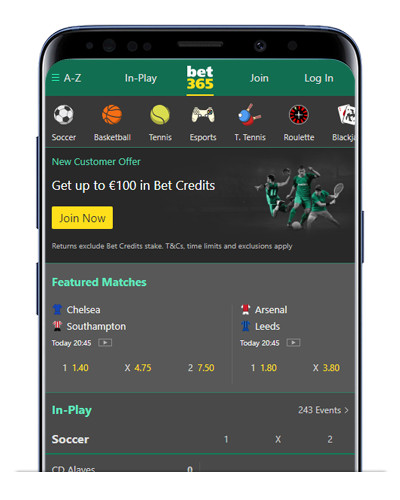 The most established name in world wide sports betting offers a huge range of betting options for new and experienced bettors. Bet365 is well known for great odds on sporting events from around the globe.
Bet365 Review
Sign up with Bet365 and get 100 €/$/£ Bonus
---
Saudi Arabia Odds World Cup 2022


Saudi Arabia will participate in a FIFA World Cup for the sixth time in 2022. Our bookmaker test winner Bet365 gives a World Cup title for Saudi Arabia odds of @751.00, the highest of all participants in the World Cup finals – ex aequo with Iran and Costa Rica.
Football World Cup 2022 Winners Odds – top bookmakers
---
Of course, the World Cup title is de facto impossible for the Saudis, not only because the team will travel to neighboring Qatar without a single player who earns his money outside of Saudi Arabia.

➜ Saudi Arabia to win World Cup 2022 @ 751.00 / Bet365

The same applies to a final appearance of Saudi Arabia. The team already has to face Argentina in the first match and thus Messi and Co. and so it should quickly be clear that even the chances of getting through the group will be very slim.
Again, Saudi Arabia, Iran and Costa Rica together have the highest odds of all participating teams for reaching the World Cup final.

➜ Saudi Arabia to reach the World Cup final @ 251.00 / 22Bet

Already on the first matchday Saudi Arabia has to face Argentina and thus one of the co-favorites for the World Cup title. One could definitely imagine an easier opening match, but even after that it won't be much easier in Group C against Poland and Mexico, between whom a close race for the second place is expected.
All the teams facing Saudi Arabia see the match as a clear must-win and will perform accordingly. Under normal circumstances, the Saudis' group win is also practically unthinkable.

➜ Saudi Arabia to win Group C @ 35.00 / 22Bet

---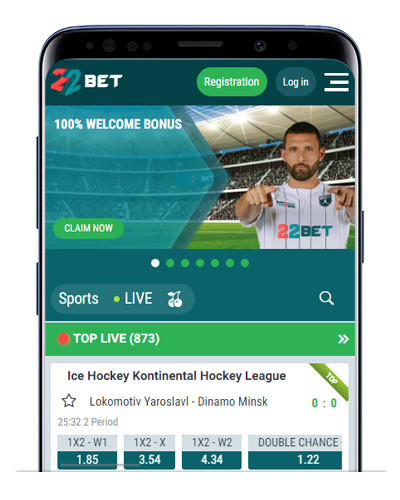 22Bet offers sports betting with high stakes and win limits. In addition, the betting company has a wide range of bets available. Customers who play with higher stakes and do not want to compromise on the betting selection will find 22Bet a great choice!
22bet Review
Sign up with 22BET and get 122 € Bonus
---

At our best bookmaker Bet365, two Saudi players made it to the list of possible World Cup top scorers – but also with one of the highest odds offered for betting tips in this type of bet, which is @251.00.

It would be a memorable achievement for the Saudi attackers to get on the scoresheet even once, and it is unlikely that any of the Saudi squad players will be allowed to celebrate a goal more than once.
However, Saleh Al-Shehri, who is listed here, should be watched, because the powerful attacker of Hervé Renard's team is a talented striker who definitely knows where the goal is.

Firas Al-Buraikan to be World Cup top scorer @ 251.00 / Bet365
Saleh Al-Shehri to be World Cup top scorer @ 251.00 / Bet365
---
Current form and results
In the international fixture year so far (as of September 2022), Saudi Arabia have only won two games: In the Asian World Cup qualifiers, the team prevailed against Oman and Australia – both with a tight 1-0.
The remaining matches, however, were rather sobering: Against China, it was only enough for a draw, against Japan, the Renard eleven lost 2-0. In June, they also played two friendly matches, which were lost against Colombia and Venezuela with 1-0 each.
This was a bitter disappointment, especially against the Venezuelans, who finished last in the South American World Cup qualifiers.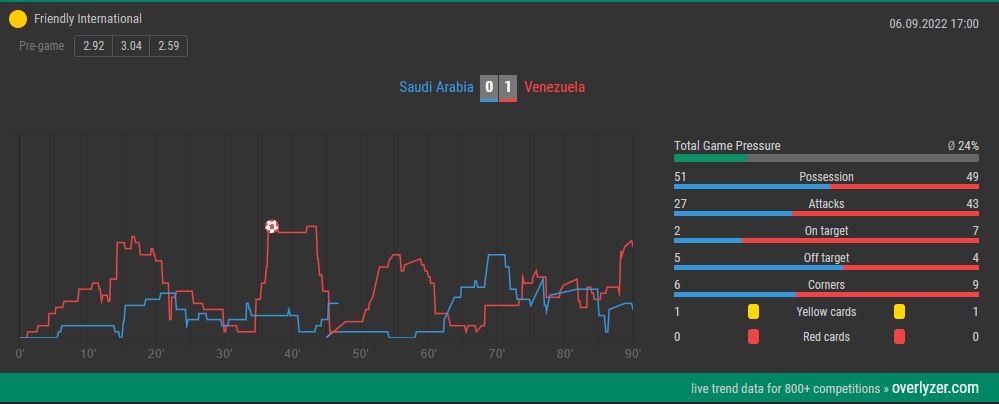 Saudi Arabia presented itself as minimalistic as ever in the two friendly matches at the end of September. First there was a 0-0 draw against Ecuador, followed by another 0-0 against the United States of America.
In contrast to the previous international matches against Venezuela and Colombia, however, it was pleasing to see that Saudi Arabia conceded significantly less. While the expected goal statistics against the two South American test match opponents were still clearly in favor of the opponents, the USA, for example, could only collect 0.47 xG against the defensively stable Saudis.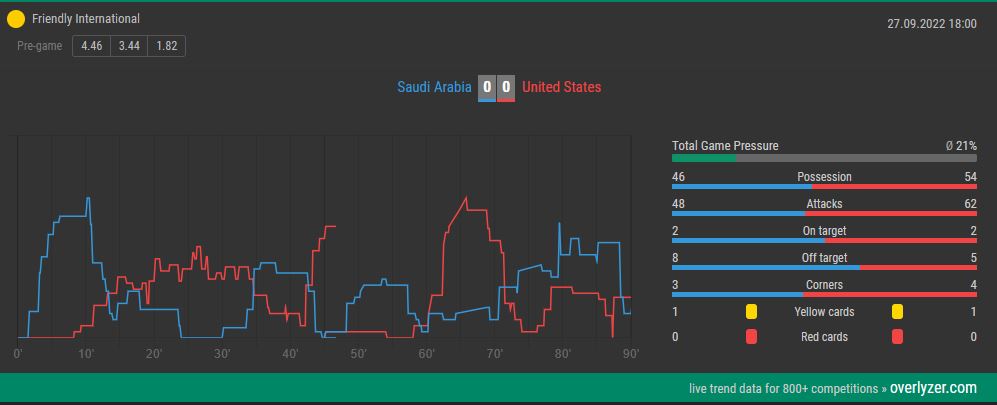 The Saudi national team had a slightly more difficult time against Ecuador, but especially in the first half, they had the team from Group A well under control. Since the Saudis will primarily rely on defensive stability, the last few test matches have been quite positive.
The negative side note is that although Saudi Arabia have conceded only two goals in their last four matches, they have scored only one themselves. And in the difficult group with Argentina, Mexico and Poland, they will probably not be able to rely solely on always being able to keep a 0-0 score.
---
➜ grab the ultimate live betting advantage with Overlyzer now!

Beat the bookmakers!
---
Fun fact: In the last 30 years, the Saudi Arabian national team has been coached by a total of 40 different coaches. Among others, internationally renowned coaches such as Carlos Alberto Parreira, Frank Rijkaard or Bert van Marwijk.
Frenchman Hervé Renard has now been team manager of Saudi Arabia since September 2019, making him the longest-serving coach since Mario Zagallo 38 years ago.
---
Further preparation and test matches
Saudi Arabia have already confirmed numerous friendly matches to prepare for the 2022 World Cup. Some of them could be highly interesting, for example the last game before the start of the tournament against Croatia.
26/10/2022: Saudi Arabia – Albania
30/10/2022: Saudi Arabia – Honduras
06/11/2022: Iceland – Saudi Arabia
16/11/2022: Croatia – Saudi Arabia
The rest of Saudi Arabia's program looks well-balanced. In the next two games against Albania and Honduras, they will certainly be looking to score again.
Against Iceland and especially against Croatia, they will then focus again on fine-tuning their defensive tactics.
Saudi Arabia international games in 2022
| | | | | | | | |
| --- | --- | --- | --- | --- | --- | --- | --- |
| Date | Opponent | Venue | Result | XG | Possession | Accuracy | Duels won |
| 27/01/2022 | Oman | H | 1 – 0 | 1.22 : 0.91 | 55,82% | 80,18% | 59,17% |
| 01/02/2022 | Japan | A | 0 – 2 | 0.15 : 1.12 | 60.36% | 83,39% | 43,59% |
| 24/03/2022 | China | A | 1 – 1 | 2.47 : 0.85 | 71,81% | 89,80% | 51,08% |
| 29/03/2022 | Australia | H | 1 – 0 | 1.58 : 0.87 | 54,87% | 88,33% | 45,31% |
| 05/06/2022 | Colombia | N | 0 – 1 | 0.50 : 1.76 | 49,23% | 87,23% | 45,91% |
| 09/06/2022 | Venezuela | N | 0 – 1 | 0.34 : 2.22 | 55,75% | 82,08% | 45,28% |
| 23/09/2022 | Ecuador | N | 0 : 0 | 0.75 : 0.85 | 43,21% | 76,41% | 49,04% |
| 27/09/2022 | USA | H | 0 : 0 | 0.71 : 0.47 | 43,91% | 83,05% | 48,86% |
| 26/10/2022 | Albania | H | | | | | |
| 30/10/2022 | Honduras | H | | | | | |
| 06/11/2022 | Iceland | A | | | | | |
| 16/11/2022 | Croatia | A | | | | | |
Are you interested in live betting and don't want to miss any match in hundreds of leagues at the same time?
Then we recommend you to ➜ register at overlyzer.com – we offer you live graphs on thousands of matches every week. Overlyzer covers all professional leagues, but also amateur and youth leagues and lets you filter matches according to your own betting behavior!
---
Saudi Arabia match schedule at the 2022 World Cup
Already on the first matchday of the tournament, the team from Saudi Arabia meets with the toughest opponent: Argentina is waiting for the opener and it can be assumed that the Saudis will approach this game very defensively in order not to run into the open knife.
---
On the second matchday of Group C, Saudi Arabia will face Poland, and on the final matchday, they will take on Mexico, the only group opponent that does not have a world-class footballer in its ranks.
---
Saudi Arabia's World Cup squad
Without one player playing abroad – because a move out of Saudi Arabia is only allowed under special circumstances – Saudi Arabia will come to Qatar for the 2022 World Cup.
We take a detailed look at the individual team parts and venture a Saudi Arabia team analysis ahead of the World Cup finals "on their doorstep".
Saudi Arabia Goalkeeper
Mohammed Al-Owais will be the most experienced goalkeeper in the squad for the 2022 World Cup. However, this could still prove to be a disadvantage because his competitor Mohammed Al-Rubaie would be the more talented and in-form keeper.
However, the latter is lower in the squad's hierarchy than Al-Owais.
GK – Mohammed Al-Rubaie (Al-Ahli Saudi)
GK – Mohammed Al-Owais (Al-Hilal Saudi)
GK – Nawaf Al-Aqidi (Al-Nassr)

---
Saudi Arabia Center Backs
Saudi Arabia hardly has any experienced players in the central defense. Only one of the possible starters – Ali Al-Boleahi – has played more than 15 international matches so far. Physically, Saudi Arabia's central defenders are also clearly inferior to their group rivals.
The average height of the central defenders in the squad is only 180cm (5' 9''), making them vulnerable in the air.
The build-up play is also not at general World Cup level. The Saudis like to build up their game via the full-back positions or try it directly with wide balls behind the – mostly high standing – opponent's defensive line.
CB – Abdulelah Al-Amri (Al-Nassr)
CB – Hassan Tambakti (Al-Shabab)
CB – Ali Al-Boleahi (Al-Hilal Saudi)
CB – Abdullah Madu (Al-Nassr)

---
Saudi Arabia Outside Backs
Saudi Arabia probably has the best players in the squad in the full-back positions. Left-footer Yasser Al-Shahrani stands out in particular, as he brings plenty of experience to the tournament, is a strong runner, and also plays an important role in the build-up to the game.
On the right side of defense, coach Hervé Renard is spoilt for choice: Al-Ghannam and Al-Burayk have what it takes to become key players in the team.
Of course, it is also conceivable that Saudi Arabia will field both against stronger opponents and move one of them further forward in order to be more defensively stable at the back.
While the defense will generally have problems against the strong attacking lines of the group opponents, this part of the team could also be significantly weaker!
RB – Sultan Al-Ghannam (Al-Nassr)
RB – Mohammed Al-Burayk (Al-Hilal Saudi)
RB – Saud Abdulhamid (Al-Hilal Saudi)
LB – Yasser Al-Shahrani (Al-Hilal Saudi)

---
Saudi Arabia Central Midfield
Saudi Arabia's central midfield is definitely well mixed. There are several left-footers and, on the one hand, strong technicians, such as playmaker Sami Al-Najei, and, on the other hand, physically strong players with great stamina, such as the 192cm (6'3'') tall Mohamed Kanno, who holds the center together with his fighting abilities.
In the center of midfield, there are definitely some nations, also clearly considered underdogs, that are even weaker than Saudi Arabia.
DM – Nasser Al-Dawsari (Al-Hilal Saudi)
DM – Ali Al-Hassan (Al-Nassr)
DM – Abdullah Otayf (Al-Hilal Saudi)
CM – Mohamed Kanno (Al-Hilal Saudi)
CM – Salman Al-Faraj (Al-Hilal Saudi)
CM – Abdulelah Al-Malki (Al-Hilal Saudi)
CAM – Sami Al-Najei (Al-Nassr)
CAM– Nawaf Al-Abed (Al Shabab)

---
Saudi Arabia Attack
The Saudi attacking line is again a weak point of the squad. Hardly any player who appears in the squad list is an indispensible first team regular at his club. One exception is veteran left winger Salem Al-Dawsari, who will also be a target player in the Saudi Arabian team.
He is the most experienced attacking player in the squad and is one of the few players who could really make a difference.
RW – Abdulaziz Al-Bishi (Al-Ittihad Jeddah)
RW – Abdulrahman Al-Obood (Al-Ittihad Jeddah)
RW – Hattan Bahebri (Al-Shabab)

LW – Salem Al-Dawsari (Al-Hilal Saudi)
ST – Firas al-Buraikan (Al-Fateh)
ST – Haitham Asiri (Al Ahli)
ST – Saleh Al-Shehri (Al-Hilal Saudi)

---
Saudi Arabia Competition Flair
The only time Saudi Arabia managed to surprise was on their tournament debut in 1994 in the USA, where they even made it to the round of 16. After that, there was only one win in four group stages (2018 against Egypt) and an early exit in each case.
Saudi Arabia is not known as a team with a remarkable competition flair, but they have a big advantage over manAy other teams:
The Saudis are used to the desert climate in their neighboring country Qatar and will have no problems with the dry air.
This could well give the underdogs some positive momentum, although the difference in quality between them and their group opponents will of course still be decisive.

---

---
Saudi Arabia's World Cup history
In 1994 in the USA, Saudi Arabia took part in a World Cup for the first time – and the glaring underdog was able to immediately convince and win the audience on its side. In their first game, they narrowly lost 2-1 to the Netherlands, but in their second game, they scored a 2-1 win over Morocco.
In the decisive game of the group, the team sensationally won 1-0 against Belgium, with Saeed Al-Uwairan making the entire Belgian defense look old with his solo run.
Saeed Al-Uwairan's solo goal was one of the most spectacular goals in the entire World Cup history.
It was not until the round of 16 that they were beaten quite clearly by the then strong Swedish team. The 3-1 defeat meant the end of a successful World Cup, but Saudi Arabia flew home with their heads held high.
In the following three tournaments, Saudi Arabia always was knocked out after the group stage and took only two points in nine matches. The 8-0 defeat by Germany at the 2002 World Cup was the highest World Cup defeat for the Saudis and also Germany's biggest World Cup win.
In 2010 and 2014, Saudi Arabia failed to qualify. It wasn't until 2018 that the country was back in the mix, first losing to Russia and Uruguay, but then scoring a prestigious win against Egypt, although it wasn't enough to advance to the round of 16.
---
FAQ – Questions and answers about Saudi Arabia at the 2022 World Cup
Who is the coach of Saudi Arabia at the 2022 World Cup?
The coach of Saudi Arabia since September 2019 is the Frenchman Hervé Renard. The 54-year-old is an expert in exotic jobs and has previously been the national coach of Morocco, Ivory Coast, Zambia and Angola. In his native France, he coached Lille.
Who are Saudi Arabia's stars at the 2022 World Cup?
Saudi Arabia's two most experienced players, and also two of their strongest, are winger Salem Al-Dawsari and full-back Yasser Al-Shahrani. Midfielder Mohamed Kanno, the tallest outfield player in the squad at 192cm (6'4''), is also a very present player of great physique.
Who will Saudi Arabia play against at the 2022 World Cup?
Saudi Arabia will start the World Cup with an unequal clash against Argentina (November 22). On the second matchday of Group C, the team will face Poland (November 26) and in the last group match, they will take on Mexico (November 30)
How many times has Saudi Arabia participated in the World Cup?
Saudi Arabia has participated in five World Cups to date and will be in the field for the sixth time in Qatar in 2022. In its World Cup debut in 1994 in the USA, the team only failed to reach the quarterfinals after losing 1-3 to Sweden.
Who is Saudi Arabia's record international?
Goalkeeper Mohammad Al-Deayea played the most games for Saudi Arabia's national team. With 178 caps, the keeper was even the world record holder for the most caps played at least for a short time.
Who is Saudi Arabia's record goalscorer?
Majid Mohammed Abdullah scored 72 goals in 117 games for the Saudi Arabian national team, particularly in the 1980s and 1990s. Abdullah finished third in the 1999 vote for Asia's Footballer of the Century.
What is the Saudi Arabian national team colloquially known as?
The Saudi Arabia national team is popularly known as "az-Suqur al-Hadra." This translates to "The Green Falcons." Falconry, i.e. the training of falcons or other birds of prey, has a great tradition in Saudi Arabia and throughout the Arab world, which resulted in the nickname of the national team.