Senegal at the 2022 World Cup – Betting Odds & Tips
Senegal could be the best African team at the World Cup in Qatar this year. Coach Aliou Cissé's team will arrive at the 2022 World Cup as the reigning African Cup champions.
We take a look at the best World Cup 2022 odds, provide you with tips and predictions, and analyze the team's squad in detail.
---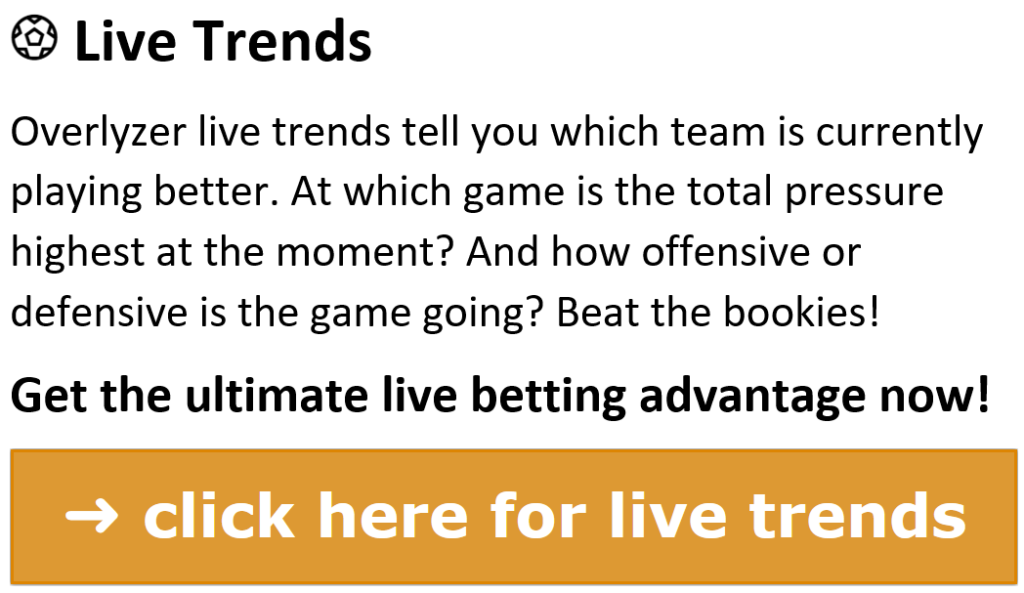 ---
Betting on Senegal at the 2022 World Cup
Senegal odds World Cup 2022
Current form and results
World Cup preparation
Senegal World Cup 2022 fixtures
Senegal World Cup 2022 squad
Senegal World Cup history
FAQ – Questions and answers about Senegal at the 2022 World Cup
---
---
Top Bookmaker for World Cup Betting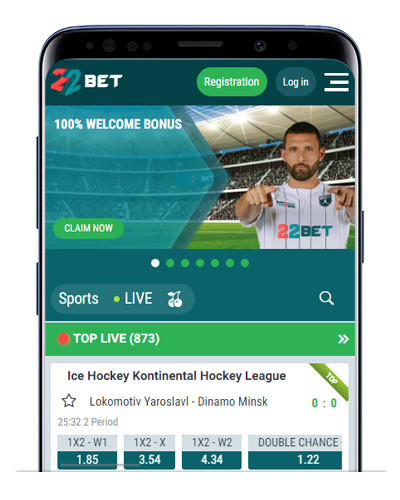 22Bet offers sports betting with high stakes and win limits. In addition, the betting company has a wide range of bets available. Customers who play with higher stakes and do not want to compromise on the betting selection will find 22Bet a great choice!
22bet Review
Sign up with 22BET and get 122 € Bonus
---
Senegal Odds World Cup 2022
Bookies consider Senegal to be an insider's pick at the 2022 World Cup. Only twelve teams have lower odds on the World Cup title than the West Africans. At our top bookmaker 22Bet, you'll find odds of @93.00 for Senegal to win the World Cup.
Football World Cup 2022 Winners Odds – top bookmakers
These are obviously very high odds, but considering the fact that Senegal already proved that they are ready for big tournaments in 2022 at the successful Africa Cup, the odds could well be a bargain in comparison.
Also, to reach the final of the World Cup, of course everything has to go perfectly for Senegal. Unlike many other dark horses, Senegal has a world-class footballer like Sadio Mané in its team, who could well make the difference.
A solid performance is all Senegal needs to make it through the group, but with a bit of luck and Mané's class, why not knock out three more opponents on the road to the final?
The toughest group opponent for Senegal are the Netherlands. Louis van Gaal's team is considered the clear favorite in Group A. The Senegal group win odds are quite high, considering that the group will be decided in just three matches and practically anything could happen.
Senegal has numerous top players from the best European leagues and possibly the qualitative difference with the Netherlands is not as big as you would expect at first glance when looking for the best betting strategy. A bet on Senegal winning the group is perhaps not the most likely, but still one to think about based on the odds comparison and the value of the bet.
---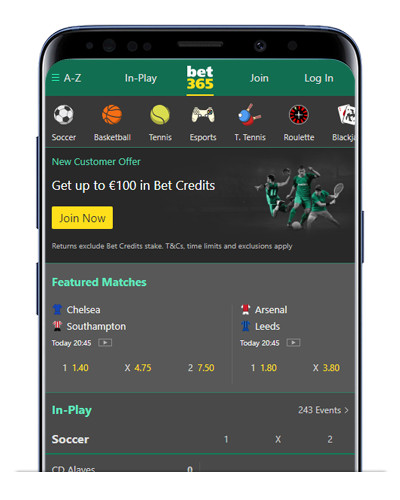 The most established name in world wide sports betting offers a huge range of betting options for new and experienced bettors. Bet365 is well known for great odds on sporting events from around the globe.
Bet365 Review
Sign up with Bet365 and get 100 €/$/£ Bonus
---
When you think of Senegalese goals, you inevitably think of Bayern star Sadio Mané. Senegal's number ten has already scored over 30 international goals, is the penalty taker for his team and can also be dangerous time and again with fast and direct dribblings.
Even though Mané is used as a left winger in the national team, he is a kind of target player for his colleagues. He will be the player they are looking for and want to put in good finishing positions.
Therefore, according to the sports betting sites, the established center forwards in the Senegal squad have very little chance of becoming the World Cup top scorer. In contrast, the odds on ex-Liverpool star Mané to win be the tournament's top goal scorer are quite high, considering that it is very unlikely that another Senegalese player will score more times than him.
Sadio Mané to be World Cup top scorer @ 101.00 / Bet365
Ismaila Sarr to be World Cup top scorer @ 151.00 / Bet365
Keita Baldé to be World Cup top scorer @ 151.00 / Bet365
---
Current form and results
In their most important matches of 2022 so far, Senegal always met Egypt. The team around their star Mohamed Salah was both the opponent in the final of the Africa Cup, as well as the last opponent in the 2022 World Cup qualifiers. In three games, the goal difference after – including extra time – 330 minutes was just 2-1 for Senegal.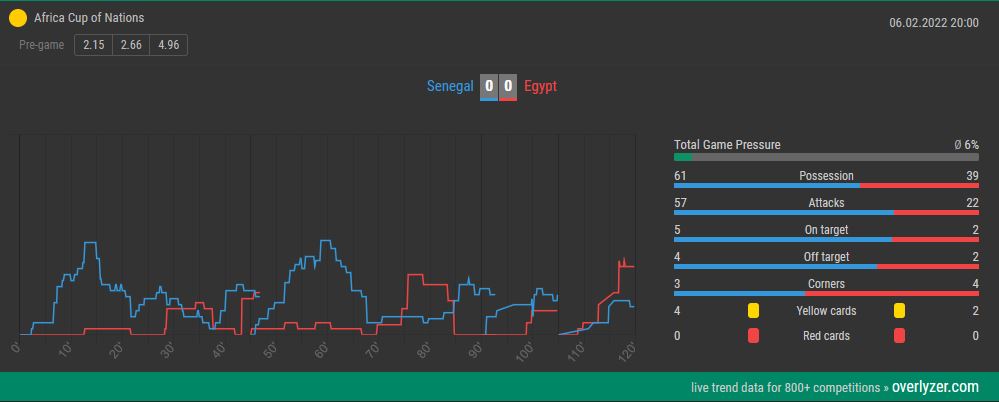 ---
➜ Register for access to our real-time live betting data!

Beat the Bookies!
---
Currently Senegal is not a team that plays spectacular offensive football and scores a lot of goals, but instead pays extreme attention to defensive stability. Since coach Aliou Cissé has been in charge for a long time, the team is well-rehearsed and knows exactly what their coach expects of them.
Egypt also had to learn this painfully. The Senegalese rivals not only failed to reach the final of the Africa Cup, but also lost out to the West Africans in the battle for a World Cup ticket.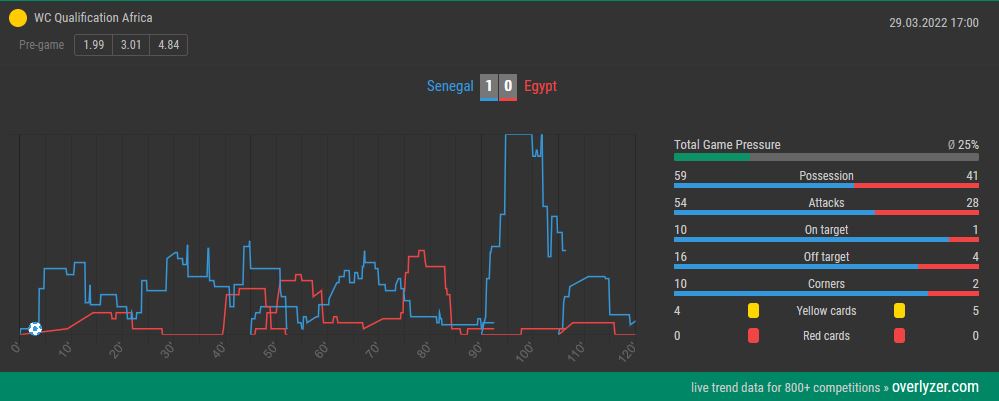 As in the Africa Cup final, Senegal won the decisive qualifying match against Egypt after penalties. And they acted very minimally and efficiently in other respects as well. On their way to the Africa Cup final, they conceded only six goals in six matches and did not lose a game.
In September, Senegal tested against Bolivia and Iran, who will also participate in the 2022 World Cup. They got the expected win against Bolivia, but the 1-1 draw with Iran was disappointing overall. The Expected Goals were in favor of Senegal, but Iran presented itself efficiently and managed to take a point from the Senegalese.
In both games, however, it was visible that Senegal was not dominant enough. Against Bolivia they managed 1.69 Expected Goals, against Iran only 1.01. This means that Senegal needs to be more efficient and also create more and especially higher quality scoring chances in the build-up for the tournament and of course at the World Cup itself.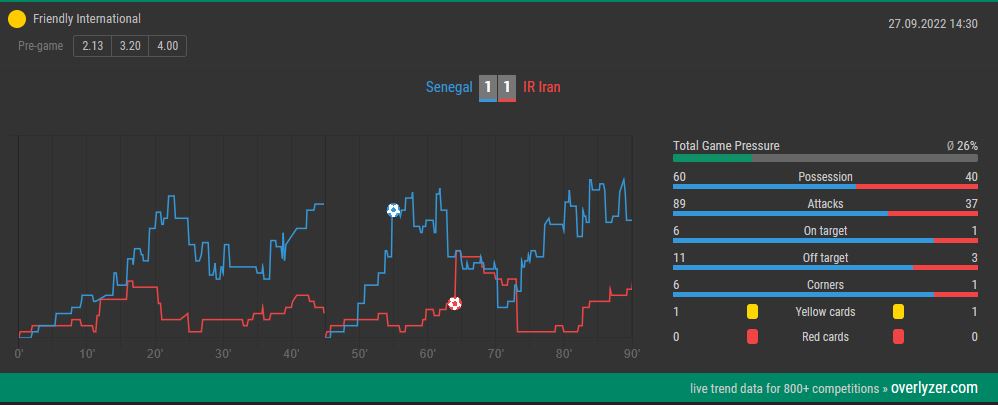 Senegal International Games in 2022
| | | | | | | | |
| --- | --- | --- | --- | --- | --- | --- | --- |
| Date | Opponent | Venue | Result | XG | Possession | Accuracy | Duels won |
| 10/01/2022 | Zimbabwe | N | 1 – 0 | 1.85 : 0.31 | 60,51% | 85,63% | 50,59% |
| 14/01/2022 | Guinea | N | 0 – 0 | 0.64 : 0.63 | 49,70% | 69,52% | 50,92% |
| 18/01/2022 | Malawi | N | 0 – 0 | 1.56 : 0.15 | 74,52% | 83,05% | 57,25% |
| 25/01/2022 | Cape Verde | N | 2 – 0 | 1.42 : 0.17 | 59,14% | 82,40% | 46,41% |
| 30/01/2022 | Equatorial Guinea | N | 3 – 1 | 0.76 : 0.79 | 41,41% | 81,63% | 44,38% |
| 02/02/2022 | Burkina Faso | N | 3 – 1 | 1.38 : 0.43 | 49,80% | 86,42% | 53,57% |
| 06/02/2022 | Egypt | N | 0 – 0 | 1.95 : 0.86 | 55,41% | 84,34% | 50,78% |
| 25/03/2022 | Egypt | A | 0 – 1 | 0.65 : 1.00 | 59,39% | 80,37% | 53,68% |
| 29/03/2022 | Egypt | H | 1 – 0 | 3.17 : 0.15 | 60,35% | 80,60% | 48,46% |
| 04/06/2022 | Benin | H | 3 – 1 | 4.72 : 0.66 | 56,55% | 86,55% | 51,20% |
| 07/06/2022 | Rwanda | A | 1 – 0 | 1.24 : 0.03 | 67,36% | 82,15% | 46,91% |
| 24/09/2022 | Bolivia | N | 2 – 0 | 1.69 : 0.55 | 61,95% | 88,99% | 52,29% |
| 27/09/2022 | Iran | N | 1 – 1 | 1.01 : 0.19 | 51,78% | 83,19% | 46,71% |
---
Fun fact: Senegal won the 2022 Africa Cup with only nine goals scored in six games. Sadio Mané was the team's top tournament scorer with three goals. This proved that good offenses win games, but good defenses win championships!
---
Further preparation and test matches
Most recently, Senegal tested against Bolivia and Iran at the end of September.
Furthermore, Senegal already started again in the qualification for the next Africa Cup, where they beat Benin 3-1 and Rwanda 1-0.
Senegal also took part in the COSAFA Cup in July. This is a competition that is actually held for teams from Southern Africa. However, this tournament is not representative for the World Cup preparation, because Senegal competed with a B team and took fourth place in the end.
As soon as Senegal has more test matches fixed, we will inform you on this page, which we update constantly!
---
You don't want to miss whether Senegal is dominant or inferior in its matches during the preparation for the 2022 World Cup? Then we recommend you to ➜ register at overlyzer.com – with our software you can tell at a glance if a team is about to win or is lacking good moments within a game. This gives you the chance to get the perfect live betting tips!

Beat the Bookies!
---
Match schedule of Senegal at the 2022 World Cup
Originally, Senegal would have opened the World Cup in the first match against the Netherlands. However, now the duel between Qatar and Ecuador has been moved to the day before, so Senegal will play only the second match of the tournament against "Oranje" on November 21.
This will also be the most difficult duel for the Africans, who will then face Qatar on November 25 and then Ecuador in the last match on November 29.
---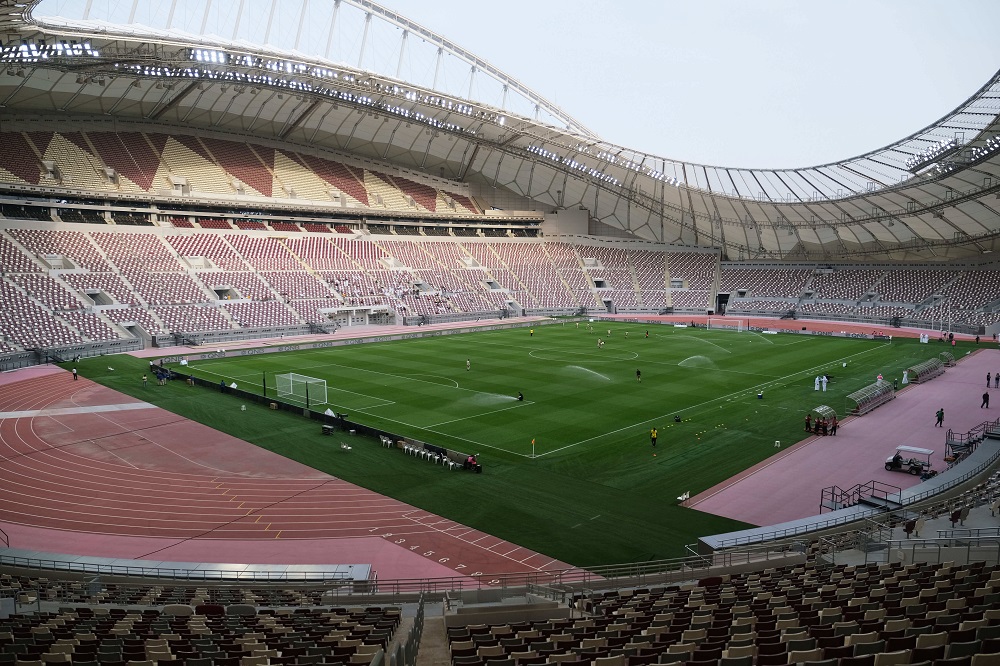 ---
Senegal squad analysis and information
The "Lions", as the Senegal national team is known, are about to take part in their third World Cup. For the second time, the team will be coached by team captain Aliou Cissé. After getting kicked out 2018 in Russia after the group stage, Senegal now wants to shine again on world stage. We take a detailed look at their squad and the individual parts of the team.
Senegal goalkeepers
Senegal has never been known for its strong goalkeepers, but 2022 is clearly different. The Senegalese goalkeeper is Chelsea's Number One Edouard Mendy, who is currently considered one of the best goalkeepers in the world. The 30-year-old is a real high-flyer who helped Chelsea win the 2021 UEFA Champions League, among other big games and trophys. Few teams in the tournament have a goalkeeper of this quality, and Senegal's excellent defensive statistics underline his importance.
GK – Edouard Mendy (Chelsea FC)
GK – Alfred Gomis (Stade Rennais)
GK – Seny Dieng (Queens Park Rangers)

Senegal center backs
On the center back position we expect one of the big stars of Senegal: Kalidou Koulibaly is the captain of the team and only moved to Chelsea last summer from Napoli, where he was an indispensible player in the defense. The fact that he now plays for the "Blues" directly ahead of his national teammate Edouard Mendy could be a big advantage for Senegal. The head of defense and his goalkeeper will probably be perfectly attuned at the tournament.
Senegal is also well-positioned across the rest of the defensive squad, for example with Abdou Diallo, who plays for RB Leipzig since August. The central defenders at coach Cissé's disposal are therefore certainly of quality!
CB – Kalidou Koulibaly (Chelsea FC)
CB – Abdou Diallo (RB Leipzig)
CB – Pape Abou Cissé (Olympiakos)
CB – Formose Mendy (SC Amiens)

Senegal full backs
At the full-back positions, Senegal has nowhere near the same quality as they do at the other defensive positions. Here the team has problems on both sides and there are hardly any players of international class. Most of the players for the positions of left or right defender are no first team regulars at their clubs either.
This part of the team is certainly the weakest for Senegal, and the team could be vulnerable on the wings as a result. Especially when facing opponents with dynamic, determined wingers.
RB – Youssouf Sabaly (Betis Sevilla)

LB – Fodé Ballo-Touré (AC Milan)
LB – Saliou Ciss (unsigned)


Senegal central midfield
In central midfield, Senegal has a lot of physicality and routine above all. Players such as Pape Gueye and Idrissa Gueye or Nottingham midfielder Kouyaté, for example, are very experienced players who know the ropes and commit few strategic or tactical errors. The vast majority of players who can be deployed in defensive or central midfield play in England or France, but most of them are not undisputed regulars at top clubs.
Nevertheless, Senegal could have problems in this area. Even though they have plenty of experience, most of the players are not known for their ability to score goals themselves or at least regularly go in front of the ball. So, in terms of fighting and running, they have quality here, but in terms of consistent attacking play, the central midfield could slow Senegal down a bit.
DM – Pape Gueye (Olympique Marseille)
DM – Nampalys Mendy (Leicester City)
DM – Cheikhou Kouyaté (Nottingham Forest)
DM – Mamadou Loum (Reading FC)
DM – Moustapha Name (Paris FC)
CM – Idrissa Gueye (Paris Saint-Germain)
CM – Pape Matarr Sarr (Tottenham Hotspur)
CM – Pape Cheikh (Aris Thessaloniki)
CM – Joseph Lopy (FC Sochaux)
CAM – Iliman Ndiaye (Sheffield United)

Senegal attack
The Senegalese offense is peppered with some top players, with Sadio Mané standing out primarily, of course. The Bayern star is just as much a clear starter at the left wing as Watford's Ismaila Sarr is on the right. However, Mané suffered an injury in a league match against Werder Bremen just before the tournament and it is not yet clear whether he will be able to play in Qatar. In the forward line of the Senegalese 4-3-3 formation, coach Cissé has several options: Whether it's Dia, Diallo, or Baldé, the coach can call on different types of players depending on their needs.
The quality of Senegal's attacking lineup is high, but the players have not always been able to keep their cool in the recent past. Overall, Senegal scores too few goals and lacks the necessary penetrating power here and there.
RW – Ismaila Sarr (Watford FC)
RW – Krépin Diatta (AS Monaco)
RW – Nicolas Jackson (FC Villarreal)
LW – Sadio Mané (FC Bayern Munich)
ST – Boulaye Dia (Villarreal CF)
ST – Bamba Dieng (Olympique Marseille)
ST – Famara Diédhiou (Alanyaspor)

Senegal competition flair
Similar to Argentina, who won the Copa América in 2021, Senegal travels to Qatar as reigning tournament champions. The team won the Africa Cup in the spring of 2022, where they proved they could handle the pressure of a major tournament. The Africa Cup may not be comparable to the FIFA World Cup, but Aliou Cissé will adjust his men in the same way he did for the African Championship.
Senegal's pragmatic approach, which puts defense first, is also a proven way to compete in such a demanding tournament. Senegal should therefore be able to surprise at the 2022 World Cup.

---
---
Senegal's World Cup history
When Senegal first took part in a World Cup in 2002, they were still considered one of the biggest underdogs of the tournament. Today, of course, it is different, also because hundreds of Senegalese footballers earn their money in Europe and are partly the big performers and key players at their teams.
However, Senegal showed that "exotics" are also capable of great things right from their World Cup debut: In the opening game of the World Cup, they won 1-0 against the reigning world champions and world cup top favorites France.
---
Draws against Denmark and Uruguay followed, advancing Senegal to the round of 16 as the group's runner-up. The team, which had long since become a real crowd favorite, also defeated Sweden before losing to Turkey in the quarterfinals. One of the midfield stars of this legendary team was the current team manager Aliou Cissé.
Despite this remarkable tournament, it took 16 long years for Senegal to qualify for a second World Cup. In the qualifiers for the next tournaments, they first lost to Togo, then to Algeria and finally to Ivory Coast.
At the 2018 tournament in Russia, Senegal were very unlucky: they won against Poland and drew with Japan, but lost to Colombia and were eliminated from the group in third place. At the 2022 FIFA World Cup, Senegal will be looking to get past the group stage and therefore settle a score from the last tournament.
---
FAQ – Questions and answers about Senegal at the World Cup 2022
Who is the coach of Senegal at the 2022 World Cup?
Aliou Cissé will coach Senegal at the 2022 World Cup, which will be the second World Cup as a coach for the former midfielder. In 2002, he had already participated as a player, making him the only Senegalese to have had a say in all of Senegal's World Cup campaigns.
Who are Senegal's stars at the 2022 World Cup?
Senegal's biggest star is Sadio Mané of Bayern Munich. But there are two absolute world-class players on the defensive positions as well: both defensive leader and captain Kalidou Koulibaly and goalkeeper Edouard Mendy play for Chelsea FC.
Who will Senegal play against at the 2022 World Cup?
Senegal will face the Netherlands (Nov. 21) in Group A on the second day of the World Cup, then hosts Qatar (Nov. 25) and finally Ecuador (Nov. 29) on the final matchday of the group stage.
How many times has Senegal been World Cup champion?
Senegal have never been World Champions. So far, the nation has only participated in two tournaments: in 2002, they reached the quarterfinals, and in 2018, they were already eliminated after the three group stage games.
Who is Senegal's most capped player?
Henri Camara played the most international matches for Senegal, wearing the team kit 99 times between 1999 and 2008. However, he could soon be overtaken by Idrissa Gueye (93 games) and superstar Sadio Mané (90 games).
Who is Senegal's record goalscorer?
With currently 33 international goals (as of August 2022), Sadio Mané is the record goal scorer for the Senegalese national team. He thus leaves Henri Camara (29 goals) and one of the star of the 2002 team, El Hadji Diouf (24 goals) behind.
What is the nickname of the Senegalese national team?
In short form, the national team of Senegal is called the "Lions". More accurately, however, their nickname is "Les Lions de la Teranga," meaning "the Lions of Teranga" or "Teranga Lions."