Serbia at the 2022 World Cup – Betting Odds & Tips
Serbia has only participated in two World Cups as an independent country and was eliminated in the group stage both times. Serbian fans are expecting better chances this year, because especially in the offense there are numerous strong individualists who prove their qualities week after week at top clubs throughout Europe.
In this article, we introduce you to the Serbian national team, analyze the strengths and weaknesses of the team and reveal the best betting strategies for Serbia at the 2022 World Cup in Qatar.
Table of contents: Betting on Serbia at the 2022 World Cup
---
---
Top Bookmaker for World Cup Betting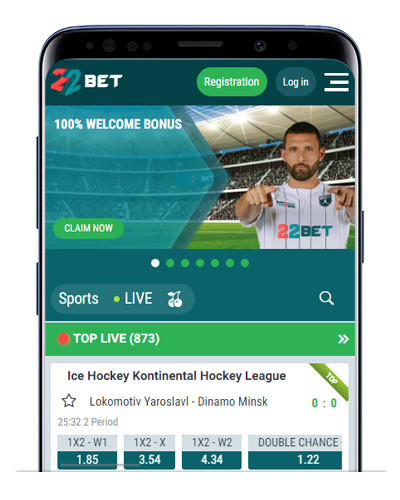 22Bet offers sports betting with high stakes and win limits. In addition, the betting company has a wide range of bets available. Customers who play with higher stakes and do not want to compromise on the betting selection will find 22Bet a great choice!
22bet Review
Sign up with 22BET and get 122 € Bonus
---
World Cup betting odds for Serbia
Serbia is not one of the most interesting dark horses at this tournament, but the odds of @106.00 from our top bookmaker 22Bet are too high in our opinion. That Serbia will win the World Cup finals in Qatar is thus considered just as realistic as a title win by Mexico or the USA.
Football World Cup 2022 Winners Odds – top bookmakers
---
Of course, it is not likely that Serbia will be crowned Champions in Qatar, but at these World Cup odds you can risk a small amount of money, just to make the games with Serbian participation a little more exciting.
The team of coach Dragan Stojković proved that Serbia can also win against top teams in the World Cup qualifiers, when they beat Portugal away in the last group match and Cristiano Ronaldo and his colleagues finished second. There is an enormous amount of quality in the Serbian team, especially on the offense.
The chance of losing this sports betting tip is naturally very high, yet this long-term bet is clearly a value bet given the fabulous odds.
A final appearance of Serbia achieves odds of @51.00 at Bet365. That Serbia reaches at least the semifinals is worth 13-times the stake in case of success, a quarterfinal appearance is worth 6.5-times.
In Group G, the top favorite of the tournament awaits with Brazil, which is why it is rather unlikely that Serbia will win the group. Switzerland is another European team in the group, which is also an unpleasant opponent due to its compactness and tactical maturity.
With Brazil the clear contenders for first place in the group, Serbia are offered odds of 6.50 to win Group G. However, advancing to the final eight is not unlikely given odds of @2.10.
Fun fact: It's hard to believe, but at the 2018 World Cup, Serbia was also drawn in a group with Brazil and Switzerland, only this time Cameroon completed the group instead of Costa Rica. This is not a good omen for the Serbs, as they stayed behind Brazil and Switzerland four years ago.
---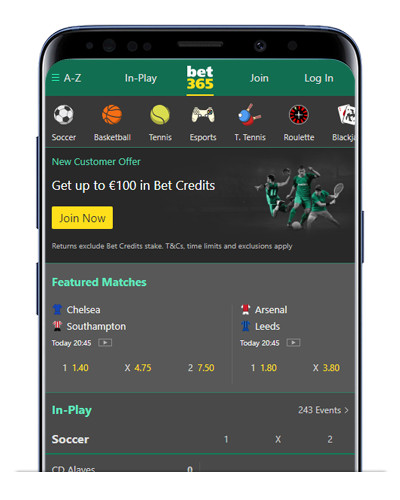 The most established name in world wide sports betting offers a huge range of betting options for new and experienced bettors. Bet365 is well known for great odds on sporting events from around the globe.
Bet365 Review
Sign up with Bet365 and get 100 €/$/£ Bonus
---
Serbia has excellent goal scorers in their attacking line who also score regularly in Europe's top leagues. Juventus starlet Dusan Vlahovic and Aleksandar Mitrović have the lowest odds of all Serbian internationals at Bet365. And quite rightly so, as the two are absolute goal-scorers who can also be trusted at the World Cup.
The biggest problem with this bet on the World Cup top scorer, however, is that it is not yet certain that the two goal scorers will have a regular spot in the team, since Dusan Tadic, who mostly appears as an assist provider, is permanently set in the center of the attack.
Dusan Vlahovic to be the World Cup top scorer @ 8.00 / Bet365
Aleksandar Mitrović to be World Cup top scorer @ 67.00 / Bet365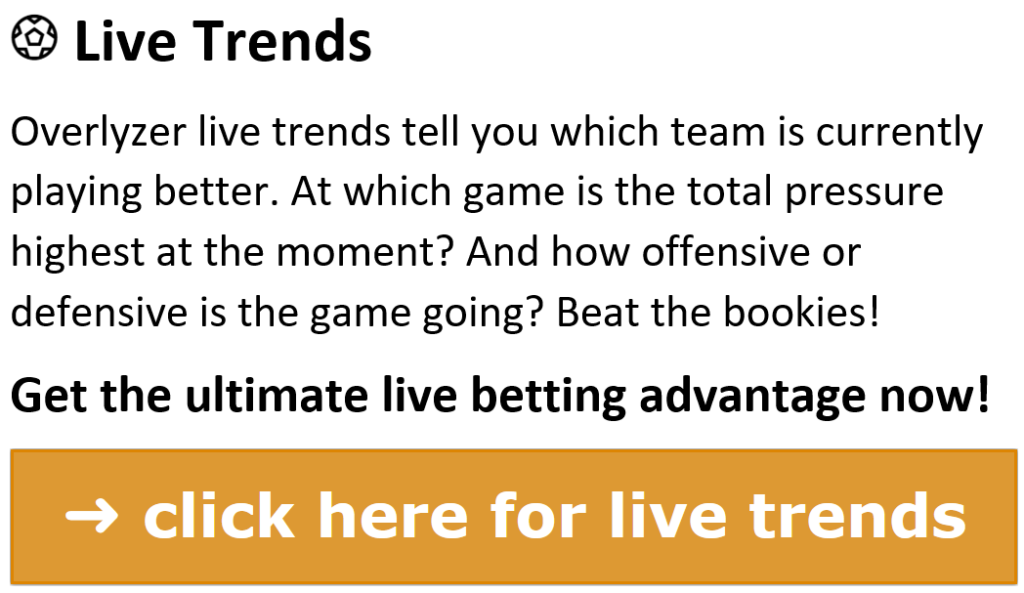 ---
Current form and results
Serbia caused a big surprise in the 2022 World Cup qualifiers as they beat Portugal 2-1 away from home on the final matchday to send them into the playoffs. Renato Sanches put the home side ahead as early as the 2nd minute, but Dusan Tadic and Aleksander Mitrovic turned the game around with their goals, with a late winner just before stoppage time.
Portugal had to go through to the playoff, where they were lucky that, after beating Turkey 3-1, it was not Italy waiting in the "final", but North Macedonia, who beat the current European champions 1-0 away in Italy in of the biggest surprises of this year's qualifiers.
In 2022, Serbia won a friendly against Hungary (1-0) and lost a test match against Denmark (0-3). In the Nations League, they first lost to Norway (0-1) before celebrating two victories against Slovenia (4-1) and Sweden (1-0) and drawing 2-2 away against Slovenia in the return match.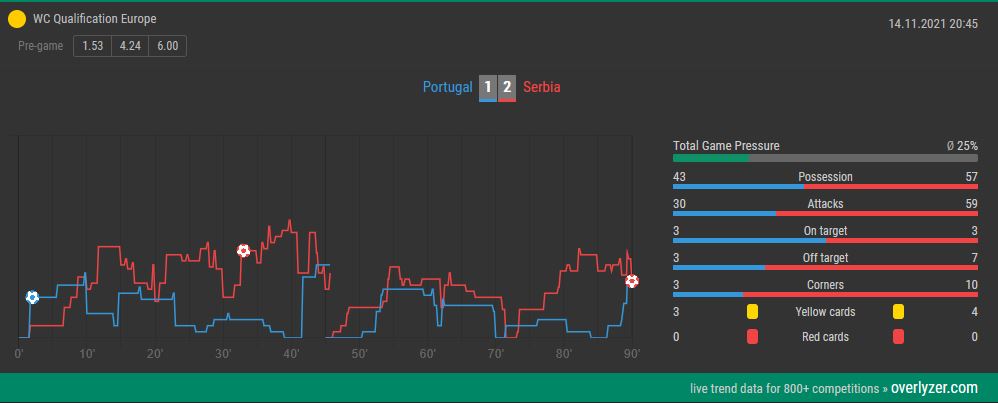 The above graphic comes from our revolutionary betting tool Overlyzer, which helps you getting more accurate predictions in live betting.
In September, Serbia were able to make a real impression again. Particularly impressive was the efficiency displayed in the clear 4-1 victory against Sweden.
Although the game was largely even, the Serbs were always on spot in the crucial moments. Center forward Aleksandar Mitrovic single-handedly scored three goals. The fourth goal came from one of the strong central midfielders, Sasa Lukic.
In general, the Serbian midfield center is well-staffed with Milinkovic-Savic, Lukic and Ajax star Tadic and was clearly superior to that of the Swedish. Despite falling behind after 15 minutes, Serbia did not allow Sweden to raise their hopes and presented themselves extremely strong.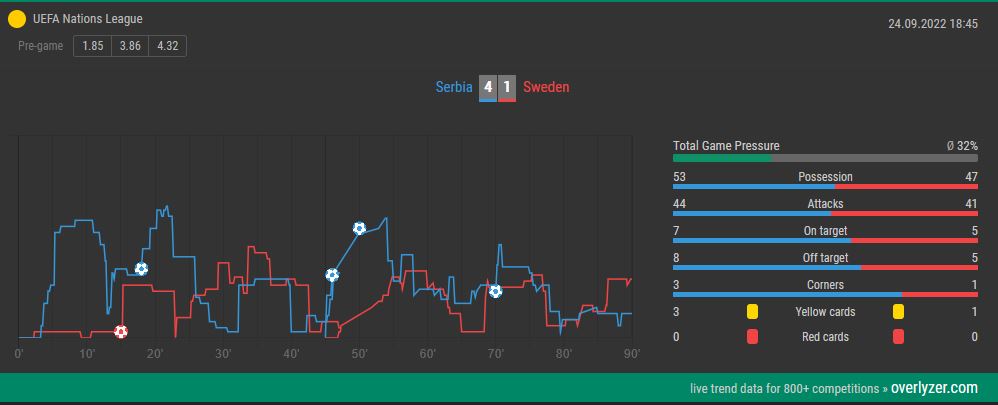 Finally, the last match in the UEFA Nations League was also won. An away match against Norway resulted in a 2-0 victory, with Mitrovic and Vlahovic both scoring.
Here, however, it was particularly noticeable that the Norwegian superstar Erling Haaland was not allowed to find his way into the game and that he was kept out of the game for long stretches. This also says a lot about the defensive qualities of the Serbs!
➜ Register here to have access to our real-time data!

Beat the Bookmakers!
---
---
Further preparation and test matches
Currently, only one further test has been scheduled ahead of the tournament for the Serbian national team. Six days before the tough group match against Brazil, Serbia will test against Bahrain and will probably want to gain self-confidence against the clear underdog before the tournament.
Further friendly and preparation matches before the tournament will be announced soon. We are constantly updating our list.
18 November 2022: Bahrain – Serbia
Serbia International Games 2022
| | | | | | | | |
| --- | --- | --- | --- | --- | --- | --- | --- |
| Date | Opponent | Venue | Result | XG | Possession | Accuracy | Duels won |
| 24/03/2022 | Hungary | A | 1 – 0 | 1.25 : 0.91 | 49,91% | 85,32% | 45,81% |
| 29/03/2022 | Denmark | A | 0 – 3 | 1.43 : 1.85 | 53,52% | 84,67% | 37,93% |
| 02/06/2022 | Norway | H | 0 – 1 | 1.49 : 0.96 | 61,81% | 84,30% | 50,00% |
| 05/06/2022 | Slovenia | H | 4 – 1 | 2.91 : 0.52 | 61,68% | 89,98% | 48,59% |
| 09/06/2022 | Sweden | A | 1 – 0 | 1.45 : 1.13 | 55,35% | 87,26% | 46,15% |
| 12/06/2022 | Slovenia | A | 2 – 2 | 1.17 : 0.74 | 53,92% | 87,31% | 54,59% |
| 24/09/2022 | Schweden | H | 4 – 1 | 2.72 : 0.91 | 56,72% | 86,90% | 48,37% |
| 27/09/2022 | Norwegen | A | 2 – 0 | 1.45 : 1.15 | 48,46% | 83,43% | 49,25% |
| 18/11/2022 | Bahrain | N | | | | | |
---
Match schedule of Serbia at the 2022 World Cup
Serbia will face top favorites Brazil right away in their first group match on November 24, 2022, so it is not unlikely that Dragan Stojković's team will start the tournament with a defeat.
---
Four days after that comes the match against the biggest underdog in Group G. Three points should be earned against Cameroon, so that in the last group match against Switzerland a place in the round of 16 is still possible.
---
Serbia's World Cup squad
Coach Dragan Stojkovic relied exclusively on a three-man backline in 2022 and will also rely on a 3-4-2-1 or 3-4-1-2 system at the 2022 World Cup.
Serbia was more known for its physical strength at past major competitions and always relied on a very compact defense that was strong in man-on-man duels. In return, however, there was usually little going on offensively. This should change at the World Cup finals in Qatar, because in the midfield and in the offense they have almost too many options, as we will see in a moment.
Serbia goalkeepers
But we'll start, as always, with the goalkeeper, where there is a clear number 1 in Predrag Rajković. Rajković is 26 years old and has been under contract with RCD Mallorca from Spain since this summer. The former Red Star Belgrade keeper took an unusual career path as he moved from the Serbian league to Maccabi Tel Aviv from Israel, although he probably would have been ready for a top league. He subsequently convinced at Stade Reims and now wants to show off strong performances in the Spanish league.
His replacements are Sevilla sub Marko Dmitrović and FC Torino's Vanja Milinković-Savić.
GK – Predrag Rajković (RCD Mallorca)
GK – Marko Dmitrović (Sevilla FC)
GK – Vanja Milinković-Savić (Turin FC)

Serbia center backs
In central defense, there are some good options and alternatives for the three-man backline. The 1.95 meter (6'4'') tall giant Nikola Milenković is a regular starter and key player. The AC Florence defender is physically very strong and hard to beat in the air.
The newcomer from Red Bull Salzburg, Strahinja Pavlovic, is also in line for a regular spot and could form the back three together with Werder Bremen's Milos Veljkovic.
Alternatives include 21-year-old Strahinja Erakovic from Red Star Belgrad and the experienced Stefan Mitrović from FC Getafe.
CB – Nikola Milenković (AC Florence)
CB – Strahinja Pavlovic (RB Salzburg)
CB – Milos Veljkovic (Werder Bremen)
CB – Strahinja Erakovic (Red Star Belgrade)
CB – Srdjan Babic (UD Almeria)
CB – Stefan Mitrović (Getafe FC)

Serbia full backs / wing backs
Serbia usually plays in a 3-4-2-1 or a 3-4-1-2 formation, so there are no classic full-backs. Therefore, at this point we want to look at the midfielders on the wings.
On the left side of midfield, Juventus player Filip Kostic is set, who moved to Serie A after a strong season with Frankfurt. On the opposite wing, former Benfica and current PAOK player Andrija Zivkovic is expected to start, with Filip Djuricic also having hopes of a spot in that position after overcoming muscular problems from the pre-season. Zivkovic is actually an attacking midfielder, but can be used on either wing.
The left side is the more dangerous one, though, as Kostic is always good for game changers and is harder to predict than his colleagues on the right wing.
LM – Filip Kostic (Juventus Turin)
LM – Darko Lazović (Hellas Verona)
LM – Filip Mladenovic (Legia)

RM/CAM – Filip Djuricic (Sampdoria Genoa)
RM – Andrija Zivkovic (PAOK Thessaloniki)

Serbia central midfield
One of the big stars of the Serbian national team plays in the midfield center. Sergej Milinković-Savić can be deployed in numerous positions in central midfield and shines as a director, defensive six or box-to-box player as required. There are few other central midfielders who can excel in so many different roles at such a high level.
Milinković-Savić has highly developed tactical intelligence, is extremely technically adept, can shoot and pass with either foot, and also convinces with great stamina. He can pass as a mixture of Zinedine Zidane and Yaya Touré and is also an absolute leader in the national team of Serbia. Last season he scored eleven goals and made eleven assists in 37 Serie A games.
---
In addition to the boss in central midfield, there are numerous other strong options in the Serbian team. Nemanja Gudelj plays more defensively and brings a lot of experience, Sasa Lukić, Marko Grujic, Nemanja Maksimović and Ivan Ilic will also hope for one or two minutes of play at the World Cup.
DM – Nemanja Maksimović (Getafe FC)
DM – Nemanja Gudelj (Sevilla FC)
DM – Uros Račić (SC Braga)
CM/CAM/DM – Sergej Milinković-Savić (Lazio Roma)
CM – Sasa Lukić (FC Torino)
CM – Ivan Ilic (Hellas Verona)
CM – Marko Grujic (FC Porto)

Serbia attack
Depending on whether they play with a solo striker or a double striker, there are several options on how to assemble the Serbian attack.
Coach Dragan Stojkovic has numerous strong options at his disposal, just waiting to be put into action by midfielder Milinković-Savić.
He will certainly not want to do without captain Dusan Tadić. The Ajax captain has had an incredible season, scoring 13 goals and 19 assists in 34 games in the league in 2021-22! Tadic can play in the striker position, on the wing or as playmaker.
Juventus' Dusan Vlahovic and Aleksandar Mitrovic are two top players, at least one of whom will start from the beginning. Both goal scorers are physically strong and show their exceptional qualities week after week in top leagues.
Another strong option is Luka Jović, who was in top form at Eintracht Frankfurt but then fell short of expectations at Real Madrid. Meanwhile, the center forward, who is the youngest player ever to score five goals in a match in the German Bundesliga, is under contract with AC Florence.
ST/LW – Dusan Tadić (Ajax Amsterdam)
ST/LW – Nemanja Radonjić (Torino FC)
ST – Dusan Vlahović (Juventus Turin)
ST – Aleksandar Mitrović (Fulham FC)
ST – Luka Jović (AC Florence)

Serbia competition flair
Serbia has so far fallen far short of its potential in its rather recent history as an independent country. In 2010 and 2018 they participated in World Cups, but failed to make it to the round of 16.
It is also interesting that the Serbs have not yet managed to take part in a European Championship, as between 2008 and 2020 they always failed to qualify.
However, teams from the Balkans generally have a good mentality when it comes to major competitions, as demonstrated by Yugoslavia in the past and Croatia more recently. Therefore, we do not want to evaluate this point too negatively or positively, since the Serbian national team has not had too many opportunities to prove its qualities in such a short time.

---
---
Serbia's World Cup history
Serbia only participated in a World Cup twice as an independent country. In the 2010 World Cup, they lost to Ghana in their opener and then shocked Germany with a 1-0 win. However, in their final group game they lost 2-1 to Australia and finished in third place. It was an unnecessary defeat, especially since underdogs Australia were also eliminated as third-place finishers.
At the 2018 World Cup, they faced Costa Rica in their first group game and won 1-0 against the underdogs thanks to a Kolarov goal.
In the second match, they faced their direct rivals from Switzerland and Serbia led 1-0 after just five minutes, but Xhaka equalized in the 52nd minute and after Shaqiri's winning goal in the 90th minute, only a win would have been enough in the final group match against Brazil. However, the favorites beat the Serbs 2-0, so that once again the tournament was over after the group stage.
Serbia will have another chance to beat Brazil and Switzerland at the 2022 World Cup in Qatar.
---
FAQ – Questions and answers about Serbia at the 2022 World Cup
Is Serbia in the 2022 World Cup?
Serbia surprised everyone at the World Cup qualifiers in Group A with a 1-0 away win over Portugal on the final matchday. So they booked their World Cup ticket to Qatar as group winners.
Who will coach Serbia at the 2022 World Cup?
Dragan Stojković has been coaching the Serbian national team since 2021. The 57-year-old won the Champions League as an active player with Olympique Marseille.
Who are the stars of Serbia at the 2022 World Cup?
Midfielder Sergej Milinković-Savić is an exceptional, versatile midfielder and is among the absolute world class. Other attacking players like Dusan Tadic or Dusan Vlahović also have a tremendous international reputation.
Who will Serbia play against at the 2022 World Cup?
Serbia will face Brazil, Switzerland and Cameroon in Group G. The Serbs already met the Brazilians and Swiss in the group stage at the 2018 World Cup. 
How many times has Serbia been at a Football World Cup tournament?
Serbia has only participated in two World Cups and was eliminated in the group stage both times. It is also unlikely this year that the Serbian national team will compete for the title at the 2022 World Cup in Qatar.
Who is Serbia's record goal scorer?
Aleksandar Mitrović has scored the most goals for the Serbian national team. As of September 2022, the Fulham FC goalgetter has contributed a whopping 46 goals in 74 games for the Serbian national team.