Tunisia at the 2022 World Cup – Betting Odds & Tips
Tunisia will face a tough group at the 2022 World Cup with clear favorites France and Denmark, as well as Australia.
We take a detailed look at the 2004 Africa Cup winners, provide you with the best Tunisia World Cup 2022 betting tips and also a detailed squad analysis that reveals all the strengths and weaknesses of the North Africans!


---
Betting on Tunisia at the 2022 World Cup


1. Tunisia World Cup odds
2. Current form and results
3. Further preparation and test matches
4. Match schedule of Tunisia at the 2022 World Cup
5. Tunisia's World Cup squad
6. Tunisia World Cup history
7. FAQ – Questions and answers about Tunisia at the World Cup 2022

---

---
Best Bookmaker for World Cup Betting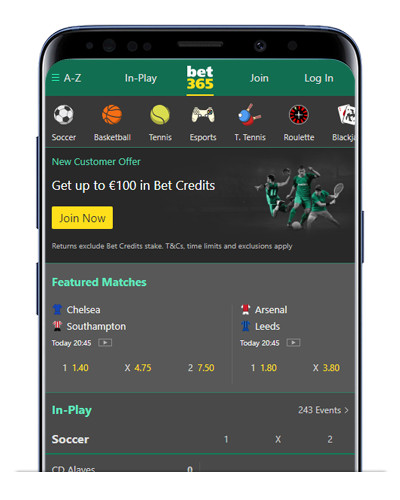 The most established name in world wide sports betting offers a huge range of betting options for new and experienced bettors. Bet365 is well known for great odds on sporting events from around the globe.
Bet365 Review
Sign up with Bet365 and get 100 €/$/£ Bonus
---
Tunisia odds World Cup 2022
Tunisia, a team in transition, is considered one of the biggest underdogs at the 2022 World Cup finals, with our bookmaker test winner Bet365 paying out 501-times the stake on a Tunisian World Cup win. 22Bet even over more with best odds of 575!
Football World Cup 2022 Winners Odds – top bookmakers
---
That puts Tunisia on par with hosts Qatar in the bookmakers' estimation. Only three teams – Saudi Arabia, Iran and Costa Rica – are rated weaker than the Tunisians by the bookies.
Tunisia is participating in a final round for the sixth time in 2022 – they never made it past the group stage in their previous appearances. Given that there are two clear favorites in Group D this year, France and Denmark, this is again very unlikely.
However, if the Tunisians were to get through this difficult group, anything is likely to happen. However, it is also logical that the odds for Tunisia to reach the final are outrageously high…
For the Tunisian national team, Group D is a thoroughly spicy affair – and that's because of the presence of France. Numerous Tunisian team players were born in France and so the clash with the French is a kind of brother's duel.
But there will be no way around this very big brother if they want to top the group after three games. Of course, this is extremely unlikely for Tunisia and they will need three absolutely flawless games if they want to land that big shot.
---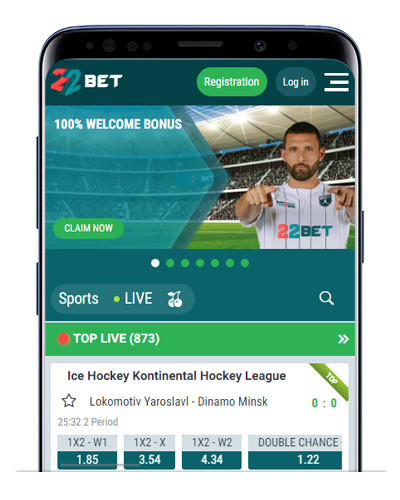 22Bet offers sports betting with high stakes and win limits. In addition, the betting company has a wide range of bets available. Customers who play with higher stakes and do not want to compromise on the betting selection will find 22Bet a great choice!
22bet Review
Sign up with 22BET and get 122 € Bonus
---
Bet365 is currently offering two Tunisian attackers at their list of World Cup top scorers. And Wahbi Khazri, in particular, obviously knows where the goal is. The current Montpellier striker has already scored 24 times in the national team and will be the player who can shape Tunisia's attacking game.
Youssef Msakni is a second player who should be watched very closely, as the 2022 World Cup will be something of a homecoming for the 31-year-old.
With the exception of a six-month loan deal in Belgium, Msakni has already played consistently in Qatar since 2013, where he has repeatedly shown himself to be a top goalscorer.
In addition, he already has more international caps under his belt than Khazri, who is also very experienced. It would be one of the biggest sensations imaginable, however, if one of the two offensive players were to even come close to winning the Golden Boot.
Wahbi Khazri to be World Cup top scorer @ 201.00 / Bet365
Youssef Msakni to be World Cup top scorer @ 251.00 / Bet365
---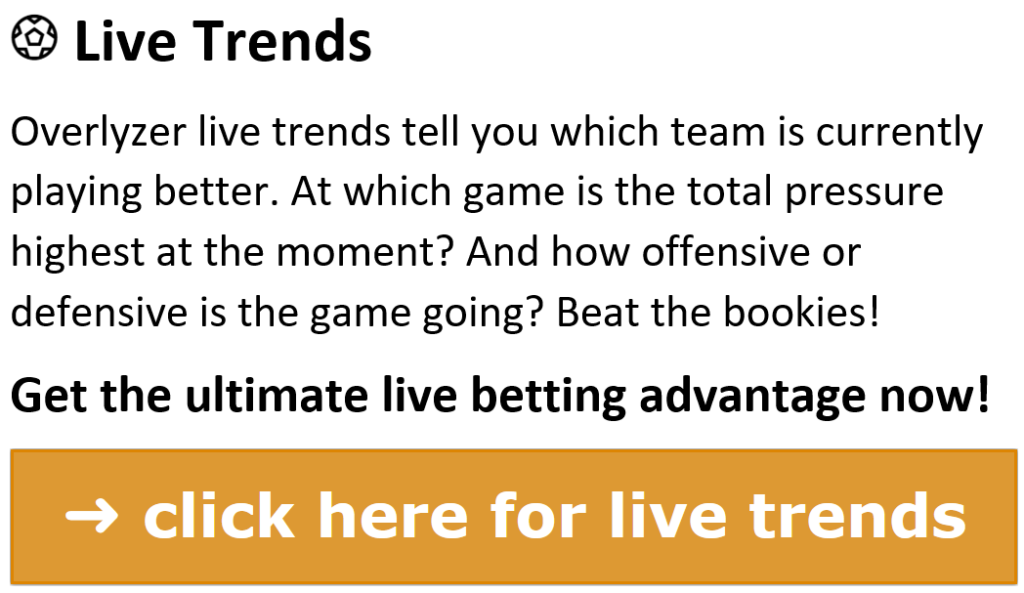 ---
Current form and results
The Tunisian national team has already had a very intense year of international matches. In the first half of 2022 alone, there were eleven international matches and one big eye-catcher: Tunisia lost just three games, but conceded only three goals in all eleven internationals together!
Accordingly, it is clear that all three goals conceded resulted in 1-0 defeats.
Unfortunately, all of these defeats came at the 2022 Africa Cup: In the preliminary round, they lost to Mali and Gambia, and in the quarterfinals they were eliminated by Burkina Faso. In all other international matches in the first half of 2022, Tunisia didn't concede which highlights their outstanding defensive organization.
They then took revenge on Mali in the decisive World Cup qualifying playoff. In the first leg, they won 1-0 away from home against the favored Malians in a very pragmatic manner. In the home match four days later, they managed a goalless draw and thus got their World Cup ticket.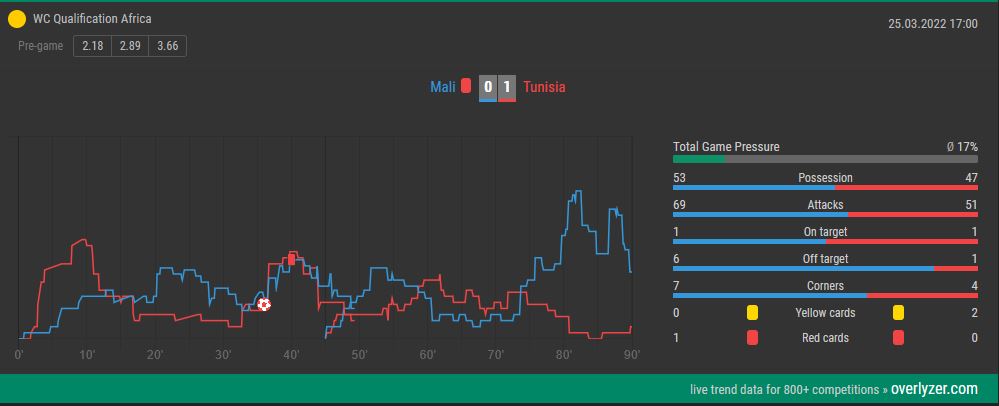 ---
But Tunisia's ability to score plenty of goals was shown in their test matches (at the Kirin Cup in Japan) last June.
First there was a 2-0 win over Chile and finally a thoroughly surprising 3-0 win over Japan, who thus suffered a painful defeat in front of their home crowd.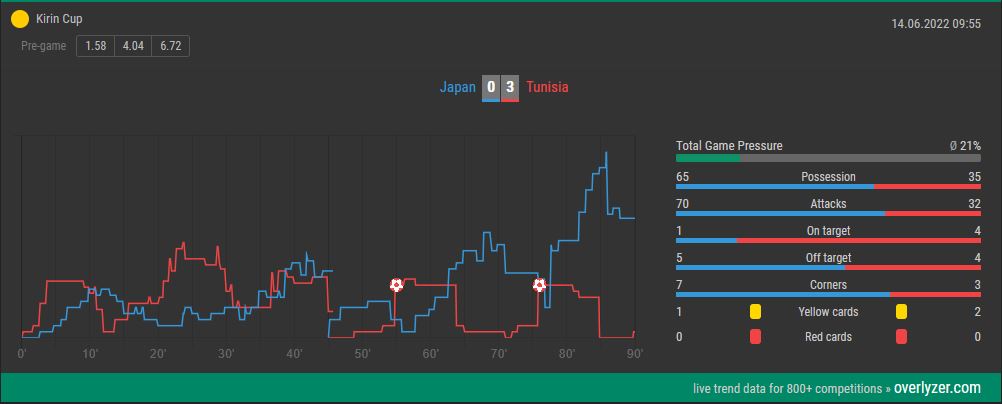 In addition to a 1-0 test match victory against the Comoros, which attracted little international attention, Tunisia also played the World Cup favorites Brazil in September. Tunisia was well served with a 5-1 loss due to its numerical disadvantage from the 43rd minute onward.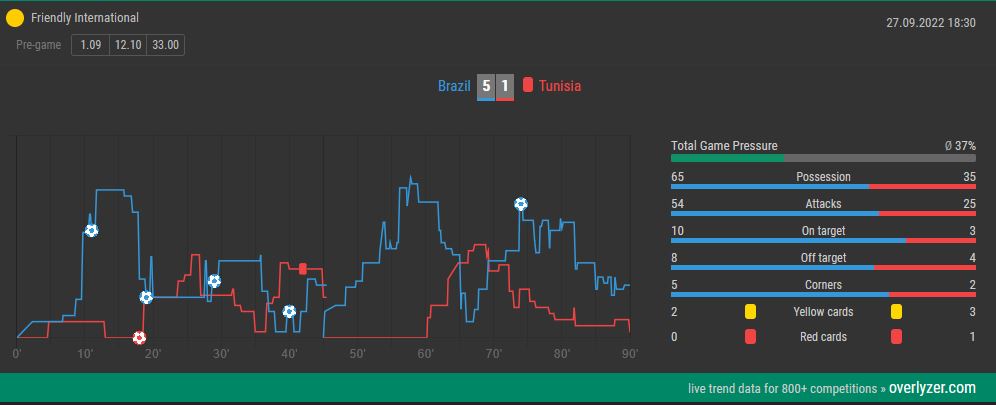 After 40 minutes, the heavy favorite from Brazil were already clearly in the lead with 4-1. Shortly afterwards, Tunisian centre-back Dylan Bronn was shown the red card. Despite the fact that in the second half even players like Vinicius junior, Antony or Rodrygo were substituted, only one more goal was scored.
Our match charts show, however, that Tunisia had their hands full in the second half to avoid conceding more goals. Brazil was overwhelmingly superior, created a large number of scoring opportunities, but in the end was settled with "only" five goals.
---
Funfact: Almost half of Tunisia's current squad was not born in Tunisia. Most of the quite numerous players born in other countries took their first steps in France, but also players born in Germany, Denmark or Sweden are currently in the Tunisian squad.
---
Further preparation and test matches
Currently, no further preparation matches of the Tunisian national team are scheduled.
We update this page continuously and inform you immediately as soon as new dates for friendly matches are determined.
Tunisia international games in 2022
| | | | | | | | |
| --- | --- | --- | --- | --- | --- | --- | --- |
| Date | Opponent | Venue | Result | XG | Possession | Accuracy | Duels won |
| 12/01/2022 | Mali | N | 0 – 1 | 1.36 : 1.21 | 57,67% | 83,82% | 53,33% |
| 16/01/2022 | Mauritania | N | 4 – 0 | 2.94 : 0.97 | 56,04% | 78,53% | 49,70% |
| 20/01/2022 | Gambia | N | 0 – 1 | 1.17 : 0.30 | 64,67% | 84,96% | 43,10% |
| 23/01/2022 | Nigeria | N | 1 – 0 | 0.29 : 0.57 | 47,87% | 85,21% | 46,91% |
| 29/01/2022 | Burkina Faso | N | 0 – 1 | 0.70 : 1.09 | 60,72% | 81,31% | 49,52% |
| 25/03/2022 | Mali | A | 1 – 0 | 0.30 : 0.92 | 44,58% | 74,83% | 49,75% |
| 29/03/2022 | Mali | H | 0 – 0 | 0.23 : 0.20 | 38,70% | 71,22% | 42,32% |
| 02/06/2022 | Equatorial Guinea | H | 4 – 0 | 2.93 : 0.35 | 66,74% | 85,09% | 53,81% |
| 05/06/2022 | Botsuana | A | 0 – 0 | 0.91 : 0.78 | 56,49% | 78,64% | 48,36% |
| 10/06/2022 | Chile | N | 2 – 0 | 0.97 : 2.83 | 40,80% | 84,12% | 45,37% |
| 14/06/2022 | Japan | N | 3 – 0 | 1.47 : 0.45 | 36,41% | 82,21% | 49,73% |
| 27/09/2022 | Brazil | N | 1 – 5 | 0.62 : 2.30 | 37,00% | 80,34% | 48,39% |
Are you interested in live betting and don't want to miss any match in hundreds of leagues at the same time?
Then we recommend you to ➜ register at overlyzer.com – with our live graphs you can see at a glance how a match is going, which team is pressing and who is closer to score the next goal!
---
Tunisia match schedule at the 2022 World Cup
Tunisia kicks off the tournament with a match against Denmark at Education City Stadium in al-Rayyan. On the second matchday, Australia awaits, the opponent against whom the Tunisians are most likely to hope for a point or three.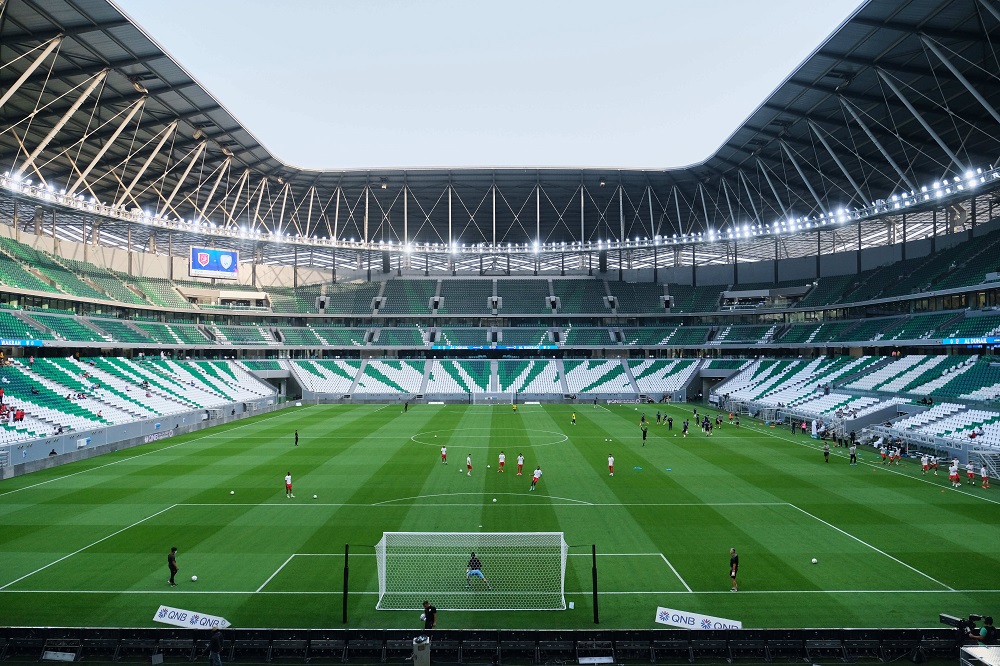 ---
If the team can manage at least one win in these first two games, things will get really exciting on the final day of the group stage, when France awaits in a game that has the feel of a derby for many Tunisian team players.
Date
Time
(local)
Group
Stadium
Match
Result
Nov. 22
4 p.m.
D
Education City
Denmark – Tunisia
Nov. 26
1 p.m.
D
al-Janoub
Tunisia – Australia
Nov. 30
6 p.m.
D
Education City
Tunisia – France
---
Tunisia's World Cup squad
Tunisia, coached by Jalel Kadri since January, is coming to Qatar for the 2022 World Cup with a very young team, some exciting talents and also numerous players who earn their money in foreign countries.
We provide you with a Tunisia squad analysis and show you where the team has the greatest strengths and most noticeable weaknesses.
Tunisia Goal Keeper
Tunisia probably has one of the weakest goalkeepers of all World Cup participants. The keepers all have little experience at a high international level.
GK – Bechir Ben Said (Monastir)
GK – Aimen Dahmen (CS Sfaxien)
GK – Aymen Mathlouthi (Etoile Sportive du Sahel)
GK – Mouez Hassan (Club Africain Tunis)

---
Tunisia Center Back
Tunisia currently have a lot of center backs to choose from and did not use their possibly best central defender Bronn in the first half of 2022. Instead, Talbi and Ifa in particular did their job very well, which was also reflected in the statistics on conceded goals.
Which center backs will actually make it to the tournament in the end is still up in the air, however, because coach Kadri actually has many options here.
What is clear, however, is that Tunisia do not have any center backs of international top quality and function more through a consistent organization against the ball.
CB – Montassar Talbi (Lorient)
CB – Nader Ghandri (Club Africain)
CB – Bilel Ifa (Kuwait SC)
CB – Dylan Bronn (Salernitana)
CB – Yassine Meriah (Esperance Tunis)

---
The Tunisians are clearly lacking in capacity at the full-back positions, and the attacking drive in particular is something the men for the defensive wing positions tend to lack.
German-born Mohamed Draeger is the best-sounding name for the full-back positions, and Ali Abdi, who only recently made it to the national team despite being 28 years old, has been in good form so far this season.
However, they will have their problems against the dynamic wingers of France or Denmark.
RB – Mohamed Draeger (FC Lucerne)
RB – Wajdi Kechrida (Atromitos Athens)
LB – Ali Abdi (Caen)
LB – Ali Maaloul (El Ahly Cairo)

---
Tunisia Central Midfield
Tunisia's central midfield contains some highly interesting players and could become the heart of the team. Cologne's top performer Ellyes Shkiri is the only classic defensive midfielder in the team, which could of course be problematic should he drop out or fall into a dip in form at a bad time.
Before that, however, there are several central midfielders with huge potential, such as Brøndby's 21-year-old shooting star Anis Slimane.
The most dazzling figure in the center of midfield, however, is definitely the more attacking Hannibal Mejbri, whom Manchester United signed in his teens for a ten-million-euro fee from AS Monaco's youth team. Mejbri, who will not celebrate his 20th birthday until January, is currently on loan at Birmingham City.
If coach Jalel Kadri can find the right mix here, Tunisia could field a midfield that's good in passing and always on the run and that can make it difficult for any opponent!
DM – Ellyes Shkiri (1. FC Cologne)
CM – Anis Slimane (Brøndby)
CM – Aissa Laidouni (Ferencvaros)
CM – Ghaylen Chaaleli (Esperance Tunis)
CM– Mohamed Ali Ben Romdhane (Esperance Tunis)
CM – Ferjani Sassi (Al-Duhail)
CAM – Hannibal Mejbri (Birmingham City)

---
Tunisia Attack
Tunisia's attack also has some interesting players who can be precisely targeted by the strong central midfield. The biggest bottleneck here is on the right wing, where they mostly have to improvise.
However, since they have two very strong left wingers in national team stalwart Msakni and the tricky Sliti, one of them can also be put on the opposite side.
In attack, of course, Wahbi Khazri is the target player. Of Tunisia's current internationals, the brawny and experienced attacker is the one who has been able to mark the most international goals and has also played a very solid season so far, which should be a good sign for the World Cup.
LW – Naim Sliti (Ettifaq FC)
LW – Youssef Msakni (Al-Arabi)
ST – Wahbi Khazri (Montpellier)
ST – Issam Jebali (Odense)
ST – Seifeddine Jaziri (Zamalek Cairo)
ST – Taha Yassine Khenissi (Kuwait SC)

---
Tunisia Competition Flair
Like all Arab or North African teams, Tunisia has a slight advantage due to greater acclimatization to the dry, hot temperatures.
That being said, the Tunisians are not a classic 'tournament team' and did not make it past the group stage once at the World Cup. Even at the last Africa Cup, one could observe that the team is a bit overwhelmed when it comes to landing lucky punches.
On the one hand, Tunisia often holds the zero and is defensively secure – but when they concede a goal and the opponent retreats, the team finds it difficult to change the game on its own initiative.
However, given the style of play and also based on the quality component, we are betting that Tunisia will do better in Group D than the second underdog Australia in any case.

---

---
Tunisia's World Cup history
Tunisia made its World Cup debut relatively early: in 1978 in Argentina, the then football dwarfs showed respectable performances, defeating Mexico and getting a draw against Germany.
Only the defeat against Poland put a spanner in the team's works at that time and in the end the team was eliminated in the group stage.
---
Tunisia took part in all three World Cups between 1998 and 2006, but could only manage a draw at each of the tournaments. In 2010 and 2014, the Tunisians missed out in the qualifiers.
It wasn't until they returned to Russia in 2018 that they were able to record their second win at a World Cup.
Although they lost 2-1 to England and even 5-2 to Belgium, they defeated Panama 2-1 in their final group game. Wahbi Khazri, who is also Tunisia's hopeful this year, scored the winning goal then.
---
FAQ – Questions and answers about Tunisia at the 2022 World Cup
Who is the coach of Tunisia at the 2022 World Cup?
The coach of Tunisia since January 2022 is Jalel Kadri, who is largely unknown in Europe. The 50-year-old previously coached only clubs in North Africa or the Middle East, including in his native Tunisia, but also in Libya and Saudi Arabia.
Who are Tunisia's stars at the 2022 World Cup?
Tunisia's best-known player is center forward Wahbi Khazri, who plays for Montpellier in France. Midfielders such as Ellyes Shkiri of 1. FC Cologne and the super-talented Hannibal Mejbri are also well known in Europe already.
Who will Tunisia play against at the 2022 World Cup?
The Tunisian national team starts the tournament with a match against Denmark (November 22). The second matchday will see the two underdogs duel in Group D: Tunisia will face Australia in al-Wakra (Nov. 26). On the final day of group play, Tunisia will face big group favorites France (Nov. 30).
How many times did Tunisia participate in the World Cup?
The 2022 World Cup in Qatar will be the sixth World Cup for Tunisia. So far, the country has never made it past the preliminary round, picking up just two wins in total (1978 against Mexico and 2018 against Panama).
Who is Tunisia's record international?
The defender Radhi Jaidi played the most games for Tunisia. He was capped 105-times for the national team between 1996 and 2009, leaving goalkeeper Chokri El Ouaer (97 caps) and defender Khaled Badra (96 caps) just behind.
Who is Tunisia's record goalscorer?
The Tunisian national team's record goalscorer is Issam Jemaa, who managed 36 goals in Tunisia's team kit between 2005 and 2014. Wahbi Khazri, who is still active today, is currently second in the all-time list with 22 international goals (as of September 2022).
What is the Tunisian national team colloquially known as?
The Tunisia national team is called "Les Aigles de Carthage," meaning "the Eagles of Carthage." Carthage was a North African metropolis and the capital of the empire of the same name. It was located at about the same place as the present capital of Tunisia, Tunis.