Wales at the 2022 World Cup – Betting Odds & Tips
Wales will be playing at the World Cup this year for the first time since 1958 and for only the second time overall. For their captain Gareth Bale, it's the culmination of an impressive team career.
We take a detailed look at the Wales squad, give you the best Wales World Cup 2022 tips and predictions and explain the team's strengths and weaknesses.
Table of contents: Betting on Wales at the 2022 World Cup
---
---
Best Bookmaker for World Cup Betting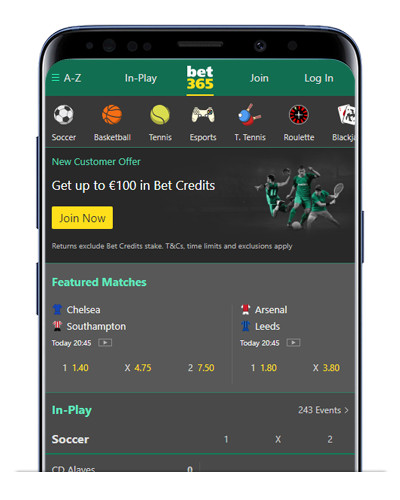 The most established name in world wide sports betting offers a huge range of betting options for new and experienced bettors. Bet365 is well known for great odds on sporting events from around the globe.
Bet365 Review
Sign up with Bet365 and get 100 €/$/£ Bonus
---
World Cup betting odds for Wales
Wales has to face England, Iran and the United States of America in an interesting group. To be promoted to the round of 16 is of course the big goal here and probably the maximum Wales can expect.
At our best bookmaker Bet365, you would get 151 times your stake back for a sensational World Cup title for the Welsh.
Football World Cup 2022 Winners Odds – top bookmakers
This bet is highly speculative, of course, and the Welsh's top priority is getting through the group.
Even though Wales has some highly talented Premier League players who earn there money in England, it is of course unlikely that they will stay in the tournament for long. However, should Wales still experience "magical weeks" and make it all the way to the final, 22Bet are offering 51 times the stake.
In Group B, there is no way around the high favorite England. Under Gareth Southgate, the English team became extremely pragmatic and defensively stable, which is why it is difficult to score against the "Three Lions". The fact that Wales, of all teams, could manage this may seem very exceptional at first glance, but it is nevertheless unlikely.
Wales will have to take their cue from the USA, who are likely to be the opponents on a par with them. However, if everything still goes in favor of the underdogs from Great Britain in the course of the group, a group win of the Welsh would bring lucrative odds for betting tips and allow a Wales value bet.
---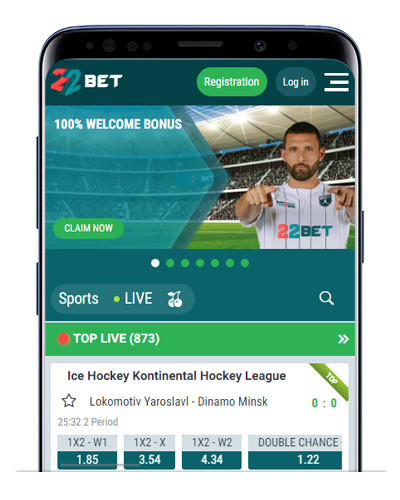 22Bet offers sports betting with high stakes and win limits. In addition, the betting company has a wide range of bets available. Customers who play with higher stakes and do not want to compromise on the betting selection will find 22Bet a great choice!
22bet Review
Sign up with 22BET and get 122 € Bonus
Even if he's already 33 years old, Gareth Bale is of course still an extremely threatening attacker who can score from many different situations and positions. Whether it's free kicks, penalties, solo runs or simple tap-ins, Bale always is a threat.
Accordingly, he – on a par with Nottingham striker Brennan Johnson – is also considered by the bookmakers to be the Welsh side's most dangerous player.
Fulham's right winger Daniel James is a clear underdog to the World Cup top goal scorer title by comparison. Bale and Johnson are on a par with Uruguay's Edinson Cavani or England's Jack Grealish in the odds, for example.
Brennan Johnson to be World Cup top scorer @ 81.00 / Bet365
Gareth Bale to be World Cup top scorer @ 81.00 / Bet365
Daniel James to be World Cup top scorer @ 251.00 / Bet365
---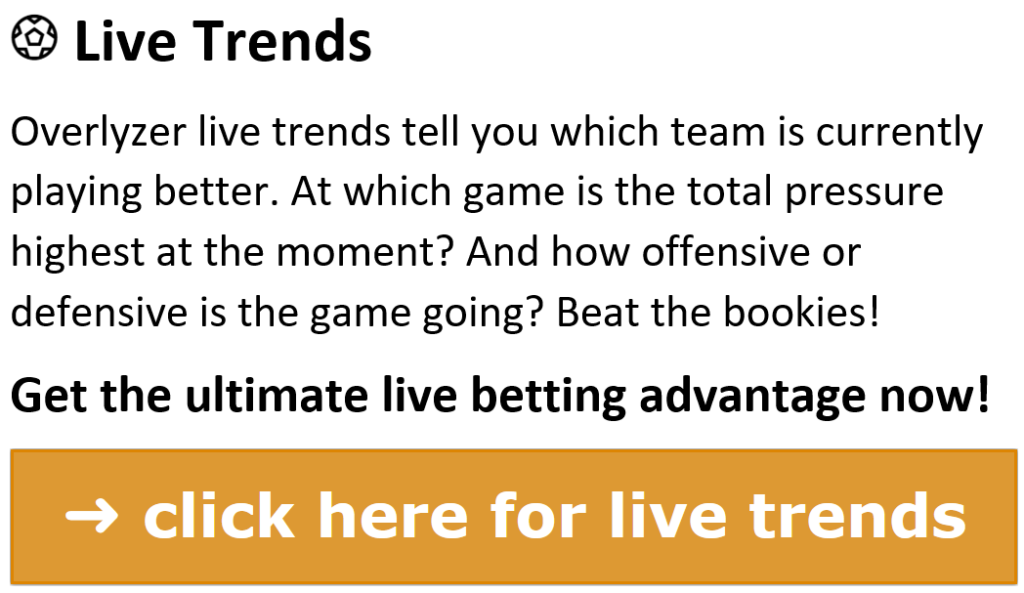 ---
Current form and results
Wales have won the two most important games of the 2022 international season to date: In the playoff for the World Cup, there were wins over Austria and Ukraine. Apart from that, however, they never emerged victorious in the first half of 2022.
In the UEFA Nations League, Wales picked up just one point from four games, but they also were very unlucky at times. They lost 2-1 both in Poland and away to the Netherlands, but managed a respectable 1-1 draw at home to Belgium. In the away game in the Netherlands, Gareth Bale equalized 2-2 after 92 minutes, but Memphis Depay made it 3-2 for the hosts just a minute later.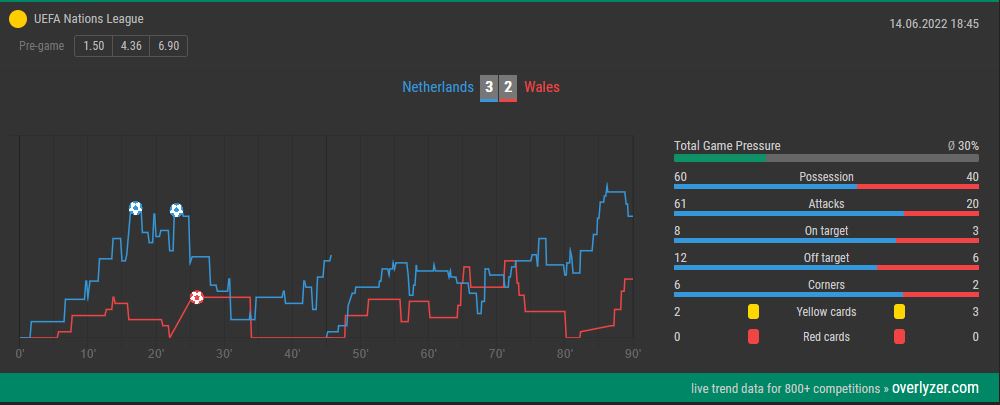 ➜ grab the ultimate live betting advantage with Overlyzer now!

Beat the bookmakers!
---
The second half of the year also got off to a bad start for the Welsh. The UEFA Nations League ended with two more defeats and relegation to Group B. The expected 2-1 defeat away to Belgium was followed by an unnecessary 1-0 defeat at home to Poland.

Wales played in a 3-4-2-1 formation, as they often do, but failed to find enough solutions, especially in possession, against the higher-quality teams. Also aging superstar Gareth Bale is not in the shape of earlier years.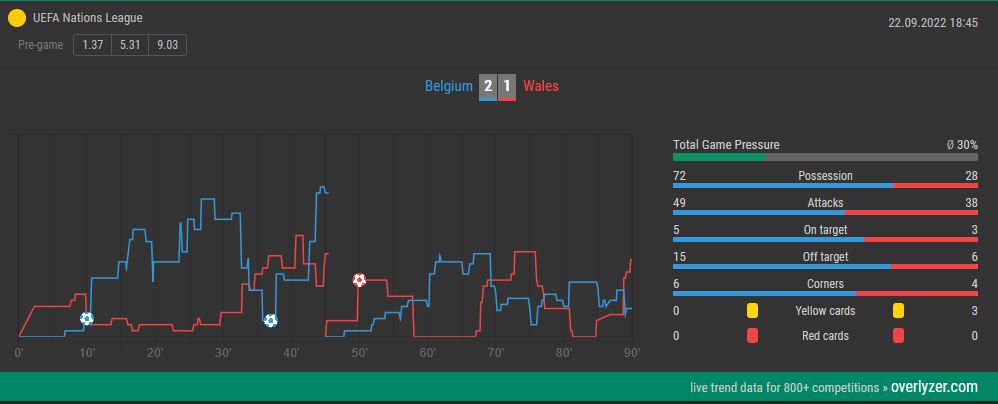 So the Welsh need a plan B ahead of the 2022 World Cup and need to become a bit more flexible in their formation and style of play.

Even though they were clear underdogs in their Nations League group with Belgium, the Netherlands, and Poland, their tally of just one point from six games is still disappointing.
Wales' only friendly game in 2022 was a 1-1 draw with the Czech Republic in March. Of the last ten international matches (as of October 2022), the Welsh won only two – though these were the most important.
Wales International Games 2022
| | | | | | | | |
| --- | --- | --- | --- | --- | --- | --- | --- |
| Date | Opponent | Venue | Result | XG | Possession | Accuracy | Duels won |
| 24/03/2022 | Austria | H | 2 – 1 | 1.17 : 0.95 | 35,72% | 72,73% | 54,84% |
| 29/03/2022 | Czech Republic | H | 1 – 1 | 0.85 : 1.08 | 46,60% | 77,35% | 54,72% |
| 01/06/2022 | Poland | A | 1 – 2 | 0.51 : 1.62 | 45,26% | 76,20% | 46,58% |
| 05/06/2022 | Ukraine | H | 1 – 0 | 0.74 : 2.40 | 34,24% | 74,60% | 47,69% |
| 08/06/2022 | Netherlands | H | 1 – 2 | 0.52 : 0.50 | 42,87% | 85,23% | 53,28% |
| 11/06/2022 | Belgium | H | 1 – 1 | 1.28 : 1.32 | 39,67% | 83,29% | 59,42% |
| 14/06/2022 | Netherlands | A | 2 – 3 | 1.51 : 1.52 | 41,21% | 82,09% | 50,31% |
| 22/09/2022 | Belgium | A | 1 – 2 | 0.64 : 2.30 | 31,74% | 79,14% | 45,71% |
| 25/09/2022 | Poland | H | 0 – 1 | 0.76 : 0.70 | 50,18% | 78,45% | 47,85% |
---
Fun fact: When Wales first participated in a World Cup in 1958, it was the first and only time that all four British associations – England, Scotland, Northern Ireland and Wales – took part in the tournament. Surprisingly, the most successful teams were Northern Ireland and Wales, who both qualified for the quarterfinals, while the "big brothers" England and Scotland were eliminated in the group stage.
---
Further preparation and test matches
So far, the Welsh national team has not fixed any further friendly matches before the World Cup 2022. We will update this page continuously and inform you as soon as the further program of Wales is fixed!
You don't want to miss any match and see at a glance which team is currently better than the opponent in over 1,000 leagues and competitions? We recommend you to ➜ register at overlyzer.com

With Overlyzer you can follow matches from 160+ countries, set filters according to your betting behaviour and retrieve them at any time. This way you become a professional live tipster and secure an advantage over the bookies!

Beat the Bookmakers!
---
Wales match schedule for the 2022 World Cup
Wales will face USA (November 21) on the first matchday of Group B, which is probably their hottest rival in the fight for the second place. The Welsh's second opponent is Iran (November 25), against whom they should have a must-win if they want to get through the group.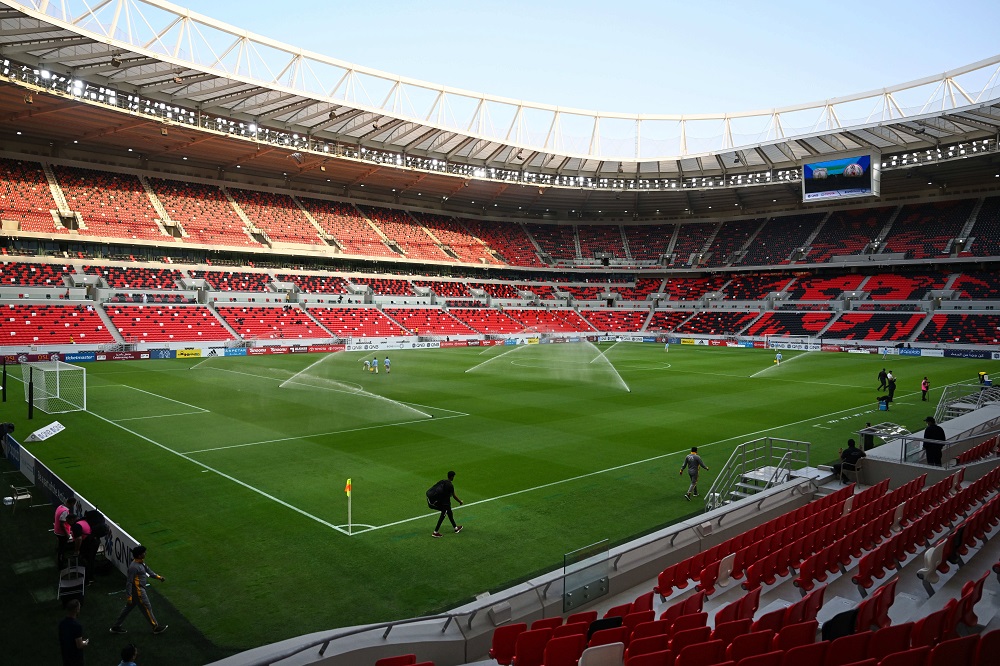 ---
On the third and final matchday, Wales will face the high group and World Cup top favorites England (November 29).
---
Wales World Cup squad
Wales will send a squad to the 2022 World Cup in Qatar with numerous veterans and real warriors who have played together for a long time in the national team. The FIFA World Cup may come a little too soon for some of the country's top talents, but they are still worth keeping an eye on.
We analyze the Wales squad in detail.
Wales goalkeeper
For a long time, veteran Wayne Hennessey was the 'number one' between the posts in Welsh national team. Like his teammate Adam Davies, however, he is currently no longer a regular at his club and this has caused a paradigm shift in the Welsh goal. Leicester goalkeeper Danny Ward is now in a pole position ahead of Hennessey, partly because Ward is now Leicester's first-choice goalkeeper following the departure of Kasper Schmeichel to French club Nice.
Although Ward is already 29 years old, he has hardly been able to prove himself at top level and has only been a regular player for his clubs in two seasons. So despite his age, the routine factor doesn't work in his favor.
GK – Danny Ward (Leicester City)
GK – Adam Davies (Sheffield United)
GK – Wayne Hennessey (Nottingham Forest)

Wales center backs
Given Wales' preference for a three-man backline, the central defense is rather thin. Ethan Ampadu, only 22, is the key player in Wales' defensive center, and Rodon and Mepham should also be set as first team regulars. The three of them have quality, of course, but they are certainly not among Europe's elite, and Wales must also be wary of injuries or suspensions. The squad's density in this part of the team is extremely thin.
CB – Ethan Ampadu (Spezia Calcio)
CB – Joe Rodon (Stade Rennes)
CB – Chris Mepham (Bournemouth)
CB – Ben Cabango (Swansea City)
CB – Tom Lockyer (Luton Town)

Wales full backs
At the full-back positions, on the other hand, the Welsh are excellently equipped. On the right, they can choose between one of the country's greatest talents, ex-Liverpool youngster Neco Williams, but also Premier League-tested Connor Roberts or record international Chris Gunter. So here Wales have a good balance of options, depending on whether they want to play offensive or defensive.
On the left side of defense, Tottenham's Ben Davies is also set. He is one of the most high-profile players in Wales' squad and will have a weighty role in coach Robert Page's system and ideas.
RB – Neco Williams (Nottingham Forest)
RB – Connor Roberts (Burnley)
RB – Chris Gunter (Wimbledon)
LB – Ben Davies (Tottenham Hotspur)

Wales central midfield
In central midfield, Wales has problems in all positions. The two great veterans Aaron Ramsey and Joe Allen are now aging and not delivering the performances of a few years ago. Some great talents like Colwill or Woodburn are not yet ready to step into leading roles.
In addition, the Welsh lack classic defensive midfielders and 22-year-old Matt Smith is more of an backup. This also puts a lot of work on Wales' already sparse central defense in the six-man area, who need to move out into the defensive midfield area a lot.
DM – Matt Smith (MK Dons)
CM – Aaron Ramsey (OGC Nice)
CM – Joe Allen (Swansea City)
CM – Dylan Levitt (Dundee United)
CM – Joe Morrell (Portsmouth)
CAM – Rubin Colwill (Cardiff City)
CAM – Jonathan Williams (Swindon Town)

Wales attack
Wales' wing positions and attacking center, however, are quite well-staffed. Evergreen winger Gareth Bale naturally takes a key role here and will also be the target player, especially in counterattacking situations. Even though he's getting on in years, Bale is still as quick as an arrow and hasn't lost any of his scoring touch.
The right side of the attack is already heavily overstocked: Sorba Thomas is a possible starter, as is Harry Wilson, who is still suffering from a knee injury and is unlikely to be fit until a month before the start of the tournament. On the left, Fulham's Daniel James is probably set, although he too is actually a right winger.
In the attacking center, 195cm (6' 4'') attacker Kiefer Moore has been developing into a valuable joker, but given Wales' reliance on quick counter-attacks, the nimble Brennan Johnson, who is always adept at dropping back into the midfield, is probably the player to watch more.
RW – Harry Wilson (Fulham)
RW – Gareth Bale (Los Angeles FC)
RW – Sorba Thomas (Huddersfield)
LW – Daniel James (Fulham)
ST – Brennan Johnson (Nottingham Forest)
ST – Kiefer Moore (Bournemouth)
ST – Mark Harris (Cardiff City)

Wales competition flair
Wales only have little experience on the big world stage. When the country participated in a World Cup for the first and last time in 1958, not even the current coach had been born, let alone any of the players.
However, Wales proved in the last two European Championships that they are a true tournament team! In 2021, they lost to Denmark in the round of 16, and in 2016, the Welsh sensationally made it to the semifinals, where they were defeated by Portugal, the eventual European champions.
At least on a continental level, the Welsh proved that they can really fight their way into major tournaments. However, a "generational battle" against the young guns of the USA is on the cards in Qatar, so we're betting that youth will win out over experience.

---
---
Wales World Cup history
Wales will be playing in a World Cup for only the second time in 2022. And this despite the fact that the Welsh association is very old and played its first international match in 1876.
However, the nation was convincing in its only appearance to date at the 1958 World Cup in Sweden. In a group with hosts Sweden, who took first place, Wales finished second and qualified for the quarterfinals. In addition to the inferior Mexicans, they also left the high group favorites Hungary behind. Due to the same amount of points, there was a deciding match against the Hungarians, which Wales sensationally won 2-1.
In the quarterfinals, however, Wales failed to beat the eventual world champions. Before Brazil scored two furious 5-2 victories over France and Sweden in the semifinals and final, they struggled to beat the little Welsh team 1-0. The scorer was a guy called Pelé, who scored his very first World Cup goal at the age of 17…
---
FAQ – Questions and answers about Wales at the 2022 World Cup
Who is the coach of Wales at the 2022 World Cup?
Since November 2020, the Wales national team has been coached by Robert Page. The 48-year-old was initially only scheduled as an interim coach, but was then permanently appointed team manager due to his successes. Prior to that, Page worked for several years in the Welsh association's youth team.
Who will be Wales' stars at the 2022 World Cup?
Gareth Bale continues to be the most glittering name in Wales' lineup. Veterans Aaron Ramsey and Joe Allen are also household names for football fans. But some talented players, such as Ethan Ampadu and Daniel James, are now following in the footsteps of great predecessors.
Who will Wales play against at the 2022 World Cup?
Wales will face the United States of America in their first game (Nov. 21), followed by Iran (Nov. 25) and favorites England in their final group game (Nov. 29). The games will all be played at al-Rayyan.
Who is Wales' record international?
Currently, full-back Chris Gunter is Wales' record international with 108 caps. However, a pairing is currently taking place with Gareth Bale, who holds at 106 caps as of September 2022, meaning he could soon overtake Gunter due to his regular place in the current Welsh team, although the latter is also still a member of the squad.
Who is Wales' record goalscorer?
The record scorer of the Welsh team is clearly Gareth Bale, who has managed to score 38 national team goals so far (as of September 2022). In second place is the legendary striker Ian Rush, who managed to score 28 goals for Wales between 1980 and 1996.
What is the nickname of the Welsh national team?
The Welsh national team is referred to as "The Dragons". This is a reference to the national flag of Wales, which features a red dragon on a white and green background.