Canada vs. Morocco Prediction, Betting Tips & Odds | World Cup 2022
The two underdogs in Group F will meet on the final day of group play and while Canada will have to head home after the match, Morocco still have their eyes on the round of the last 16!
We give you a detailed preview of the match and provide you with the best Canada Morocco betting tips and odds.
Canada, as the clearly better team, lost 0-0 to Belgium on the first matchday and was then beaten 4-1 by the Croats, which means that their early return home is already sealed. Morocco drew 0-0 with Croatia on the first matchday and then sensationally beat Belgium 2-0.
The match will take place on December 1 at 6pm Qatar time (4pm CET) at al-Thumama Stadium in Doha.
Latest betting odds Canada – Morocco
Morocco, who are surprisingly second in Group F, are slightly favored by the oddsmakers.
At our bookmaker test winner Bet365, you can get odds of @3.50 for a Canadian win, while a draw will bring 3.40 times your stake and a Moroccan win offers 2.10 times your stake.
---

Top Bookmaker for World Cup Betting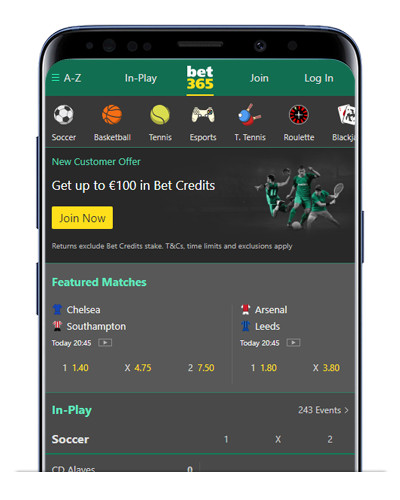 The most established name in world wide sports betting offers a huge range of betting options for new and experienced bettors. Bet365 is well known for great odds on sporting events from around the globe.
Bet365 Review
Sign up with Bet365 and get 100 €/$/£ Bonus
---
World Cup 2022 Betting Canado vs. Morocco
---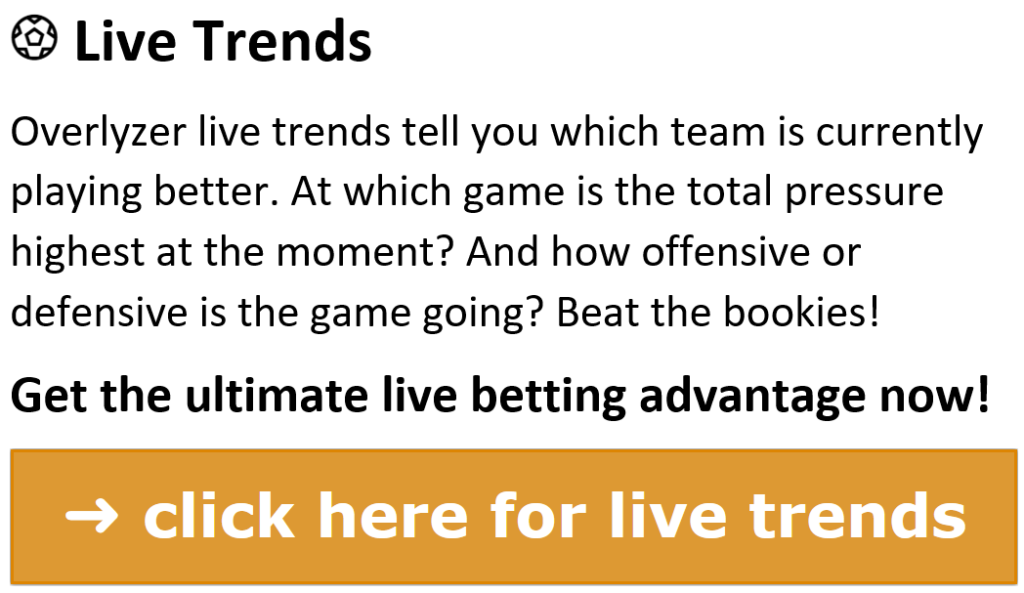 ---
Canada World Cup 2022 Preview
Initially, it looked as if Canada could be one of the surprises of the tournament. John Herdman's team put in an excellent performance against Belgium, scoring 3.35 expected goals, but still lost 1-0.
Against Croatia, the Canadians were a little too naive and although they took the lead after only a few seconds through Alphonso Davies, they ultimately lost 4-1, which meant an early exit from the World Cup.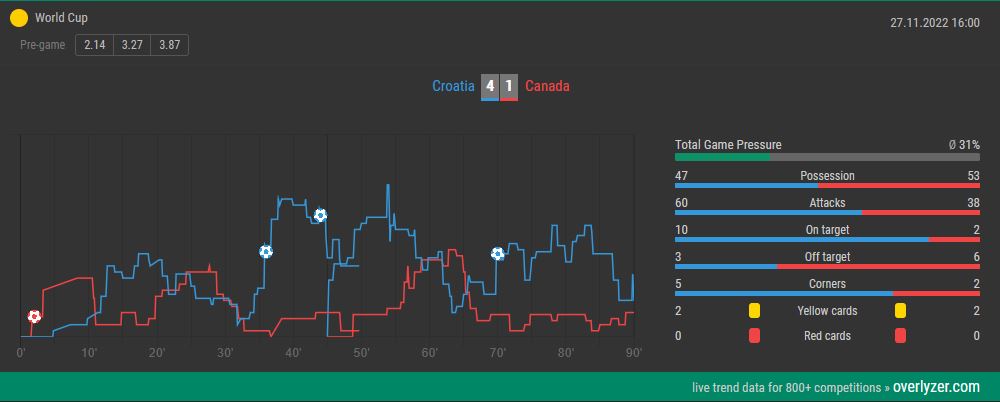 ---
Canada's elimination could tip the scales in Group F. It is quite conceivable that John Herdman would also like to give substitute players the opportunity to get some minutes at a World Cup. That could drastically reduce the quality of the team.
Here, a live bet based on the starting-eleven is the main option, depending on how Herdman decides to approach the last game.
Canada previous World Cup matches
| | | | | | | | |
| --- | --- | --- | --- | --- | --- | --- | --- |
| Date | Opponent | Venue | Result | XG | Possession | Accuracy | Duels won |
| 23/11/2022 | Belgium | N | 0 – 1 | 3.35 : 1.31 | 46.57% | 82.98% | 49.67% |
| 27/11/2022 | Croatia | N | 1 – 4 | 0.40 : 1.50 | 54.02% | 85.06% | 43.61% |
---
Morocco World Cup 2022 Preview
The Moroccans, who have an extremely exciting squad, are definitely one of the big surprises of the tournament. They have already more than annoyed two top teams: they managed to draw 0-0 with runners-up Croatia and won 2-0 against the " everlasting secret favourites" Belgium.
The situation before the last match against the Canadians, who have already been eliminated, is clear: Morocco needs one point to advance to the round of the last 16 because Belgium and Croatia will take points away from each other in the parallel match. Only a defeat could eliminate Morocco, but if Croatia beats the Belgians, they would advance even without points in the last match.
---
So after very consistent performances against Croatia and Belgium, Morocco's advancement to the round of the last 16 is very likely. Against the two giants of world football, the team with the outstanding defense did not concede a goal.
Against the usually also actively attacking, dynamic Canadians, they could follow a similar wait-and-see approach as in the first two games.
Morocco previous World Cup matches
| | | | | | | | |
| --- | --- | --- | --- | --- | --- | --- | --- |
| Date | Opponent | Venue | Result | XG | Possession | Accuracy | Duels won |
| 23/11/2022 | Croatia | N | 0 – 0 | 0.25 : 0.74 | 36.36% | 83.58% | 55.39% |
| 27/11/2022 | Belgium | N | 2 – 0 | 1.03 : 0.58 | 37.12% | 88.82% | 52.13% |
---
Team comparison
In favor of Canada:
+ Nothing is at stake and the team can play without constraints.
+ The team has a good mentality and will give everything despite being eliminated+ The team created numerous scoring opportunities against two top teams.
In favor of Morocco:
+ Probably the biggest game in the history of the federation should provide additional motivation
+ Extremely strong defense – two top teams hardly created any opportunities against Morocco
+ Strong options on the bench
+ High passing accuracy and a lot of control in midfield
---
The last duel
Canada and Morocco have met three times in football history. Canada have never been able to come out on top.
The last encounter took place in Marrakech in 2016, where Morocco won 4-0. Hakim Ziyech, who is also one of Morocco's most promising players this year, converted two penalties. Canada, however, played with an almost completely changed team compared to today.
Canada – Morocco Over Under Prediction
The Canadians managed to score a very high number of expected goals against Belgium, but then these numbers dropped significantly against Croatia.
Morocco, on the other hand, scored only two goals but conceded none. The defense and a compact centre have been the Moroccans' assets so far.
Needing only a draw against Canada to advance to the quarter-finals, Morocco will not attack blindly, but rather act cautiously. Therefore, we expect a game in which not many goals will be scored and opt for an "Under 2.5" bet.

Canada – Morocco Prediction
Canada are seeking their first point of the tournament as a farewell – and that point would see Morocco advance to the round of the last 16.
A stalemate is unlikely, of course, but both teams would achieve their big goal with a point. Good teams only jump as high as they have to and Morocco is definitely one of the good teams this year, which is why we expect Morocco to get the crucial point against Canada with the minimum necessary effort.

Canada – Morocco Correct Score Bet
Although the Canadians have performed strongly so far, the underdogs have managed to score only one goal in the tournament. Morocco have also been rather minimalistic and have a goal difference of 2-0 after two games.
If Canada's team manager John Herdman makes changes to give substitutes the opportunity to play in the World Cup, this could also affect the attacking quality of the Canadians. Our Canada Morocco result tip is therefore 0-0.

---
FAQ – Questions and answers about Canada – Morocco at the 2022 World Cup
When does Canada – Morocco start?
The match between Canada and Morocco will take place on December 1, 2022 at 6 pm Qatar Time. The match will be played at the al-Thumama Stadium in Doha.
Where will Canada – Morocco be broadcasted?
In the United Kingdom the game between Canada and Morocco can be watched live on the BBC. In the United States Fox Sports will be the place to watch the game and in Canada the match will be aired on TNS. Fans from Morocco watch on SNRT.
How did the first World Cup games of Canada and Morocco end?
Who are Canada´s best players?
Canada's two biggest stars are the 22-year-old Alphonso Davies of Bayern Munich and Jonathan David of LOSC Lille. In the meantime, however, most Canadian players play in Europe or for the two big Canadian MLS clubs from Montreal and Toronto.
Who are Morocco´s best players?
The biggest star in the Moroccan national team is Achraf Hakimi of Paris Saint-Germain. His fellow full-back Noussair Mazraoui of Bayern Munich, currently unfortunately injured, is also one of the team's top players. In addition, Hakim Ziyech, Youssef En-Nesyri and goalkeeper Bono need to be watched closely.
How are the Morocco Canada betting odds?
The renowned English bookmaker Bet365 offers odds of @3.50 for a win by Canada. A draw currently gets odds of @3.40 and a Morocco win fetches odds of @2.10.