Croatia vs. Belgium Prediction, Betting Tips & Odds | World Cup 2022
The chances are high that one of the two big favorites will have to return home after the final matchday in Group F. The Belgians in particular are under great pressure before the match against Croatia.
We provide you with a detailed preview of the match and present you with the best Croatia – Belgium betting tips and odds.
Croatia could not get beyond a 0-0 draw with Morocco on the first matchday. After that, however, the 2018 runners-up made an important recovery with a smooth 4-1 win over Canada. Belgium struggled to beat Canada 1-0 on matchday one, but their backs are already against the wall after losing 2-0 to Morocco.
The match will be played at the Ahmed bin Ali Stadium in al-Rayyan on December 1 at 6pm Qatar time.
Latest betting odds Croatia – Belgium
Before the exciting top clash of the two favorites in Group F, the odds are completely even!
Our bookmaker test winner Bet365 offers odds of @2.62 for a win by Croatia and the same odds for a win by the Belgians. For a draw, odds of @3.40 are currently offered.
---

---
Top Bookmaker for World Cup Betting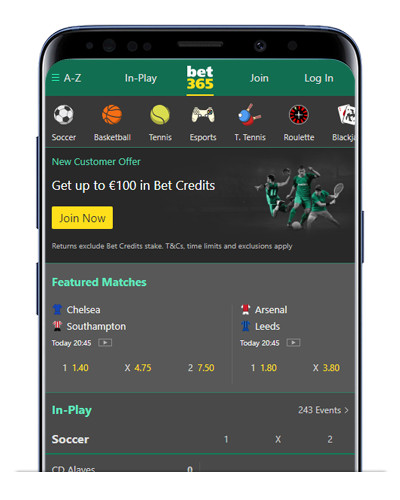 The most established name in world wide sports betting offers a huge range of betting options for new and experienced bettors. Bet365 is well known for great odds on sporting events from around the globe.
Bet365 Review
Sign up with Bet365 and get 100 €/$/£ Bonus
---
World Cup 2022 Betting Croatia vs. Belgium
---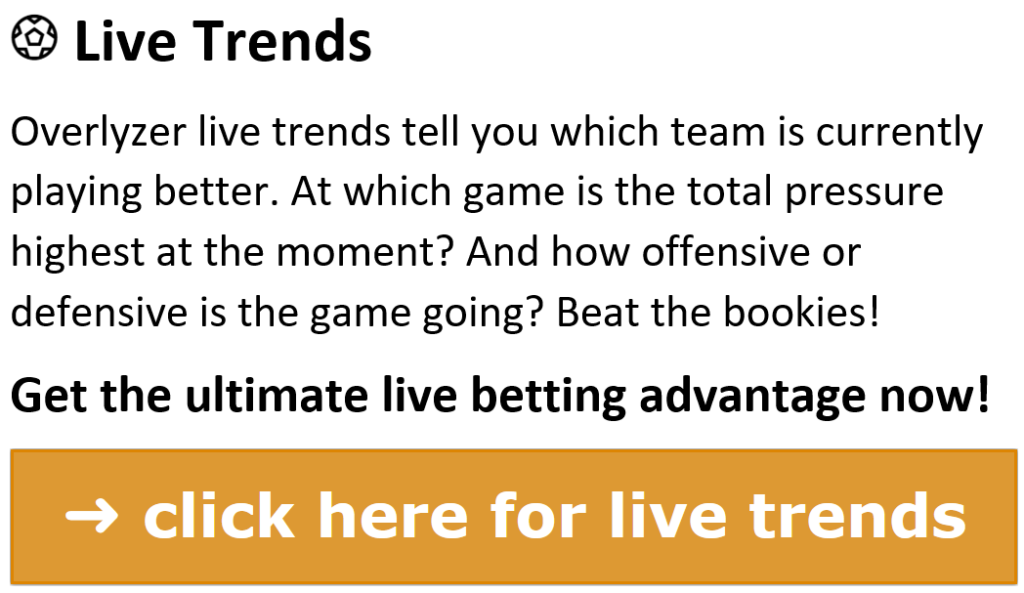 ---
Croatia World Cup 2022 Preview
In the second group match against Canada, Croatia celebrated an important victory: After the first match against the strong Moroccans ended in a 0-0 draw, Croatia won clearly 4-1 and is now smiling from the top of the table in Group F.
Andrej Kramaric, who scored two goals, was particularly convincing. Marko Livaja, who was deployed at right wing, also scored and the fourth goal was added by substitute Lovro Majer.
This is particularly encouraging because the Croatian attack was rightly criticised after the 0-0 against Morocco. It lacked penetrating power and a top striker, such as Mario Mandzukic once was.
In addition, the central midfield also presented itself very well, whereby the former world footballer Luka Modric was outdone this time by the brilliant Mateo Kovacic. In any case, the Croatians showed at the right moment that they are still capable of delivering mature performances.
---
Before the match against Belgium, the situation for the Croats is clear: they simply cannot lose the match against the group favorite. With a draw, Croatia would definitely stay ahead of Belgium and finish the group in one of the top two places.
The fact that they can focus on ball security and defensive stability is certainly not a disadvantage for this clever team!
Croatia previous World Cup matches
| | | | | | | | |
| --- | --- | --- | --- | --- | --- | --- | --- |
| Date | Opponent | Venue | Result | XG | Possession | Accuracy | Duels won |
| 23/11/2022 | Morocco | N | 0 – 0 | 0.74 : 0.25 | 63.64% | 87.38% | 42.16% |
| 27/11/2022 | Canada | N | 4 – 1 | 1.50 : 0.40 | 45.98% | 83.33% | 51.50% |
---
Belgium World Cup 2022 Preview
The Belgians have certainly been one of the big disappointments of the tournament so far. Known for their explosiveness and dynamism, they scored only one goal in their first two matches and were consistently the worse team against Canada.
But they also put in a lacklustre performance against Morocco. The North Africans collected a higher Expected Goals value and had Belgium well under control for long stretches of the game before they struck with two goals in the final phase.
At the moment, it seems as if the Belgians are not getting it all together and the penetrating power of the past days is massively missing. International media and the internet are already making fun of "old Belgians" and see the country's golden generation on the wane.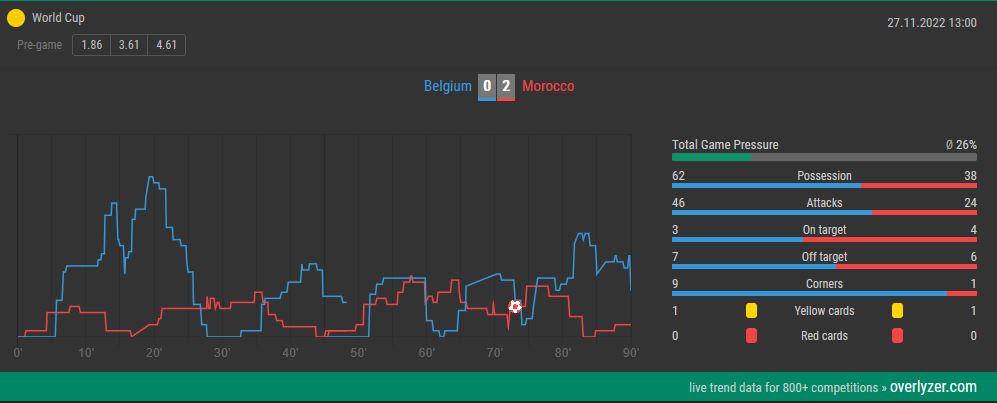 ---
The starting position for Belgium could become quite complicated: With a win, they would definitely overtake Croatia and thus secure their place in the last 16. If the match ends in a draw, however, they will have to rely on a win by Canada in the parallel match against Morocco. And even that victory must not be just any victory: Because of the three-goal disadvantage in goal difference against the Moroccans, Canada, already eliminated, would have to demolish Morocco.
In the event of a defeat, Belgium is out of the tournament anyway. This means that the Belgians have to win against the very robust Croatians, whose world-class midfield will once again be striving for passing accuracy in the centre of the field.
Belgium´s previous World Cup matches
| | | | | | | | |
| --- | --- | --- | --- | --- | --- | --- | --- |
| Date | Opponent | Venue | Result | XG | Possession | Accuracy | Duels won |
| 23/11/2022 | Canada | N | 1 – 0 | 1.31 : 3.35 | 53.43% | 84.25% | 48.37% |
| 27/11/2022 | Morocco | N | 0 – 2 | 0.58 : 1.03 | 62.88% | 88.92% | 45.21% |
---
Team comparison
In favor of Croatia:
+ A draw is enough for promotion
+ The attack, especially Kramaric and Livaja, are getting better
+ The central midfield and especially Kovacic have been very stable lately
+ Croatia allow little and the defense stands well
+ Belgium is already under enormous pressure and need 3 points – therefore Croatia can probably act in a more wait-and-see manner.
In favor of Belgium:
+ Belgium still possess high individual quality
+ Great passing accuracy in the centre of midfield could make a difference, especially against Croatia's strong midfield
+ Romelu Lukaku may return to the starting line-up


---
The last duel
The last meeting between Belgium and Croatia took place in a friendly international match in Brussels in June 2021.
Both sides featured many players from this year's World Cup. Belgium won 1-0 with a goal from Romelu Lukaku.
---
Croatia – Belgium Over Under Prediction
Even a draw would be enough for Croatia to advance, so Zlatko Dalic's team can take their time to see what the Belgians have to offer and just have to work well against the ball.
Belgium, on the other hand, had great problems creating clear scoring opportunities in the first games and remained largely uncreative in attack. Roberto Martínez's team relied far too often upon individual actions only.
That's why we are betting on a game with few goals and opt for an "Under 2.5" in our Croatia Belgium Over Under bet – i.e. a maximum of two goals scored in the game.

Croatia – Belgium Prediction
Based on what we have seen so far, we consider Croatia to have a slight advantage in this match. The better starting position is also a clear plus for the Croats, because Belgium, who have been rather clueless so far, must be the more active team.
But because Belgium absolutely must win to overtake Morocco and/or Croatia in Group F, Martínez's team will have no choice but to play very attack-minded and thus inevitably create some opportunities. We don't expect the Belgians to have as few chances as they did in the first two games, when they did far too little for their attack.
Therefore, we bet on a draw between Croatia and Belgium, which Croatia can live with very well, but not the Belgians.

Croatia – Belgium Correct Score Bet
Belgium must attack; Croatia can be relatively relaxed and passive in their approach as they do not need more than a draw. That is what it will come down to, as we have already described in our match prediction.
Nevertheless, the attacking forces of both teams are strong enough to score their goals each. Our Croatia Belgium result tip is therefore 1-1.

---
FAQ – Questions and answers about Croatia – Belgium at the 2022 World Cup
When does Croatia – Belgium start?
The match between Croatia and Belgium will take place on December 1, 2022 at 6 pm Qatar Time. The match will be played at the Ahmed bin Ali Stadium in al-Rayyan.

Where will Croatia – Belgium be broadcasted?
In the United Kingdom the game between Croatia and Belgium can be watched live on the BBC. In the United States Fox Sports will be the place to watch the game and in Canada the match will be aired on TNS. Fans from Croatia watch on HRT, followers from Belgium tune in to RTBF.
How did the first World Cup games of Croatia – Belgium end?
Croatia followed up their rather disappointing 0-0 opener against Morocco with a convincing 4-1 win over Canada. Belgium won their first match against Canada 1-0, but then surprisingly lost 2-0 to Morocco. In the match against Croatia, a win is therefore mandatory for Belgium!
Who are Croatia´s best players?
The biggest star of the Belgian national team is probably the 30-year-old goalkeeper Thibaut Courtois of Real Madrid. Kevin de Bruyne of Manchester City and Romelu Lukaku of Inter Milan are also considered top-notch players.
How are the Croatia Belgium betting odds?
Bet365, the renowned English bookmaker, is offering odds of @2.62 for a Croatia win. A draw currently offers odds of @3.40 and a Belgium win also offers odds of @2.62.