Ghana vs. Uruguay Prediction, Betting Tips & Odds | World Cup 2022
Ahead of the final matchday in Group H, Ghana surprisingly have the best chances to follow the already qualified Portuguese into the round of the last 16. We provide you with a detailed preview and give you the best odds and betting picks for Ghana – Uruguay.
When Ghana came on the field in the first two matchdays, there was always plenty of action. They lost 3-2 to Portugal and won 3-2 against South Korea. Uruguay, on the other hand, could not get past a 0-0 draw against South Korea and then lost 2-0 to Portugal.
The match will take place on December 2 at 6pm Qatar time at the al-Janoub stadium in al-Wakrah.
Latest betting odds
The international bookmakers regard Uruguay as the favorites against Ghana.
At ➜ top bookmaker bet-at-home you can currently get odds of @1.75 for a win by Uruguay, while a win by the Ghanaians will bring in odds of @4.70. In the event of a draw, you can earn back 3.80 times your stake at Bet365.
---

Top Bookmaker for World Cup Betting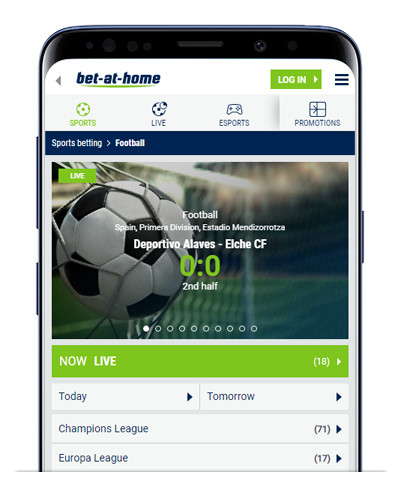 Bet-at-home is a household name for online sports betting in many European countries with more than 5 million registered customers. Punters appreciate the secure betting platform and the wide range of sports with a huge number of different betting markets available.
Join Bet-at-home and claim your €100 Bonus now
---
World Cup 2022 Betting Ghana vs. Uruguay
---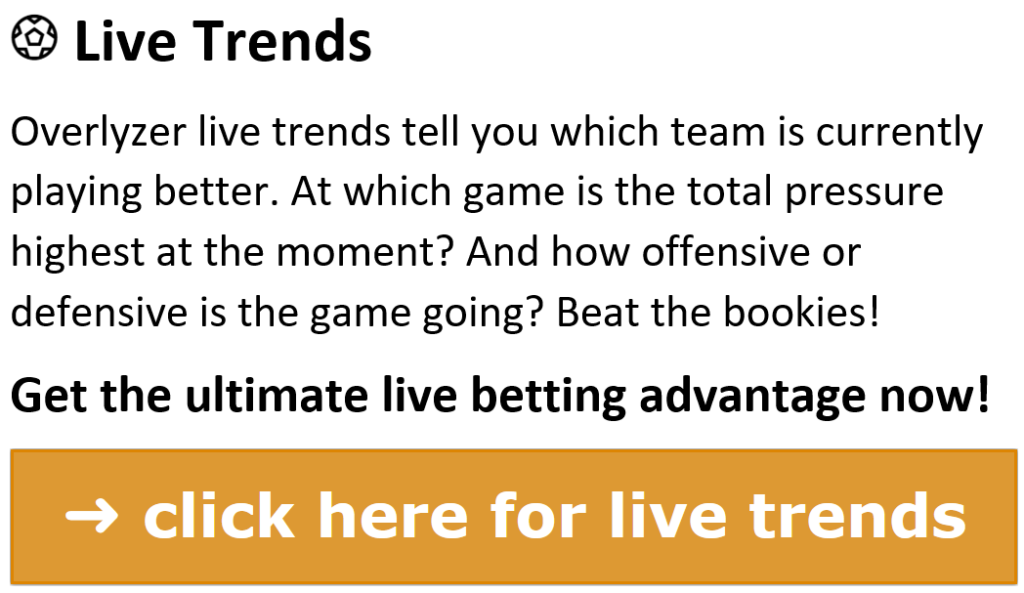 ---
Ghana World Cup 2022 Preview
Ghana were particularly efficient in their last match against South Korea. Ajax youngster Mohammed Kudus was especially outstanding, contributing two goals for the Ghanaians. The 3-2 win put Ghana in an excellent position going into the final matchday.
However, they can only be sure of advancement if they also win the match against Uruguay. In the event of a draw, South Korea could overtake Ghana if Portugal is defeated by at least two goals. This is of course very unlikely, but still a remaining risk for the Africans.
---
Ghana have always looked like a threat in the previous two matches, but they have never been the better team. In addition, they allowed their opponents a lot of scoring opportunities: Portugal and South Korea have accumulated 4.14 Expected Goals in the two games against Ghana, which is quite a high value for two games. Ghana, on the other hand, ran far above expectation, especially in attack, and scored five goals from only 2.73 Expected Goals.
Ghana previous World Cup matches
| | | | | | | | |
| --- | --- | --- | --- | --- | --- | --- | --- |
| Date | Opponent | Venue | Result | XG | Possession | Accuracy | Duels won |
| 24/11/2022 | Portugal | N | 2 – 3 | 0.79 : 1.95 | 37.70% | 84.28% | 49.45% |
| 28/11/2022 | South Korea | N | 3 – 2 | 1.75 : 2.01 | 38.39% | 81.65% | 54.46% |
---
Uruguay World Cup 2022 Preview
Uruguay have been bitterly disappointing in the tournament so far. After two games in the group stage, the "Urus" are one of three teams, along with Tunisia and Mexico, that have yet to score a single goal. And this despite having a high-quality attack with players like Edinson Cavani, Luis Suárez and Darwin Núñez.
Nevertheless, Uruguay are still competing for a place in the round of the last 16 on the final matchday and the maths are quite simple: Uruguay must beat Ghana, while South Korea fail to beat Portugal. That would seal a place in the round of the last 16 after all, despite their opening two slip ups.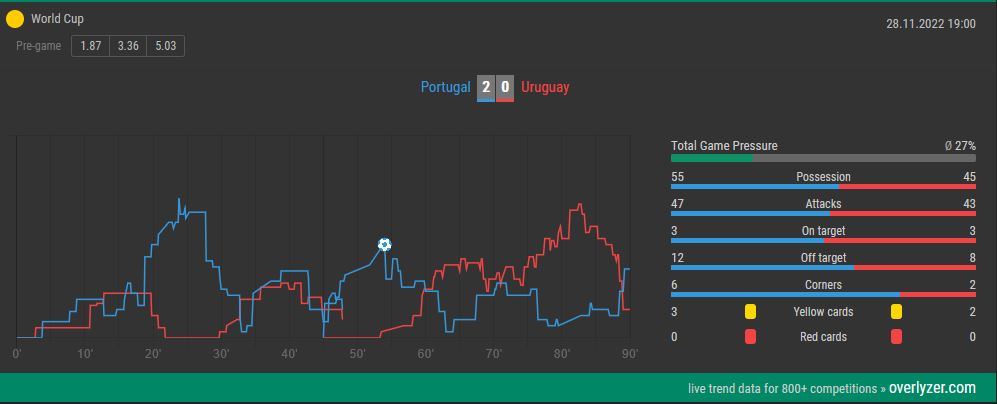 ---
Uruguay previous World Cup matches
| | | | | | | | |
| --- | --- | --- | --- | --- | --- | --- | --- |
| Date | Opponent | Venue | Result | XG | Possession | Accuracy | Duels won |
| 24/11/2022 | South Korea | N | 0 – 0 | 1.02 : 0.20 | 54.43% | 86.37% | 58.33% |
| 28/11/2022 | Portugal | N | 0 – 2 | 1.16 : 1.27 | 38.67% | 76.90% | 49.44% |
---
Team comparison
In favor of Ghana:
+ Amazing efficiency in the attack
+ Physical component
+ Mohammed Kudus has been one of the great new discoveries of the World Cup so far
+ Better starting position, currently second in the table
+ Uruguay have disappointed so far, still without a goal scored

In favor of Uruguay:
+ Secure defense
+ Flexible forward line
+ High-class central midfield, which, however, still needs to improve
+ Great experience and tournament expertise, especially among key players


---
The last duel
Ghana and Uruguay have only faced each other twice in football history. The last duel in 2010 was a real thriller!
In the quarter-finals of the 2010 World Cup in South Korea, the score was 1-1 after 90 minutes following goals from Sulley Muntari and Diego Forlán. When Ghana had a great opportunity to score the winning goal in the last minute of extra time, Luis Suárez punched the ball off the line in goalkeeper style. The Uruguayan star striker saw red – and Asamoah Gyan missed the decisive penalty.
Therefore, it went to a penalty shoot-out, where Uruguay won 4-2 against the strong Ghanaians. In the semi-finals, Uruguay finally lost to the Netherlands.
Ghana – Uruguay Over Under Prediction
Ghana will have a harder time against Uruguay than in their recent matches, especially when it comes to the attack. Uruguay have to win, but they will try to do so from a solid defence and by controlling the midfield. The fact that South Korea could only collect 0.20 Expected Goals against Uruguay says a lot about the stability of the experienced Uruguayan defenders against teams of inferior quality.
We are therefore betting on a match in which not many goals will be scored and opt for an "Under 2.5" on Ghana – Uruguay.

Ghana – Uruguay Prediction
Uruguay will be looking to get past the group stage of a World Cup for the fourth time in a row and usually have a high level of mentality in deciding matches. The Uruguayans will work with all their wits and give Ghana a hot fight.
We are betting that in the end Uruguay will also be the team that can land a lucky punch and advance to the round of the last 16 after all.

Ghana – Uruguay Correct Score Bet
After two games, Uruguay's goal difference is 0-2 – and yet a single goal could still be enough to get them into the last 16. And that is exactly the option we choose to believe in here. We predict a 1-0 victory by Uruguay, which means that the two-time world champions' first goal of the tournament will ultimately be the decisive one.

---
FAQ – Questions and answers about Ghana – Uruguay at the 2022 World Cup
When does Ghana – Uruguay start?
The match between Ghana and Uruguay will take place on December 2, 2022 at 6pm Qatar time. The match will be played at the al-Janoub Stadium in al-Wakra.
Where will Ghana – Uruguay be broadcasted?
In the United Kingdom the game between Ghana and Uruguay can be watched live on the BBC. In the United States Fox Sports will be the place to watch the game and in Canada the match will be aired on TNS. Fans from Ghana watch on SuperSport International or GBC, followers from Uruguay tune in to ANTEL, Teledoce or Canal 4.
How did the first World Cup games of Ghana and Uruguay end?
Ghana lost their first match 3-2 to Portugal, but bounced back with a 3-2 win over South Korea. Uruguay drew 0-0 with South Korea in their first match before losing 2-0 to Portugal.
Who are Ghana´s best players?
Ghana's biggest star at the moment is Arsenal midfielder Thomas Partey, who is mostly just called Thomas internationally. The country's two top talents, Kudus and Sulemana, are also worth keeping an eye on.
Who are Uruguay´s best players?
Uruguay's big stars are to be found in attack. Liverpool's new top striker Darwin Núñez is included in the squad, as are record goalscorer Luis Suárez and Edinson Cavani. In defense, Diego Godín and Jose Giménez are particularly important players in the Uruguayan team.
How are the Ghana Uruguay betting odds?
The well-known English bookmaker Bet365 quotes odds of @4.75 for a win by Ghana. A draw currently brings odds of @3.80 and a victory by Uruguay gives odds of @1.72.