Iran vs. USA Prediction, Betting Tips & Odds | World Cup 2022
Iran and the United States of America will face each other in a nail-biting clash on the final matchday of Group B for a place in the round of the last 16.
We provide you with our Iran USA preview and show you the best odds, predictions and betting picks.
On the first matchday, Iran went down 6-2 to England, but performed quite well at times. On the second matchday, they showed what they are made of, beating Wales 2-0 with two late goals. The USA have so far picked up two draws: a 1-1 against Wales and a respectable 0-0 against England.
The match will take place on November 29 at 10pm Qatar time at the Al-Thumama Stadium in Doha.
Latest betting odds Iran vs. USA
Almost all bookmakers consider the USA to be the favorite in the match against Iran.
At our bookmaker test winner Bet365, you get odds of @3.80 for an Iran win and odds of @2.05 for a US win. In a draw, you can win back 3.40 times your stake.
---

---
Top Bookmaker for World Cup Betting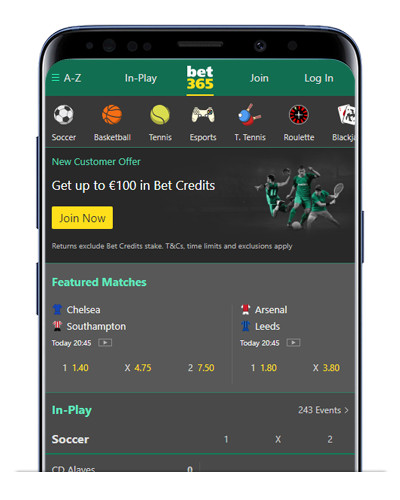 The most established name in world wide sports betting offers a huge range of betting options for new and experienced bettors. Bet365 is well known for great odds on sporting events from around the globe.
Bet365 Review
Sign up with Bet365 and get 100 €/$/£ Bonus
---
Iran vs. USA Live Betting
---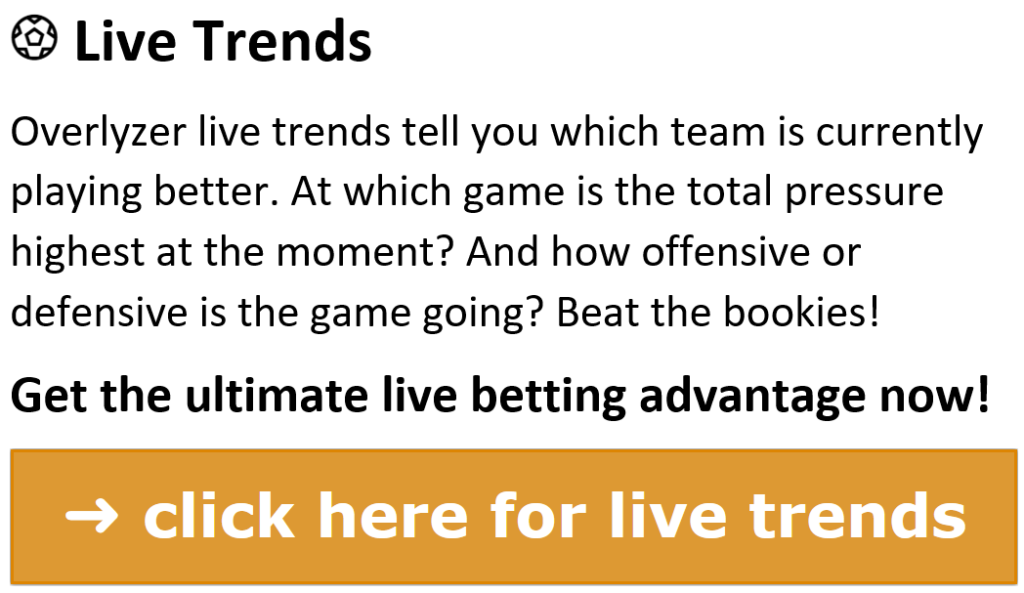 ---
World Cup 2022 Betting Iran vs. USA
---
Iran World Cup 2022 Preview
Even during the crushing 6-2 defeat against England on the first matchday, Iran was at times convincing. It quickly became apparent that there was more to this team than the result suggested.
On the second matchday against Wales, Iran needed a long time before the spell was finally broken with their first goal. The first red card of the tournament – for Wales goalkeeper Wayne Hennessey – finally tipped the game to the Iranians' favor in the very closing stages of the match.
Due to the close other matches in Group B, a situation has now emerged that could not have been foreseen after the first matchday. Iran are now in second place with three points and can advance on their own. With a win against the USA, they are qualified for the last 16 and with a draw against the US boys, they can advance if Wales does not win against England in the parallel match.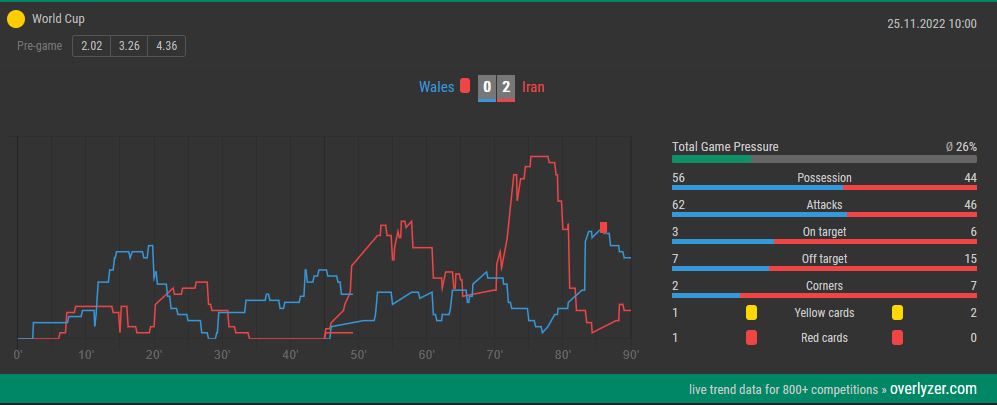 ---
Against Wales, too, some of the Iranian key players were convincing. Above all, Porto star Mehdi Taremi, who led the way and eventually was responsible that the Welsh goalkeeper got a red card.
However, it is not yet clear whether Iran will be able to field its best team. Saeid Ezatolahi and Ahmed Nourollahi had to be substituted against Wales due to injury. Their appearances against the USA are still questionable.
> Read all about Iran's World Cup squad
---
Iran previous World Cup matches
| | | | | | | | |
| --- | --- | --- | --- | --- | --- | --- | --- |
| Date | Opponent | Venue | Result | XG | Possession | Accuracy | Duels won |
| 21/11/2022 | England | N | 2 – 6 | 1.67 : 1.56 | 22.68% | 73.06% | 45.05% |
| 25/11/2022 | Wales | N | 2 – 0 | 1.83 : 0.70 | 38.52% | 69.23% | 46.08% |
---
USA World Cup 2022 Preview
The USA have been unlucky so far in the tournament. They conceded a late equalizer against Wales and, despite a good second half, could not get beyond a 0-0 draw against England.
Although some of the US star players such as Christian Pulisic or Timothy Weah, but above all goalkeeper Matt Turner, performed well, the bottom line so far is that they have only two points and are in third place. To advance to the round of 16, the USA will have to beat Iran.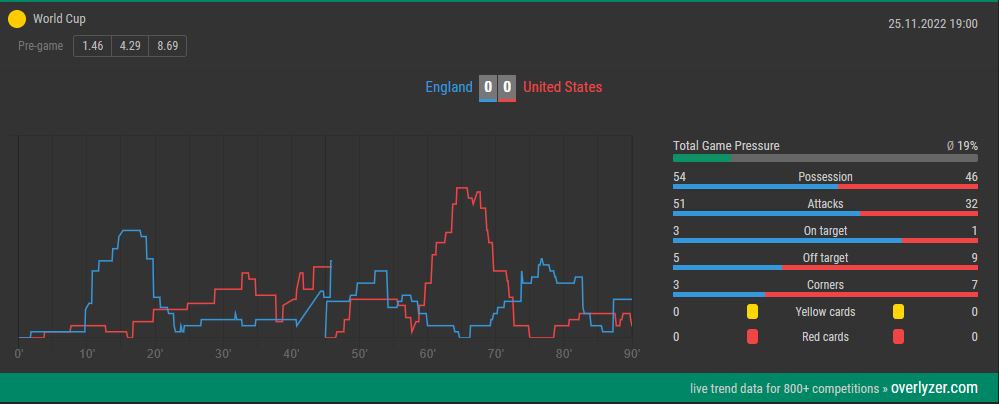 ---
This puts the USA in an unpleasant position before the decisive match against Iran. Against the Iranians, who are basically stable defensively, the US boys now must attack and play to win.
Given that the USA have only managed to score one goal in the tournament so far, this naturally requires a clear improvement in the attack. In addition, the Iranians have recently been strong when given opportunities on the counter-attack. This is another threat that the Americans must never ignore.
> Read all about USA's World Cup squad
USA previous World Cup matches
| | | | | | | | |
| --- | --- | --- | --- | --- | --- | --- | --- |
| Date | Opponent | Venue | Result | XG | Possession | Accuracy | Duels won |
| 21/11/2022 | Wales | N | 1 – 1 | 0.86 : 1.17 | 58.51% | 87.70% | 55.14% |
| 25/11/2022 | England | N | 0 – 0 | 0.78 : 0.62 | 46.33% | 85.61% | 48.00% |
---
Team comparison Iran vs. USA
In favor of Iran:
+ In all likelihood a draw will be enough for promotion
+ Iran can act cautiously and let the USA take the initiative
+ The excellent form of leading player Mehdi Taremi
+ Great confidence after the win against Wales
+ After the 6-2 loss in the first match against England, Iran immediately managed to stabilize their defense
In favor of the USA:
+ Great performance against England, with only the goals lacking
+ Strong form from goalkeeper Matt Turnier
+ Key players like Pulisic and Weah showed improvement against England
+ More tournament experience than Iran
---
The last duel
Iran and the USA have only met twice before. The last match was a friendly international in Pasadena in January 2000, which ended 1-1.
The first meeting between these two teams went down in World Cup history two years earlier, in 1998. The match was a great fair play demonstration by both teams after a period of political tension between the two countries. However, Mehdi Mahdavikia's decisive goal in the group stage of the World Cup in France, left the Iranians cheering in the end. The underdog won the game 2-1 in Lyon.
---
Iran – USA Over Under Prediction
Iran will be ultra-defensive against the USA and will be primarily concerned with not conceding a goal. The longer it remains 0-0, the more nervous the Americans will become. In addition, there should also be opportunities for Iran in the transition game.
Nevertheless, the explosive nature of this match does not suggest a game with many goals. We rather expect Iran to have a defensive mindset against the Americans, who have more quality. Even with an American lead, Iran would probably continue to play cautiously and from a secure defence, and not throw away their nerves under the coaching of veteran Carlos Queiroz.
Therefore, our Over Under prediction for Iran against the USA is an "Under 2.5", i.e. a maximum of two goals scored in the match.

---
Iran – USA Prediction
The USA shared points against both Wales and England. Iran have been a little more moody, with a 6-2 defeat versus England and a late 2-0 win over Wales.
The fundamentals in this match suggest another draw, with Iran able to sit tight in defense and focus on a destructive style of play against a US team that has trouble making decisions on the attack. We are therefore betting on a draw between a counter-attacking Iran and an uncreative USA.

---
Iran – USA Correct Score Bet
At the very latest, when the game gets down to the final stages, there will inevitably be opportunities to score. In the end, one of the two teams will have to find a way to score.
Even though Iran is expected to take a defensive approach, we assume that goals will be scored sooner or later. The Americans will try to break the deadlock and Iran will try to capitalize on their strength in the transition game. We are therefore betting on one goal on each side.

---
FAQ – Questions and answers about Iran – USA at the 2022 World Cup
When does Iran – USA start?
The match between Iran and the USA will take place on 29 November 2022 at 10pm Qatar Time. The match will be played at the Al-Thumama Stadium in Doha.
Where will Iran – USA be broadcasted?
In the United Kingdom the game between X and Y can be watched live on the BBC. In the United States Fox Sports will be the place to watch the game and in Canada the match will be aired on TNS. Fans from Iran watch on beIN Sports, followers from USA tune in to FOX Sports or Telemundo.
How did the first World Cup games of Iran and USA end?
Iran lost their opening match against England 6-2, but then beat Wales 2:0. The USA have drawn twice so far: 1-1 against Wales and 0-0 against England.
Who are Iran´s best players?
Iran's biggest stars are to be found in the team's attack. Mehdi Taremi, FC Porto's goal-scoring striker, and Sardar Azmoun, Bayer Leverkusen's powerful attacker, are the Iranians' best-known players internationally. Taremi already scored two goals against England on the first day of group play.
Who are the best players of the United States of America?
The best player of the USA is Chelsea FC's Christian Pulisic. However, the Americans also have some top talents who have by no means exhausted their potential, for example Brenden Aaronson from Leeds United or talented striker Ricardo Pepi from FC Groningen. In addition, central midfielders Weston McKennie and Tyler Adams are important pillars of the team.
How are the Iran USA betting odds?
The renowned English bookmaker Bet365 offers odds of @3.80 for a victory by Iran. A draw brings odds of @3.40 and a win by the USA gets betting odds of @2.05.