Portugal vs. Uruguay Prediction, Betting Tips & Odds | World Cup 2022
On the second matchday in Group H, the two favorites for advancing to the Round of 16 will meet. With a win against Uruguay, Portugal could book their place in the last 16.
We give you a detailed preview of this top clash, provide you with the best odds and the most promising Portugal – Uruguay betting tips!
Portugal beat Ghana 3-2 on Matchday 1 after a thrilling second half to claim their first win in Group H. Uruguay were unable to break through against the determined South Koreans in a match that ended in a 0-0 draw.
The match will take place on November 28 at 10pm Qatar time at the Lusail Iconic Stadium.
Latest betting odds Portugal vs. Uruguay
The international betting providers consider Portugal to be the favorites against Uruguay.
At our bookmaker test winner Bet365, you currently get odds of @1.95 for a win by Portugal, while a win by Uruguay brings in odds of @4.20. In the event of a draw, you can win back 3.40 times your stake.
---

---
Top Bookmaker for World Cup Betting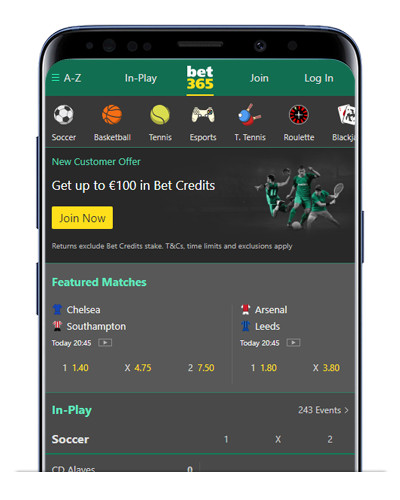 The most established name in world wide sports betting offers a huge range of betting options for new and experienced bettors. Bet365 is well known for great odds on sporting events from around the globe.
Bet365 Review
Sign up with Bet365 and get 100 €/$/£ Bonus
---
Portugal vs. Uruguay Live Betting
---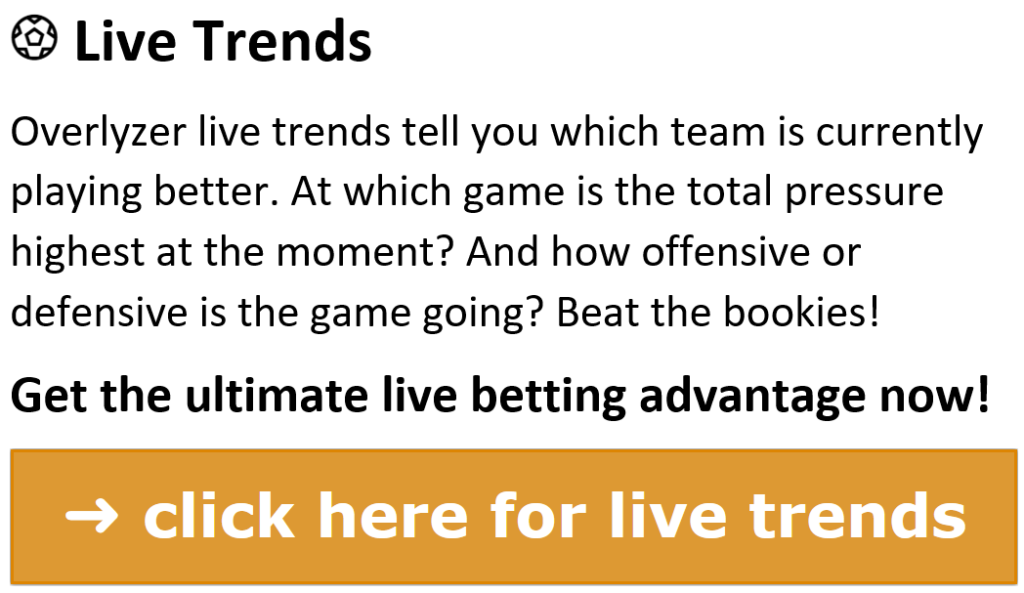 ---
World Cup 2022 Betting Portugal vs. Uruguay
---
Portugal World Cup 2022 Preview
Individually, Portugal has one of the strongest teams in the World Cup tournament and is therefore also considered a dark horse. But it was already obvious against Ghana that the Portuguese do not have a flawless squad. Especially in defense, the team of Fernando Santos, who actually thinks in a defensively oriented manner, seems to be prone to make mistakes again and again. Ruben Dias and Danilo Pereira, for example, did not play without committing mistakes.
In the attack, the two wingers Bruno Fernandes and Joao Felix were particularly convincing. Cristiano Ronaldo was a disappointment for long stretches of the match against Ghana and only scored from the penalty spot. Midfielder Otávio was also strong, but had to be substituted shortly after the break due to injury. However, he is unlikely to play against Uruguay.
---
Against Uruguay, who can boast an excellent attack, Portugal will have to put an end to the little slip-ups in defense. They must also create clearer scoring opportunities, because Portugal will not always be able to rely on a penalty. But it certainly won't be easy for the Portuguese against the defensively strong "Urus".
> Read all about Portugal's World Cup squad
---
Portugal previous World Cup matches
| | | | | | | | |
| --- | --- | --- | --- | --- | --- | --- | --- |
| Date | Opponent | Venue | Result | XG | Possession | Accuracy | Duels won |
| 24/11/2022 | Ghana | N | 3 – 2 | 1.95 : 0.79 | 62.30% | 89.90% | 47.25% |
---
Uruguay World Cup 2022 Preview
Uruguay's players who were expected to be most important were lacking on the first matchday: The South Americans' strong attacking line-up, especially Darwin Núñez and Luis Suárez, looked pale against the well-organised South Koreans. Right winger Facundo Pellestri also did not perform well on the day.
The defence and the midfield, on the other hand, were stronger: The strong trio of Federico Valverde, Rodrigo Bentancur and Matías Vecino had the midfield largely under control and the strong centre backs with captain Godín and Giménez allowed almost nothing, which meant that South Korea only managed to achieve an xG value of 0.20. As a result, goalkeeper Rochet had practically nothing to do.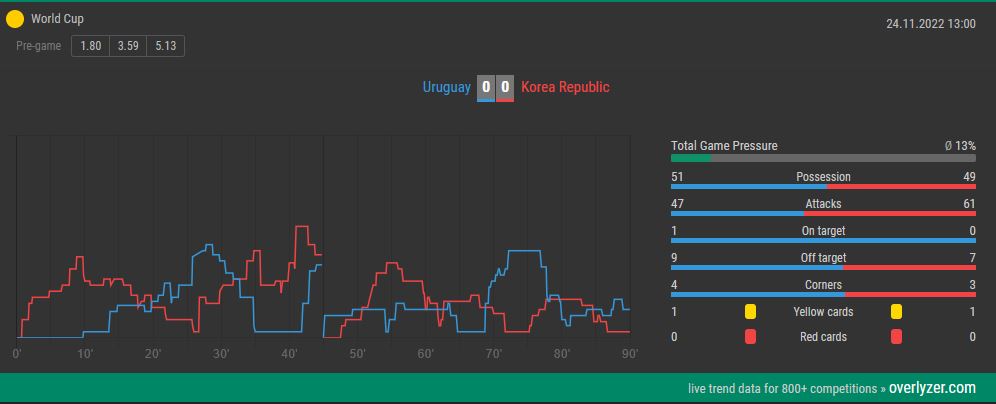 ---
The duel with Portugal will be highly interesting, also because a very secure Uruguayan defence will meet a Portuguese attack that has enormous potential. It is likely that Uruguay will not play a dominant role in this match, but will rather try to create opportunities through their transition play. Above all, the well-stocked midfield will play an important role in the link-up play.
> Read all about Uruguay's World Cup squad
Uruguay previous World Cup matches
| | | | | | | | |
| --- | --- | --- | --- | --- | --- | --- | --- |
| Date | Opponent | Venue | Result | XG | Possession | Accuracy | Duels won |
| 24/11/2022 | South Korea | N | 0 – 0 | 1.02 : 0.20 | 54.43% | 86.37% | 58.33% |
---
Team comparison Portugal vs. Uruguay
In favor of Portugal:
+ Huge potential in attack
+ With a win, a place in the last 16 can already be secured
+ Bruno Fernandes is in top form and could make the difference
+ Uruguay struggled to create scoring opportunities against South Korea
In favor of Uruguay:
+ Extremely solid defense
+ Versatile strikers
+ Extremely ball-secure central midfield
+ Extremely strong in one-versus-one duels
+ Portugal repeatedly showed problems in the defense against Ghana
---
The last duel
Portugal and Uruguay have only met three times in football history.
The last time these two teams faced each other was in the round of the last 16 of the 2018 World Cup and Uruguay surprisingly won the match 2-1 in Sochi, Russia. Edinson Cavani's brace secured Uruguay's place in the quarter-finals. The goal for Portugal was scored by centre back Pepe with his head.
---
Portugal – Uruguay Over Under Prediction
In their first match against South Korea, Uruguay were not yet as effective offensively as one might expect from their good attack. On the other hand, the Uruguayans were extremely solid defensively and the experienced defense will probably cause problems for any opponent.
Even though Portugal eventually scored three goals against Ghana, it took a penalty after about an hour to break the deadlock. Before that, the Portuguese were not very creative with the ball and also let the ball circulate for a long time in deep field positions. It is therefore unlikely that Portugal will set off fireworks against the defensively secure Uruguayans.
We therefore bet on a match in which not too many goals will be scored. We opt here for a bet on "Under 2.5", i.e. a maximum of two goals in the match.

---
Portugal – Uruguay Prediction
After Portugal's opening win against Ghana and Uruguay's simultaneous draw against South Korea, the starting position for the Portuguese is a very good one. Fernando Santos' team could even live with a draw.
While Portugal will have more possession in this match and Uruguay will be more likely to let the Portuguese dictate the game, Portugal are not expected to blindly go on the attack. They will be looking for more defensive stability than against Ghana. At the same time, Uruguay can easily rely on their very secure defense.
We are betting on a game in which both teams will have their opportunities and ultimately accept a draw.

---
Portugal – Uruguay Correct Score Bet
Both attacking lines look extremely promising and will have their opportunities. In midfield, the two teams could neutralise each other due to their equally high quality, and in defense, Uruguay have the slightly better players.
Our Portugal Uruguay correct result tip is 1-1, in which the star players will have their good moments. However, we do not necessarily expect a game that is bursting with big scoring opportunities. We rather bet that small details and nuances will decide the game.

---
FAQ – Questions and answers about Portugal – Uruguay at the 2022 World Cup
When does Portugal – Uruguay start?
The match between Portugal and Uruguay will take place on November 28, 2022 at 10pm Qatar Time. The game will be played at the Lusail Iconic Stadium, where the World Cup final will also take place.
Where will Portugal – Uruguay be broadcasted?
In the United Kingdom the game between X and Y can be watched live on the BBC. In the United States Fox Sports will be the place to watch the game and in Canada the match will be aired on TNS. Uruguay fans watch the game on ANTEL, Canal 4 or Tyc Sports, while Portugal supporters tune in to RTP or SIC.
How did the first World Cup games of Portugal and Uruguay end?
Portugal beat Ghana 3-2 in their first match with goals from Cristiano Ronaldo, Joao Felix and Raphael Leao to take the lead in Group H. Uruguay, meanwhile, were held to a 0-0 draw by South Korea.
Who are Portugal´s best players?
With five world footballer of the year awards to his name, Portugal's biggest star is, of course, Cristiano Ronaldo. However, the Portuguese also have other world-class players such as Rúben Dias, Joao Cancelo, Bernardo Silva (all Manchester City), Bruno Fernandes (Manchester United) or Joao Felix (Atlético Madrid).
Who are Uruguay´s best players?
Uruguay's big stars are to be found in attack. Liverpool's new top striker Darwin Núñez was included in the squad, as were record goalscorer Luis Suárez and Edinson Cavani. In defense, Diego Godín and Jose Giménez are particularly important players in the Uruguayan team.
How are the Portugal – Uruguay betting odds?
The well-known English bookmaker Bet365 offers odds of @1.95 for a Portugal win. A draw currently earns odds of @3.40 and a win for Uruguay brings odds of @4.20.