Spain vs. Germany Prediction, Betting Tips & Odds | World Cup 2022
Germany's second match of the group phase is already a crucial one. A defeat against Spain is strictly forbidden if they do not want to pack their bags right after the group stage. We provide you with a preview and predictions for the match and offer you the best Spain – Germany betting tips.
Spain showed on the first day of the tournament that they are a force to be reckoned with. Costa Rica may not have been a true benchmark for what the Spanish will face in the tournament, but the 7-0 scoreline with six different scorers was still a display of team unity and strength.
Germany, on the other hand, are at a loss after their 2-1 defeat to Japan. A penalty by Ilkay Gündogan gave Hansi Flick's team the lead, but after that the DFB team failed to add more goals and was subsequently punished in the second half. It was the second major sensation at the 2022 World Cup after Argentina's defeat to Saudi Arabia.
The match will take place on 27 November at 10pm Qatar time at Al-Bayt Stadium in al-Khor.
Latest betting odds Spain vs. Germany
Spain is slightly favored by the bookies against Germany.
Our bookmaker test winner Bet365 offers odds of @2.37 for a victory of the "Furia Roja", while a success of the German national team earns odds of @2.90. In the event of a draw, you can currently win back 3.50 times your stake.
---

---
Top Bookmaker for World Cup Betting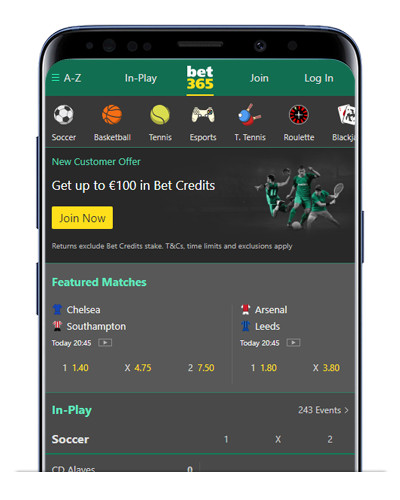 The most established name in world wide sports betting offers a huge range of betting options for new and experienced bettors. Bet365 is well known for great odds on sporting events from around the globe.
Bet365 Review
Sign up with Bet365 and get 100 €/$/£ Bonus
The special bets on the match between Spain and Germany are also interesting: a double chance 1X, i.e. a bet that Spain will not lose the match, brings odds of @1.40.
The bookmakers are also expecting numerous goals: an "Over 2.5", i.e. a bet on at least three goals in the match, currently brings odds of @1.72 at Bet365. A bet that both teams can score at least one goal each is currently priced at @1.57.
The most likely goal scorer according to the bookmakers is the Spanish attacker Álvaro Morata. They are currently offering odds of @2.50 on Morata scoring a goal during the match.
Betting on Goalscorers Spain – Germany
| | |
| --- | --- |
| Goal scorer (any time) odds | Odds |
| Álvaro Morata (ESP) | 2.50 |
| Niclas Füllkrug (GER) | 2.87 |
| Youssoufa Moukoko (GER) | 3.10 |
| Ansu Fari (ESP) | 3.25 |
| Ferran Torres (ESP) | 3.25 |
| Pablo Sarabia (ESP) | 3.25 |
| Leroy Sané (GER) | 3.50 |
| Kai Havertz (GER) | 3.75 |
| Karim Adeyemi (GER) | 3.75 |
Here it is particularly interesting that the bookmakers rate Niclas Füllkrug and Youssoufa Moukoko as Germany's most likely goal scorers. For the Spaniards, too, some enormously goal-threatening players like Dani Olmo, Marco Asensio or Gavi do not make it into the top 10 of the most likely goal scorers of the match.
Of course, a bet on the first goalscorer in the match is also possible. Here too, Álvaro Morata currently has the lowest odds with @5.50.
---
Spain vs. Germany Live Betting
---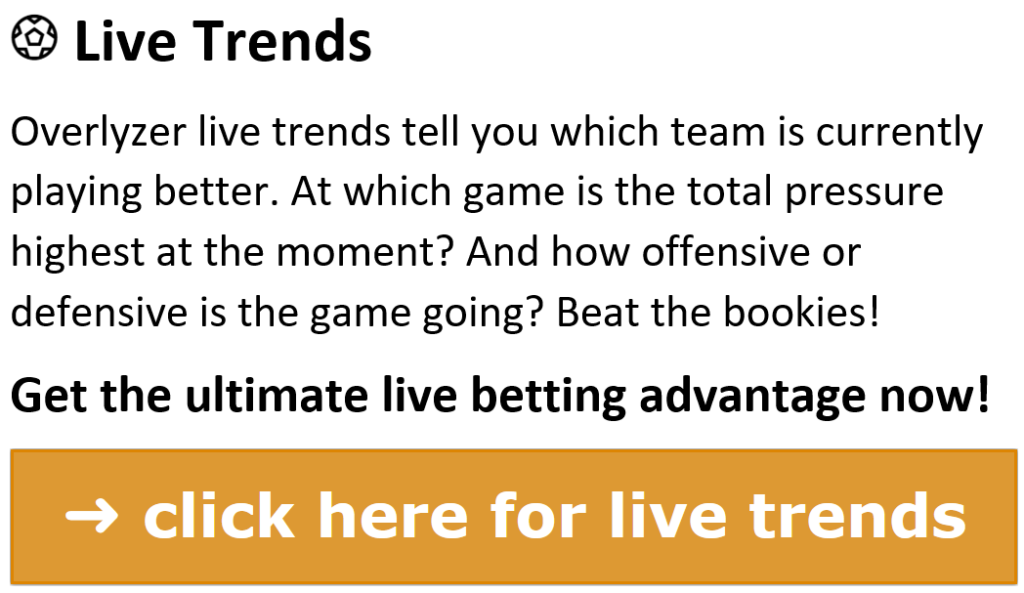 ---
World Cup 2022 Betting Spain vs. Germany
---
Spain World Cup 2022 Preview
Before the tournament, there was much talk about whether Spain were strong enough in attack to be a serious contender for the World Cup title. The midfield of Luis Enrique's team was always considered top-class, but lacked real goal scorers, as numerous experts repeatedly stated.
In their first match against Costa Rica, Spain proved that they don't necessarily need goal-scorers to win by a landslide. Six different players scored in the 7-0 win against Costa Rica. Only FC Barcelona right-winger Ferran Torres scored twice. The other goals were scored by Dani Olmo, Marco Asensio, Gavi, Carlos Soler and Álvaro Morata.
It was also impressive that Spain allowed virtually nothing against Costa Rica. The shot ratio was 17-0 in favour of Spain, who also had 5-0 corners to their name. Three quarters of the ball possession, on the other hand, was to be expected. Spain were also impressive in terms of expected goals, with 3.02 to 0.00 in favour of the "Furia", which is remarkable in two respects. On the one hand, this means that Spain did not allow Costa Rica a single opportunity, and on the other hand, they were extremely efficient and scored much more goals than the "xG" statistics would suggest.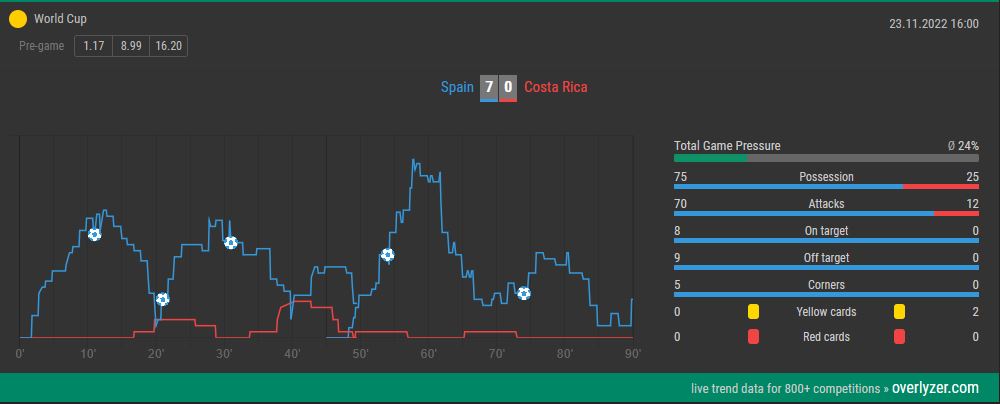 ---
Costa Rica was certainly not the kind of opponent Spain will have to measure themselves against. However, the 7-0 win over the Central Americans was a lot of fun for players and spectators alike and a perfect statement of good spirit and great self-confidence within the team.
It was also important that Spain's young midfielders could enjoy a sense of achievement in their very first match. Pedri and Gavi were among the two best players against Costa Rica and the support of the two experienced full-backs César Azpilicueta and Jordi Alba was ongoing. The attacking front three of Ferran Torres, Marco Asensio and Dani Olmo all got on the scoresheet and are now ready for more!
> Read all about Spains´s World Cup squad
---
Spain previous World Cup matches
| | | | | | | | |
| --- | --- | --- | --- | --- | --- | --- | --- |
| Date | Opponent | Venue | Result | XG | Possession | Accuracy | Duels won |
| 20/11/2022 | Costa Rica | N | 7 – 0 | 3.02 : 0.00 | 78.98% | 93.92% | 41.98% |
---
Germany World Cup 2022 Preview
Hansi Flick's team had so much planned for the 2022 World Cup, but after the first match, the German national team is already under enormous pressure. After the 2-1 loss to Japan, they simply can't afford to slip up any more. Two wins against Spain and Costa Rica are now a must if they want to qualify for the last 16 of the World Cup.
However, this will be anything but easy, because the German team has not really found its feet yet, which could be observed in some UEFA Nations League matches. In Hansi Flick's 4-2-3-1, there were a few miscasts, such as Niklas Süle at right-back or young star Jamal Musiala, who looked bad at the left wing-back position. Solo striker Kai Havertz also had a weak day and was not well integrated into the German game.
But even the substitutes did not bring about a turnaround – on the contrary! Jonas Hofmann and Leon Goretzka were total failures, and even Götze and the in-form Füllkrug could not turn things around. With numerous substitutes on the pitch, Japan even managed to score the winning goal, which hit Germany right in the heart and ensured that they found no solutions.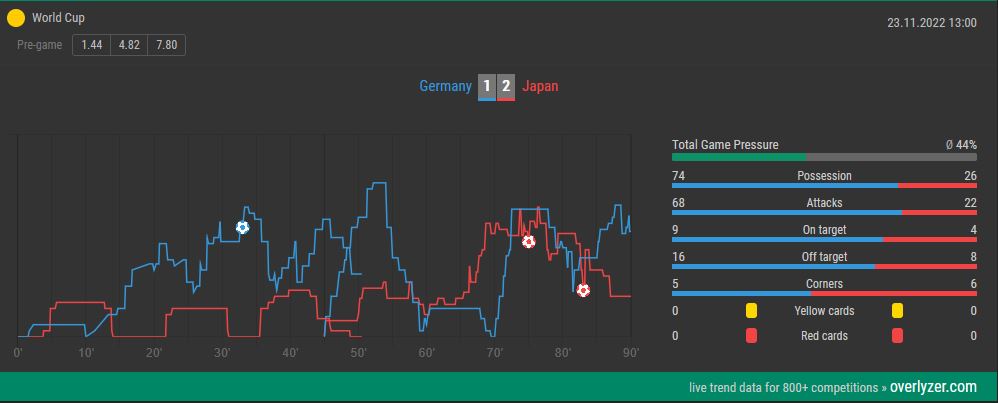 ---
However, the team' s reaction and self-initiative during the match against Japan also left a lot to be desired. At first, for an hour one had the feeling that the strong midfield centre with Joshua Kimmich and Ilkay Gündogan had everything under control, but after Japan scored for the first time and Gündogan was replaced by Goretzka, uncharacteristic mistakes suddenly crept in and Germany could not find its way back on track.
Of course, that should not happen against the enormously strong Spaniards. However, Germany will expect a different game against the possession-oriented Spaniards and they might be able to work a bit more against the ball, which might even play a little bit into the cards of the unsettled team.
It is also obvious, however, that unlike against Japan, Germany will have to make more consistent use of the opportunities against Spain, because the German team will probably not find more chances than against the Asians.
> Read all about Germany's World Cup squad
Germany previous World Cup matches
| | | | | | | | |
| --- | --- | --- | --- | --- | --- | --- | --- |
| Date | Opponent | Venue | Result | XG | Possession | Accuracy | Duels won |
| 23/11/2022 | Japan | N | 1 – 2 | 2.58 : 1.86 | 72.74% | 90.15% | 51.61% |
---
Team comparison Spain vs. Germany
In favor of Spain:
+ Great self-confidence after the scoring spree against Costa Rica
+ A draw would probably be enough for the Spaniards to steer a relatively safe course towards the last 16.
+ All attacking players scored against Costa Rica and are in good form
+ The central midfield with Pedro, Gavi and the experienced Sergio Busquets has played convincingly of late
+ The full-backs have also performed well of late
+ Germany already have their backs to the wall
In favor of Germany:
+ Possibly more open spaces than against Japan
+ Despite the defeat, Germany were able to create some scoring opportunities against Japan
+ Possible physical advantages, for example in offensive set-pieces
+ Relatively broad squad, which could also allow Hansi Flick to make one or two changes
---
The last duel
The match between Spain and Germany has a very long history and is historically absolutely even. So far, this duel has taken place 25 times, with Germany winning nine times and eight games each ending in a draw or in favor of the Spaniards. The goal difference is currently 31-30 for Spain.
On the way to the greatest successes in the association's history, Spain always eliminated Germany. In 2010, they beat the Germans in the semi-finals of the World Cup before winning the World Cup final against the Netherlands after extra time. Before that, Spain won the 2008 European Championship final in Vienna thanks to a Fernando Torres goal against Germany.
The last meeting between these two teams was a true demonstration of Spanish artistry. In the UEFA Nations League, Spain beat Germany 6-0 in Seville in November 2020. Ferran Torres, who was the only Spaniard to score two goals against Costa Rica, scored a hat-trick on that occasion. It was Germany's highest ever defeat in a competitive match.
---
Spain – Germany Over Under Prediction
In the course of an Over Under prediction for the match between the Spanish and the German national team, one should not ignore the explosive nature of the encounter. It is quite conceivable that a draw will not really help the Germans – Hansi Flick's team must play to win.
Spain already showed in the first match that they can punish mistakes with a vengeance. The Spaniards are not a team in which you have to pay attention to individual players, but they can hurt any opponent with the full width of their squad. Germany must therefore be wide awake in practically every situation and can hardly afford to make any mistakes.
Especially if the first goal occurs, the character of the game will change further. If Spain were to score the first goal, Germany would have to take great risks and thus open up spaces for the Spaniards. But even if Germany takes the lead, the game will change fundamentally because Spain cannot afford to lose either. After Japan's victory over Germany, the Iberians are warned and definitely don't want to risk a "final" against Japan.
This explosive setting suggests an all-out clash, which is why we are betting on a lot of goals. Our tip is therefore an "Over 2.5", i.e. at least three goals scored in the match.

Betting Tip: Even riskier"over" bets are worth considering due to the results in the first round. If you take a closer look at the betting odds for even more goals to be scored, you can definitely spot one or two value bets – possibly also in the form of a live bet, depending on how the match develops in the early stages.
| | | |
| --- | --- | --- |
| Number of goals | Odds for Over Bet | Odds for Under Bet |
| 0.5 goals | 1.04 | 13.00 |
| 1.5 goals | 1.22 | 4.33 |
| 2.5 goals | 1.72 | 2.10 |
| 3.5 goals | 2.75 | 1.44 |
| 4.5 goals | 5.00 | 1.16 |
| 5.5 goals | 10.00 | 1.062 |
| 6.5 goals | 19.00 | 1.02 |
| 7.5 goals | 41.00 | 1.004 |
---
Spain – Germany Prediction
The bookies consider Spain slight favourites in the top match of Group E. However, the early performances of both teams at the 2022 World Cup suggest that Spain should be regarded as a somewhat even bigger favorite.
While the Spaniards looked very solid and technically strong, Germany repeatedly struggled with a lack of decision-making and ease. The German team just doesn't seem stable enough to withstand the pressure of a World Cup and even the more experienced players didn't look like they were in top form.
Of course, one has to put into perspective that Spain prevailed against an inferior Costa Rica and Germany suffered a defeat against a surprisingly good side from Japan, but the differences in the individual class of these two teams was nevertheless already visible on the first matchday.
If Spain can bring the spirit of the first game onto the pitch again, then a victory over Germany should be within the realms of possibility. And with the self-confidence behind them, there is nothing to stop Spain from making the most of this opportunity. We are therefore betting on a second win in the second match for Luis Enrique's Spaniards!

---
Spain – Germany Correct Score Bet
As we already explained in the Over Under prediction, the explosive nature of the match could ensure that an open battle develops in this clash.
If you look at the expected goals statistics of the two teams from the first matchday, you can also see that a very efficient team meets a team that can at least create scoring opportunities. Spain managed a value of 3.02 xG against Costa Rica and scored seven goals, which indicates a high level of efficiency. Germany scored 2.58 xG against Japan, not much less than Spain did against Costa Rica. However, the Germans failed to convert their opportunities, which can of course change at any time.
If both teams manage to maintain such xG values in the duel against each other, we can expect numerous goals and a spectacular match.
We have already decided to bet on the "Over 2.5" and the victory of Spain. But now we go one step further and bet on a high result with a total of five goals scored. Our Spain Germany result bet is 3:2 for the current Group E leaders.

---
FAQ – Questions and answers about Spain – Germany at the 2022 World Cup
When does Spain – Germany start?
The match between Spain and Germany will take place on 27 November 2022 at 10pm Qatar Time. The match will be played at the Al-Bayt Stadium in al-Khor, where Germany will also play their last group match against Costa Rica.
Where will Spain – Germany be broadcasted?
In the United Kingdom the game between Spain and Germany can be watched live on the BBC. In the United States Fox Sports will be the place to watch the game and in Canada the match will be aired on TNS. In Germany the match will be broadcast on ZDF, in Spain it will be shown on RTVE.
How did the first World Cup games of Spain – Germany end?
Spain easily beat Costa Rica 7-0 on matchday one, with the favorites not allowing a single scoring opportunity from the underdogs. Despite leading 1-0 at the break, Germany was beaten 2-1 by Japan. A defeat against Spain would have seen Germany practically eliminated from the tournament.
Who are Spain´s best players?
Spain's best players are to be found in central midfield. Top players like Rodri, Gavi and Pedri can be found here, but also experienced key players like Koke or Sergio Busquets. In the attack, keep an eye on players like Ferran Torres, who has already scored two goals in the tournament, or Marco Asensio.
Who are Germany´s best players?
The heart of the German team is the central midfield with world-class players such as Joshua Kimmich, Ilkay Gündogan or up-and-coming star Jamal Musiala. But other attacking players, such as Thomas Müller, Leroy Sané or Kai Havertz, can also be considered to be real star players.
How are the Spain Germany betting odds?
The well-known English bookmaker Bet365 offers odds of @2.37 for a win by Spain. A draw currently offers odds of @3.50, while a win for Germany offers odds of 2.90.