Germany vs. Hungary: Nations League Odds, Prediction & Betting Pick
The DFB team will host Hungary in the opening game of the UEFA Nations League campaign in September. After the 1-1 from the first match in June, the Germans still have a score to settle with their opponents. We provide you with the best Germany Hungary tips and betting strategies, make a couple of predictions and highlight the strengths and weaknesses of the two teams.

Germany will use UEFA Nations League to prepare for the 2022 World Cup. Hungary is not participating in the World Cup 2022 and can therefore approach the task in a more relaxed manner. However, DFB team manager Hansi Flick will strive to find the best team for the tournament.

Latest betting odds Germany vs. Hungary
Although Hungary excelled in the Nations League so far and even won 4-0 in England, Germany is the clear favorite by odds in this match. At our bookmaker test winner Bet365, you'll get 1.28 times your stake back for a win of the Germans. A draw brings odds of @5.50, a win for Hungary even @11.00.
---
Fun Fact: The duel between Germany and Hungary has a long history. In total, this clash has been played 36 times so far. Due to the great past of the Hungarians, the balance is very even. Germany won 13 games, 12 games ended in draws and Hungary won 11 times. The first international match between Germany and Hungary took place in 1909 and ended in a 3-3 draw.
The last direct duel Hungary vs. Germany
On June 11, 2022, Germany drew 1-1 away in Budapest. The defensively playing Hungarians took the lead after just six minutes after a goal by Zsolt Nagy and Germany equalized just three minutes later through Jonas Hofmann.

Although Germany was already the favorite for most sports betting sites in the away game, Hungary was able to keep the game very open and balanced, which is why the 1-1 was an acceptable result for both sides.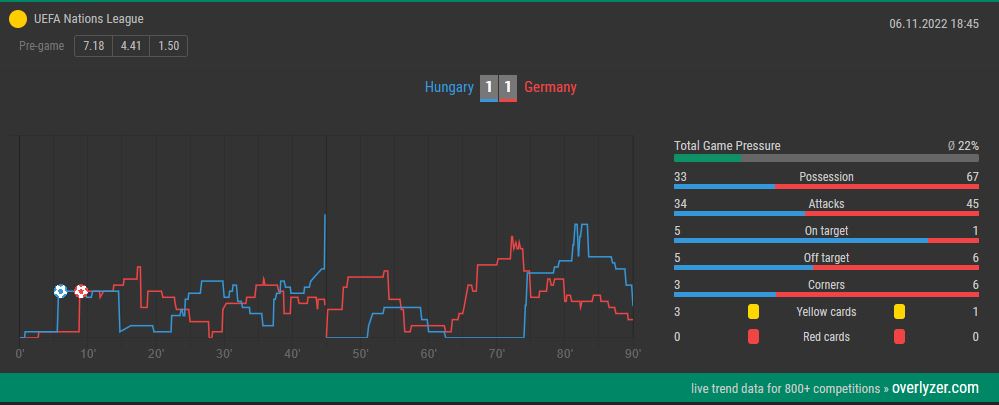 The last games of both teams
Germany is still undefeated in the international match year 2022. In six games, however, there were only two wins and no less than four draws. The DFB team scored the victories against Italy (5-2) in the Nations League and in a friendly match against Israel (2-0). The 1-1 draw in the Nations League against Hungary was the most disappointing result of the international year so far.
Germany international games June 2022
| | | | | | | | |
| --- | --- | --- | --- | --- | --- | --- | --- |
| Date | Opponent | Venue | Result | XG | Possession | Accuracy | Duels+ |
| 04/06/2022 | Italy | A | 1 – 1 | 1.46 : 0.75 | 66,19% | 89,21% | 44,51% |
| 07/06/2022 | England | H | 1 – 1 | 0.83 : 1.68 | 61,24% | 88,95% | 49,09% |
| 11/06/2022 | Hungary | A | 1 – 1 | 0.92 : 1.38 | 66,66% | 88,98% | 46,79% |
| 14/06/2022 | Italy | H | 5 – 2 | 3.66 : 1.90 | 64,69% | 89,26% | 45,74% |
Hungary suffered a narrow 2-1 loss to Italy in the Nations League last June, then picked up a respectable 1-1 draw against Germany. However, this was only an overture to the huge sensation in England. Even if the result was too high in the end, Hungary managed to beat the "Three Lions" 4-0 away from home.
In the home match ten days earlier, Hungary had already been victorious with 1-0 in their capitol of Budapest. With three wins and one draw from six international matches, Hungary has a positive international match record in 2022.
Hungary international games June 2022
| | | | | | | | |
| --- | --- | --- | --- | --- | --- | --- | --- |
| Date | Opponent | Venue | Result | XG | Possession | Accuracy | Duels+ |
| 04/06/2022 | England | H | 1 – 0 | 1.97 : 1.43 | 43,19% | 84,51% | 47,45% |
| 07/06/2022 | Italy | A | 1 – 2 | 1.07 : 1.62 | 43,62% | 81,32% | 42,16% |
| 11/06/2022 | Germany | H | 1 – 1 | 1.38 : 0.92 | 33,34% | 80,63% | 47,44% |
| 14/06/2022 | England | A | 4 – 0 | 0.60 : 0.72 | 29,82% | 81,82% | 48,37% |
Germany Nations League Preview
The UEFA Nations League has a special meaning for Germany right now, because Hansi Flick needs to find his ideal team for the 2022 World Cup in Qatar. Especially in their offense, the Germans currently have a lot of options and can rotate, but to be successful at the World Cup, it will also be important to find a first eleven.

The two upcoming games – first at home against Hungary, then away in England – will be extremely important for the team finding. Flick is allowed to nominate 26 players for the World Cup (instead of 23 as in the past), but since Flick could currently nominate 30 players or more for the World Cup without any problems, the training sessions around the games will also become a serious matter.
Update 22/09/2022: Bayern stars Leon Goretzka and Manuel Neuer tested positive for COVID-19 and therefore left the team camp. Instead of Neuer, Hoffenheim goalkeeper Oliver Baumann was post-nominated. Julian Brandt also left the team camp: The Dortmund offensive player is suffering from a flu-like infection, but tested negative for the Corona virus.
Hungary Nations League preview
Hungary are currently in an uncharacteristic position: After strong performances in June, the outsiders lead Nations League Group A3. Currently, Marco Rossi's team is one point ahead of Germany and two ahead of Italy. In the last two games against Germany and Italy, the Hungarians will be fighting for the group victory.

The Nations League is largely a test and is not taken as seriously by the participants as, for example, a World Cup qualifier. However, Hungary will certainly want to show that they can play in the big league and will try to counterattack as they did in the first games and let their opponents have the ball.
However, they cannot rely on assistance by other teams in the upcoming games, which is why Hungary must also try to set offensive accents. However, this will be found mainly in the switching game, as the statistics of the last games and especially the ball possession balances show.
---
Team comparison Germany – Hungary
What Germany has going for it

+ Large, balanced squad and only a few players sidelined.
+ Home advantage at the Red Bull Arena, Leipzig
+ Warned of the Hungarians after the 1-1 draw in the first leg
+ Strong international match record in recent months, undefeated since June 2021.

This speaks for Hungary:

+ Great self-confidence and top of the table.
+ High defensive stability thanks to a well-staffed three-man center back line
+ Strengths in transition play – Hungary is often dangerous even without a lot of possession
Germany – Hungary Over Under Prediction
In the six matches played by the German national team in the 2022 international season, only two goals were scored five times. However, Germany set off a fireworks display of goals in the 5-2 win over the European champions from Italy.

The Hungarians have also only scored over 2.5 goals in two matches in the international year to date – the remarkable 4-0 win in England and a 2-1 defeat in Italy.

This time, however, the situation could be more in favor of an over bet, as Germany will be looking to attack in front of their home crowd and give the Hungarians a good run for their money after the 1-1 in the first game. However, since the Hungarians are currently very confident and determined in their transition game and have always scored at least one goal in their last five international matches, scoring chances will also arise on the other side.
Also with set pieces, the physically strong Hungarians are always good for dangerous situations. Therefore, we opt for a Germany Hungary over 2.5 bet.

➜ bet on Germany vs. Hungary OVER 2,5 with odds 1,70 @ Bet365


Germany – Hungary match prediction
Even though some teams already slipped against Hungary and the Magyars are definitely THE surprise of the current Nations League campaign, we assume a Germany win.

After the numerous draws in recent months, the Flick eleven must deliver. Because Hansi Flick should also slowly decide on a team that will be competitive at the 2022 World Cup, the rotation within his squad will also become less and less. Therefore, we will probably see one of the strongest formations of Germany, which is qualitatively superior to Hungary and will also be warned after their strong results in the season so far.

➜ bet on Germany to beat Hungary with odds 1,28 @ Bet365
Germany – Hungary correct score bet
Germany are one of the favorites to win the World Cup 2022 and will definitely dominate the game in the home match against Hungary and will build up a lot of possession. However, Hungary will also leave the game to the opponent, standing defensively compact and looking for switching moments. Sooner or later, however, the pressure from the Germans will become great enough for Hansi Flick's team to score a goal or two.
But since the Hungarians are always dangerous in their transition game, as well as with set pieces, we also assume a goal from the guests. We bet on a 2-1 win for Germany.

➜ bet on Germany to beat Hungary 2-1 with odds 9,50 @ Bet365
FAQ – Questions and answers about Germany – Hungary
When does Germany – Hungary kick off?
The international match between Germany and Hungary will take place on Friday, September 23, 2022 at 8.45pm in Leipzig.
Where can i watch Germany vs. Hungary?
The UEFA Nations League match between Germany and Hungary will be broadcast on German television by ZDF. In addition, there is the possibility to stream the match online.
Where will Germany – Hungary take place?
Germany vs. Hungary will be played at the Red Bull Arena in Leipzig. The last international match that took place in the Red Bull Arena was the 3-1 Germany win vs Ukraine in November 2020.

What are the odds for Germany vs. Hungary?

The renowned British bookmaker Bet365 sees Germany against Hungary as a clear favorite. A win for Germany will bring 1.28 times the stake, a draw 5.50 times and a win for Hungary 11 times.