Argentina vs. Australia Prediction, Betting Tips & Odds | Round of 16
In the second match of the round of the last 16 at the 2022 World Cup, Argentina are the clear favorites against Australia. We provide you with an in-depth preview of the match, including the best odds and interesting predictions, and offer you the most promising Argentina – Australia betting tips.
Argentina started the tournament with a shock, losing their opening match 2-1 to Saudi Arabia, but they managed to stabilize thereafter and celebrated two largely unchallenged 2-0 wins over Mexico and Poland to win Group B after all.
Australia also started the tournament badly, losing 4-1 to world champions France despite an early 1-0 lead. After that, however, the Australians surprised everyone: they won 1-0 against Tunisia and against the Danes, who were the favorites, to take second place in Group D.
The match will take place at the Ahmed bin Ali Stadium in al-Rayyan on December 3 at 10pm Qatar time.
Latest betting odds
All international bookmakers consider Argentina to be firm favorites against the glaring underdogs Australia.
Our ➜ top bookmaker Betsson offers odds of @1.21 for a win by the Argentines. In the event of a draw and extra time, you can win back 7 times your stake, and even 16 times your stake if Australia wins after 90 minutes.
* odds for regular time only (2×45 minutes) – 2×15 minutes extra time and penalty shoot-out do not count for these betting odds
---

Top Bookmaker for World Cup Betting
A reliable online betting platform provided by dedicated in-house built software, and a consistently attractive offer of popular and interesting sports make Betsson a favourite sports betting provider for many players worldwide.
Sign up with Betsson and get 10 €/$/£ Free Bet
---
World Cup 2022 Betting Argentina vs. Australia
---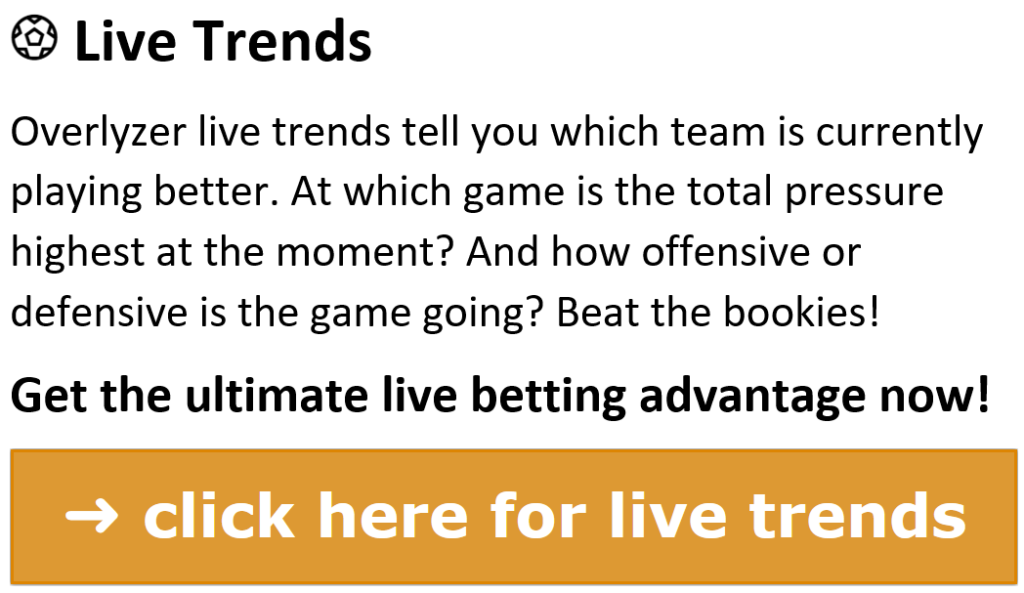 ---
Argentina Match Preview
The 2-1 loss to Saudi Arabia on the first matchday of the group stage was probably a wake-up call at the right time for the Argentines. Team manager Lionel Scaloni's players quickly saw that they could not take it easy and the "Albiceleste" quickly and efficiently recovered from this cruel embarrassment.
Argentina already put in a commanding performance against Mexico. Not everything worked in defense in the 2-0 win, but the defense was extremely stable and they allowed almost nothing. Against the Poles, however, they showed what the team is really made of and Argentina suddenly looked full of self-confidence again.
The team around the ageing superstar Lionel Messi suddenly pressed in high areas again and made life difficult for the Poles in the build-up to the game.
---
Practically all the key players in the Argentine side have improved. Even though Lionel Messi missed a penalty against Poland, he played a good game and was again very important for his team. This also applies to the midfielders: Alexis Mac Allister, who scored against Poland, was a key factor in the victory, as was Enzo Fernández, who is in excellent form.
And so the defeat against Saudi Arabia is already forgotten. In three group games, the Argentines have allowed only 0.50 expected goals from their opponents and have now shown for the first time how strong their attack is. In this form, of course, the Argentines will be a force to be reckoned with for a long time to come!
Argentina previous World Cup matches
| | | | | | | | |
| --- | --- | --- | --- | --- | --- | --- | --- |
| Date | Opponent | Venue | Score | XG | Possession | Accuracy | Duels won |
| 22.11.2022 | Saudi Arabia | N | 1 – 2 | 2.39 : 0.29 | 68.53% | 84.49% | 48.44% |
| 26.11.2022 | Mexiko | N | 2 – 0 | 0.51 : 0.09 | 58.17% | 85.18% | 49.51% |
| 30.11.2022 | Poland | N | 2 – 0 | 3.62 : 0.13 | 71.95% | 93.01% | 49.48% |
---
Australia Match Preview
Australia's promotion is probably the biggest sensation in the tournament so far. The "Socceroos" already looked like cannon fodder after the 4-1 loss to France. But the team fought its way back and in the end even finished the group in second place with the same number of points as the French.
Against the Danes, Australia were basically the weaker team throughout, but at the end of Australia's only period of pressure, Mathew Leckie scored the decisive goal for the underdogs. As a result, Australia left Denmark and Tunisia behind. The round of the last 16 clash with Argentina is now more or less a "bonus" for Graham Arnold's team.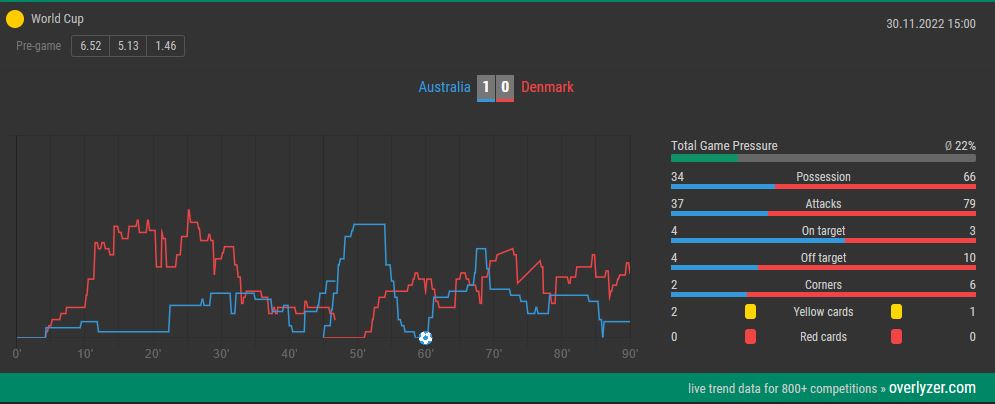 ---
Against Argentina, Australia will also take a very defensive approach and try to be destructive for 90 minutes, and then maybe get that ONE opportunity to decide the game.
However, if Argentina perform like they did in their last match against Poland, it will be a very difficult task for Australia. The Argentines are now creating numerous scoring opportunities and it always looks as if a goal is only a matter of time. So Australia would have to put in an exceptional performance at the back to pull off another sensation here.
Australia previous World Cup matches
| | | | | | | | |
| --- | --- | --- | --- | --- | --- | --- | --- |
| Date | Opponent | Venue | Result | XG | Possession | Accuracy | Duels won |
| 22.11.2022 | France | N | 1 : 4 | 0.39 : 3.10 | 39.41% | 85.08% | 45.45% |
| 26.11.2022 | Tunisia | N | 1 : 0 | 0.30 : 0.93 | 42.52% | 70.12% | 46.43% |
| 30.11.2022 | Denmark | N | 1 : 0 | 0.58 : 0.80 | 34.08% | 69.65% | 49.46% |
---
Team comparison
In favor of Argentina:
+ After the shock against Saudi Arabia, the team quickly redeemed itself.
+ Since the second group game, the high individual quality became visible again
+ Very solid central midfield
+ High tournament experience and mostly good results in knockout matches
+ Extremely solid defense, Argentina allows only a few opportunities to their opponents


In favor of Australia:
+ Can take a cautious approach and lurk on the counter-attack
+ Keeps the centre of the pitch tight and usually allows only few clear goal-scoring opportunities for opponents
+ Possibly the advantage of the "underestimated"
---
The last duel
The last encounter between these two teams was 15 years ago. In September 2007, Argentina won a friendly international match in Melbourne with 1-0. The winning goal by former Bayern defender Martin Demichelis was – of course – set up by Lionel Messi. Messi was just 20 years old at the time…
Potential opponents in the quarter-finals
The winner of the clash between Argentina and Australia will face the winner of the round of the last 16 between the Netherlands and the USA in the quarter-finals.
If the two favorites prevail, it could come down to a revival of the 1978 final. Back then, Argentina won the world title for the first time after defeating the Dutch in extra time.
---
Argentina – Australia Over Under Prediction
Argentina have recently rediscovered their attacking power and the high, intensive pressing of the "Albiceleste" in particular has put the Poles under a lot of pressure.
Scaloni's team will probably want to take this momentum into the knockout phase and we expect an Argentinian team that will lock their opponents in their own half and not let them breathe.
Australia already managed to achieve their sensations in the group stage through good defensive performance while using a deep position. However, they only faced a strong attack against France and promptly conceded four goals in that match. Argentina's attack is not comparable to France's, but it is still out of Australia's league.
Therefore, we bet on an "Over 2.5" in this match, i.e. at least three goals scored in the match.

Argentina – Australia OVER 2,5 goals ➜ best odds 1.85 @ Bet365

Overlyzer Over/Under Betting Pick Argentia vs. Australia
Argentina – Australia Prediction
Although Australia should not be underestimated, because the "Socceroos" caused quite a stir in the group stage and also scored a goal in every game, the difference in quality to the Argentines is simply too great for another sensation.
We are therefore firmly betting on a win after 90 minutes by Argentina. We even want to go one step further and suggest an Argentina victory with at least a two-goal margin – i.e. a "handicap -1" for the South Americans.

Argentina – Australia Correct Score Bet
Most of the players in the attack, but also in the central midfield of the "Gauchos", are always capable of scoring goals. Since the match against Mexico, the Argentines have also managed to maintain a high field position as a team, which allows them to put their opponents under constant pressure.
Australia are known for trying to switch gears quickly and directly in order to create a few dangerous situations. But no other team in the tournament has allowed as few clear scoring opportunities as Argentina. Therefore, it is to be expected that the counterattacking efforts of the Australians will be quickly suffocated and that Argentina will immediately regain possession of the ball in these situations.
That is why we are betting on a clear win by Argentina. Our Australia Argentina result tip is a clear 3-0.

Correct score 3-0 after regular time ➜ best odds 6.50 @ Bet365

Overlyzer Correct Score Betting Tip Argentina vs. Australia
---
FAQ – Questions and answers about Argentina – Australia at the 2022 World Cup
When does Argentina – Australia start?
The match between Argentina and Australia will take place on  November 3 2022 at 10pm Qatar Time. The match will be played at the Ahmed bin Ali Stadium in al-Rayyan
Where will Argentina – Australia be broadcasted?
The match between Argentina and Australia will take place on  November 3 2022 at 10pm Qatar Time. The match will be played at the Ahmed bin Ali Stadium in al-Rayyan
How did Argentina and Australia qualify for the round of the last 16?
Argentina won Group C, beating Poland, Mexico and Saudi Arabia. Australia finished second in Group D, behind world champions France but ahead of Tunisia and Denmark.
Who are Argentina's or Australia's possible quarter-final opponents?
The winner of the match between Argentina and Australia will face the winner of the match between the Netherlands and the USA in the quarter-finals.
Who are Argentina´s best players?
The undisputed star player of the Argentines is, of course, seven-time world footballer Lionel Messi. But players like Lautaro Martínez or the centre backs Cristian Romero and Lisandro Martínez also have to be watched very closely.
Who are Australia´s best players?
Australia travelled to Qatar without any big stars. Celtic midfielder Aaron Mooy and goalkeeper Mathew Ryan are probably the best-known Australian players. Centre back Milos Degenek and playmaker Ajdin Hrustic also have some experience and success abroad.
How are the Argentina Australia betting odds?
The renowned English bookmaker Bet365 offers odds of @1.20 for a win by Argentina. A draw and extra time will bring odds of @7.00 and a win for Australia will bring odds of @15.00.