England vs. France Prediction, Betting Tips & Odds | Quarterfinals
The highlight of the quarterfinals of the 2022 World Cup in Qatar will be the clash between England and France. One of the two big favorites for the title will have to go home after this match.
We provide you with a detailed preview of the match, as well as the best odds and predictions, and offer you our England – France betting tips.
The road to the quarterfinals
England only showed weaknesses in the game against the USA and was promptly criticized after the 0-0 draw in the second game of the group stage. Before that, there was a smooth 6-2 victory against Iran and then an unchallenged 3-0 win over Wales.
In the round of 16, England comfortably defeated Senegal 3-0.  The English are therefore still considered one of the top favorites for the World Cup title.
The French fared similarly on their way to the quarterfinals. At the group stage, they beat Australia 4-1 and Denmark 2-1 to book their place in the round of 16. The 1-0 loss to Tunisia was the only real setback in the tournament so far. In the round of 16, however, France were again largely in command and were the better team when they beat Poland 3-1.
The match will take place on Saturday, December 10 at 10 pm Qatar time at al-Bayt Stadium in al-Khor.
Latest betting odds
Most international bookmakers have France as razor-thin favorites ahead of the match.
At ➜ our top bookmaker Betsson, you can get odds of @3.15 for an England win. In the event of a draw and thus extra time, you can win back 3.30 times your stake, and for a France win after 90 minutes, odds of @2.40 are offered.
* odds for regular time only (2×45 minutes) – 2×15 minutes extra time and penalty shoot-out do not count for these betting odds
---

Top Bookmaker for World Cup Bets
A reliable online betting platform provided by dedicated in-house built software, and a consistently attractive offer of popular and interesting sports make Betsson a favourite sports betting provider for many players worldwide.
Sign up with Betsson and get 10 €/$/£ Free Bet
World Cup 2022 Betting England vs. France
---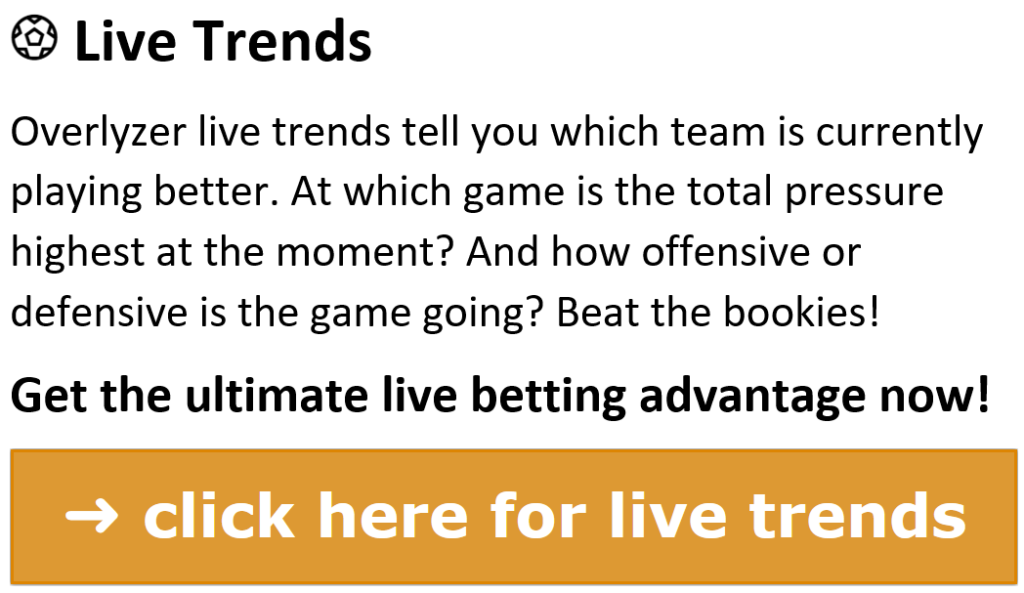 ---
England World Cup 2022 Preview
England had to face Senegal, who qualified for the round of the last 16 as second in Group A, but never really convinced. England started to work very hard against the ball right from the start and gave the Senegalese practically no chance in the build-up game.
Just when Senegal looked like they could take control of the game, England struck for the first time and took the lead through Jordan Henderson. At a perfect moment – just before the final whistle – Harry Kane also scored the 2-0, which brought him level with the leading goalscorer Wayne Rooney in the all-time scoring list of the English national team. With Bukayo Saka's 3-0 after about an hour,
Against Senegal, two young players in particular made a strong impression: Jude Bellingham was arguably the best player on the pitch and delivered an extremely thoughtful and combative performance. His team-mate Phil Foden also showed his potential and made England even more unpredictable in attack.
It was only when England made a change after 3-0, bringing on Jack Grealish and Marcus Rashford and then Mason Mount, Eric Dier and Kalvin Phillips, that the Three Lions' play became a little more lazy. In general, it seems that the English reserve players are not as sharp as they could be. However, the clear lead also meant that the English lacked the necessary pressure.
Everything was done and England were in the quarterfinals.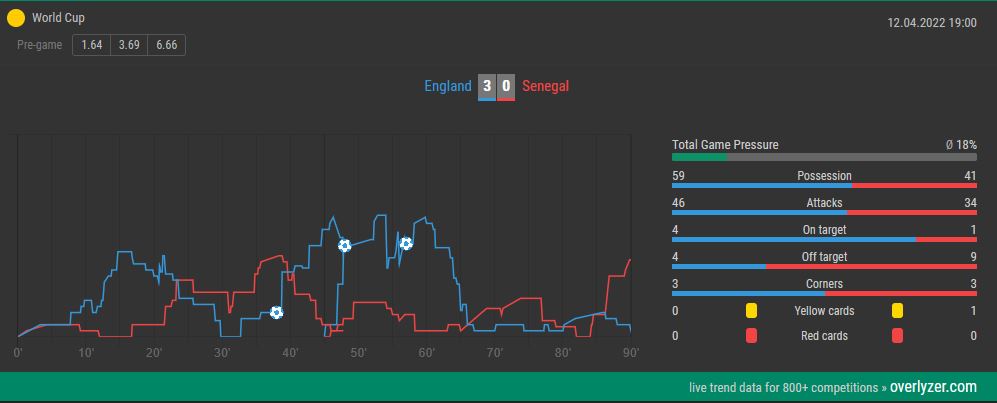 ---
Of course, Gareth Southgate's team will be put to the test against France. England have worked well in a 4-3-3 recently, but it's also conceivable that the English team boss will again choose a more defensive approach against France in order to put a stop to the strong French attack. Players like Harry Maguire could struggle with the pace of Kylian Mbappé, which is why they could use all the support they can get in defense.
England, of course, can counter with a lot of quality themselves: The central midfield with Bellingham, Henderson and Rice can certainly keep up with that of the French. The offense with wingers Foden and Saka, as well as center forward Kane, can also hurt France. So the 1966 world champions definitely don't need to hide.
Bring on the French!!! 🦁🦁🦁 #ENG #ENGFRA @England pic.twitter.com/KjTnNASrFj

— Mohammad Maini (@HamoudeMaini) December 5, 2022
The English newspapers were of course creative again before the quarterfinal against France!
However, Gareth Southgate has to deal with some absentees: Ben White and Raheem Sterling left the team camp and it is still unclear whether they will return. In addition, the use of John Stones and Callum Wilson is questionable. A fitness check before the game will determine whether they are fit enough for the match against France.
England previous World Cup matches
| | | | | | | | |
| --- | --- | --- | --- | --- | --- | --- | --- |
| Date | Opponent | Venue | Result | XG | Possession | Accuracy | Duels won |
| 21/11/2022 | Iran | N | 6 – 2 | 1.56 : 1.67 | 74.32% | 91.37% | 50.55% |
| 25/11/2022 | USA | N | 0 – 0 | 0.62 : 0.78 | 53.67% | 89.12% | 49.33% |
| 29/11/2022 | Wales | N | 3 – 0 | 1.76 : 0.12 | 62.53% | 90.12% | 47.93% |
| 04/12/2022 | Senegal | N | 3 – 0 | 1.68 : 1.30 | 59.40% | 89.22% | 45.64% |
---
France World Cup 2022 Preview
With the exception of the slip-up in the last group game against Tunisia, France have played a convincing World Cup so far and have lived up to their reputation as the new title co-favorites. Kylian Mbappé, in particular, has been inspiring once again and has already scored five goals, making him the current top scorer at the 2022 World Cup.
But Mbappé's colleagues in the offense are also playing a great tournament so far. Olivier Giroud has already scored three goals in the tournament and Ousmane Dembélé is always good for surprising moments.
The most important offensive player next to Mbappé, however, is the experienced Antoine Griezmann, who traditionally plays strongly in tournaments and puts himself one hundred percent at the service of the team. The high level of defensive work Griezmann does also makes the French midfield center and defense stronger.
And that's necessary, because it's in central midfield that the French are vulnerable. Aurélien Tchouameni and Adrian Rabiot have plenty of quality, but the English are still somewhat better positioned in this position.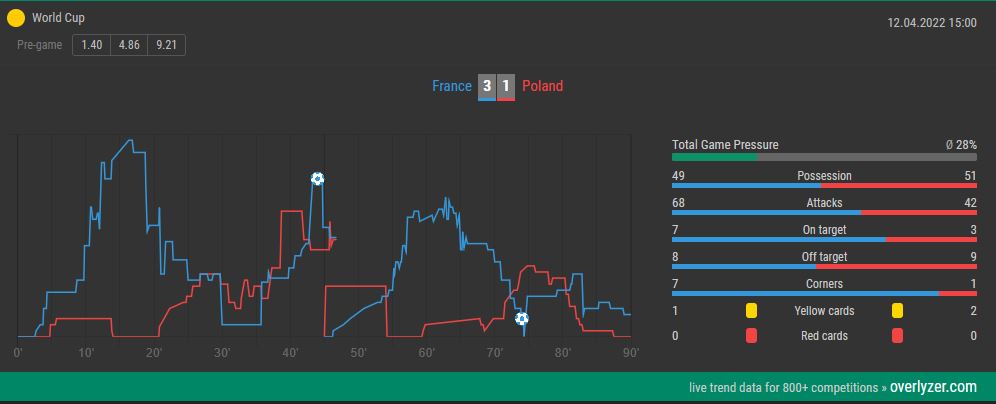 ---
France's team manager Didier Deschamps already had to deal with numerous absences before the tournament. During the tournament, Lucas Hernández suffered a cruciate ligament rupture in his first game. After that, however, the French were spared and can now draw from a full roster with the remaining squad. This means that Jules Koundé and Theo Hernández are likely to start again on the wings and Raphael Varane and Dayot Upamecano on the inside.
Not least because of numerous absences before the tournament, the defense is still a bit the weak point of the French. They conceded a goal in each of their four World Cup games. Poland even had an expected goals value of 2.23 in the round of 16, which is clearly too high for a team like France. So if the English offense keeps the Equipe tricolore busy, they will get their chances!
France previous World Cup matches
| | | | | | | | |
| --- | --- | --- | --- | --- | --- | --- | --- |
| Date | Opponent | Venue | Result | XG | Possession | Accuracy | Duels won |
| 22/11/2022 | Australia | N | 4 – 1 | 3.10 : 0.39 | 60.59% | 90.66% | 51.52% |
| 26/11/2022 | Denmark | N | 2 – 1 | 2.81 : 0.79 | 50.64% | 89.11% | 45.23% |
| 30/11/2022 | Tunisia | N | 0 – 1 | 0.89 : 0.31 | 67,91% | 86.78% | 52.07% |
| 04/12/2022 | Poland | N | 3 – 1 | 2.37 : 2.23 | 52,69% | 87.17% | 52.38% |
---
Team comparison
In favor of England:
+ England recently conceded no goals three times in a row
+ France's opponents at the 2022 World Cup have always scored
+ The attacking line is in good shape and Harry Kane has also scored for the first time recently
+ The central midfield around young star Jude Bellingham is playing convincingly
+ Several tactical options for team boss Gareth Southgate – including a three-man backline
+ England are likely to be the "calmer", more pragmatic side


In favor of France:
+ Kylian Mbappé has been the defining player of this World Cup so far
+ In Olivier Giroud, they have a goal-scoring machine at their disposal
+ Antoine Griezmann's running effort is central to France's success
+ Several injured and questionable on England's side
+ Raphael Varane recently regained his old strength
---
The last duel
In the entire history of soccer, England and France have met 31 times. England have the better overall record with 17 wins, five draws and nine defeats. The last time these two teams met in a World Cup was in 1982.
The last meeting between these two teams was a friendly in Paris in June 2017, when France won 3-2 in front of 80,000 spectators, with Samuel Umtiti, Djibril Sidibé and Ousmane Dembélé scoring the goals for Les Bleus. For England, captain Harry Kane scored twice. Raphael Varane, who should also be fielded this time, was sent off with a red card.
For England, Harry Kane and John Stones were the only two players in the starting lineup who could also start this time. Even on the bench there were only a few players who will also be there in 2022, which illustrates the great transformation in the English team well.
---
Potential opponents for the semifinals
The winner of the duel between England and France will meet the winner of the quarterfinal match between Morocco and Portugal in the semifinals.
England – France Over Under Prediction
France have conceded a goal in each of their four World Cup games. England, on the other hand, has gone three matches in a row without conceding a goal, although they were not put to as much of a test by the USA, Wales and Senegal as they will be against France.
Everything is set for a spectacular quarterfinal. Both teams tend to have their best players in attack, and France have possibly the best attacker in the world in its left winger Kylian Mbappé.
Against these strong offensive lines a wait-and-see style of play will be difficult for both teams, considering that the defensive options for both teams drop significantly compared to the offensive ones.
That's why we are betting here on a game in which many goals will be scored. Our over under tip for England vs France is an "Over 2.5", meaning at least three goals scored in the match.

England – France Prediction
England focuses more on control and pragmatism. They also have the proper central midfield for that, which is very confident in passing and makes few mistakes.
France, however, is always looking to be aggressive and direct with the ball, which is why they keep running into counterattacks. France's offensive players can make the difference here, though: Mbappé's quality is of course out of the question, but Griezmann, Dembélé and Giroud are also players that can score at any time against the English backline.
We're therefore betting here on a victory for France after 90 minutes and expect a decidedly fast-paced, possibly tough match.

England – France Correct Score Bet
Due to the already richly described, strong attacking lines on both sides, there will be no shortage of chances in this game. The quality of both teams also suggests that both sides will be able to cheer about goals.
Our England France result tip is a 2-1 win for France and thus the direct advancement of France after 90 minutes. We also expect the sixth goal of the tournament from Kylian Mbappé, who is playing in top form and will probably have the upper hand in one scene or another against the sometimes stiff-legged English defense around Harry Maguire.

---
FAQ – Questions and answers about England – France at the 2022 World Cup
When does England – France start?
The match between England and France will take place on Saturday, December 10, 2022 at 8 p.m. Qatar time. The match will be played at al-Bayt Stadium in al-Khor.
Where will England – France be broadcasted?
In the United Kingdom the game between England and France can be watched live on the BBC. In the United States Fox Sports will be the place to watch the game and in Canada the match will be aired on TNS. Fans from France watch on TF1 or beIN Sports.
How did the England and France qualify for the quarterfinals?
England defeated Senegal 3-0 in the round of 16, while France had a few slow periods against Poland, but then put the pressure on again and won 3-1 in the end.
Who is the possible opponent of the England and France in the semifinals?
The winner of the match between England and France will meet the winner of the match between Morocco and Portugal in the semifinals.
Who are England´s best players?
The star of the English is captain and goal scorer Harry Kane. However, the English are equipped with great players in practically all positions, such as Rice, Mount, Bellingham and Foden in midfield, Foden, Grealish and Saka in attack and Alexander-Arnold and James at full-back.
Who are France´s best players?
The team of world champions France is consistently packed with world-class footballers: Kylian Mbappé, Olivier Giroud, Antoine Griezmann, Aurelien Tchouameni, Eduardo Camavinga and Benjamin Pavard are just a few examples.
How are the England – France betting odds?
The renowned English bookmaker Bet365 offers odds of @3.00 for an England win. A draw and thus extra time brings odds of @3.25 and a win by France earns odds of @2.40.