France vs. Poland Prediction, Betting Tips & Odds | Round of 16
Didier Deschamps' team is the big favorite in the round of the last 16 against Poland. We provide you with an in-depth preview of the match and show you the best odds, as well as the most interesting France – Poland betting picks.
The circumstances before the round of the last 16 between France and Poland are very clear: the French are the big favorites to advance to the quarter-finals and the Poles can only surprise. The reigning world champions lost their last group match against Tunisia 0-0, but at that point they were already promoted and also very likely group winners, so coach Deschamps gave numerous players a rest.
Poland, however, have not been in great form in the group stage, scoring in only one match, in their 2-0 win over Saudi Arabia.
The game will take place at the al-Thumama Stadium in Doha on December 4 at 6pm Qatar time.
Latest betting odds France – Poland
The bookmakers also agree that there is a crystal-clear favorite here.
Our ➜ top bookmaker Betsson offers odds of @1.32 for a victory by the French. In the event of a draw, you can win back 5.3 times your stake, and if Poland wins after 90 minutes you can even earn 11 times your wager.
* odds for regular time only (2×45 minutes) – 2×15 minutes extra time and penalty shoot-out do not count for these betting odds
---

Top Bookmaker for World Cup Betting
A reliable online betting platform provided by dedicated in-house built software, and a consistently attractive offer of popular and interesting sports make Betsson a favourite sports betting provider for many players worldwide.
Sign up with Betsson and get 10 €/$/£ Free Bet
---
World Cup 2022 Betting France vs. Poland
---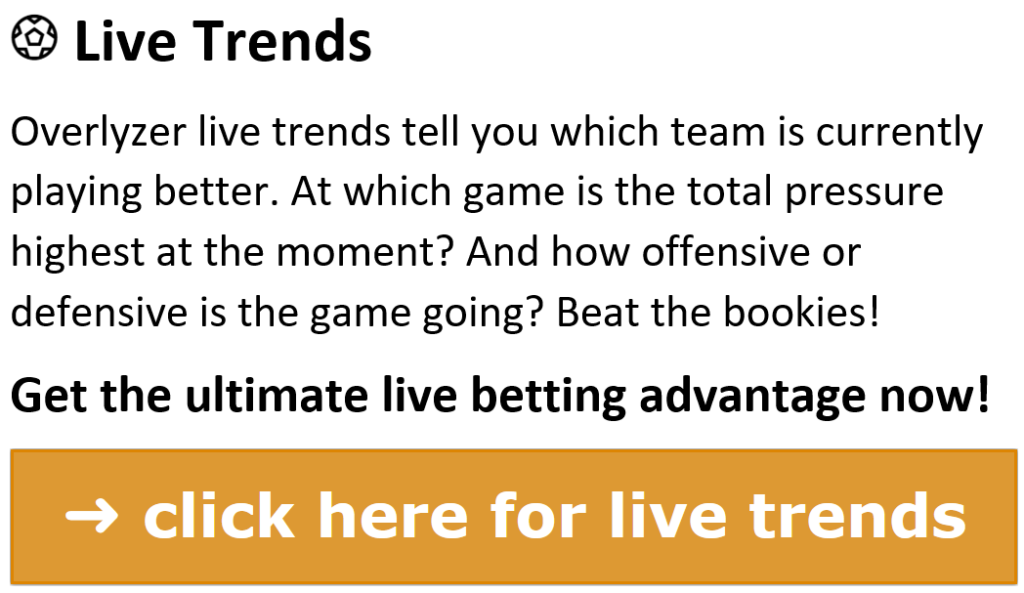 ---
France World Cup 2022 Preview
France rested nine first-team players in their 1-0 defeat to Tunisia. Although the loss did not change the fact that France won the group, coach Deschamps will be disappointed with his team's performance. After all, the players who are not usually part of the first team could have recommended themselves for further assignments in the starting line-up.
Nevertheless, Deschamps appeared pragmatic after the match and said that the rotation was important for the further course of the tournament, as he can now fall back on well-rested players. He said that you simply cannot achieve every single goal.
However, the French have nothing to fear from this slip-up, because although numerous stars such as Benzema, Pogba, Kante, Nkunku and many more had to withdraw in the run-up to the tournament, they showed a confident performance in their victories over Australia and Denmark and will now be looking to build on these achievements against Poland.
The tragic heroes in this match, on the other hand, were the Tunisians, who were eliminated despite a strong performance and victory against the reigning world champions as Denmark failed to equalize against Australia.
---
Striker Olivier Giroud will be particularly excited about this match, as he can become France's sole record scorer with a single goal. He is currently tied with the legendary Thierry Henry at the top of the all-time scoring list.
Both strikers have scored 51 goals for their country. However, this record is unlikely to last too many years, as the young Kylian Mbappe, at 23, already has 31 goals to his name. 
France previous World Cup matches
| | | | | | | | |
| --- | --- | --- | --- | --- | --- | --- | --- |
| Date | Opponent | Venue | Result | XG | Possession | Accuracy | Duels won |
| 22/11/2022 | Denmark | N | 0 : 0 | 1.06 : 0.90 | 41.94% | 81.30% | 45.95% |
| 26/11/2022 | Australien | N | 0 : 1 | 0.91 : 0.30 | 57.13% | 78.75% | 45.10% |
| 30/11/2022 | Tunisia | N | 0 : 1 | 0.89 : 0.31 | 67.91% | 86.78% | 52.07% |
---
Poland World Cup 2022 Preview
Poland's only goal in the group stage came against Saudi Arabia. In addition to the 2-0 win against the underdog, coach Czeslaw Michniewicz's team drew 0-0 with Mexico and lost 2-0 to Argentina.
Polish fans are pinning their hopes on two players. Goalkeeper Wojciech Szczęsny is playing a very strong tournament and proved to be a very reliable keeper. The goalkeeper has been in brilliant form and made the most saves (19) in the group phase.
The other big hope is star striker Robert Lewandowski, who is always capable of scoring. However, the Poles have the serious problem that the midfield is currently not playing at a very good level and hardly offers any support to the attacker.
Robert Lewandowski tries a lot, but seems very disconnected from the other parts of his team, and hardly had any scoring opportunities against Argentina, a team of comparable quality to France.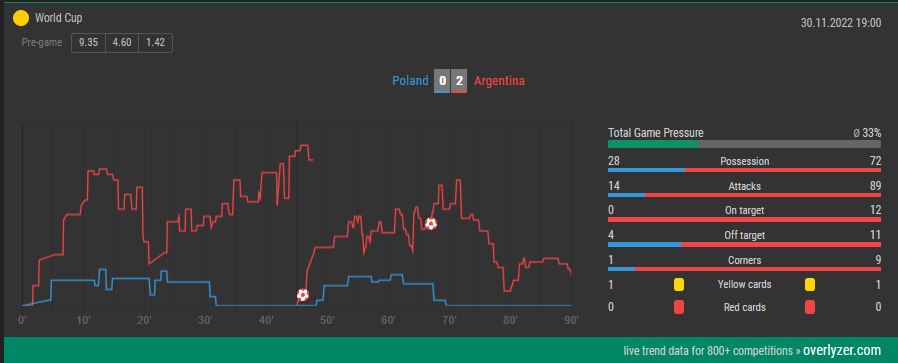 If Poland wants to have a chance against France, then the midfield has to work something out. It is of no use to have a world-class striker in your ranks if he is not put into action. Poland's Expected Goal Value against Argentina was 0.13, which is of course far too low.
Lewandowski and his team-mates had only three shot attempts after 90 minutes, none of which were on target. They will clearly have to find answers here, otherwise they will certainly have to go home after the round of the last 16.
Poland previous World Cup matches
| | | | | | | | |
| --- | --- | --- | --- | --- | --- | --- | --- |
| Date | Opponent | Venue | Result | XG | Possession | Accuracy | Duels won |
| 22/11/2022 | Mexico | N | 0 – 0 | 1.13 : 0.80 | 40.55% | 75.00% | 44.55% |
| 26/11/2022 | Saudi-Arabien | N | 2 – 0 | 1.87 : 2.66 | 35.10% | 81.95% | 38.50% |
| 30/11/2022 | Argentina | N | 0 – 2 | 0.13 : 3.82 | 28.05% | 84.93% | 47.42% |
---
Team comparison
In favor of France:
+ Rested players, who were spared in the last group game
+ Higher individual quality
+ Extremely dangerous attack
+ Lots of experience as reigning world champions
+ Poland were not dangerous in attack once against Argentina

In favor of Poland:
+ The goal of reaching the round of the last 16 was achieved, the rest is a bonus.
+ Goalkeeper Wojciech Szczesny is in excellent form
+ Robert Lewandowski is always capable of scoring a goal, even if he has received too little support from his teammates so far
---
The last duel
France and Poland have met 16 times so far. France have won half of these matches and there have been five draws. Poland has only won three times against France in its football history.
Currently, Poland have seven matches against France in which they have not won. The last time the two teams met was in 2011 in a friendly match, which the French won 1-0. The only goal came from a Jodlowiez own goal.
---
Possible opponents in the quarter-finals
The winner of the duel between France and Poland will meet the winner of the match between England and Senegal.
Should the two favorites prevail, we can expect a very heated match in the quarter-finals.
France – Poland Over Under Prediction
With the exception of the defeat against Tunisia, in which a "reserve team" was selected, France appeared to be in good shape. Didier Deschamps' team can be expected to create as many or even more goalscoring opportunities as Argentina did against Poland.
Argentina won only 2-0, but had an xG value of 3.82 and should have scored more goals. The well-rested French will find solutions against the Polish defense, which repeatedly struggled against the Argentines and will also offer some spaces against France.
On top of that, the "Lewandowski-factor" will also be of use when betting on an Over in this match. We don't necessarily expect the star striker to score, but it can't hurt to have him on the pitch in this bet.

France – Poland Prediction
France will be well rested and will certainly dominate the match. We are betting on a similar encounter to the one Poland had against Argentina, in which the Polish side had no chances at all.
There will be no two opinions here – we bet that France will be victorious in regular time.

France – Poland Correct Score Bet
We are confident that the French will score three or even more goals in this match. The four attacking players in the 4-2-3-1 system, Dembéle, Griezmann, Mbappé and Giroud are always good for a lot of goals and will be fully attacking in the first game of the knockout phase.
Robert Lewandowski is always capable of scoring – but we think the French backline around Varane and Upamecano will be very solid and the Polish goal-scorer will be too isolated from his team-mates, as he was against Argentina.

Correct score 3-0 after regular time ➜ best odds 8.50 @ Bet365

Overlyzer Correct Score Betting Tip France vs. Poland
---
FAQ – Questions and answers about France – Poland at the 2022 World Cup
When does France – Poland start?
The match between France and Poland will take place on December 4 2022 at 6pm Qatar time. The match will be played at al-Thumama Stadium in Doha.
Where will France – Poland be broadcasted?
In the United Kingdom the game between France and Poland can be watched live on the BBC. In the United States Fox Sports will be the place to watch the game and in Canada the match will be aired on TNS. Fans from France watch on TF1, followers from Poland tune in to TVP.
How did France and Poland advance to the round of the last 16?
France won Group D after beating Australia and Denmark, despite losing to Tunisia. Poland also lost their final group match against Argentina, but finished just ahead of Mexico, who were level on points, thanks to a narrowly better goal difference. Robert Lewandowski and his teammates were held to a 0-0 draw by Mexico before beating Saudi Arabia 2-0.
Who is the potential opponent of France or Poland in the quarter-finals?
The winner of the match between France and Poland will meet the winner of the game between England and Senegal in the quarter-finals. This means that there could be an exciting duel between England and France ahead of us.
Who are France´s best players?
The team of world champions France is packed with world-class footballers across the board: Kylian Mbappé, Olivier Giroud, Antoine Griezmann, Aurelien Tchouameni, Eduardo Camavinga and Benjamin Pavard are just a few examples.
How are the France Poland betting odds?
The renowned English bookmaker Bet365 offers odds of @1.28 for a win by France. A draw brings odds of @5.00 and a win for Poland fetches odds of @13.00.