Morocco vs. Portugal Prediction, Betting Tips & Odds | Quarterfinals
Morocco are clearly the biggest surprise at the 2022 World Cup. The team has now reached the quarterfinals and is the first North African side to make it this far in a World Cup. Now the strong Portuguese await!
We provide you with a detailed preview of the match, as well as the best odds and predictions, and offer you our Morocco – Portugal tips.
The road to the quarterfinals
Morocco sensationally finished first in the group stage ahead of Croatia, Belgium and Canada. Only Croatia were held to a goalless draw, Belgium were beaten 2-0, and the Canadians 2-1. The Moroccans caused the biggest sensation in the round of 16, however, when they defeated Spain on penalties. The score was 0-0 after 120 minutes, and the Spaniards were unable to convert a single penalty against Morocco's keeper Bono.
Portugal advanced to the quarterfinals with a real show of strength: Against Switzerland, they had a spectacular 6-1 victory in which Benfica attacker Goncalo Ramos scored three goals. In the group stage, Portugal had won 3-2 against Ghana and 2-0 against Uruguay, but then lost 2-1 to South Korea with a reserve team.
The match will take place on Saturday, December 10 at 6 pm Qatar time at al-Thumama Stadium in Doha.
Latest betting odds
All bookmakers favor Portugal in the match against Morocco, but don't consider the North Africans to be glaring underdogs either.
Our ➜ top bookmaker Betsson offers odds of @5.50 for a win by Morocco. In the event of a draw and extra time, one can win back 3.70 times of one' stake, and odds of @1.72 for a win by Portugal after 90 minutes.
* odds for regular time only (2×45 minutes) – 2×15 minutes extra time and penalty shoot-out do not count for these betting odds
---

Top Bookmaker for World Cup Bets
A reliable online betting platform provided by dedicated in-house built software, and a consistently attractive offer of popular and interesting sports make Betsson a favourite sports betting provider for many players worldwide.
Betsson Review
Sign up with Betsson and get 10 €/$/£ Free Bet
---
World Cup 2022 Betting Morocco vs. Portugal
---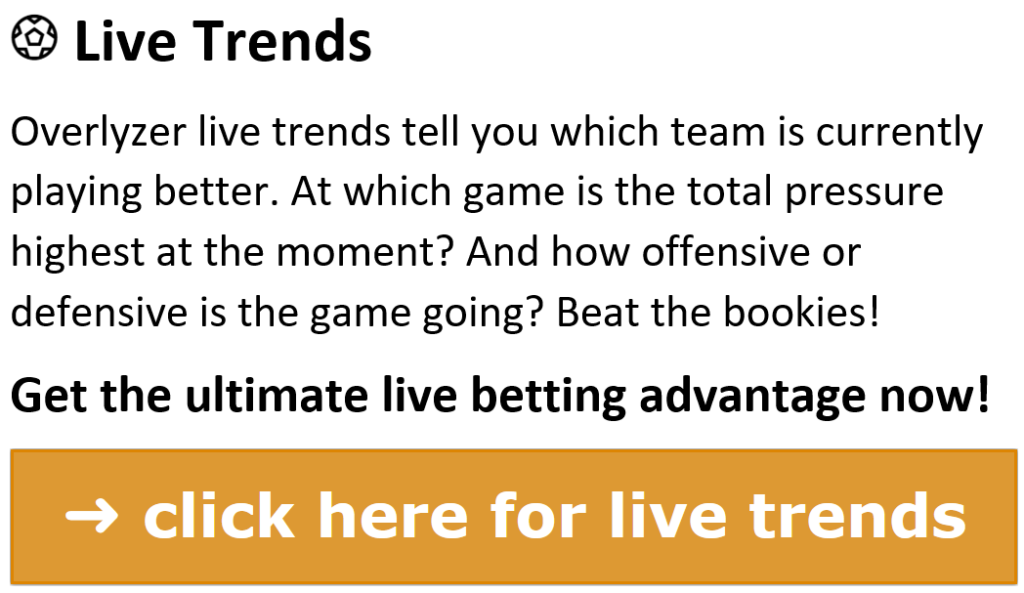 ---
Morocco World Cup 2022 Preview
Morocco did not reach the quarter-finals by a chain of fortunate circumstances, but were completely convincing in the course of the tournament. Already in the group stage, coach Walid Regragui's team showed that they can implement their tight, tactical concept well. As a result, the Moroccans have only conceded one goal in the course of the World Cup so far.
Against Spain, Morocco delivered a tactical masterpiece. Despite having about three quarters of possession, the Spanish were only able to generate 1.01 Expected Goals. Morocco closed off the crucial areas to such an extent that the Spanish hardly had any clear scoring opportunities. On the contrary, Morocco actually had the better scoring chances in some phases of the game and could well have taken the lead even in regular playing time.
Having seen over the course of the 90 minutes that they could crack the possession-oriented Spaniards in this way, they pulled way back in extra time and practically concentrated only on defensive work. This inactivity on the offensive is also clearly visible in the following graphs on the game.
---
In the end, a penalty shootout had to decide whether the team would advance or be eliminated. Here, the Moroccans kept a cool head and goalkeeper Bono saved two of Spain's three penalties. Pablo Sarabia also hit the post and Morocco advanced to the quarter-finals with an impressive 3-0 win on penalties.
There, however, the strong Portuguese team now awaits against whom it will be more difficult to defend. Compared with Spain, Portugal is much more flexible on the attack and offers more dynamic and explosive play than the Spaniards.
Morocco will of course again focus primarily on defensive duties, but will also try to convert one of the dangerous counterattacks into a goal against Portugal.
However, Morocco may have personnel problems: Romain Saiss, who has been a very confident defender so far, had to deal with problems in his thigh against Spain in extra time. He continued to play and was not substituted, but there will be a thorough medical check before the match against Portugal to see if he is ready for the game. Nayef Aguerd, meanwhile, is likely to be out for the time being.
Incidentally, three of Morocco's key players – Saiss, Sabiri and Amrabat – are at risk of yellow cards in the quarterfinals and would be out in a possible semifinal if they receive another yellow card.
Morocco previous World Cup matches
| | | | | | | | |
| --- | --- | --- | --- | --- | --- | --- | --- |
| Date | Opponent | Venue | Result | XG | Possession | Accuracy | Duels won |
| 23/11/2022 | Croatia | N | 0 – 0 | 0.25 : 0.74 | 36.36% | 83.58% | 55.39% |
| 27/11/2022 | Belgium | N | 2 – 0 | 1.03 : 0.58 | 37.12% | 88.82% | 52.13% |
| 01/12/2022 | Canada | N | 2 – 1 | 0.51 : 1.22 | 42.09% | 86.13% | 48.60% |
| 06/12/2022 | Spain | N | 0 – 0 (P) | 0.72 : 1.01 | 23.00% | 71.00% | 49.66% |
| | | | | | | | |
---
Portugal World Cup 2022 Preview
The Portuguese national team showed how quickly things can go in a completely different direction at a World Cup when it defeated Switzerland 6-1 in the round of the last 16. It was only in the final game that Portugal lost 2-1 to South Korea and earned criticism for it. However, the reaction of the European "Selecao" was impressive.
Cristiano Ronaldo was benched by his coach Fernando Santos – a situation of great rarity in the Portuguese team. Instead, Goncalo Ramos, a 21-year-old from Benfica Lisbon, stepped up and promptly introduced himself with three goals.
But other players were also convincing and even two defenders, Pepe and Raphael Guerreiro, scored. Substitute Rafael Leao provided the final touch with a goal worth seeing, completing a true celebration for Portugal.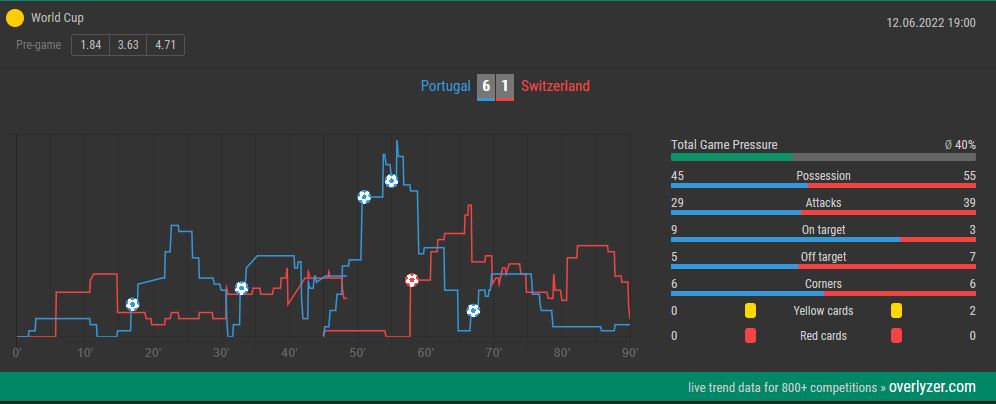 ---
However, if you look at the expected goals, you can see that the victory was too high: 2.28 : 1.22 was the final score, which means that six goals were clearly too many. In the end, Switzerland failed not so much because of themselves, but more because of the great efficiency of the Portuguese.
One difference to the upcoming match against Morocco will be that the Swiss tried to act offensively and "play along" with the Portuguese. This will be different against Morocco, as the North Africans will be very defensive and will mostly stand deep and wait for counterattacks.
For Portugal, Nuno Mendes and Danilo Pereira will continue to be absent. The two PSG players will not be able to take part in any more World Cup matches.
No less than five Portugal players would be suspended in the event of a yellow card in the semifinals: Bruno Fernandes, Ruben Neves, Joao Felix, Ruben Dias, as well as the injured Pereira are at risk. It is also clear after the great game against Switzerland that the powerful Goncalo Ramos will also start against Morocco. For Cristiano Ronaldo, this means that once again there will probably only be a place on the bench.
Portugal previous World Cup matches
| | | | | | | | |
| --- | --- | --- | --- | --- | --- | --- | --- |
| Date | Opponent | Venue | Result | XG | Possession | Accuracy | Duels won |
| 24/11/2022 | Ghana | N | 3 – 2 | 1.95 : 0.79 | 62.30% | 89.90% | 47.25% |
| 28/11/2022 | Uruguay | N | 2 – 0 | 1.27 : 1.16 | 61.33% | 85.42% | 46.11% |
| 02/12/2022 | South Korea | N | 1 – 2 | 1.22 : 0.95 | 59.16% | 87.54% | 45.78% |
| 06/12/2022 | Switzerland | N | 6 – 1 | 2.28 : 1.22 | 45.00% | 83.00% | 48.12% |
---
Team comparison
In favor of Morocco:
+ High level of tactical discipline, especially in defensive play
+ Goalkeeper Bono has been one of the best goalkeepers in the tournament so far
+ Perfect mood and great self-confidence after the victory over Spain
+ Morocco allows very few chances against the opponents

In favor of Portugal:
+ The team"s performance against Switzerland boosted its self-confidence
+ Goncalo Ramos is on fire after scoring three goals in the round of 16.
+ The bench is also a bit stronger: Who can bring Cristiano Ronaldo off the bench?
+ Pepe has recently proven to be an exceptionally strong defensive organizer
+ Bruno Fernandes is in top form and Joao Felix is also getting stronger and stronger
+ Morocco could be without Romain Saiss
---
The last duel
Morocco and Portugal have only met twice in soccer history – both times in a World Cup.
In 1986 in Mexico, Morocco sensationally beat the Portuguese 3-1 in the preliminary round, but then lost to Germany in the round of 16.
The last time they met was at the 2018 World Cup in Russia. At that time, the final score was 1-0 for Portugal, who won the group together with Spain. Morocco was eliminated with only one point. Cristiano Ronaldo scored the decisive goal after just four minutes. Portugal's starting eleven was about half filled with players who could play from the beginning again this time. In contrast, the Moroccan team has changed massively over the last four
---
Potential opponents for the semifinals
The winner of the duel between Morocco and Portugal will meet the winner of the quarterfinal match between France and England in the semifinals.
---
Morocco – Portugal Over Under Prediction
Three out of four matches involving Morocco ended with an "Under 2.5", while Portugal have so far been more of a spectacle. For the Portuguese, three out of four games ended with an "Over 2.5".
Morocco, however, will clearly focus on defense against the favored Portuguese in the quarterfinals. Portugal's game against Switzerland was an example of what can happen when you try to keep the match open with the Portuguese. So the Portuguese won't get as many spaces as they did against Switzerland.
We therefore assume that only a few goals will be scored in this quarter-final duel and opt for an Over Under tip of "Under 2.5".

Morocco – Portugal Prediction
The attacking efforts of the Portuguese will be very different from those of the Spanish. Spain were very much in control and in possession against Morocco and thus lacked the required straightforwardness. Portugal, however, is more dynamic and focused. Fernando Santos' team will therefore create more clear-cut chances against the Moroccans.
Morocco will certainly find one or two good counterattacking chances, but the Portuguese defense has been largely stable lately. We bet here on a victory for Portugal after 90 minutes.

Morocco – Portugal Correct Score Bet
It is known that Morocco only allow few scoring chances by the opponent. So far, the North Africans have conceded only one goal against Canada and have scored three times.
Portugal have scored twelve goals in four games so far and have impressed above all with their offensive power and also a high level of performance across the entire squad. In contrast to the Spaniards, Portugal will create several clear opportunities and so we are betting here that the Portuguese will manage to score the decisive goal at some point.
And after that, the experienced southern Europeans will control the match and win by 1-0.


---
FAQ – Questions and answers about Morocco – Portugal at the 2022 World Cup
When does Morocco – Portugal start?
The match between Morocco and Portugal will take place on Saturday, December 10, 2022 at 6pm Qatar Time. The match will be played at al-Thumama Stadium in Doha.
Where will Morocco – Portugal be broadcasted?
In the United Kingdom the game between Morocco and Portugal can be watched live on the BBC. In the United States Fox Sports will be the place to watch the game and in Canada the match will be aired on TNS. Fans from Morocco watch on SNRT, followers from Portugal tune in to RTP or SIC Sports.
How did the Morocco and Portugal qualify for the quarterfinals?
Morocco held Spain 0-0 over 120 minutes in the round of 16 and then defeated the 2010 world champions on penalties. Portugal produced a stellar performance against Switzerland and advanced to the quarterfinals with a 6-1 win.
Who is the possible opponent of Morocco and Portugal in the semifinals?
The winner of the match between Morocco and Portugal will face the winner of the match between France and England in the semifinals.
Who are Morocco´s best players?
Morocco's biggest star is Paris Saint-Germain's Achraf Hakimi. His fellow full-back Noussair Mazraoui of Bayern Munich is also one of the team's top players. In addition, Hakim Ziyech, Youssef En-Nesyri and goalkeeper Bono must be watched closely.
Who are Portugal´s best players?
With five world footballer honors to his name, Portugal's biggest star and figurehead is of course Cristiano Ronaldo. However, the Portuguese also have other world-class players such as Rúben Dias, Joao Cancelo, Bernardo Silva (all Manchester City), Bruno Fernandes (Manchester United) and Joao Felix (Atlético Madrid). Most recently, Benfica striker Goncalo Ramos also drew a lot of attention to himself.
How are the Morocco – Portugal betting odds?
The renowned English bookmaker Bet365 offers odds of @5.75 for a win by Morocco. A draw and thus extra time brings odds of @3.60 and a win by Portugal odds of @1.66.