Morocco vs. Spain Prediction, Betting Tips & Odds | Round of 16
Morocco sensationally won Group F and will now face Spain in the round of 16. The North Africans are underdogs against Spain – but certainly not without a chance.
We provide you with an in-depth game preview, as well as the best odds and predictions, and provide you with our Morocco – Spain betting tips.
Morocco performed extremely well in a tough group. The underdogs first drew 0-0 against the World Cup runners-up Croatia, and then went on to win twice. They beat Belgium 2-0 and Canada 2-1 to win the group.
Spain experienced a bizarre group stage: In the first game, Costa Rica was blown away 7-0 and in the second game, they drew 1-1 with Germany. In the last match, Spain surprisingly lost 2-1 to Japan and thus only advanced to the round of 16 in second place.
The match will take place on December 5 at 6 p.m. Qatar time at the Education City Stadium in al-Rayyan.
Latest betting odds
Spain is rated stronger than Morocco by all international betting providers.
At ➜ top bookmaker Betsson you get odds of @6.80 for a win by Morocco. In case of a draw and thus extra time you can win back 3.90 times your stake, and for a win by Spain after 90 minutes best odds of @1.58 are awaiting you.
* odds for regular time only (2×45 minutes) – 2×15 minutes extra time and penalty shoot-out do not count for these betting odds
---
Top Bookmaker for World Cup Bets
A reliable online betting platform provided by dedicated in-house built software, and a consistently attractive offer of popular and interesting sports make Betsson a favourite sports betting provider for many players worldwide.
Sign up with Betsson and get 10 €/$/£ Free Bet
World Cup 2022 Betting Morocco vs. Spain
---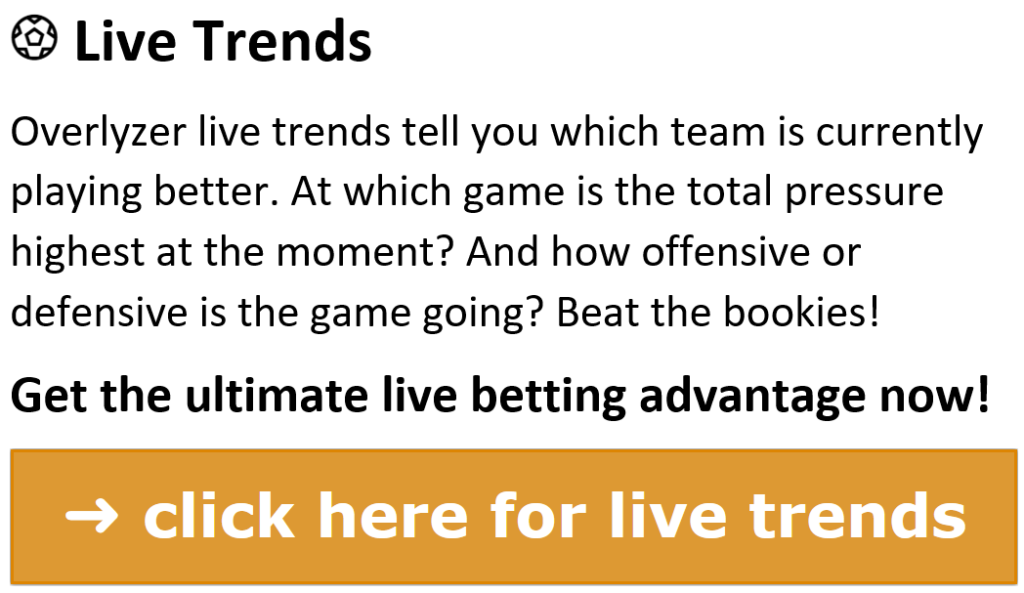 ---
Morocco World Cup 2022 Preview
Morocco already showed in the match against Croatia at the start of the group stage that they are a force to be reckoned with. The team looked very stable from the start and is obviously equipped with some top-class players.
The Moroccans' right side in particular has been very strong so far. No wonder – right-back Achraf Hakimi is one of the world's best in his position, and in front of him plays Hakim Ziyech, another player with great technical ability. Other players, such as left-back Noussair Mazraoui from Bayern Munich and the confident center-back Romain Saiss, who is also captain of the team, have also played an impressive World Cup so far.
---
They conceded their first goal of the tournament against Canada. However, this was also due to the fact that after the bright start and the goals of Hakim Ziyech and Youssef En-Nesyri, they became a bit lazy and let the Canadians have the ball.
Already in the first two games, Morocco had just over a third of ball possession and in the round of 16 against Spain, that difference will be much more glaring. The Spaniards are known for building up a lot of possession and Morocco will focus almost exclusively on playing against the ball and looking for counterattacks. This should also be the only way for the North Africans to pull off another sensation.
Morocco previous World Cup matches
| | | | | | | | |
| --- | --- | --- | --- | --- | --- | --- | --- |
| Date | Opponent | Venue | Result | XG | Possession | Accuracy | Duels won |
| 23/11/2022 | Croatia | N | 0 – 0 | 0.25 : 0.74 | 36.36% | 83.58% | 55.39% |
| 27/11/2022 | Belgium | N | 2 – 0 | 1.03 : 0.58 | 37.12% | 88.82% | 52.13% |
| 01/12/2022 | Canada | N | 2 – 1 | 0.51 : 1.22 | 42.09% | 86.13% | 48.60% |
---
Spain World Cup 2022 Preview
After the first match against Costa Rica, Spain already looked like a hot favorite for the World Cup title. However, the glory faded relatively quickly and the "Furia Roja" only picked up one point from the remaining two games.
They were largely the better team against Germany, but failed to stay cool enough on the attack. Again and again, the Spaniards overcomplicated things and ended up with a 1-1 draw. The same thing happened in the game against Japan, where the Spaniards had almost 84% possession but created far too few chances.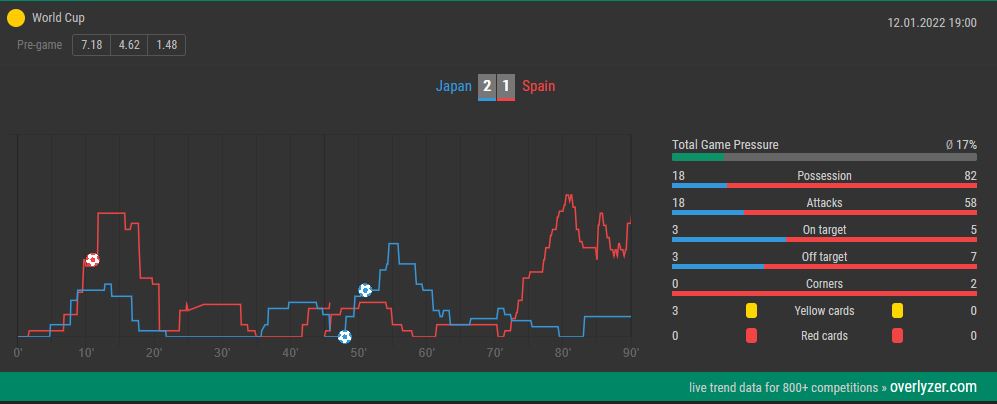 ---
However, team boss Luis Enrique had also spared some players and put a number of reserve players into the first eleven. There were also some nasty rumors that the Spaniards did not play hard for an equalizer in the final stages of the match, but accepted defeat in order to face Morocco rather than Croatia in the round of 16. However, our graphs of the match prove the opposite and the Spaniards' efforts to score a goal were highest in the last minutes of the match against Japan.
Against Morocco, however, Luis Enrique can fall back on his best team. However, a real goal scoring spree is not to be expected due to the inefficiency of the Spaniards in the last two games…
Spain previous World Cup matches
| | | | | | | | |
| --- | --- | --- | --- | --- | --- | --- | --- |
| Date | Opponent | Venue | Result | XG | Possession | Accuracy | Duels won |
| 23/11/2022 | Costa Rica | N | 7 – 0 | 3.02 : 0.00 | 78.98% | 9.,92% | 41.98% |
| 27/11/2022 | Germany | N | 1 – 1 | 0.80 : 0.81 | 63.42% | 87.60% | 52.88% |
| 01/12/2022 | Japan | N | 1 – 2 | 1.00 : 1.24 | 83.98% | 92.70% | 44.38% |
---
Team comparison
In favor of Morocco:
+ Top-notch right side with Hakimi and Ziyech
+ Solid central defense that allows few opposing chances
+ Great efficiency in the attack
+ Morocco have to work mainly against the ball, which works more in the team's favor
+ The psychological factor of winning the group

In favor of Spain:
+ Excellent ball control and pass stability
+ Long periods of possession that help control the game
+ Significant individual advantages, especially in the center of midfield
+ High level of tournament experience
---
The last duel
Morocco and Spain already met at the 2018 World Cup in Russia – back then in the group stage.
Even then, Morocco pushed Spain to the brink of defeat: In the first half, Khalid Boutaib scored for the Moroccans and Isco for Spain. It was not until the 81st minute that Morocco managed to make it even 2-1 through Youssef En-Nesyri, who was Morocco´s solo striker that time as well. Spain only equalized in stoppage time through substitute Iago Aspas. It was the only point gained by the Moroccans in this World Cup.
Possible opponents in the quarterfinals
The winner of the duel between Morocco and Spain will meet the winner of the round of 16 match between Portugal and Switzerland in the quarterfinals.
---
Morocco – Spain Over Under Prediction
The course of the match is quite easy to predict if you take a closer look at the previous matches of these two teams: Morocco will stand deep and let the Spaniards run the game, while the Spaniards will circulate the ball in the opponent's half and build up about 80% possession.
However, with the exception of the game against Costa Rica, Spain always had problems creating clear scoring opportunities. For the most part, the Iberians did not play well enough on the offensive. Morocco, meanwhile, relies on counterattacks and generally creates few clear-cut scoring opportunities.
Therefore, we expect a game with few goals and opt for a bet on "Under 2.5", i.e. a maximum of two goals scored in the game.

Morocco – Spain Prediction
It's possible that the two games in a row without a win will even be a small advantage for Spain. The players will already have plenty of pressure from their coach Luis Enrique and the time for sloppiness in the offense must come to an end for the 2010 world champions by now at the latest.
Morocco presented themselves strongly in the group stage, but they had to deal with teams that had major problems of their own – first and foremost the disappointing Belgians, who they managed to outplay in the closing stages.
The individual class of the Spaniards should be enough to put Morocco under permanent pressure and also force one or two mistakes again. Therefore, we expect a narrow victory for the Spaniards in this match.

Morocco – Spain Correct Score Bet
The Moroccans' very defensive approach will probably not make it easy for the Spanish to create clear scoring opportunities for a long time. At the same time, Spain's central midfield is good enough to prevent Moroccan counterattacks.
We bet that sooner or later Spain will be able to score a crucial goal to advance, thanks to the high quality in the attack.

Correct score 1-0 after regular time ➜ best odds 6.00 @ Bet365

Overlyzer Correct Score Betting Tip Morocco vs. Spain
---
FAQ – Questions and answers about Morocco – Spain at the 2022 World Cup
When does Morocco – Spain start?
The match between Morocco and Spain will take place on December 6, 2022 at 6 pm Qatar time. The match will be played at the Education City Stadium in al-Rayyan.
Where will Morocco – Spain be broadcasted?
In the United Kingdom the game between Morocco and Spain can be watched live on the BBC. In the United States Fox Sports will be the place to watch the game and in Canada the match will be aired on TNS. Fans from Morocco watch on SNRT, followers from Spain tune in to RTVE.
How did Morocco – Spain advance to the round of the last 16?
Morocco sensationally won Group F, beating Croatia, Belgium and Canada. Spain finished second only to Japan in Group E, but left Germany and Costa Rica behind.
Who are the possible quarter-final opponents for Morocco or Spain?
The winner of the match between Morocco and Spain will face the winner of the match between Portugal and Switzerland in the quarterfinals.
Who are Morocco´s best players?
The biggest star in the Moroccan national team is Achraf Hakimi of Paris Saint-Germain. His fellow full-back Noussair Mazraoui of Bayern Munich is also one of the team's top players. In addition, Hakim Ziyech, Youssef En-Nesyri and goalkeeper Bono must be watched closely.
Who are Spain´s best players?
Spain's best players can be found in central midfield. Top players like Rodri, Gavi and Pedri play here, as well as experienced key players like Koke or Sergio Busquets. In the attack, players like Ferran Torres, who has already scored two goals in the tournament, and Marco Asensio are also worth keeping an eye on.
How are the Morocco – Spain betting odds?
Renowned English bookmaker Bet365 offers odds of @6.50 for a win by Morocco. A draw and thus extra time brings odds of @3.75 and a win by Spain odds of @1.60.