Wales vs. Iran Prediction, Betting Tips & Odds | World Cup 2022
On the second matchday of Group B, two teams still waiting for their first win in the tournament meet. Wales are favorites to win against Iran, but the Welsh should be wary of the Asians.
We preview the match, give you our predictions for the game and present the best Wales – Iran World Cup betting picks.
Wales earned a point against the United States of America on matchday one thanks to a late penalty goal from Gareth Bale. Iran, on the other hand, suffered a 6-2 defeat at the hands of England, but they never let their guard down and put in a spirited performance.
The match will take place on November 25 at 1pm Qatar time at the Ahmed Bin Ali Stadium in al-Rayyan.
Latest betting odds Wales vs. Iran
Wales go into the match against Iran as slight favorites. At our bookmaker test winner Bet365 you get odds of @2.10 for a win by Wales and 22Bet offer odds of @4.02 for a win by the Iranians.
In case of a draw you can win back 3.20 times your stake.
---
Top Bookmaker for World Cup Betting
---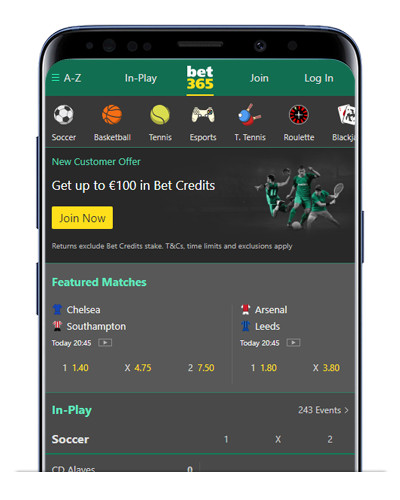 The most established name in world wide sports betting offers a huge range of betting options for new and experienced bettors. Bet365 is well known for great odds on sporting events from around the globe.
Bet365 Review
Sign up with Bet365 and get 100 €/$/£ Bonus
---
Wales vs. Iran Live Betting
---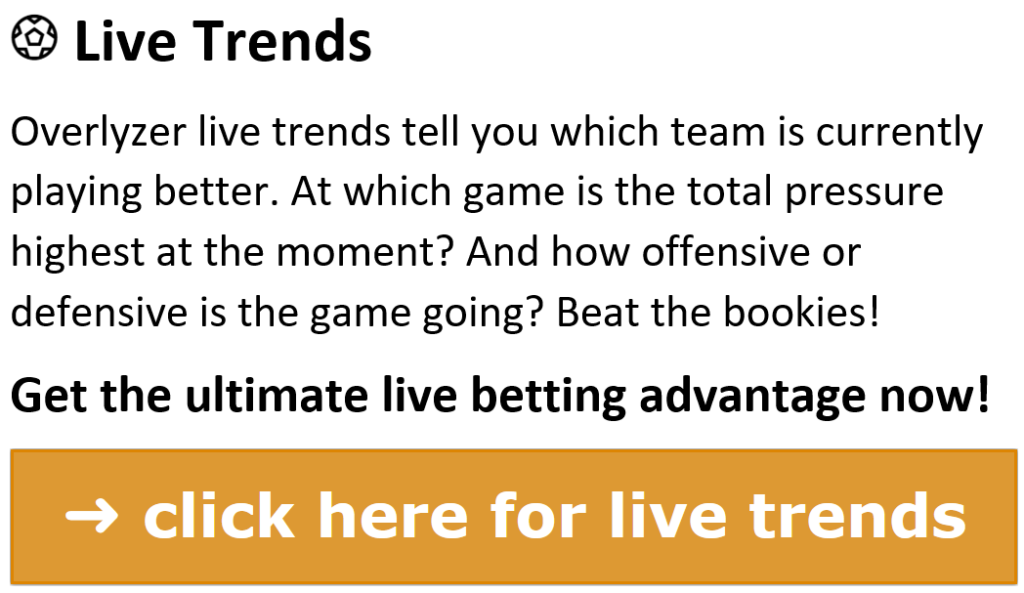 ---
World Cup 2022 Betting Wales vs. Iran
---
Wales World Cup 2022 Preview
The Welsh currently have a team that is a blend of young and old players, but they have not yet fully found their feet, as could be seen in the first match against the USA. Especially in the first half, the US boys were the better team and Wales were completely inactive until shortly before the break.
---
In the second half, the Welsh came back a little, but without being particularly convincing. Aging Welsh superstar Gareth Bale finally equalized from the penalty spot and earned a point against the USA.
However, the two players who have made an even bigger impact on the Welsh game were Ethan Ampadu of Spezia Calcio and, above all, Harry Wilson of Fulham FC, who together organized the Welsh midfield centre. The big downer: Both players had to be substituted against the USA in the final phase due to injury and it is still unclear whether they will be fit in time for the match against Iran. At the moment, however, it looks more likely that both will be ready to play.
This is extremely important for Wales, because with Joe Allen, an experienced defensive midfielder is definitely missing. Ampadu is normally a centre back, while Wilson is used more as a right winger. For Wales, however, this unusual pairing organizes the midfield centre together with the experienced Aaron Ramsey and that will also be an essential task for the otherwise not particularly confident Welsh in the next few games.
> Read all about the Wales World Cup squad
Wales previous World Cup matches
| | | | | | | | |
| --- | --- | --- | --- | --- | --- | --- | --- |
| Date | Opponent | Venue | Result | XG | Possession | Accuracy | Duels won |
| 22/11/2022 | USA | N | 1 – 1 | 1.17 : 0.86 | 41.56% | 81.09% | 41.30% |
---
Iran World Cup 2022 Preview
Iran lost their opening match against England 6-2 because they gave them far too much space as the game went on. But despite the heavy defeat – the highest in Iran's World Cup history – there were some positive aspects to the underdogs' game.
For example, solo striker and Porto star Mehdi Taremi was able to score two goals and the Iranians never gave up despite the English superiority. The period until Jude Bellingham scored the first goal after 35 minutes was also very encouraging, because in this phase the Iranians were able to keep the English away from their goal for a long time.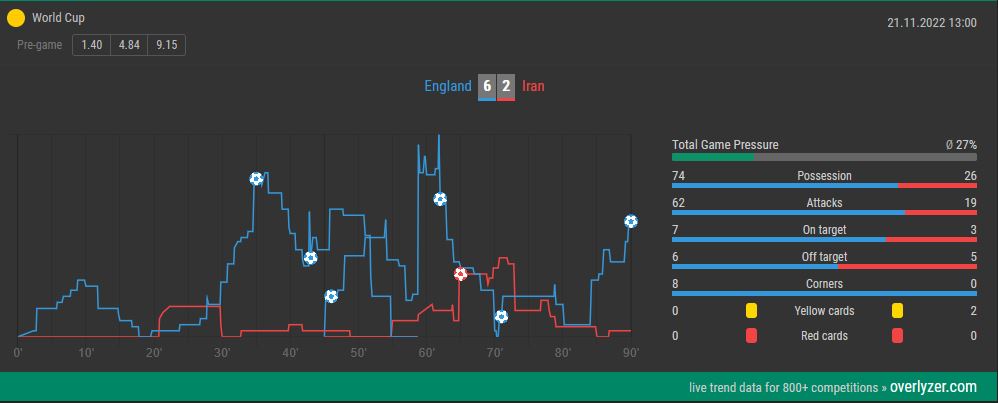 ---
In other situations, the Iranians defended too naively and invited the English to score goals. Nevertheless, Iran looked dangerous on the counterattack from time to time and the expected goals statistics paint a grotesque picture: Over the full 117 minutes of play, Iran scored more xGs than the English! This alone shows that the Iranians are a force to be reckoned with in the next few games.
#LaCrónicaDelMundial | El arquero de Irán, Alireza Beiranvand, quien sufrió una fractura de nariz y una conmoción cerebral, no volverá a jugar en la Copa del Mundo de #Qatar2022. pic.twitter.com/Gb9rTDppsB

— La Crónica de Hoy (@LaCronicaDeHoy) November 22, 2022
The team will be without first-choice goalkeeper Alireza Beiranvand, who suffered a fractured nose and concussion in a collision with a teammate in the match against England. With Amir Abedzadeh also not yet fully fit, Iran are likely to start the next few matches with third goalkeeper Hossein Hosseini.
> Read all about Iran´s World Cup squad
Iran previous World Cup matches
| | | | | | | | |
| --- | --- | --- | --- | --- | --- | --- | --- |
| Date | Opponent | Venue | Result | XG | Possession | Accuracy | Duels won |
| 21/11/2022 | England | N | 2 – 6 | 1.67 : 1.56 | 22.68% | 73.06% | 45.05% |
---
Team comparison Wales vs. Iran
In favor of Wales:
+ Gareth Bale is the most talented player on the pitch
+ Self-confidence after earning a late equalizer against the USA.
+ Key players Ampadu and Wilson will be fit
+ Iran have their backs to the wall after the 6-2 loss against England
In favor of Iran:
+ Mehdi Taremi scored already two goals and is in great shape
+ Despite a clear defeat against England, Iran showed a good performance
+ Wales have problems in decision-making against defensively well-organized teams
---
The last duel
Wales and Iran have only met once before in football history: in April 1978, the Welsh visited Tehran and won 1-0. The goal for the Welsh in front of 60.000 spectators was scored by defender Philip Dwyer.
---
Wales – Iran Over Under Tip
Both Wales and Iran are not necessarily considered to be teams whose matches produce many goals. Iran's first group match against England showed, however, that there are exceptions to this.
But precisely because the Iranians conceded half a dozen goals against England, we now expect a low result. Eliminating defensive weaknesses must be the top priority for Carlos Queiroz's team against Wales.
It will be easier for Iran to defend against Wales than against England. If the Iranians manage to stay as consistent for a longer period of time as they did against England in the first half hour, then this will be a real game of patience for the Welsh.
We are betting here that no more than two goals will be scored and our pick is therefore an "under 2.5".

---
Wales – Iran Prediction
One should not be deceived by the 6-2 loss against England: Iran is stronger than this result suggests and the experienced team also showed against the "Three Lions" that they can create scoring opportunities against big teams. Iran's team has an average age of almost 30 years and they will not be caught out a second time like they were on the first matchday.
The second match in Group B also showed that the Welsh are by no means unbeatable and for long periods the US had a firm grip on Wales. The fact that they have to dictate the game against Iran does not sit well with the Welsh either, and so a very unpleasant match could develop for the slight favorites.
We are betting on a draw here because Iran can field an extremely effective striker in Mehdi Taremi, who will also get his chances against Wales. In addition, we expect Iran to be defensively solid, which will not please the Welsh, who also like to play out of a secure defense
---
Wales – Iran Correct Score Bet
One goal by Bale, one goal by Taremi – and the draw is complete. As a correct result pick we will bet on a 1-1 draw this time because the Iranians will create their chances as they did against England and the Welsh will again only find a few clear opportunities against Iran's solid defense.
It would definitely be a result that would make Group B downright exciting before the last group matchday!

---
FAQ – Questions and answers about Wales – Iran at the 2022 World Cup
When does Wales – Iran start?
The match between Wales and Iran will take place on 25 November 2022 at 1pm Qatar time. The match will be played at the Ahmed Bin Ali Stadium in al-Rayyan, where Wales will also face England on the final matchday.
Where will Wales – Iran be broadcasted?
In the United Kingdom the game between Wales and Iran can be watched live on the BBC. In the United States Fox Sports will be the place to watch the game and in Canada the match will be aired on TNS. In Iran, the match will be broadcasted on beIN Sports.
How did Wales´ and Iran's first matches end?
Wales drew 1-1 with the USA on the first day of group play thanks to a Gareth Bale penalty, while Iran lost their opener 6-2 to England but put in a spirited performance for long periods.
Who are Wales' best players?
The Welsh side's biggest star is clearly five-time Champions League winner Gareth Bale, who now plays in the USA for Los Angeles FC. But with Daniel James and Brennan Johnson, two younger attacking players should also be watched closely. Ethan Ampadu and Harry Wilson are also key players for Robert Page's team.
Who are Iran´s best players?
Iran's biggest stars are attacking players. Mehdi Taremi, FC Porto's goal-scoring striker, and Sardar Azmoun, Bayer Leverkusen's powerful attacker, are the Iranians' best-known players. Taremi already scored two goals against England on the first day of group play.
How are the Wales Iran betting odds?
English bookmaker Bet365 is offering odds of @2.00 on a Wales win. A draw brings odds of @3.20 and a win by Iran comes with betting odds of @3.80.