Ladbrokes Review & Rating – Sports Betting Sites 2021
A household name for many, Ladbrokes is one of the most respected, quintessentially British bookmakers. As can be expected from such a well-established presence, the name Ladbrokes has a long history of bookmaking on track & turf, starting way back in 1886.
Although the betting shop's distinctive red and white sign can still be found on many high streets, Ladbrokes has also built up a considerable online presence in recent years, offering configurations for a wide range of sporting events with live betting and streaming at a very high level in the betting industry.
---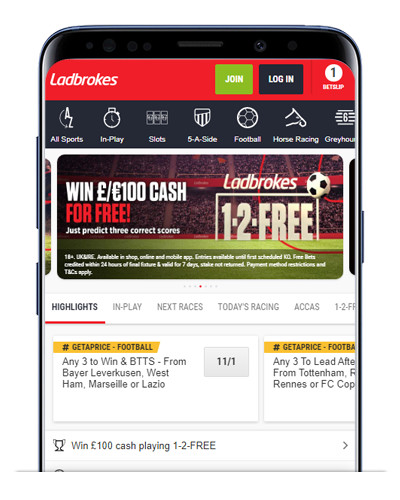 Ladbrokes is one of the most respected British bookmakers which has built up a great online presence in recent years. With a wide range of bets, live sports streaming and in-play betting, as well as some great online promotions Ladbrokes could be a good choice for advanced bettors as well as recreational players.
Sign up with Ladbrokes and get €/$/£20 in Free Bets
---
So, if you are looking to find out whether Ladbrokes could become your go-to bookie, read on. The following review will look beyond the bricks & mortar to the online sports betting world of one of the UK's largest bookmakers.
---
Ladbrokes Review & Top 3 Football Betting Sites
---
Important Key Data & Information About Ladbrokes
| | |
| --- | --- |
| Licenses: | Available in 21 countries worldwide, including the UK, Belgium, Germany (exc. Hessen and Schleswig-Holstein), Gibraltar and Australia. |
| Founding Year: | 1886 |
| Origin: | UK |
| New Customer Bonus: | Bet £5.00 get £20.00 in free bets |
| Sports: | 30+ |
| Customer Service: | Live Chat (via website) and email support daily 8 am-11 pm. Support via secure Twitter and Facebook Messenger 24/7. |
| Organization: | Ladbrokes Coral Group plc owned by the Entain Group, previously GVC Holdings |
| Head office: | London, UK |
| Sponsoring: | Almost £3.5m of the company's sports sponsorship is dedicated to horse racing. Otherwise, they sponsor the Rugby Football League Challenge Cup* as well as snooker and darts. * and the Scottish Professional Football League up until 2020. |
Please note that the information in this review is based on the https://sports.ladbrokes.com betting site and not the Australian Ladbrokes (ladbrokes.com.au).
---
Ladbrokes Betting Site, Mobile Site / App
The Sports section of the Ladbrokes website is populated with a wealth of information. This is well-managed with the easy-to-use navigation of a menu bar showing the most popular options across the top and a sidebar on the left listing all the areas that betting is offered in.
The details of events and main bets available appear in the center of the screen. Each match or event listed can be further expanded to show all types of bets available. Breadcrumbs are used throughout to ease navigation within each section.
---
Ladbrokes sports betting site appearance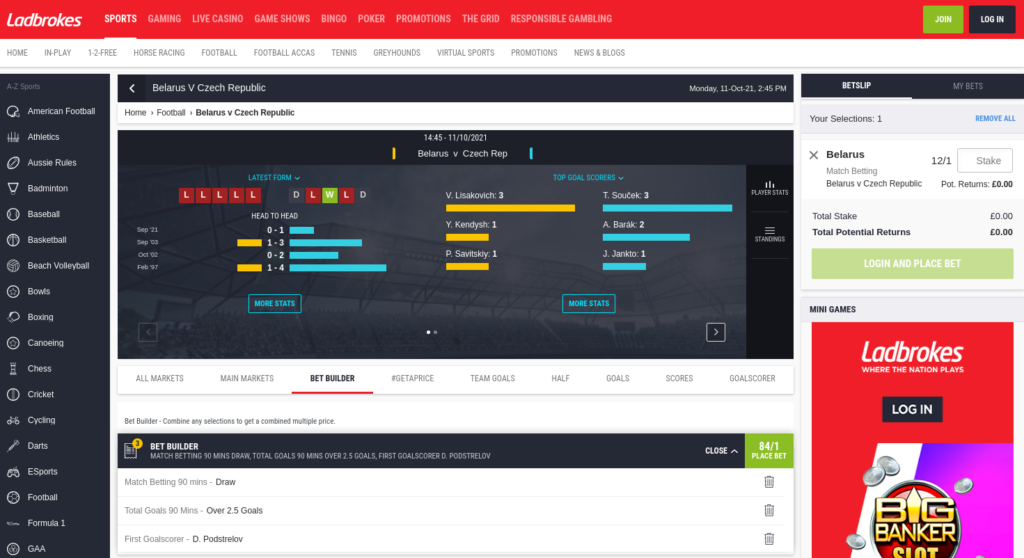 Once an account has been successfully registered with Ladbrokes and funded (see Deposits & Withdrawals below), placing bets online is simple. For each sport, the most popular events are shown at the top of the list. Events which feature In-Play (Live) Betting are highlighted. Taking football as an example, we found each match displayed with the match results odds, allowing a quick main bet selection by clicking on the corresponding odds button.
Clicking on a game produces a list of all available markets and odds. When a bet is selected, it gets added to the bet slip on the right-hand side of the screen. This is where all bets & odds picked can be viewed at a glance, stakes can be added/changed, potential winnings viewed and bets removed. Once the stakes have been entered, all bets on the slip can be placed in one step by clicking the Place Bet button.
For those who want to create their own custom bet combinations, a separate Bet Builder is available for sports like football and ice hockey. As bets are added, the Bet Builder slip slides up from the bottom of the screen (this can be minimized to save space). As each bet is added, the odds of the combination are recalculated. Once the bet is built, it can be placed with a click of the "Place Bet" button.
Ladbrokes betting site mobile appearance & app
Ladbrokes mobile betting site is well-designed and responsive to different screen sizes. Buttons & dropdowns are easy to select and the site is simple to navigate. The bet slip is minimized as an icon with a counter in the top right-hand corner of the screen. The Bet Builder appears in the same place as on the desktop version of the betting site.
---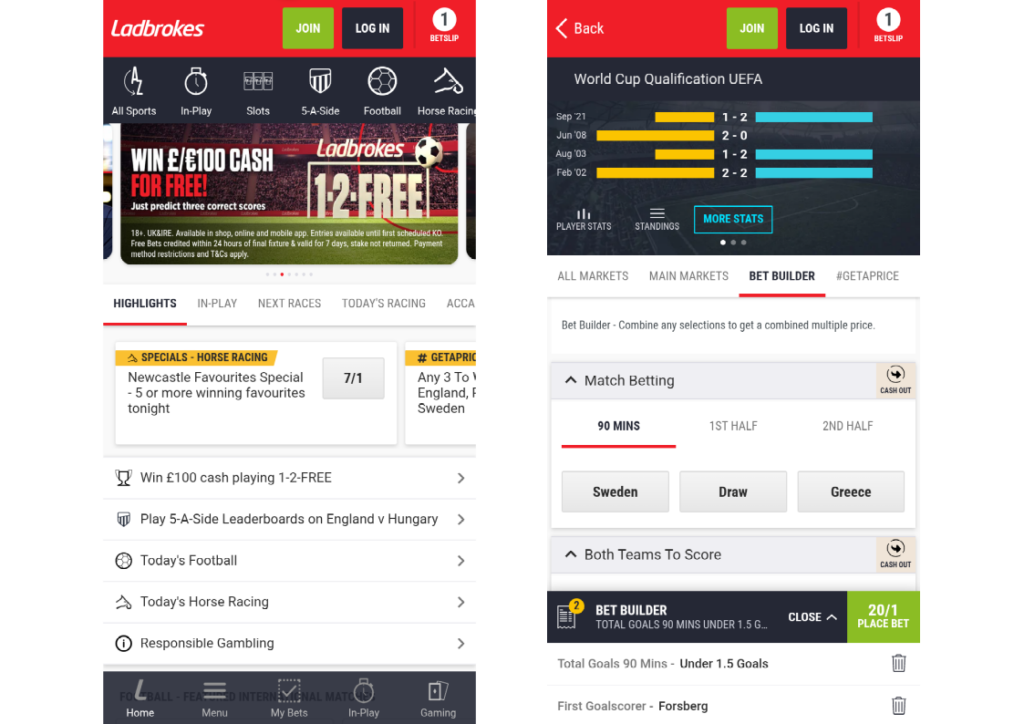 ---
The Ladbrokes mobile app is available free to download for iOS and Android. There is a specific app for sports betting (Casino, Bingo etc are separate apps), which is fully featured with all the same offers & functionality as the website.
---
Ladbrokes Sportsbook
Over 30 sports are available in the Ladbrokes sportsbook. These consist of a solid coverage of the sports dear to the British sports enthusiast's heart: football, horse racing, tennis and greyhound racing – and sports and leagues from all over the world, including, of course, American sports, but also Aussie Rules Football and Indian Premier League Cricket, among many others. Ladbrokes also offer bets on non-sporting events such as entertainment & politics.
As can be expected from such a well-established bookmaker, a large selection of betting styles and variations is available across all popular sports. This particularly applies to football: From simple match results bets, Over/Under betting to creative accumulators, handicaps, half time/full time scores/cards/corners and player performance forecasts – it certainly seems that if it can be bet on in the world of football, Ladbrokes has odds on offer!
The Bet Builder is a nice feature, allowing customized combination bets to be created and calculated easily. Long-term bets and special bets are also well-represented across all sports and events.
Ladbrokes In-Play live betting & live streams
Ladbrokes has the reputation for offering a very high standard in live betting. Featured on the sports betting site as In-Play betting, live betting is available for numerous events in over 20 sports – football, tennis, golf, cricket, to name but a few.
The listing of all currently live events can be accessed via the In-Play link in the main menu, and events that allow In-Play betting are individually highlighted in the section for each sport. Response times on in-play betting are very fast, increasing your chances of getting your bet accepted in good time.
Live streaming of events is available on both desktop and mobile, including via app. High quality live streams are shown for many competitions. Access is simply open to anyone logged in with a funded Ladbrokes account (i. e. an account with a positive balance).
Where live streams are not available or the user is not logged in, a graphic with a live scoreboard and statistics is displayed instead. This shows the main headers with all the latest important information and provides links to more in-depth player and match stats.
---
---
Betting Odds and Payout Rates at Ladbrokes
Does betting at Ladbrokes pay well? As can be expected with such a popular bookmaker, bets at Ladbrokes tend to show a good return on winnings. It should be remembered that, as part of the way odds are calculated, the bookmaker retains a small margin to cover costs, pay staff etc. The remainder, usually a percentage of 90 to 95 percent on average for most bookmakers, goes into the payout of winnings.
At Ladbrokes payout rates range from around 92 to just under 96 percent, depending on the sport and bet selected. The odds for each bet are individually calculated (outcomes with a higher probability will have lower odds) and can be adjusted by the bookmaker. Ladbrokes uses this in a good way by offering "Boosts" on certain markets for popular events to give their customers more attractive odds on high probability bets.
Ladbrokes Cash Out feature
The Cash Out feature provides a safety net when placing a bet. This handy feature is available on all sports, but only on bets clearly marked with the Cash Out icon. Clicking the Cash Out button on the bet slip allows the player to settle their bet before the market/event has been completed to secure a profit (or minimize losses) depending on how their selection is doing.
The price the bet will be settled at is likely to be different from the original stake, as it is calculated using a formula relating to the price at the time of the bet and the price at the time of the request to cash out.
Note that the Cash Out feature is not available for bets where one of the markets has been suspended or for large accumulators (> 14 legs).
---
Ladbrokes Registration and Bonus Promotions
Players resident in eligible countries can open a Ladbrokes account by clicking the Join button on the website, which then opens a pop up that allows the user to enter their information in three simple steps.
As well as choosing a user name and password for their account, the new customer will be asked to confirm their country of residence & currency, full name, date of birth, home address, phone number and email address. Ladbrokes will then use those details to run automated identity check.
---
Ladbrokes new customer Sign Up offer
To get new players off to a good start, Ladbrokes gives every new customer who stakes £5 (or EUR 5) on their first bet a bonus of £20/EUR 20 in free bets.
To qualify the initial bet needs to be made within 14 days of account opening, at odds totaling 1/2 (i. e. 1.5) or greater. Once the free bets have been credited, you'll have seven days to use them.
---
Regular promotions for existing customers
Part of the attraction that allows Ladbrokes to retain so many loyal customers are the well-thought-out promotions that are available on a daily basis.
Odds Boost / Price Boost / Acca Boost
Once a day Ladbrokes online customers receive an "Odds Boost" token in their account, which they can use to increase the odds of a bet of their choice (within certain limits) while retaining a lower risk level. This can turn a safer bet with lower odds into a more attractive earner. This promotion is limited to one use per customer per day.
Browsing the Ladbrokes betting site, one can find many events matches marked with a "Price Boost" icon. This means that for this event there are bets available where the odds have been adjusted to pay out larger wins. Here are some examples from the UEFA World Championship Qualifier match England v Hungary on 12-October-21:
Price Boosts are also available for bets that are part of an accumulator ("Acca Boost").
Best Odds Guaranteed
This is available on horse racing and greyhound racing, and means that if you place your bet at any time after the market opens on the day of the race, your odds will be updated if this will bring higher returns (rest assured, the reverse does not apply). Only available up until the start of the race, this offer does not apply to ante-post and Place only bets. Please note, this appears to be restricted to certain funding methods.
#GetAPrice
#GetAPrice is a feature which allows sports enthusiasts to design a bet on the go: tweet your combination bet or special bet idea to @Ladbrokes with the hashtag #GetAPrice, and Ladbrokes will respond with the odds and a link to place your bet. Originally largely aimed at football fans, #GetAPrice is now also available for cricket, NFL, darts and snooker. Popular #GetAPrice bets are also displayed on the betting site.
---
FAQ: The Ladbrokes Betting Account
Why do I need to register an account?
Registering an account with Ladbrokes will give you access to all of their products, including special promotions and livestreams. There is no charge for registering, and no binding obligation to make regular deposits or place a certain number of bets.

If you have a Ladbrokes on your high street, you can use "The Grid" to link your bets in-store to your online account to allow easier tracking of your results.
What is the ID verification process of the Ladbrokes account opening?
The ID verification process as part of the account opening ensures each customer complies with the following:

➜ is 18 years of age or over and above the legal age for gambling.
➜ is legally capable of entering into binding contracts.
➜ has not excluded themselves from gambling nor been excluded from gambling by Ladbrokes or any other operator.
➜ is a resident in an area that permits gambling.
➜ is not resident in a country listed under Ladbrokes' 'Restricted Territories' section.
What does "awaiting verification" on Ladbrokes mean?
When a new customer registration is received, Ladbrokes uses an automated service for the initial verification. If this fails, the customer may be asked to send in further documentation (e. g. a picture of passport, ID card or driving license) to verify their identity.

Until this has been completed and verified, the account will show as "awaiting verification ". Once the necessary documents have been received Ladbrokes usually takes around 24 hours to complete the verification process and open the account.
Can you have two Ladbrokes accounts?
In their Help section on Customer accounts Ladbrokes states that customers may open only one account. If any customer with more than one account is identified, the company may close such accounts.
How long do withdrawals take on Ladbrokes?
To withdraw funds successfully, you will need to use the same payment method that was already used to deposit. Available methods for withdrawal will be showing on the wallet page of the My Account section. The time it takes for a withdrawal to come through depends on the payment method used.
Can you get your money back on Ladbrokes?
Ladbrokes state that once a bet has been placed, it cannot be changed or cancelled. You should check that the details of your bet are correct before you place it. Once you have clicked on Place Bet, your money is essentially tied up in that bet.

However, for certain types of bet, a "Cash Out" option is available, which means that, if a player changes their mind, they can ask the bookmaker to end the bet early and refund some of the money.
---
Ladbrokes Deposits & Withdrawals
Ladbrokes stipulates that the payment method must be in the Ladbrokes account holder's name. No processing fees are charged for deposits or withdrawals. Minimum amounts apply, which should be the GBP (£) equivalent of your registered country 's currency.
Deposits
Ladbrokes offers the following methods for depositing money into your account. To encourage responsible gambling Ladbrokes allows for deposit limits to be set by the account holder.
| | | | |
| --- | --- | --- | --- |
| Payment Method | Type | Min. Deposit | Processing Time |
| VISA, Mastercard, Maestro | Debit Card* | £5 | Instant |
| Paypal | eWallet | £10 | Instant |
| Paysafecard | Pre-Paid Card | £5 | Instant |
| The Grid | Cash | £5 | Instant with Grid |
*From April 2020 you can no longer use Credit cards for gambling in the UK.
---
Withdrawals
For withdrawals, the same payment method should be used that was already used to make the deposit. Available payment methods for withdrawal will be showing on the wallet page of the My Account section. The following withdrawal methods are supported:
| | | | |
| --- | --- | --- | --- |
| Payment Method | Type | Minimum | Completed Withdrawal time |
| VISA, Mastercard, Maestro | Debit card | £5 | 1 – 3 Banking Days* |
| VISA Fast Funds | 'Visa Fast Funds' – Debit card/Prepaid card | £5 | Within 4 hours |
| Paypal, Skrill | eWallet | £5 | Within 8 hours |
| Fast Bank Transfer | Bank Transfer | £5 | 2 – 4 Banking Days * |
| The Grid | The Grid | £0.01 | Instant |
| Paysafecard | Pre-Paid Voucher/Wallet** | £5 | Within 8 hours |
*Depends on your bank's processing times, meaning it could take up to 5 banking days to reach your account.
**Not listed as a Withdrawal method available for UK accounts.
---
Ladbrokes Customer Service
When clicking on Contact Us link on the website, the customer is first asked to refer to the appropriate Help section. This displays FAQs that should be relevant to (and may resolve) the customer's query, and, if not, it will direct the query to the appropriate customer representative.
Four options are listed for contacting customer support:
Live Chat via the Ladbrokes betting site is available from 8am-11pm.
Secure private message on Facebook 24/7, average response time 5 mins
Secure private message on Twitter 24/7, average response time 5 mins
Email support via the web contact form.
---
More information about Ladbrokes
The company was founded in 1886, as commission agents for horses trained at Ladbroke Hall in Warwickshire, England. After 1902 Ladbrokes moved to offices in London. Initially Ladbrokes catered to the British aristocracy and upper classes. It is worth mentioning, that, unusually for the times, from 1919 onwards for many years Ladbrokes' principal longtime representative on British racecourses was a woman, Helen Vernet.
Ladbrokes became a household name after 1961 when betting shops were legalized in the UK. Now known as Ladbrokes Coral, the group has evolved and changed ownerships over the years, with the latest owner (since 2017) being GVC Holdings, now known as the Entain Group.
Ladbrokes is the major sponsor of all horse racing in Britain. Other sponsorships include the Rugby Football League Challenge Cup, snooker and darts, and, up until 2020, the Scottish Professional Football League.
Reach: The Ladbrokes Sportsbook…
… is going strong.
Although during the last year and a half, visits to high street bet shops may have decreased dramatically, Ladbrokes Coral remains as popular as ever. Entain Group (owners of Ladbrokes Coral and Betdaq, among others) recently reported that more than 150,000 customers visited its sports betting websites every minute during this year's Grand National race. [Source: Reuters]
The Ladbrokes Sports Android App has enjoyed over 1,000,000 downloads from the Google Play Store, and ranks as one of the most popular sports betting apps.
All Bookmaker Reviews by Overlyzer