Unibet Review & Rating – Sports Betting Sites 2021
Unibet has been established in the fluctuating online gaming market for over 20 years. This shows a level of stability that only a company philosophy based on conservative values and a large number of loyal customers can bring.
Furthermore, Unibet also knows how to convince with its offerings within the industry. This is born out by numerous awards. In 2019 and 2020 alone, the bookmaker won a total of 13 awards, including twice winner of the best "Sports Betting Operator" (EGR Nordics Awards 2019 and 2020) and "Socially Responsible Operator" (International Gaming Awards 2020 and EGR Nordics Awards 2020) and best odds awards.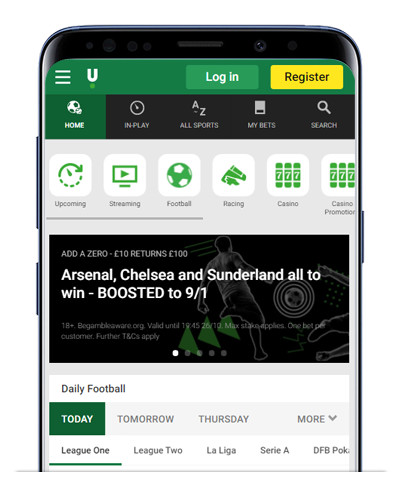 Founded in 1997, Unibet is one of the oldest bookmakers in the online betting business. A simple platform with a wide range of bets on offer and continuous innovation: these are the goals the company is committed to!
Sign up with Unibet and get 50 €/$/£ Bonus
---
Why is Unibet chosen by so many players, as well as a panel of renowned associations in the industry of top bookmakers? We get to the bottom of this question in the following review!
---
Unibet Overview & Top 3 Football Betting Sites worldwide
---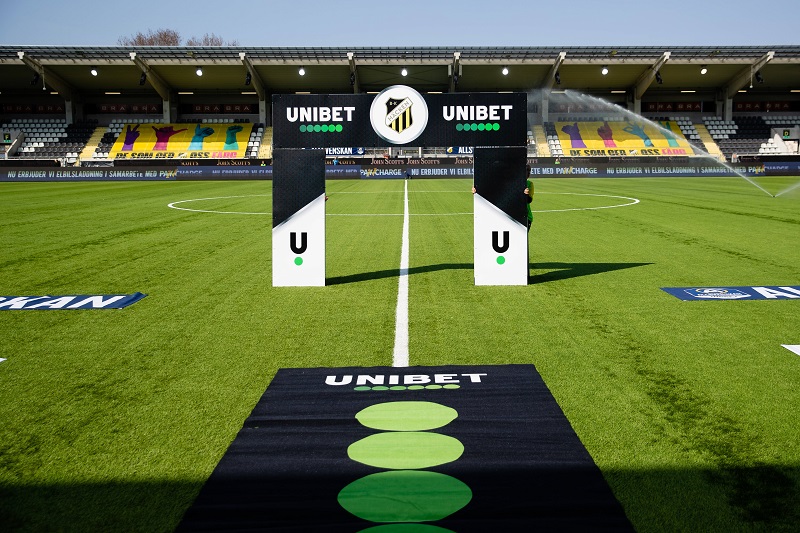 ---
Important Key Data & Information About Unibet
| | |
| --- | --- |
| Licenses: | 12 in Europe (including Schleswig-Holstein, Malta, UK), also licensed in 4 US states & all 6 states of Australia |
| Founding Year: | 1997 |
| Origin: | UK / Sweden |
| Sign Up Bonus: | 400% up to 80 Euro |
| Sports: | 25+ |
| Customer Support: | Chat, Email, German Support: 7-22h, English: 24/7 |
| Organisation: | Part of the Kindred Group, which is listed on the Stockholm Stock Exchange |
| Head office: | Malta |
| Sponsoring: | Amongst others: Sponsor of English football clubs (e. g. Southampton FC, Middlesbrough FC), darts (Premier League of Darts, European Darts Championship) and horse racing (Investec Derby, Cheltenham Festival) |
---
Unibet Betting Site, Mobile Site / App
In principle, Unibet is available for all end user devices, from PCs to smaller smartphones, via the browser at unibet.de or unibet.com. The website adapts automatically to respective screen size. For mobile users who prefer to use an app, Unibet offers a dedicated software solution for Android and Apple devices.
Navigation on mobile devices works via the horizontal menu bar at the top of the page; on larger desktops, the sports menu moves to the left edge of the screen. The actual betting offer, i. e. the matches and associated betting options, are displayed in the middle of the page, and the betting slip pops up at the bottom of the screen.
---
---
We would also like to highlight various features that we came across, that make placing bets easier, such as the Bet Builder and the search function. The popular Cash Out feature for the early settlement of bets is also available at Unibet.
In general, navigation paths are short and the various quick links and cross-references in the right places make it easy to switch between offers. All processes and account functions are self-explanatory, as they should be for a modern and well-designed website / app.
---
Unibet Sportsbook
It's no secret that Unibet founder Anders Ström is passionate about harness horse racing; trotters kindled his interest in sports betting at the local racetrack in Sala, Sweden. Nonetheless, the betting platform he founded supports a wide range of sports.
Customers can therefore expect a classic European-style sports book in which football takes the lead. The fact that the bookmaker was incorporated in England is quite clear, despite the Scandinavian origins of its founding father. This can be seen in the countless special football bets that are typical of British bookies, and in the general appreciation of diversity and the sports popular especially in the UK and the former English colonies, such as lacrosse, cricket, hurling and Gaelic football.
Speaking of football: The Unibet Sportsbook allows you to explore football all over the world, even leagues from Bhutan, Sudan and Peru can be found in the betting program. Naturally, the range of products and services includes the European leagues and competitions, as well as the major international tournaments. Well over 400 betting markets with a massive number of over/under bets per match are not uncommon here.
Tennis and handball are prominent in the sportsbook, as are American sports such as American football, baseball, basketball, golf and ice hockey. Motor sports, water sports and martial arts as well as various fringe sports (including table tennis, netball, darts, snooker and pool) complete the offering.
Worth mentioning is also the availability of long-term betting, that doesn't just allow a bet on the overall winner, but is also available on a number of tournaments and seasonal markets. In all, Unibet has a large ante-post programme. Season bets, for example, are also offered for numerous ice hockey leagues other than the popular US NHL, which is quite unusual. American football is also hugely represented in the long-term sportsbook, with countless player, team and coaching markets, plus bets on offer for the conferences and divisions.
---
Extract from the NFL season betting offered at Unibet:
Who will win the NFL championship?
Who will win the AFC / NFC championship?
Who will win in the Division?
Who is going to be MVP?
How many rushing yards / passing yards / passing touchdowns does player xy score during the regular season?
Which head coach will be the first to go this season?
Will team xy reach the play-offs?
Who will be Comeback Player / Defensive Newcomer / Defensive Player / Offensive Newcomer / Offensive Player / Coach of the Year?
Which state / division / conference will the championship winner come from?
---
---
Unibet Live Betting
Unibet's in-play program has the same focus as the pre-match range. Therefore the variety of betting markets available is outstanding, in particular those offered under "Action Betting". Aimed in particular at short-term event outcomes, these bring even more excitement to the already action-packed live betting.
Football sets the tone here, although almost all of the sports you can place pre-game-bets on are also available in the live betting center, even the Scandinavian baseball variant Pesäpallo. In connection with in-play betting, it is worth mentioning the Live Stream, which can replace the live animation on the Live Scoreboard. A label next to the each match indicates whether live images are available. Country restrictions must, of course, be observed.
---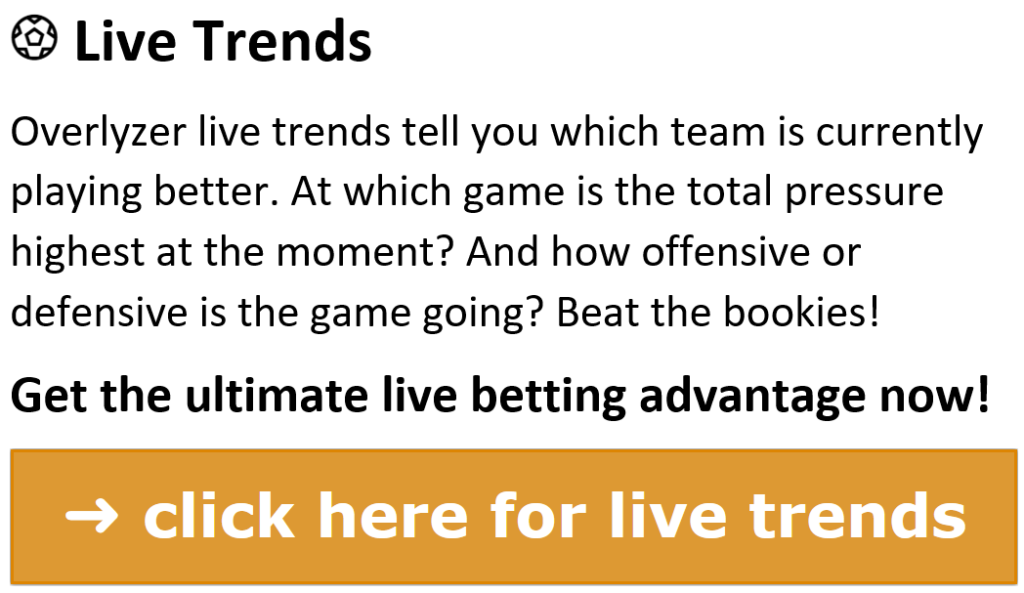 ---
If there is no live streaming available, the live animation makes it possible to follow what is happening on the pitch. A live scoreboard and match statistics complete the information on offer. All the relevant statistics are just a click away.
---
Unibet Betting Odds
At Unibet an average of 92 to 96 percent of the stakes goes into the payout of winnings. In order to determine the value for individual cases, all the outcomes of a bet offered must be included in the following calculation:
1 / (1 / Odds + 1 / Odds …) * 100
Our random checks have shown that the payouts at Unibet reach a high value, especially for the main bets – 1X2 in football or the two-way win bet in tennis. With a maximum of 97 percent payout, the 1X2 bet on events in the world of football or European championships, is most attractive. At least 95 percent is calculated to pay out for qualifying bets placed for matches of the major European leagues (German Bundesliga, Premier League or Champions League).
Unibet also calculates tennis bets on the basis of an attractive payout rate: a 95 percent payout turns Grand Slam bets into a match victory; the same applies to matches in the WTA and the ATP Tour. The payout rate for games in the smaller ITF and Challenger tournaments will be reduced slightly. Here Unibet retains up to eight percent as a profit margin.
The payout rate also reaches high values for the most important games in basketball and ice hockey. For example, 95 to 96 percent of the stakes on the match-win bets made are used to pay out on successful bets for games in the NBA and NHL.
Unibet Registration and Bonus Promotions
Players can open a betting account with Unibet by clicking on the "Register" button located in the header of the betshop page or app. The registration form leads you through the process step by step: Entering your email address, password, username and personal data is a basic requirement in order to be able to bet at Unibet. Registration is complete as soon as the registration link, which is automatically sent to the personal email inbox, has been clicked.
Requirements for opening an account with Unibet:
• Minimum age of 18 years
• Your own email address
• Resident in a country in which Unibet's offer is available
• There is no double registration (second accounts are not allowed)
• The account is opened for you and not a third party
When opening an account, players are invited to activate their new customer bonus immediately. This is a free credit that is made available to all new customers by the bookmaker.
---
100% Bonus up to 50 EUR for new customers
As is usual within the industry, the bonus for new customers is designed as a deposit bonus: On the basis of the customer's first deposit, Unibet will credit 400% free betting credit. This means that the amount of the bonus is based on the amount deposited. There is, however, an upper limit for the bonus: the bookmaker will contribute a maximum of 80 Euros. This sum can therefore be obtained with a deposit of 20 Euros.
---
---
Those wanting to transfer a smaller amount to their betting account will be entitled to the bonus on deposits from 9 Euros upwards. The free credit is then simply correspondingly lower (400% of 10 Euros, for example, is 40 Euros). Please note: Anyone who uses Unibet's new customer offer will have their funds tied up in the betting account until all the sales conditions of the bonus offer have been met.
The conditions of the bonus offer are as follows:
• 10 times the amount of the bonus must be bet – this means, with a bonus of 80 Euros, bets worth 800 Euros must be made
• There is no maximum stake for betting, but a minimum odds requirement of 1.4
• Combination bets, which are made up of live and pre-match bets, are not taken into account
• The deadline for fulfilling the betting requirements is 30 days from the activation of the bonus; bets to be counted must also be utilized within this period
Additional Unibet bonus offers and betting promotions
Unibet is one of the providers who regularly give bonuses to existing customers. Current offers can be found directly in the online sportsbook or by subscribing to the newsletter.
---
---
Unibet Deposits & Withdrawals
Betting stakes are debited from the betting account, winnings are credited there. Therefore, before a bet can be played, a deposit must be made into the account. This can be done by making a deposit using one of the options in the list of Unibet's supported deposit methods.
---
Deposits to Unibet:
| | | | |
| --- | --- | --- | --- |
| Method | Deposit Limits | Fee | Processing |
| Credit/Debit Cards | 10 – 13,000 EUR | none* | instantly |
| MyPaysafecard | 10 – 1,000 EUR | 3% | instantly |
| Instant Transfer | 10 – 10,000 EUR | – | max. 30 min. |
| Trustly | 10 – 1,000 EUR | none | max. 30 min. |
* Exception: Customers from Switzerland will be charged a 2.5% fee.
---
In order to enable withdrawals from the betting account Unibet also offers a range of withdrawal options.
---
Withdrawals from Unibet:
| | | | |
| --- | --- | --- | --- |
| Method | Withdrawal Limits | Fee | Processing |
| Credit/Debit Cards | 15 – 50,000 EUR | none | 1-3 working days |
| Trustly | 10 – 1,000 EUR | none | 3-5 working days |
| MuchBetter | min. 10 EUR | none | 1 working day |
| Skrill/Ecopayz/Neteller | 15 – 13,000 EUR | none | max. 12 hrs |
| Direct Banking | 10 – 100,000 EUR | none | 3-5 working days |
| Bank Transfer | min. 15 EUR | none | 3-5 working days |
---
When comparing the two lists, it is noticeable that not all payment methods are also available for withdrawals and vice versa. In general, withdrawals are made using the same payment method that the customer has chosen to top up the betting account. However, if this does not appear in the list of payout options, the customer can opt for another transfer option.
Unibet only charges fees in certain cases. For example, for deposits with the PaysafeCard or customers from Switzerland who make a deposit on their betting account with credit or debit cards.
Unibet Betting Rules
Concerning the upper and lower limits set for transferrable amounts, it is intended that they should be suited to both players with less money and high rollers. A payment option corresponding to the personal limit should be selected.
With regard to transaction limits, it should be noted that Unibet's betting account also has the option of setting personal deposit limits (by days, weeks, months). This offer is aimed at those players who want to restrain themselves a little, and make sure that they do not exceed their financial capabilities in the heat of the moment. For self- monitoring, it is also advisable to occasionally take a look at the account statement to check the transaction history of the last 90 days, and to reflect on one's own gambling behavior.
---
FAQ on verifying the Unibet betting account
Why do I have to verify my Unibet betting account?
During the process of verifying the betting account, the identity of the player is checked. On one hand, this is required by law. On the other hand, this serves to confirm the age of the customer as 18 years or older (= necessary prerequisite for betting) and to protect the account from misuse (identity theft, access by strangers, etc.).
Why did my Unibet betting account verification not work?
This can be due to the fact that the identity of the customer to whom the betting account is registered does not match the owner of the money account from which deposits and withdrawals are made. For security reasons, this is not allowed. If the verification process does not work despite matching data, customer service will help.
What documents do I need to verify my Unibet betting account?
A valid identity card, driver's license or passport can be presented to verify the player's identity. Bills (e. g. from the electricity supplier or Internet provider) and bank statements can serve as proof of address. The name on the documents must match the name of the player to whom the betting account is registered. In addition, the digital image of the document must be legible, not cut off, and signed. The selected payment method must also be confirmed by verification.
How long does it take to verify my Unibet betting account?
Once the documents have been submitted, Unibet's review will take place. This process can take up to five working days. As soon as a decision has been made (successful or rejected), or if there is a requirement for better documentation (e. g. because of an illegible document), the player will be informed.
How do I start the verification process for my Unibet betting account?
The verification of the betting account can be initiated by the player himself/herself via the account. From there the process is guided step by step.
---
Unibet customer services
If any questions arise while using promotions, the Unibet website or app, please contact customer services. The first point of contact should always be the Help pages that are linked to in the footer, i. e. in the information block at the end of the page. There you will also find the terms and conditions and security information – this is just for reference.
The Help pages themselves can be searched using key words, or by browsing through the various topics using the hierarchically organized navigation. Questions frequently asked by customers are also highlighted.
The user is advised to only contact customer services directly if the keyword search does not return any results. Two options are available for this purpose: Chat with an employee or contact us by email (info@unibetsupport.de).
Note on service times: German-speaking customer support is offered daily between 7 AM and 10 PM. Outside of these hours, however, you can chat with the English customer service, which is staffed 24 hours, seven days a week.
Finally, Unibet's blog and sports betting guide should be mentioned as additional help and information source. You can also contact the betting community or the Unibet social media team via the Unibet Germany Facebook page.
---
Further information on the bookmaker Unibet
Unibet was conceived by Swedish entrepreneur, Anders Ström. Founded by him in London in 1997, the bookmaker began as a telephone betting service to take bets from Swedish customers. The basis was a betting license issued in the UK in 1998.
In 1999 he switched his offers to the Internet, where he published both an English and a Swedish betting site. At that time he moved the operational business to Malta, where a local gaming license was obtained. In 2004 the company was finally listed on the Stockholm Stock Exchange.
Renamed the Kindred Group in 2016, Unibet has, in the meantime, grown into a group that unites numerous gaming brands under one roof, such as Maria Bingo and 32Red. Also taken onboard was the online sports betting business of the traditional English bookie Stan James, whose customer accounts were transferred to Unibet, and whose offering underwent rebranding.
Today the group operates in ten locations. Products from the sports betting, casino & games, poker and bingo business areas are sold in 20 languages and over 100 countries. These offers are used by a total of around 1.8 million active customers.
The main markets and business areas of Unibet Sports Betting and Casino *:
| | | | |
| --- | --- | --- | --- |
| Region | | Gambling Product | |
| Western Europe: | 69% | Sports betting: | 45% |
| Scandinavia: | 19% | Casino & Games: | 50% |
| Central and Southern Europe: | 8% | Poker: | 3% |
| Others: | 4% | Others: | 2% |
This information is based on gross annual turnover.
Anders Ström himself managed and led the bookmaker for a long time. It was only in December 2020 that the entrepreneur announced his retirement from his position as non-executive chairman. In future he intends to devote more time to other investments and to his family.
---
All Bookmaker Reviews by Overlyzer