Handicap Betting on Football – Tips and Strategies
The handicap is a commonly-used term in sports: More challenging conditions are created for stronger opponents, in order to bring the competition to a more even level. This is not a straightforward possibility in football and many other popular sports, but the handicap bet has still found its way into sports betting.
The principle remains the same: The handicap bet aims to even out unequal conditions that are the result of different performance levels. This is made possible by the fictitious reduction of the favorite's goal score by the bookmakers, or the addition of a number of imaginary goals to the score of the underdog.

Best Bookmaker for Football Handicap Betting
Massive Odds, wide range ob bets & high Limits at trusted bookmaker 22Bet

➜ sign up and get 122€ Bonus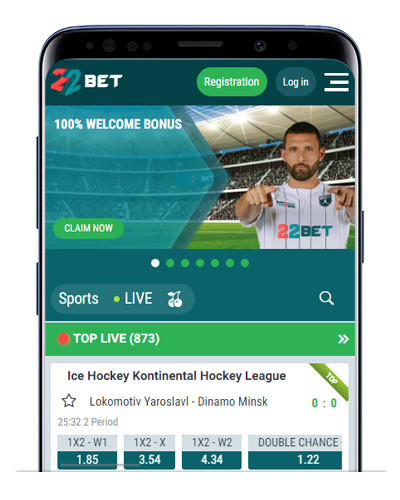 22Bet offers sports betting with high stakes and win limits. In addition, the betting company has a wide range of bets available. Customers who play with higher stakes and do not want to compromise on the betting selection will find 22Bet a great choice!
22bet Review
Sign up with 22BET and get 122 € Bonus
---
Handicap Betting Table of Contents

---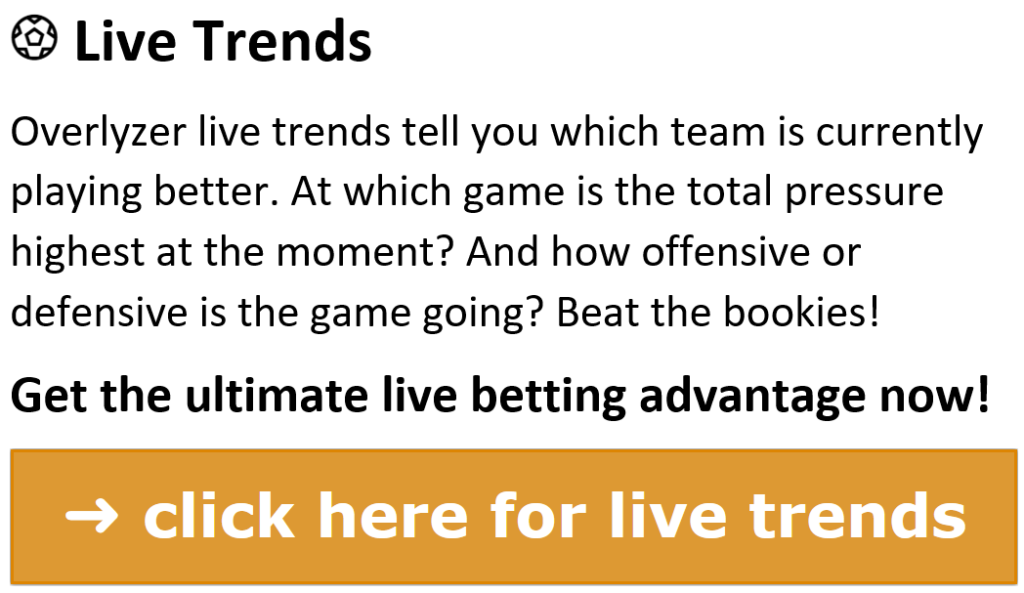 ---
---
The Handicap bet in football

The point of origin for the handicap bet in football is the 3-way-bet, where the outcome of the match after 90 minutes (plus added time, but without potential extra time) needs to be forecast. Therefore, three outcomes are possible: a win for the home team, a draw, or a win for the away team.

In order to level out a performance gap between the participants, imaginary goals are used to negate the difference in strengths. So, the bookies and punters have to ask themselves by how many goals a team is stronger.

In handicap betting, the opponents are sent into the match with fictitious "minus goals" or "plus goals", depending on from which team's perspective you look at the outcome. Written down, this bet selection appears with the prefix plus (+) or minus (-) as well as the number of goals.

For example, it is possible that the weaker home team gets a +1, while the stronger visiting team could be given a -1. Another way to reflect this consists of the virtual match score that results from the addition of the plus goal or the subtraction of the minus goal. In this instance, this would be 1:0.
Following on from this, to better illustrate the above, we will look at real-life examples. The first comes from Bet365's sportsbook, in which the annotation +/- is used. The second comes from Bookmaker Unibet, where virtual goals are shown as a match score.
---
Example 1: Appearance of the handicap bet at Bet365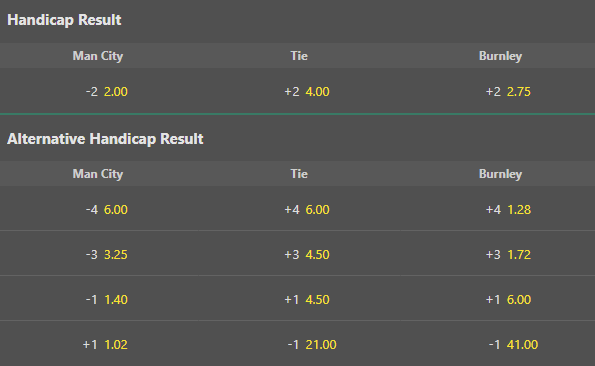 ---
Example 2: Appearance of the handicap bet at Unibet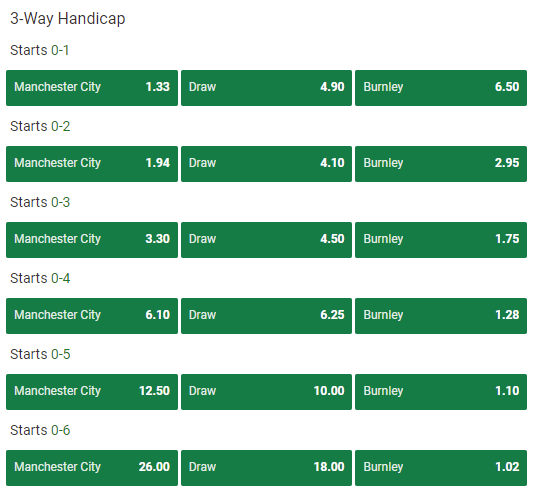 ---
Whether the bet is won or not in the end does not just depend on the match result after 90+ minutes, but also on the handicap; the decision is based on the match result plus/minus handicap goals. This is worked out as follows.

---
Example of how a Handicap bet is settled if a match ends 1:1
| | | | | |
| --- | --- | --- | --- | --- |
| Handicap | Result + HC = | HC Bet on Home Win | HC Bet on Draw | HC Bet on Away Win |
| HC 1:0 | 2:1 | won | lost | lost |
| HC 2:0 | 3:1 | won | lost | lost |
| HC 0:1 | 1:2 | lost | lost | won |
| HC 0:2 | 1:3 | lost | lost | won |
The example shows that with a +1 handicap just a draw is required for the bet to be placed on the team that you want to win. Whereas the team with the handicap of -1 has to score at least 2 more goals than their opponents to win the wager.

What the above examples clearly show, is that the original main intent of providing a level starting point for unequal match meetings, is no longer the only reason for handicap betting. After all a whole range of handicap options is offered for the majority of bets where there is a clear advantage for one side or the other.

There is something very important to bear in mind: With the redistribution of advantages, the betting odds change as well, which opens up new possibilities for punters. Now fixtures can become interesting that would have been left out without this betting variant.
---


A different handicap = a different probability = different odds

The connection between odds and probability is well-known. Different factors influence the calculation of the given odds, one of which is the probability that a particular event will occur. For example, in a 3-way football bet this would be 1, x or 2.

The probability of different outcomes again depends on the actual situation and the different skill levels of the two teams: Short-term and long-term performance are taken into consideration and the loss of injured key players is considered. Finally, there is also a big difference between home and away matches, which is also reflected in the betting odds.

To a certain extent the odds therefore reflect the chances of winning. As these chances are redistributed by the application of the handicap, so are the odds. Following on from this thought, it becomes clear what the appeal of the handicap bet is: Odds on favorites suddenly become more attractive, as soon as they are increased with a "minus" Handicap.

The handicap bet makes a wager on a stronger team more interesting

It is obvious that one would put a wager on the favorite because it is the safer bet and bound to bring in money. On the other hand, one would get correspondingly low odds. And so, to increase winnings, the wager would have to be increased, in which case the fact that a certain amount of risk always remains – even favorites lose occasionally after all – has to be considered, as well as one's available bankroll for betting.

Alternatively, you could choose a handicap bet, as it may be a better prospect to make an adjustment to lower the probability of winning, rather than risk a large chunk of your money.

Another area where handicap bets can be useful are so-called "patriotic" bets. In this instance, even though one's favorite club or national team may be hopelessly outclassed, a handicap bet can be used to show loyalty, without taking high risks.

The Asian Handicap as a Further Development of the Handicap Bet

At this time, the so-called "basic" handicap bet is no longer the only variation of this type of bet. After the turn of the millennium, a new form of gambling called "Hang Cheng Betting" spilled over from Asia into Europe. There, bookmakers created a new type of bet, now known as Asian Handicap (AHC) which turns the 3-way into a 2-way handicap.

The idea is so simple, it's genius: The unpopular "Draw" is removed, and winning chances that were previously 1/3 are thereby turned into a 50:50 chance. This is the biggest argument in favor of AHC betting.
But how does this work in real life? Written down, the Asian Handicap always appears in steps of half goals: 0.5 – 1.0 – 1.5 – 2.0 – 2.5 etc. Naturally one team again appears with a plus prefix and the other with a minus. The introduction of a half goal in this case means that a draw is impossible. So, this is where the AHC does its job.

At first glance, AHC does not appear to differ from the basic handicap bet when whole numbers come into play, because in this case a draw would still very much be possible. However, a draw is not listed in the betting offer. This is because a draw is hedged in the AHC.
So, this means that if the calculation of final score +/- handicap goals return a draw between the two teams, the player receives his original stake back. This can be illustrated with a real-life example:

---
Example for the evaluation of an AHC bet if the match ends 0:1

| | | | | |
| --- | --- | --- | --- | --- |
| AHC Home Win | AHC Away Win | Score + AHC = | AHC Bet on Home Win | AHC Bet on Away Win |
| + 0.5 | – 0.5 | 0.5:1 | lost | won |
| + 1 | – 1 | 1:1 | stake refunded | stake refunded |
| + 1.5 | – 1.5 | 1.5:1 | won | lost |
| + 2 | – 2 | 2:1 | won | lost |
As half goals are not always sufficient, there is also an Asian handicap with quarter goals. This is also referred to as split handicap or also as double Asian handicap.
With this type of handicap bet the player's stake is technically divided into two handicaps. So, this is a type of a split bet.

There are also two different ways of writing down this bet option. In the bookmaker's sportsbook a quarter handicap appears as "0.25" or also as "0, 0.5". The latter way of writing indicates the purpose: the bet is split between the Asian Handicaps of 0 and 0.5.
The value 0.25 lies exactly midway between those two AHCs and represents the same, namely that the stake of the bet is divided between the two adjacent handicaps.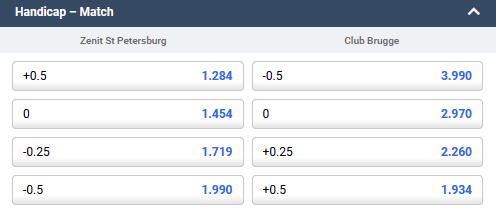 The player therefore covers two bets in just the one wager. For the calculation this means that both bets have to be considered separately. For a 10 EUR bet, 5 EUR are wagered on one result and 5 EUR on the other.

If only one of the two bets works out, 5 EUR will be multiplied by the respective odds, and if both bets succeed a win will be calculated using the total bet stake of 10 EUR. Again, in the case of a draw, the entire stake is returned. In real life this would look like this:

---
Settling an AHC bet with quarter goals if the match ends 0:1

Selections: Pick: Home, Bet stake: 10 EUR, Odds: 2.0

| | | | | |
| --- | --- | --- | --- | --- |
| Asian Handicap –> | +0.25 | +0.75 | +1.25 | +1.75 |
| | | | | |
| Partial Bet 1 | | | | |
| AHC: | 0.0 | 0.5 | 1.0 | 1.5 |
| AHC + Score | 0.0:1 | 0.5:1 | 1.0:1 | 1.5:1 |
| Bet Outcome: | lost | lost | stake refunded | won |
| Winning: | – | – | 5 EUR | 10 EUR (=5×2) |
| | | | | |
| Partial Bet 2 | | | | |
| AHC: | 0.5 | 1.0 | 1.5 | 2.0 |
| AHC + Score: | 0.5:1 | 1.0:1 | 1.5:1 | 2.0:1 |
| Bet Outcome: | lost | lost | won | won |
| Winnings: | – | 5 EUR | 10 EUR (=5×2) | 10 EUR (=5×2) |
| | | | | |
| Total Win: | – | 5 Euro | 15 Euro | 20 Euro |
| Net Win* / Loss | -10 Euro | -5 Euro | 5 Euro | 10 Euro |
* Total Winnings minus Stake
Conclusion: Which handicap should you choose and why?

The Handicap bet has several considerable advantages. The most important of those have already been mentioned.
This includes the improvement of odds for the favorite, or, alternatively, minimizing the risk of betting on an underdog. Additionally, with the Asian Handicap the number of outcomes is reduced from 3 two 2, which lowers the risk of the punter.

Another important consideration that has not previously been mentioned, is the way the odds are calculated. This dictates what percentage of the customers' bet stakes is used to pay out winnings. With the 3-way bet 1×2, the most popular type of wager, a payout rate of 92 percent or more is common. From 95 percent onwards, it can be classified as excellent.

This betting offer is, at least in the case of the most important European league games (German Bundesliga, Premier League, Champions League etc.), calculated mostly in favor of the customer, and is therefore extremely attractive. After all, the football 3-way bet, comparable to the price of everyday goods in a supermarket, is the most important flagship of the betting providers.

With other offers (lower ranking leagues or less popular types of bets, but also long-term bets) the bookmaker's payout key is not quite as attractive, to maintain a certain kind of balance. When following your betting strategy you always have to keep in mind that a betting site also has to pay its employees and, despite running costs, wants to make a profit at the end of the day.

For handicap bets, the odds are usually a little worse than for 3-way betting. The Asian handicap, however, is slightly different in that the bet is reduced to just two possible outcomes, because the draw is removed. This means that the payout rate is at least equal to that of a 3-way bet. This is shown in the following table, which compares the odds calculated by different bookmakers for the same bet.

A small reminder: The formula for the odds calculation for a three-way bet is
1/(1/Odds + 1/Odds + 1/Odds) x 100

Naturally this formula can be expanded – depending on the number of outcomes – or reduced to two (= 2-way bet with the Asian handicap).

Payout Calculation for Handicap Bets – Real Example Based on a Bundesliga Match

Bookmaker:
Bet-at-home
William Hill
Pinnacle
Bet365
Main Bet (1×2)
Home Win
1,99
2,05
2,07
2,00
Draw
3,75
3,70
3,92
3,60
Away Win
3,45
3,50
3,52
3,50
Payout Ratio*:
94,43
95,80
97,82
94,03
Handicap (Home -1)
Home Win
3,30
3,60
3,80
3,40
Draw
4,00
4,00
4,10
4,33
Away Win
1,76
1,67
1,847
1,72
Payout Ratio*:
89,19
88,76
95,38
90,38
Asian HC (Home -0.5)
Home Win
not offered
2,01
2,07
2,03
Away Win
not offered
1,81
1,862
1,87
Payout Ratio*:
–
95,24
98,02
97,34
Double AHC (Home -0.25)
Home Win
not offered
not offered
1,80
1,725
Away Win
not offered
not offered
2,13
2,075
Payout Ratio*:
–
–
97,56
94,19
* as a percentage, results rounded to two decimal places
---
Although the values in the above table are not a totally representative cross-section, the general trend here is true. An added advantage with regards to the Asian Handicap, is the slightly higher and therefore especially attractive payout ratio.
However, one disadvantage can also be noted: The Asian handicap, especially the quarter and three-quarter handicap (= Double AHC) is not offered by all betting sites.
---
| | | |
| --- | --- | --- |
| | Advantage | Disadvantage |
| Basic HC: | Better odds on favorites / less risk when betting on underdogs | Higher risk when betting on favorite / lower odds for bets on underdogs |
| Asian HC: | Reduces the possible match outcomes from 3 to 2, high payout ratio | Sophisticated type of betting, not always available |
| Double AHC: | Reduces the possible match outcomes to 2, spreads the risk with two independent bets | Sophisticated type of betting, with limited availability |
Availability of the HC Sports Bet by Sports Type & Bookmaker

As mentioned above, in football the handicap bet is usually found in connection with the 3-way bet. The three-way handicap after 90+ minutes is very popular with punters and for bookmakers it is one of the biggest revenue generators within the betting markets.
This can also be seen in all sorts of betting offers, where the basic handicap bets are listed right next to the most popular wagers. And so, the basic HC has become essential in the repertoire of a good football sportsbook.
➜ betting sites for highrollers

Quite apart from this, handicap betting has been developed further meanwhile. To add variety, many bookmakers have introduced the possibility of using a handicap bet not just for the total (90+ minutes) match time, but also as a wager on the outcome of the first and second halves of the game, respectively.

Besides the half-time handicap bets, however, there are other innovations that the betting providers have come up with. For example, you can no longer just bet on the number of goals, but also how many corner kicks will occur in a match.
This is also very suitable for a handicap bet and well-known bookmakers like Bet365, William Hill and Pinnacle make regular use of this possibility.

---
Example William Hill: 3-Way Corners Handicap

---
In contrast, the Asian markets, i.e. all types of Asian handicap betting, are less varied and less widespread. This applies to all types of Asian handicap (including quarter and three-quarter handicap). It is rarely offered at Bet-at-home, while Pinnacle and Bet365 tend to offer this type of bets more often.

Finally, it should be mentioned that the handicap bet is not just restricted solely to the world of football. Its area of application also includes tennis, basketball and ice hockey. As, of course, no draw is possible for the first two mentioned, these are available as 2-way handicaps only.
---
All types of betting markets explained