Asian Handicap Betting explained » odds & bookmakers
The Asian handicap got its name because it was invented by an Indonesian bookmaker. The popularity of this type of bet began to increase in the early 2000s, because it allows hedging towards different directions for the sports bettor.
---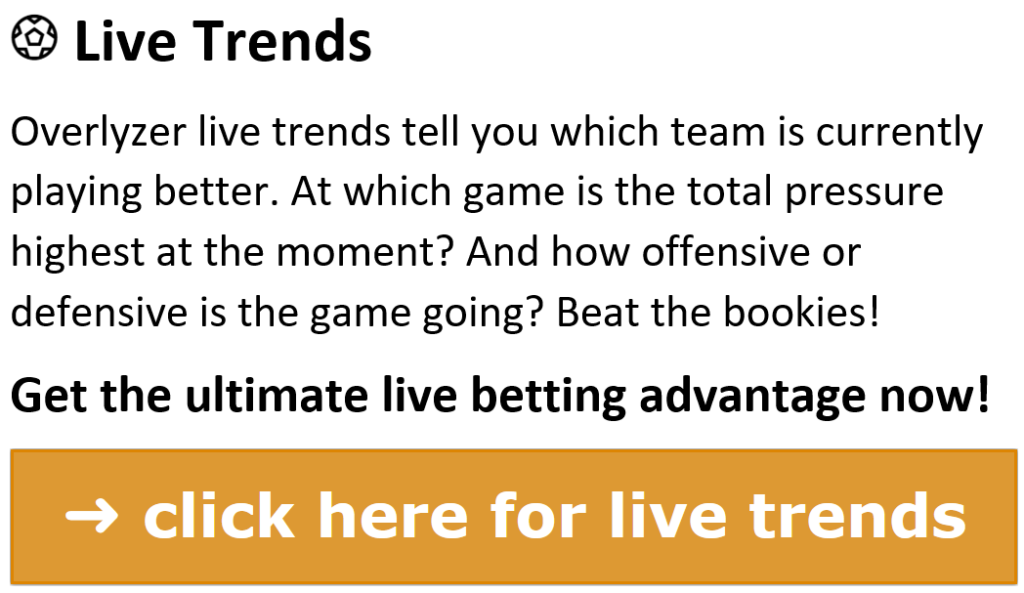 ---
The easiest way to illustrate the Asian handicap is with a table. Beneath the table, we are explaining in more detail what the quarter and three-quarter points are all about. In the top line of the table you can see the final result of the game, while on the left the different handicap variants.
Asian Handicap Betting – massive odds, high limits & 122 Euro bonus at 22Bet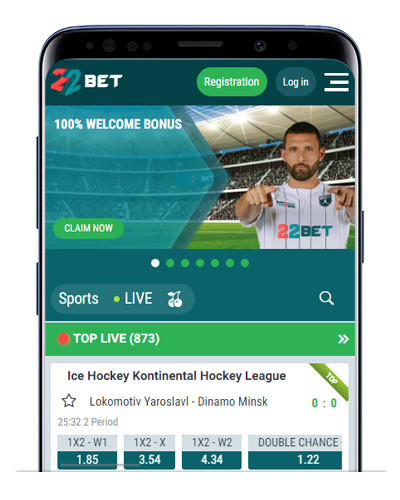 22Bet offers sports betting with high stakes and win limits. In addition, the betting company has a wide range of Asian Handicap bets available. Customers who play with higher stakes and do not want to compromise on the betting selection will find 22Bet a great choice!
22Bet Review
Sign up with 22BET and get 122 € Bonus
---
In relation to Asian handicaps with quarter and three-quarter steps, bets can also be won or lost with half the stake. The other half is returned to the player as cashback.
---
---
Two concrete examples, which can also be seen in the table above:
You bet on an "AHC -1.25" and the game ends 1-0. In this scenario, you get half of your stake back and you lose the other half.
You bet on an "AHC -0.75" and the game ends 1-0. In this case, it is exactly the opposite: you get half of the stake back and you win with the other half.
Specifically, these intermediate steps, which are unusual at European betting sites, mean nothing more than that your stake is divided between two betting outcomes. Therefore, if you play an AHC -1.25 with 100 €, then you are basically playing 50 € on an AHC -1.00 and 50 € on an AHC -1.50. This is sometimes also indicated by the respective betting sites offers, which then looks like this – for example: "AHC -1.25 (-1, -1.5)".
➜ check all sportsbooks reviewed by Overlyzer
Another example to illustrate the Asian Handicap: You bet 100 € on an "AHC -1.75" – or as it is displayed by some providers: "AHC -1.75 (-1.5, -2.0)". The odds for this bet in our example are @ 2.00. The game ends 2-0.
As a result, you win half of the bet that relates to the "-1.5". Half of your stake (50 €) results in a profit of 100 € due to the odds @ 2.00
The other half of the bet that is on the "-2.0" gives you cashback. You will get the other half of your stake back (50 €) due to the Asian Handicap.
With your 100 € you earn 150 € or a net profit of 50 € with this bet.
---
---
➜ grab the ultimate live betting advantage with Overlyzer now!

Beat the bookmakers! Register at Bet365 and get 12 months full access for free!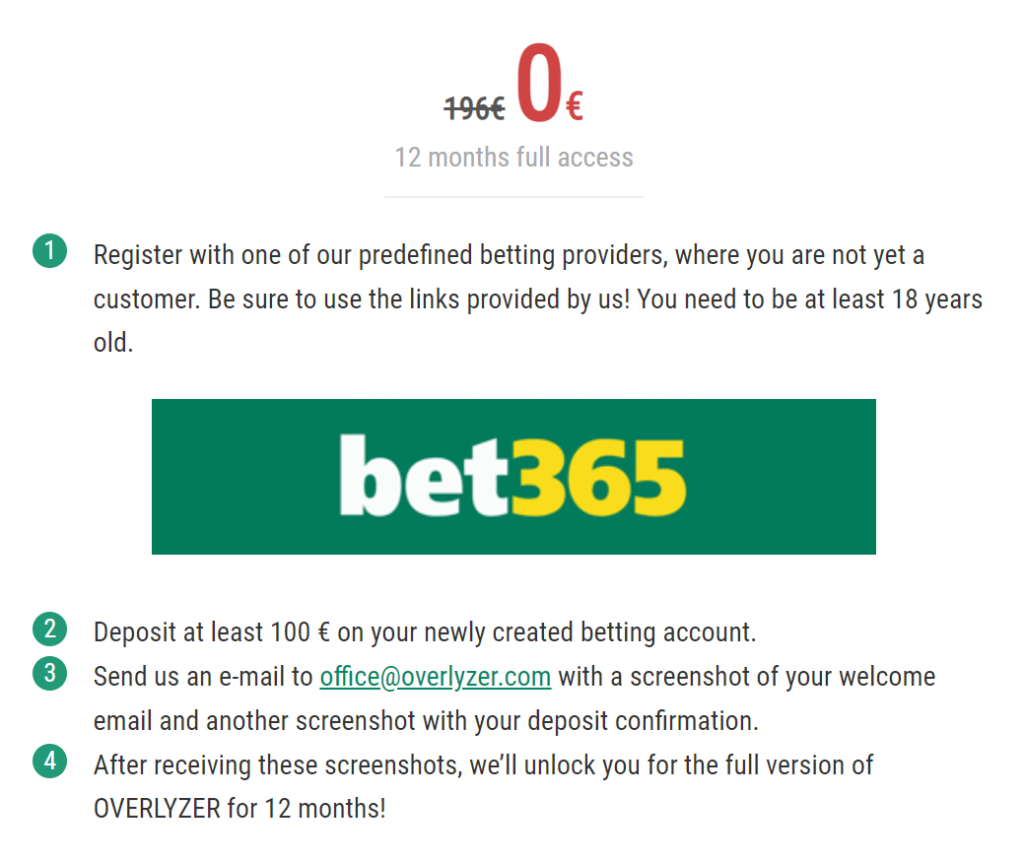 ---
The Asian over / under
As we have already mentioned with the Asian handicap bets, there is also the option of placing Asian over bets and under bets. As with the handicaps, it is not only possible to bet on half steps, as with normal over and under bets, but also on whole steps, as well as quarter and three-quarter steps.
The concept works in the same way as with the handicaps. In this table we give you an example of how your bet will be evaluated if you place an Asian over or under.
---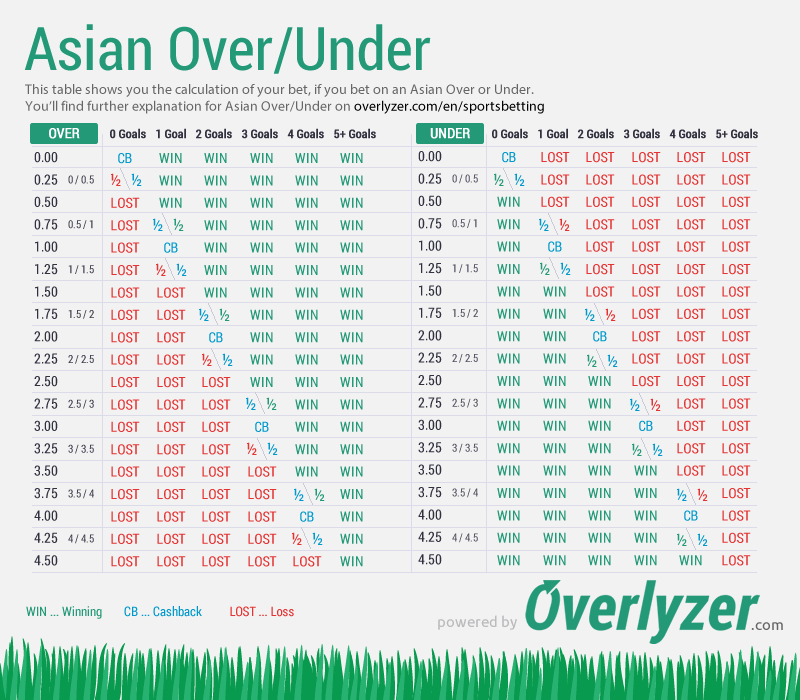 ---
As you can see, the Asian over/under bets also offer some protection and some lucrative cashback options. Taking into account the fact that over/under bets are very volatile and depend heavily on the course of the game, such bets are practically indispensable for a professional bettor.
Here, we will also provide two examples:
You bet 100 € on an Asian over 1.25 and the game ends 1-0. You have lost 50 € of your stake and you will be refunded 50 € as cashback.
You bet 100 € on an Asian over 1.75 and the game ends 2-0. The odds on the Asian over 1.75 were @ 1.50. Half of your stake will be refunded as cashback and with the other half you will win. In this case, 50 € at odds of @ 1.50. So, you win 75€, get 50 € reimbursed and make a net profit of 25 €.
All types of betting markets explained