Australia at the 2022 World Cup – Betting Odds & Tips
Australia is an underdog at the 2022 World Cup. Also because of the strong group, in which the "Aussies" have to play.
We dare to predict whether Australia can still surprise at the World Cup, provide you with the best Australia World Cup tips and look at the squad in detail.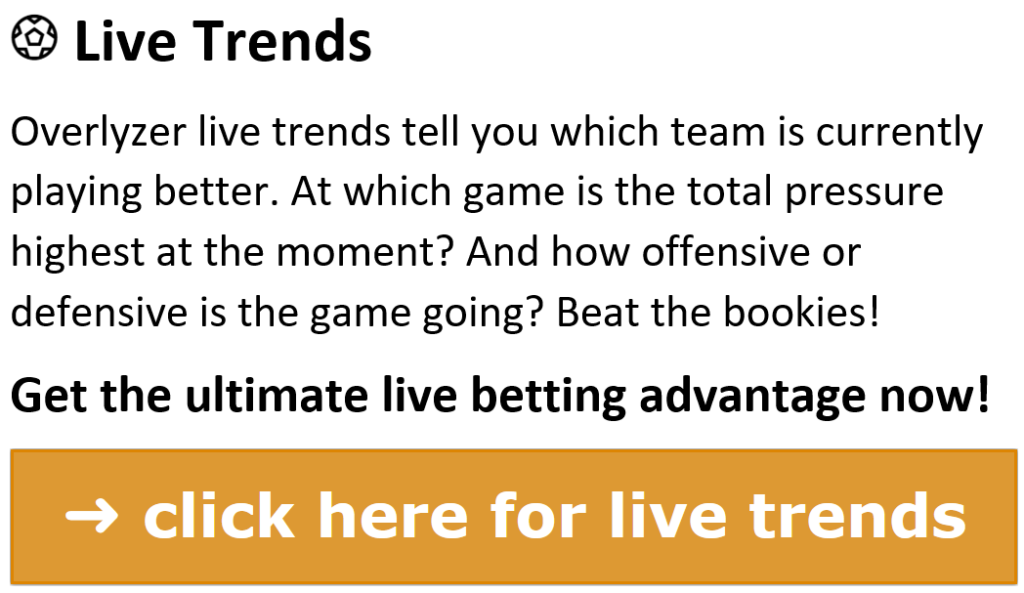 ---
Betting on Australia at the 2022 World Cup
---
---
Best Bookmaker for World Cup Betting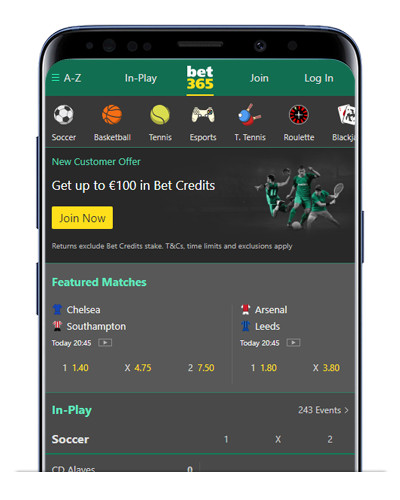 The most established name in world wide sports betting offers a huge range of betting options for new and experienced bettors. Bet365 is well known for great odds on sporting events from around the globe.
Bet365 Review
Sign up with Bet365 and get 100 €/$/£ Bonus
---
World Cup betting odds for Australia
Football World Cup 2022 Winners Odds – top bookmakers
Australia is one of the biggest outsiders at the 2022 World Cup. At our top Sportsbook 22Bet, there are odds of @575.00 for Australia to win the World Cup, which means the betting sites rates only five nations weaker than the sole participant from Oceania.
➜ Australia to be world champion @ 575.00 / 22Bet
Of course, the passage of the "Socceroos" all the way to the final is also extremely unlikely.
While Australia is often a popular choice at World Cup finals because the team is known for fighting sacrificially and not giving up, the Australians are also missing the real top players from top European leagues this time. A betting tip on Australia reaching the final will bring 151-times the stake.
➜ Australia to reach the World Cup final @ 151.00 / 22Bet
First of all, it is important for the Australians to get through the group – which will already be difficult enough. In Group D, France and Denmark are clearly favored over Australia and Tunisia.
Getting through against the reigning World Champions and one of the dark horses will require tactical mastery above all else. Australia will naturally focus on defensive play and try to hold the "zero" for as long as possible.
But in order to win the group, goals will be needed in the end – and this is where the problem will lie…
➜ Australia to win Group D @ 21.00 / Bet365
Especially against qualitatively superior teams, Australia is not necessarily known as a high-scoring football nation. Accordingly, an Australian top scorer at the 2022 World Cup would be as unlikely as the World Cup title itself.
The bookmakers see the two center forwards Jamie Maclaren and Mitchell Duke, as well as right winger Martin Boyle, tied. We reckon that the 186cm (6'1'') tall Mitchell Duke has the best chance of scoring – though of course not so many that the title of World Cup top scorer is somehow realistic.
Jamie Maclaren to be World Cup top scorer @ 251.00 / Bet365
Martin Boyle to be World Cup top scorer @ 251.00 / Bet365
Mitchell Duke to be World Cup top scorer @ 251.00 / Bet365
✚ check odds for World Cup top favorites
---
Current form and results
Australia has played quite a good international year so far, but has hardly been challenged in terms of quality. In the course of the Asian World Cup qualifiers, for example, the team lost to Japan and Saudi Arabia, but then prevailed in the decisive match against the United Arab Emirates.
The team eventually had to play one single deciding playoff match against a South American representative, which was only won after a penalty shootout. Against Peru, the game was still a goalless draw after 120 minutes before it was decided in favor of the Aussies from the spot.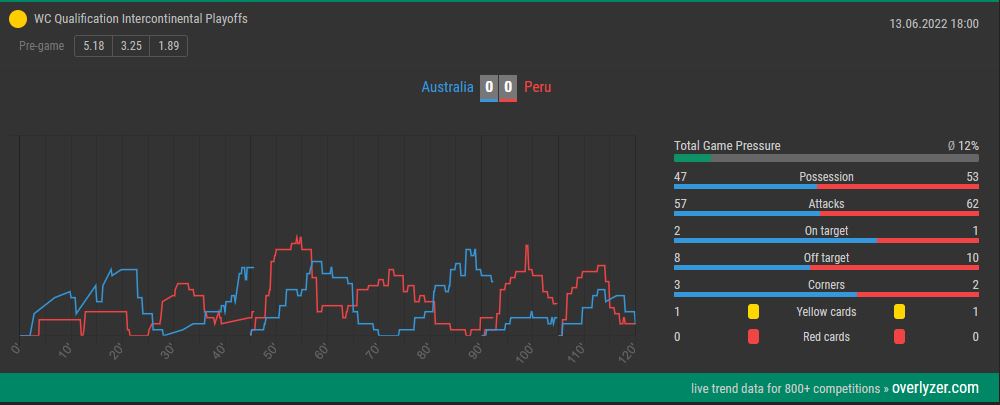 ➜ Register here to access our real-time data!

Beat the Bookmakers!
---
In test matches, too, the Australians have so far failed to produce any real thrillers. The only friendly match of the first half of 2022 was against Jordan, where they won relatively cool, 2-1. In general, the Australian team's record for the year is encouraging, but there have been no real benchmarks to give an indication of the team's quality.
In September, Australia played two international matches against their neighbors from New Zealand. The Socceroos won the first match in Australia 1-0, and the away match in New Zealand 2-0. In the first match it was evident that the Australians are still a little rusty.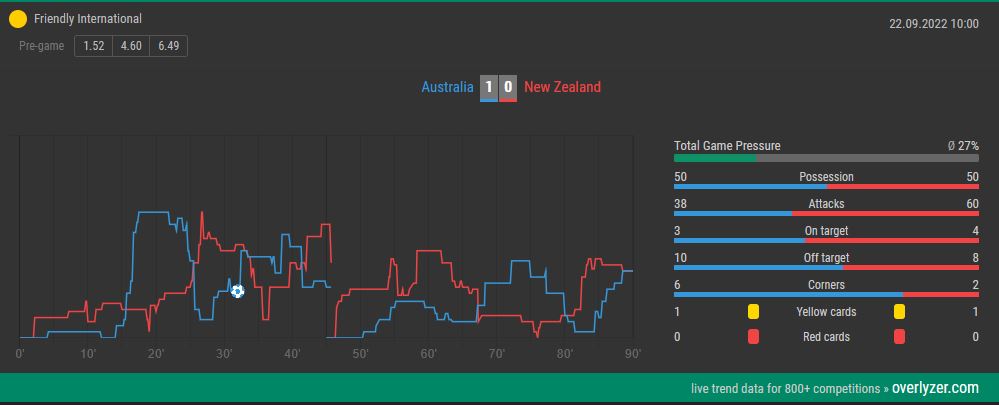 The most pleasing thing about the test games against New Zealand was the fact that the attackers scored. In the first match, left winger Awer Mabil scored the winning goal, and in the 2-0 win in New Zealand, in which Australia played much better, the two center forwards, Mitchell Duke and Jason Cummings, scored. Cummings, however, scored from the penalty spot.
However, the Australian lineup also showed that not all of the top players were involved. Some players signed to European clubs did not take part in the games against New Zealand.
---
Funfact: Australia resigned from the Oceania Football Confederation in 2005 and switched to the Asian Confederation AFC. This was done to increase their chances of participating in World Cups. As a member of the Oceania federation, they were virtually always dependent on a playoff match against a South American opponent. In Asia, however, Australia can also qualify directly for the World Cup. With success: Since then, Australia has not missed a single World Cup!
---
Further preparation and test matches
Currently, no further preparation matches of the Danish national team are scheduled.
We update this page continuously and inform you immediately as soon as new dates for friendly matches are determined.
Australia International Games in 2022
| | | | | | | | |
| --- | --- | --- | --- | --- | --- | --- | --- |
| Date | Opponent | Venue | Result | XG | Possession | Accuracy | Duels won |
| 27/01/2022 | Vietnam | H | 4 – 0 | 1.49 : 0.83 | 59,73% | 87,60% | 46,81% |
| 01/02/2022 | Oman | A | 2 – 2 | 1.74 : 1.21 | 54,77% | 83,19% | 46,51% |
| 24/03/2022 | Japan | H | 0 – 2 | 0.83 : 2.12 | 44,56% | 80,90% | 48,82% |
| 29/03/2022 | Saudi Arabia | A | 0 – 1 | 0.87 : 1.58 | 45,13% | 82,35% | 47,40% |
| 01/06/2022 | Jordan | N | 2 – 1 | 3.26 : 0.31 | 54,88% | 85,04% | 50,41% |
| 07/06/2022 | UAE | A | 2 – 1 | 1.24 : 0.66 | 47,14% | 89,19% | 43,85% |
| 13/06/2022 | Peru | N | 0 – 0 | 0.43 : 1.04 | 47,54% | 85,11% | 46,04% |
| 22/09/2022 | New Zealand | H | 1 – 0 | 0.79 : 0.67 | 50,62% | 87,05% | 43,85% |
| 25/09/2022 | New Zealand | A | 2 – 0 | 2.02 : 0.63 | 54,64% | 85,83% | 50,73% |
---
You don't want to miss any match and see at a glance which team is currently better than the opponent in over 1,000 leagues and competitions?

We recommend you to ➜ register at overlyzer.com

with Overlyzer you can follow LIVE GAMES from 160+ countries, save filters according to your betting behaviour and re-load them at any time. This way you become a professional live tipster and secure yourself a clear advantage over the bookmakers!
---
Match Schedule Australia at the World Cup 2022
Australia starts the tournament with the most difficult match. In al-Wakra, coach Graham Arnold's team will face World Champions France.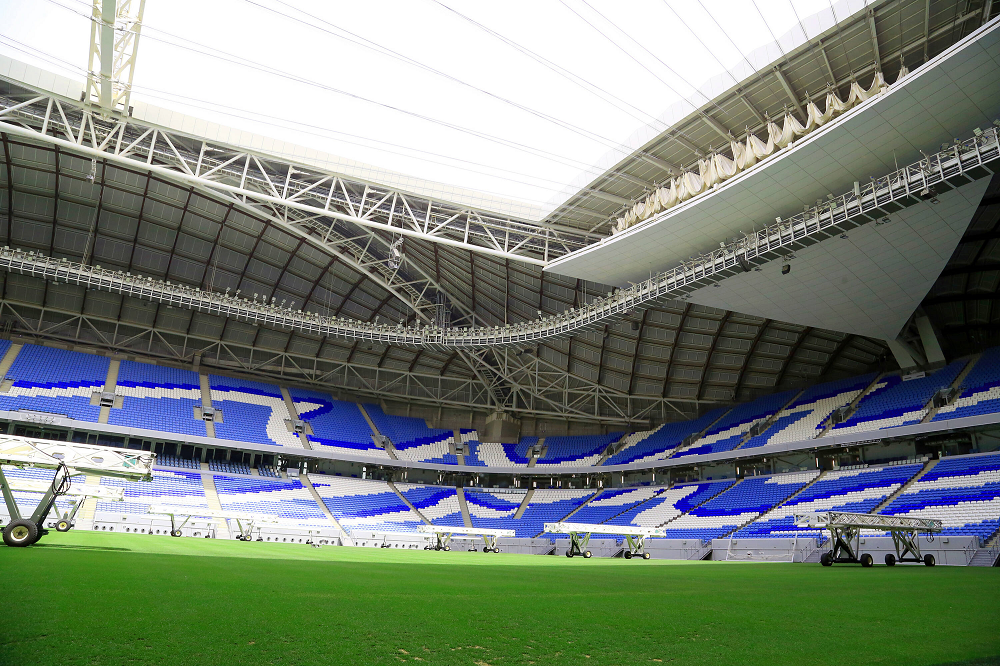 ---
The second match won't be much easier either: Denmark awaits in a weekend match on November 26 before Australia faces Tunisia in the last game of the group stage, which the bookmakers see slightly weaker than the Australians in the run-up to the tournament.
---
Australia's World Cup squad
Australia is fielding a team completely devoid of star players this year. In the past, they offered at least continental stars like Tim Cahill, Marc Schwarzer or Brett Emerton, but such identification figures are missing in 2022 in the "Socceroos" squad. We take a look at the strengths and weaknesses of the Australian national team and analyze the team parts in detail.
Australia goalkeepers
The 30-year-old goalkeeper Mathew Ryan is basically the biggest star of the Australians. However, the former Brighton, Valencia and Real Sociedad goalkeeper has had some difficult times recently and has not always been first choice. At his current club, FC Copenhagen, he's also mostly a sub. So he already has his best times behind him and could travel to Qatar with a lack of match practice. However, you can't deny him basic qualities.
GK – Mathew Ryan (Copenhagen)
GK – Andrew Redmayne (Sydney FC)
GK – Danny Vukovic (Central Coast Mariners)

Australia center backs
Australia could have problems in central defense due to injuries. The clearest starter for the Australians is currently Stoke player Harry Souttar, but his participation in the World Cup is far from assured. The 201cm (6'6'') tall defender is suffering from a torn cruciate ligament and is not expected to be fit until shortly before the start of the tournament. The same applies to Kye Rowles, who is currently recovering from a broken foot.
---
➜ best sports betting strategies

14 Strategies to beat the bookies!
---
As a result, Australia could face the problem of having to field more of a second row in central defense. Players like Degenek and Wright have plenty of experience, but whether they can defend Mbappé and Co. is doubtful.
CB – Harry Souttar (Stoke City)
CB – Milos Degenek (Columbus Crew)
CB – Bailey Wright (Sunderland)
CB – Thomas Deng (Albirex Niigata)
CB – Kye Rowles (Heart of Midlothian)

Australia full backs
Australia also lacks the real capacity players at full-back. Right-back Fran Karacic has the potential to play a good tournament and right-back Aziz Behich at least brings enough experience. However, all of Australia's full-backs play for mid-table European clubs and will be up against the crème de la crème of the football world in Group D. So again, also here the team lacks the necessary quality.
RB – Nathaniel Atkinson (Heart of Midlothian)
RB – Fran Karacic (Brescia Calcio)

LB – Aziz Behich (Dundee United)
LB – Joel King (Odense BK)

Australia central midfield
In the midfield center, Celtic player Aaron Mooy has the key and leading role. Mooy combines combativeness and passing ability and will be the "architect" in the Australian game. Players such as recent Europa League winner Ajdin Hrustic, who has since moved to Italy, and longtime Celtic player Tom Rogic can also make their mark.
Australia, on the other hand, has problems in the defensive midfield area, where the quality drops off quite significantly. Coach Arnold has a number of strong players here, but the playmaking and passing components will probably come up short in this area.
DM – Keanu Baccus (St. Mirren FC)
DM – Cammy Devlin (Heart of Midlothian FC)
CM – Aaron Mooy (Celtic Glasgow)
CM – Riley McGree (Middlesbrough)
CM – Jackson Irvine (FC St. Pauli)
CAM – Ajdin Hrustic (Hellas Verona)


Australia attack
On the offensive side, Australia is very sparse and even has only two wingers who earn their money in Europe. One of them is Awer Mabil, who was once considered a great talent but never made it to the top level. Martin Boyle of Scottish club Hibernian Edinburgh is one of Australia's most prolific scorers, although he is not an undisputed regular at his club.
Center forward Jamie Maclaren is a solid goal-scorer in Australia's A-League, though all his European engagements have gone pear-shaped. Mitchell Duke who plays for Fagiano Okayama in Japan could also provide goals, though he too regularly hides away and is taken out of the game by opposing defenses. Accordingly, the Australian attack and wings are also not qualitatively equipped for such a difficult World Cup group.
RW – Martin Boyle (Hibernians FC)

LW – Awer Mabil (Cadiz FC)
LW – Craig Goodwin (Adelaide United)
LW – Mathew Leckie (Melbourne City FC)

ST – Jamie Maclaren (Melbourne City FC)
ST – Jason Cummings (Central Coast Mariners)
ST – Mitchell Duke (Fagiano Okayama)
ST – Garang Kuol (Central Coast Mariners)

Australia competition flair
After switching to the Asian federation, Australia have now qualified for a fifth consecutive World Cup. However, they never played a significant role in the tournaments. Three times they were eliminated in the group stage, only in 2006 they reached the round of 16.
The Australians are rarely up against high-quality teams and are somewhat at home in the Asian federation. They often face teams that are physically inferior and good results against them gloss over some of the country's problems. We expect the jump in quality that this World Cup will bring to be too much for the Australians, although they always stand out with spirited performances at World Cups.

---
---
World Cup history of Australia
Australia took part in a World Cup for the first time in 1974. There, however, the then still considered an exotic football nation did not play a great role.
For a long time, it was difficult for Australia to qualify for World Cups via the Oceania federation because the playoff opponents were usually much stronger than the amateur opponents in the World Cup qualifiers. It wasn't until the change to the Asian federation in 2005 that this changed and Australia qualified for World Cups five times in a row.
In 2006 – their comeback after a 32-year absence – the Socceroos, always popular with the neutral public, achieved the greatest success in the association's history. With Dutch coach Guus Hiddink on the whelm, they finished second in a tough group with Brazil, Croatia and Japan and advanced to the round of 16. There they had a great battle with Italy, who eventually won 1-0 on a questionable penalty in injury time. The Australians then went home as "winners of fan's hearts".
---
At the last tournament – the 2018 World Cup in Russia – Australia was eliminated as fourth in its group with just one point. The group was almost the same as at the upcoming finals: France and Denmark were Australia's opponents then, too. Australia did manage to snatch a 1-1 draw from the Danes. They also suffered a disappointing 2-0 defeat against Peru – their final playoff opponent on the road to the 2022 World Cup…
---
FAQ – Questions and answers about Australia at the 2022 World Cup
Who will coach Australia at the 2022 World Cup?
The Australian national team has been coached by Graham Arnold since summer 2018. The Sydney-born 59-year-old was previously active as a club coach in Australia and Japan and was already assistant coach of the national team under Frank Farina, Guus Hiddink and Pim Verbeek in the 2000s.
Who are Australia's stars at the 2022 World Cup?
Australia will travel to Qatar for the 2022 World Cup without any classic stars. The best-known players are FC Copenhagen goalkeeper Mathew Ryan, Stoke City center back Harry Souttar and Celtic Glasgow midfielder Aaron Mooy.
Who will Australia play against at the 2022 World Cup?
Australia will first face current World Champion France (Nov. 22) at World Cup Group D. In the second match, Australia will take on dark horses Denmark (Nov. 26), and on the final day of the group stage, they will face Tunisia (Nov. 30).
How many times has Australia been soccer world champion?
Australia has never been World Champions in football. The country will take part in its sixth World Cup in 2022 and has made it to the round of 16 once so far.
Who is Australia's record international?
Australia's record international is goalkeeper Mark Schwarzer, who was capped 109 times between 1993 and 2013. Only one game less was played by attacker Tim Cahill, who played for the national team between 2004 and 2018.
Who is Australia's record goalscorer?
Tim Cahill is by far the record goal scorer for the Australian national team. The attacker scored 50 goals for Australia, clearly shaking off attacker Damian Mori, who managed 29 goals between 1992 and 2002.
What is the nickname of the Australian national team?
The Australian national team is widely known as the "Socceroos". This is a verbalization of the words "soccer" and "cangaroo". So the national team is practically named after the country's heraldic animal.