Ecuador at the 2022 World Cup – Betting Odds & Tips
Ecuador is not a big football country, but it has already attracted attention in the new millennium. Since its first World Cup appearance in 2002, the nation has qualified a total of four times.
We take a look at the best Ecuador World Cup odds, betting tips and predictions and introduce you to the underdog from South America in detail.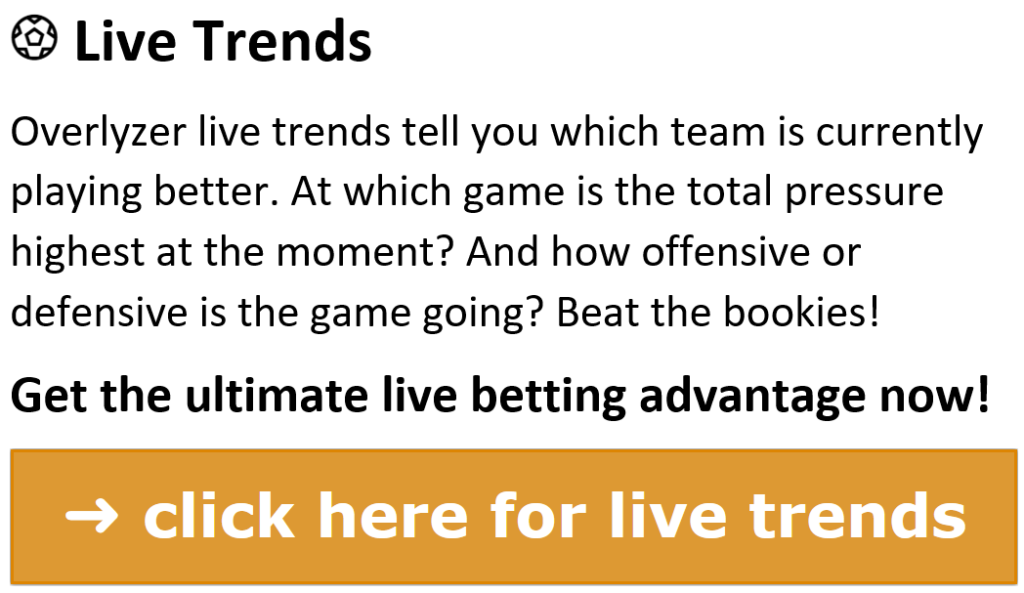 ---
Betting on Ecuador at the World Cup 2022
Ecuador odds World Cup 2022
Current form and results
World Cup preparation
Ecuador World Cup 2022 fixtures
Ecuador World Cup 2022 squad
Ecuador World Cup history
FAQ – Questions and answers about Ecuador at the 2022 World Cup
---

---
Best Bookmaker for World Cup Betting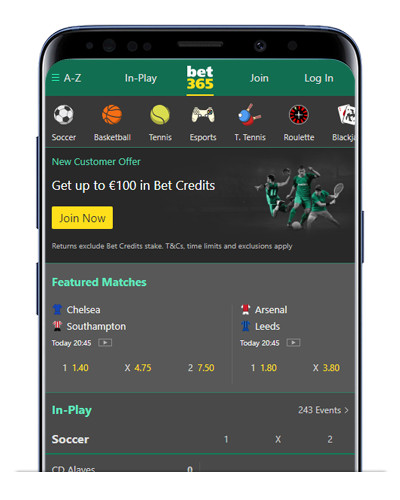 The most established name in world wide sports betting offers a huge range of betting options for new and experienced bettors. Bet365 is well known for great odds on sporting events from around the globe.
Bet365 Review
Sign up with Bet365 and get 100 €/$/£ Bonus
---
Ecuador odds World Cup 2022
Together with the hosts from Qatar, Ecuador are clear underdogs in Group A. The Netherlands and Senegal are rated stronger by sports betting experts. At our bookmaker test winner Bet365, you will get twice your stake back if Ecuador advances to the round of 16.
Football World Cup 2022 Winners Odds – top bookmakers
---
Interestingly, the country is not rated significantly weaker than Senegal, for example. In fact, Ecuador is even tied with Mexico when it comes to betting on the 2022 World Cup title.
The event of Ecuador reaching the final of the 2022 World Cup is rated by bookmakers as just as (un)likely as a final appearance by Mexico or Serbia. Of course, even this is only an extremely unlikely option and Ecuador must primarily try to surprise in the group stage – anything else would be a nice bonus.
In Group A, Ecuador is one of two underdogs behind one of the World Cup favorites Netherlands and the team from Senegal. However, the bookmakers expect Ecuador to at least be able to compete with Senegal to some extent. The Netherlands, on the other hand, should have a clear advantage in terms of quality.
For Ecuador's group win, you get seven times your stake back at Bet365. The greatest advantage of Ecuador is that they already meet Qatar in the opening game and thus the supposed weakest team in the group. So they could already gain three points on the first day of the World Cup and thus put the two favorites under pressure.
---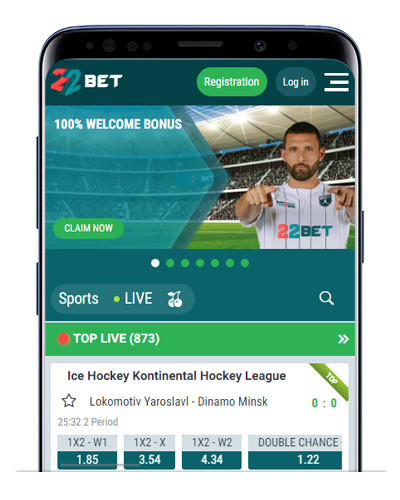 22Bet offers sports betting with high stakes and win limits. In addition, the betting company has a wide range of bets available. Customers who play with higher stakes and do not want to compromise on the betting selection will find 22Bet a great choice!
22bet Review
Sign up with 22BET and get 122 € Bonus
---
The only more or less conceivable option for an Ecuadorian top scorer at the 2022 World Cup is veteran attacker Enner Valencia. The Fenerbahce striker is the captain and most capped player of the Ecuador national team and is considered an absolute legend in his country.
He will also be the one Ecuador will be looking for in their buildup. In addition, Valencia takes the penalties for his team. Nevertheless, it is extremely unlikely that he will score more goals than the many other star players at the tournament.
➜ Enner Valencia to be World Cup top scorer @ 201.00 / Bet365
---
Current form and results
When Ecuador plays, defensive stability, stamina and a high work rate are on the agenda. That's why the South Americans managed to take a point each from the continent's two top teams, Brazil and Argentina, in the World Cup qualifiers last spring.
In June, the team played three friendly internationals in which only two goals were scored. They won 1-0 against Nigeria and with the same result against Cape Verde, and drew goalless with Mexico. The only defeat in the first half of the year 2022 was in the qualifier against Paraguay, where they lost 3-1 in Asunción. Apart from that, Ecuador have never conceded more than one goal in their last nine international matches.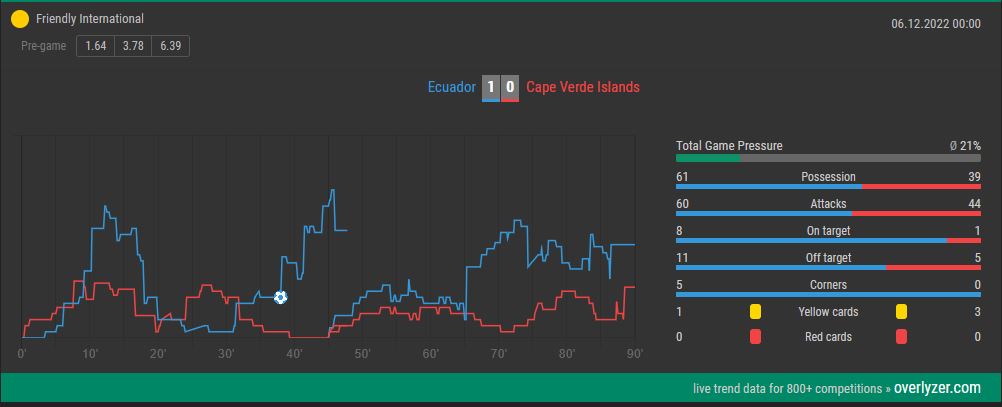 In the friendly matches in September 2022, Ecuador were mainly minimalist. Both against Saudi Arabia and Japan, the score was 0-0 in the end.
The 0-0 draw against Saudi Arabia in particular was disappointing. The game against the Saudis was probably meant to simulate the opening game of the World Cup against Qatar, because the two teams from the Arabian Peninsula have a similar style of play.
On the other hand, the 0-0 draw against Japan was quite positive. They were slight underdogs before the game, but finally still slightly stronger than their opponents, who are also currently struggling with fluctuations in form. It is clear, however – despite all the defensive stability – that Ecuador should start scoring. The team has scored just two goals in its last five games. However, they have not conceded a single goal in those five games.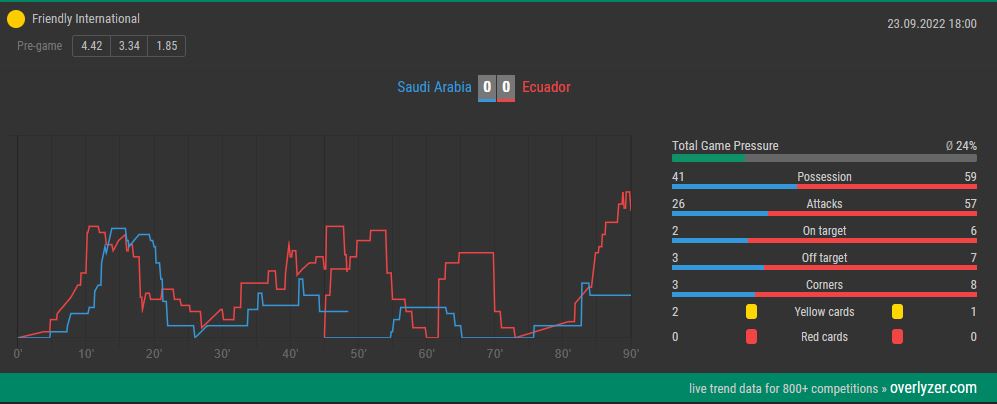 ---
➜ grab the ultimate live betting advantage with Overlyzer now!

Beat the bookmakers!
---
Ecuador International Games in 2022
| | | | | | | | |
| --- | --- | --- | --- | --- | --- | --- | --- |
| Date | Opponent | Venue | Result | XG | Possession | Accuracy | Duels won |
| 27/01/2022 | Brazil | H | 1 – 1 | 0.46 : 1.80 | 48,08% | 84,59% | 48,45% |
| 02/02/2022 | Peru | A | 1 – 1 | 0.55 : 1.05 | 37,65% | 83,01% | 43,32% |
| 25/03/2022 | Paraguay | A | 1 – 3 | 1.86 : 0.84 | 59,98% | 77,18% | 44,48% |
| 30/03/2022 | Argentina | H | 1 – 1 | 2.08 : 1.14 | 50,68% | 86,60% | 45,03% |
| 03/06/2022 | Nigeria | N | 1 – 0 | 2.05 : 1.72 | 49,25% | 86,33% | 46,08% |
| 06/06/2022 | Mexico | N | 0 – 0 | 1.03 : 0.42 | 49,25% | 83,33% | 54,24% |
| 12/06/2022 | Cape Verde | N | 1 – 0 | 2.07 : 0.21 | 59,21% | 90,79% | 46,67% |
| 23/09/2022 | Saudi Arabia | N | 0 – 0 | 0.85 : 0.75 | 56,79% | 80.23% | 49,04% |
| 27/09/2022 | Japan | N | 0 – 0 | 1.55 : 1.05 | 84,19% | 84,19% | 49,15% |
---
Fun fact: Ecuador has a special kind of advantage in their home games. The nation usually plays its home games in the capital city of Quito, which is about 2,900 meters above sea level. The thin air there has often been a problem for some bigger teams and therefore betting on Ecuador to win at home is always a good option for value bets.
✚ check the 14 best sports betting strategies here
---
Further preparation and friendlies
So far Ecuador has not fixed any other friendly matches. Check this page regularly – we will keep updating it and inform you as soon as new dates are fixed.
---
Are you interested in live football betting and don't want to miss a single game? Then we recommend you to ➜ register at overlyzer.com – we offer you live match data from 1,000+ competitions and 160 countries, which will give you a decisive advantage over the bookmakers!

Get the ultimate live betting advantage with Overlyzer!
---
Ecuador fixtures at the 2022 World Cup
Ecuador will open the 2022 World Cup with a match against hosts Qatar. On the one hand, this is a tough draw because Qatar will be highly motivated going into the opening match, but on the other hand, Qatar is also the weakest of the three group opponents, which means that Ecuador could perform nicely in the very first match.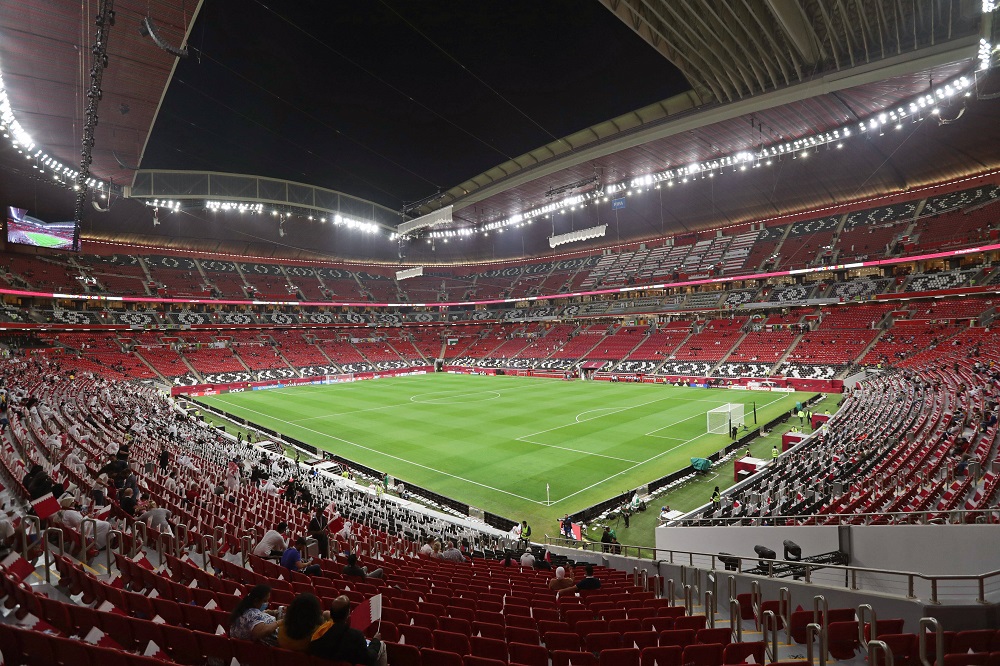 ---
After that, things will get progressively more difficult for Ecuador: in the second game, coach Gustavo Alfaro's team will face Senegal, and on the last matchday of Group A, the group favorites from the Netherlands will be waiting.
Date
Time
(local)
Group
Stadium
Match
Result
Nov. 21
7 p.m.
A
al-Bayt
Qatar – Ecuador
Nov. 25
7 p.m.
A
Khalifa International
Netherlands – Ecuador
Nov. 29
6 p.m.
A
Khalifa International
Ecuador – Senegal
➜ full World Cup 2022 schedule
---
Ecuador's 2022 World Cup squad
Rarely before has Ecuador had such an interesting, young squad peppered with players who have their contracts in Europe or the United States. While the squad lacks experience as a result, the quality of the team has been increasing in recent years. We analyze Ecuador's potential World Cup squad in detail and explain who the South Americans' key players are.
Ecuador goalkeepers
Goalkeepers from Ecuador don't have a high reputation abroad – that's why all potential World Cup starters play in their home country. The already 35-year-old Alexander Domínguez is the most likely "Number One" between the Ecuadorian posts. The latter has already played in several South American countries, but never in Europe. The goalkeeper position is definitely one of Ecuador's weaknesses.
GK – Moisés Ramírez (Independiente del Valle)
GK – Hernán Galíndes (Aucas)
GK – Alexander Domínguez (LDU Quito)

Ecuador center backs
In central defense, Ecuador has some highly interesting players and especially the biggest talent of the team should be kept an eye on. Piero Hincapié, just 20 years old, plays for Leverkusen in Bundesliga and is the most important player for the team's build-up play. The left-footer is far from peaked in his development and has all it takes to mature into a real class defender.
His supporting players also have great potential. The experienced Roberto Arboleda would be a logical candidate for the second center-back position, but the Sao Paulo player is currently recovering from an ankle fracture and it is not yet clear whether he will even be able to participate in the World Cup.
CB – Piero Hincapié (Leverkusen)
CB – Félix Torres (Santos Laguna)
CB – Jackson Porozo (Troyes)
CB – Roberto Arboleda (Sao Paulo)
CB – Xavier Arreaga (Seattle Sounders)
CB -William Pacho (Royal Antwerpen)

Ecuador full backs
Ecuador also has a highly interesting quality player for the full-back position. Premier League proven Pervis Estupiñàn is a left-back with enormous stamina and a key player in Gustavo Alfaro's system. He currently plays in England for Brighton & Hove Albion and is considered Ecuador's most valuable squad player.
On the right side of the Ecuadorian defense the quality is lower. Here, Genk defender Angelo Preciado should be a first team regular – but he will find it difficult to keep up with the expected high overall quality at the World Cup. Preciado's strengths tend to be the attacking play, and so Ecuador will be at a disadvantage against teams with dynamic, powerful left wingers.
RB – Angelo Preciado (Racing Genk)
LB – Pervis Estupiñán (Brighton & Hove Albion)
LB – Diego Palacios (Los Angeles FC)


Ecuador central midfield
The Ecuadorian midfield includes some great talents, such as José Cifuentes from Los Angeles FC or Jeremy Sarmiento from Brighton, but it is hardly balanced. The focus here is clearly on defense, and it can be observed time and again that rather few central midfielders participate in the attacking play of the team.
The fact that the experienced, now 37-year-old Christian Noboa, who used to be a balance provider for his side, no longer plays a major role is a disadvantage for Ecuador. Here the coach still has to find his ideal composition and especially against stronger teams the Ecuadorian center could face serious problems.
DM – Carlos Gruezo (Augsburg)
DM – Jhegson Méndez (Los Angeles FC)
DM – Dixon Arroyo (CS Emelec)
DM – Fernando Gaibor (Independiente del Valle)
ZM – José Cifuentes (Los Angeles FC)
ZM – Moisés Caicedo (Brighton & Hove Albion)
ZM – Alan Franco (Talleres)

OM – Jeremy Sarmiento (Brighton & Hove Albion)


Ecuador attack
The biggest problem with Ecuador's offense is efficiency. While there is a strong target player up front in the national team's record goalscorer Enner Valencia, the team needs too many chances to score. This is also related to the wingers, who are clearly inferior to the wingers of group opponents Netherlands and Senegal.
One of the players to keep an eye on is center forward Jordy Caicedo, who plays for Tigres in Mexico. He is one of the shooting stars in the Ecuadorian team and an extremely powerful and physically dominant player. Although he may only be used as a sub, Caicedo is always good for goals – even as a joker.
Overall, however, everything in Ecuador's offense is tailored to Enner Valencia. He is the player that his teammates are looking for and he is an important factor especially within the box.
RW – Gonzalo Plata (Real Valladolid)
RW – Ángel Mena (Club Léon FC)

LW – Romario Ibarra (CF Pachuca)
LW – Ayrton Preciado (Santos Laguna)
ST – Enner Valencia (Fenerbahce)
ST – Michael Estrada (Cruz Azul)
ST – Kevin Rodriguez (Imbabura SC)
ST – Djorkaeff Reasco (Newell's Old Boys)

Ecuador competition flair
Ecuador is definitely a phenomenon in world soccer. Although competition is fierce in South America, the small country has qualified for the World Cup four times in their last six attempts. Once they even made it to the round of 16.
However, Ecuador also has a problem that will not be solved in Qatar. The nation's greatest advantage is home strength due to the thin air in Quito. In Qatar, however, the opposite will await the Ecuadorians: humid weather, high temperatures, stuffy air. Thus, Ecuador is only one underdog among many in Qatar, with no particular advantages over its opponents. The weather in Qatar in particular could cause problems for the team, and it can be assumed that Senegal and Qatar themselves, for example, will cope better with it.

---

---
Ecuador's World Cup history
In 2002, Ecuador qualified for the FIFA World Cup for the first time. At their first attempt, the team failed in a difficult group with Italy, Mexico and Croatia.
Four years later in Germany, however, Ecuador caused a sensation: in the group with the German hosts, as well as Poland and Costa Rica, the team finished a surprising second and got advanced to the round of 16. There, they narrowly failed to beat England thanks to a goal from David Beckham, but their passage to the knockout phase of the 2006 World Cup remains the greatest success in Ecuador's World Cup history to this day.
---
While the country missed out on the 2010 and 2018 World Cups, they managed to qualify a third time in 2014. Here, however, Ecuador was once again eliminated in the group stage. The 2022 tournament will be Ecuador's fourth appearance at a major global event.
Ecuador has won two fourth places in the Copa America, the traditional South American championship.
---
FAQ – Questions and answers about Ecuador at the 2022 World Cup
Who will coach Ecuador at the 2022 World Cup?
The Ecuadorian national team in 2022 will be coached by Argentine Gustavo Alfaro. The 60-year-old coach has never worked in Europe before and has been in charge of Ecuador since 2020.
Who are Ecuador's stars at the 2022 World Cup?
Ecuador's captain, Enner Valencia, has been the team's evergreen for more than a decade. In the meantime, strong, young defensive players have also attracted attention, such as Leverkusen's Piero Hincapié and Brighton's full-back Pervis Estupiñán.
Who will Ecuador play against at the 2022 World Cup?
Ecuador opens the World Cup tournament with a match against hosts Qatar (Nov. 20). On the second matchday, Ecuador will face Senegal (Nov. 25) and in the final group match, the clear group favorite, the Netherlands (Nov. 29), awaits.
How many times have Ecuador been World Champions?
Ecuador has never won the World Cup. Their greatest success at a FIFA World Cup came in 2006, when they were defeated by England in the round of 16.
Who is Ecuador's record international player?
Ecuador's record international is Iván Hurtado, who was capped an incredible 168 times for his home country between 1992 and 2014. For a short time Hurtado was even the player with the most international caps worldwide.
Who is Ecuador's record goal scorer?
The still active Enner Valencia is the record goal scorer in Ecuador's national team with 34 goals (as of September 2022). He recently overtook Agustín Delgado, who scored 31 goals between 1994 and 2006.
What is the Ecuadorian national team colloquially known as?
The Ecuadorian national team is also known as "El Tri" or "La Tricolor". The team got this name because of its traditional tricolor kit, which includes the national colors of yellow, blue and red.