England vs. Iran Prediction, Betting Tips & Odds | World Cup 2022
The Group B match between England and Iran will take place on November 21st, 2022 at 1pm (GMT) at the Khalifa International Stadium in al-Rayyan.
Fans who want to bet on the match England – Iran will find all statistics, a detailed preview and an in-depth analysis of the match in this article.
We analyze the match of one of the World Cup co-favorites against the underdog from Asia in detail. Who offers the best World Cup betting odds, value bets and odds? How will the two teams perform?
Latest betting odds England vs. Iran
All sports betting sites agree that England are the huge favorites in their first group match. At our bookmaker test winner Bet365, England's victory is currently offered at best odds of @1.33.
---
While a draw will bring 5.2 times your stake, a surprising win for the Iranians can even bring back 13.5 times your wager at Betsson.
Fun Fact: England's performance in their opening World Cup games is somewhat shaky. In the last five tournaments, the Three Lions have won only two of their opening matches (against Paraguay in 2006 and Tunisia in 2018) – and each time by narrow margins of 1-0 and 2-1 respectively. Three times in the 21st century, the English have failed to win their first World Cup match.
---

---
Best Bookmaker for World Cup Betting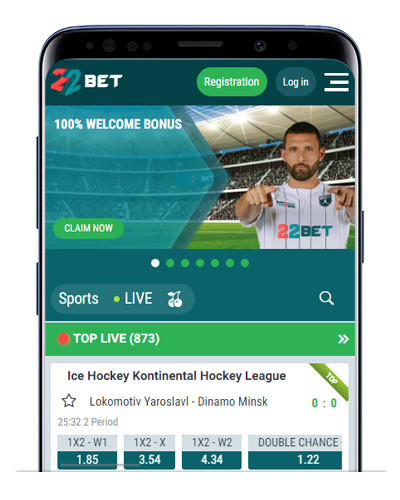 22Bet offers sports betting with high stakes and win limits. In addition, the betting company has a wide range of bets available. Customers who play with higher stakes and do not want to compromise on the betting selection will find 22Bet a great choice!
22bet Review
Sign up with 22BET and get 122 € Bonus
---
World Cup 2022 Betting England vs. Iran
---
Live Betting on England vs. Iran
Strategies for succesful in-play betting on World Cup Games:
---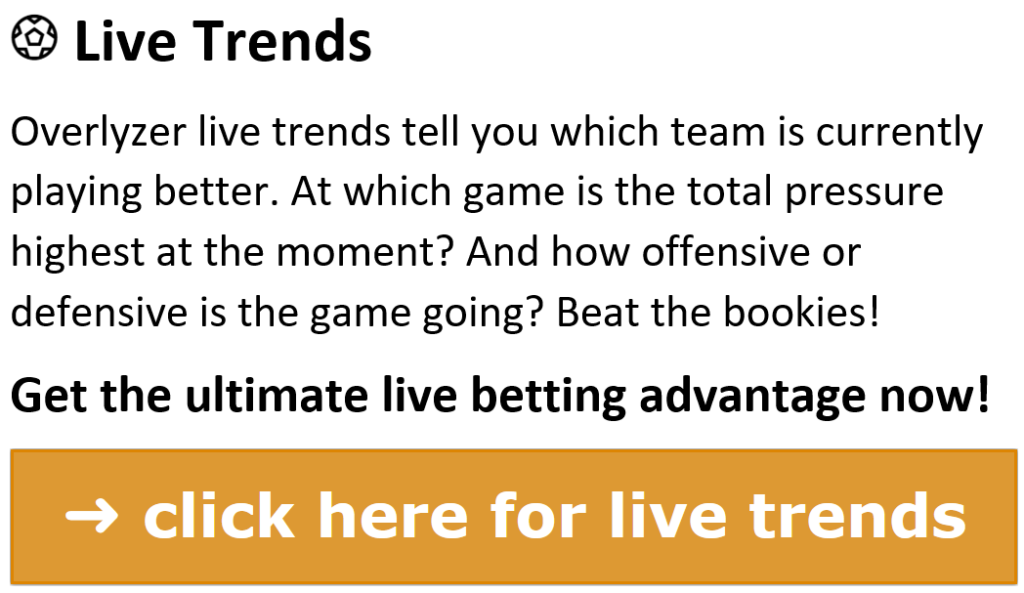 ---
There will be hundreds of different betting markets for live betting on World Cup games – nevertheless we recommend you to concentrate on just a couple of in-play offers which can exactly be analysed and predicted.
Most of all these are bets on the outcome of the game (win/draw/win), the next goal to be scored or the number of goals in the game.
Bets on throw-ins, fouls, kick-off for example have to be seen as gambling or games of chance. You can do this with small stake for entertainment, but for successful betting strategies these bets are not suitable
---
How far will England go in World Cup 2022
| | | |
| --- | --- | --- |
| Round | best odds | Bookmaker |
| England to be knocked out at group stage | 9,00 | Bet365 |
| England to qualify four round of 16 | 1,071 | 22Bet |
| England to reach Quarterfinals | 1,53 | Betsson |
| England to reach Semifinals | 2,75 | 22Bet |
| England to reach World Cup Final | 5,00 | Bet365 |
| England to win World Cup 2022 | 9,00 | 22Bet |
---
For the bookmakers the group stage will be a walkover for the English National Team. Odds of less than 1.10 are offered for England to qualify for the round of 16. Even the Quarterfinals look to be a safe bet with odds around only 1.50
England are likely to have battles against teams like Argentina, France and the Netherlands on their way to the World Cup Final while Brazil, Germany, Spain, Portugal and Belgium could be the last challenge on the way to the first World Cup title for the Three Lions since 1966.
---
England World Cup 2022 preview
The English are considered one of the top favorites to win the World Cup. After advancing to the semifinals of the 2018 World Cup and only losing to Italy in the final of the 2021 European Championship, the British are clearly rated as one of the best teams in the world.
The top 5 favorites to win World Cup 2022 are:
Brazil
Argentina
France
England
Spain
This is also due to England's "new" approach with coach Gareth Southgate. Although England have an excellent central midfield and world-class attacking players, caution and control are key.
The team boss wants to avoid conceding goals first and foremost, which is why in most cases they field a solid three-man backline, confronting their opponents with a wide defensive line.
This approach is not always pretty to look at, but it is very efficient. Instead of trying to shine for 90 minutes, they adopt a more pragmatic approach.
Winning, even without brilliance, is the ultimate goal. However, especially against smaller teams – such as Iran – the big difference in the quality of the individual players should not be ignored.
One disadvantage faced by the English at the moment, however, is certainly the pressure on the team. The public expects a strong tournament and they have to live up to that expectation.
> Read all about the England World Cup squad
England last three games
| | | | | | | | |
| --- | --- | --- | --- | --- | --- | --- | --- |
| Date | Opponent | Venue | Result | XG | Possession | Accuracy | Duels won |
| 14/06/2022 | Hungary | H | 0 – 4 | 0.72 : 0.60 | 70,18% | 88,82% | 46,98% |
| 23/09/2022 | Italy | A | 0 – 1 | 0.77 : 0.72 | 52,14% | 88,89% | 46,41% |
| 27/09/2022 | Germany | H | 3 – 3 | 2.16 : 1.98 | 42,43% | 81,14% | 48,37% |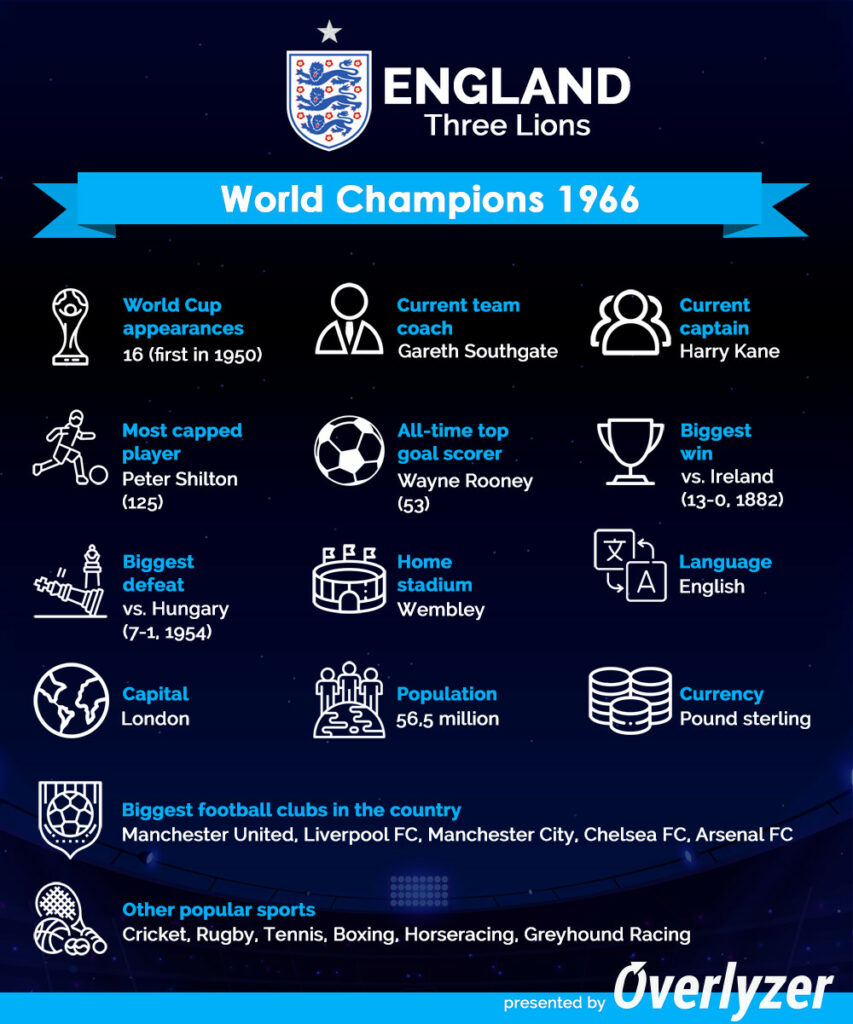 ---
How far will Iran go in the World Cup
| | | |
| --- | --- | --- |
| Round | best odds | Bookmaker |
| Iran to be knocked out at Group Stage | 1,25 | Bet365 |
| Iran to reach round of 16 | 4,00 | 22Bet |
| Iran to reach Quarterfinals | 21,0 | Betsson |
| Iran to reach Semifinals | 81,0 | 22Bet |
| Iran to reach World Cup Final | 176 | Bet365 |
| Iran to win World Cup 2022 | 501 | 22Bet |
---
Most likely World Cup 2022 will end for the team from Iran after the group stage. Bookmakers only pay 1.25 the stake if Iran will be knocked out by England, Wales and the USA.
If you think that Iran are strong enough to challege the teams from the USA and Wales than odds of 4.00 seem attractive for Iran to qualify for the round of 16.
---
Iran World Cup 2022 Preview
The Iranians enter the 2022 World Cup in Qatar as one of the biggest underdogs. Only Costa Rica and Saudi Arabia have higher odds of winning the World Cup title than the Iranians.
Iran also has the additional issue of often not being challenged enough in Asian World Cup qualifiers. There, they mostly face small nations, often even amateur or semi-professional teams, against whom they have no significant trouble.
But when world-class opponents are on the doorstep at a major event, Iran is often not equipped to deal with the big leap in quality.
However, one should not underestimate the individual class of the Iranian team. While they rely more on the collective in the defense, they have two top-class strikers in Mehdi Taremi from FC Porto and Sardar Azmoun from Bayer Leverkusen.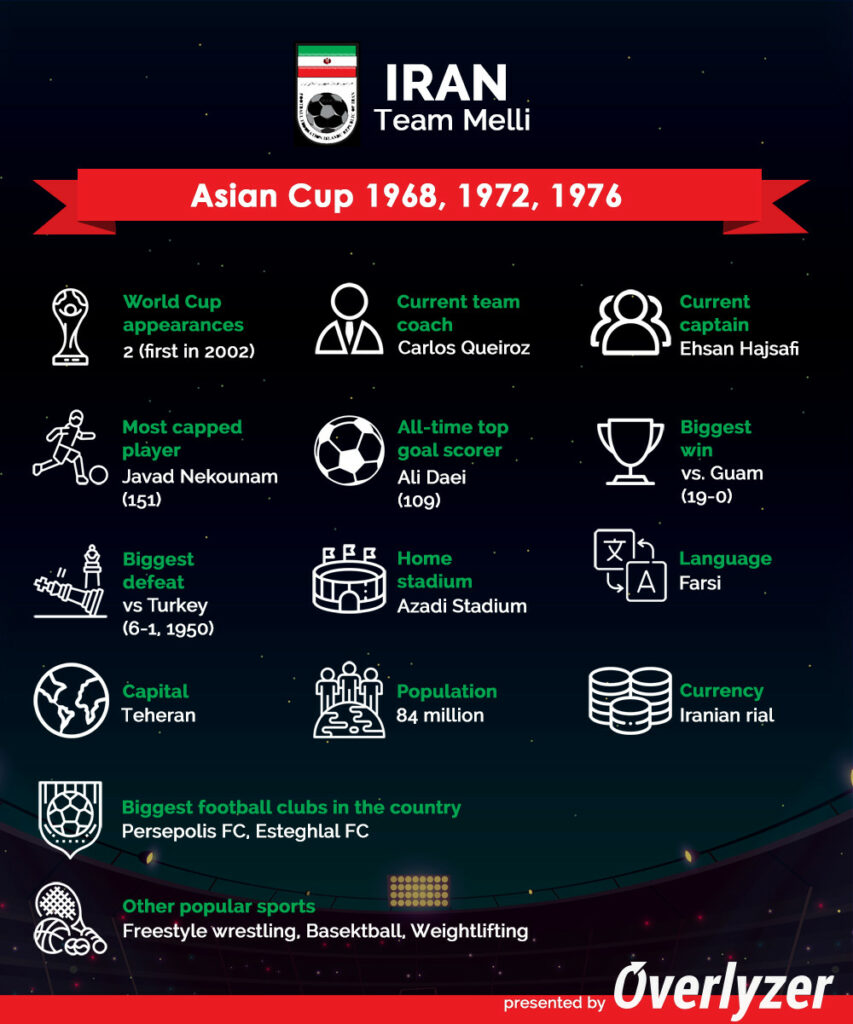 Iran also showed in the friendly matches in September that they should not be underestimated. Iran won 1-0 against Uruguay and 1-1 against Senegal, and although they were the weaker team, they were extremely efficient on the attack.
> Read all about the Iran World Cup squad
Iran last three games
| | | | | | | | |
| --- | --- | --- | --- | --- | --- | --- | --- |
| Date | Opponent | Venue | Result | XG | Possession | Accuracy | Duels won |
| 29/03/2022 | Lebanon | H | 2 – 0 | 0.81 : 0.17 | 69,34% | 87,29% | 50,84% |
| 23/09/2022 | Uruguay | N | 1 – 0 | 0.26 : 1.23 | 40,84% | 80.64% | 52,20% |
| 27/09/2022 | Senegal | N | 1 – 1 | 0.19 : 1.09 | 48,22% | 83,29% | 49,70% |
---
Team comparison England vs. Iran
In favor of England:
+ England is the better team
+ A solid defense will make it difficult even for Iran's top strikers Taremi and Azmoun
+ Very strong central midfield
+ Striker Harry Kane is favorite to win the golden boot for the World Cup top scorer
+ The team has been playing together for a long time
+ Much more experience in major events than Iran
In favor of Iran:
+ Everyone expects England to win, accordingly, Iran have nothing to lose
+ The longer it's 0:0, the more nervous and impatient England will get
+ The attacking duo consisting of Taremi and Azmoun really does have international class
---
The last duel
Actually, the duel between England and Iran has no history whatsoever. The clash between the two nations at the 2022 World Cup in Qatar is the very first in soccer history.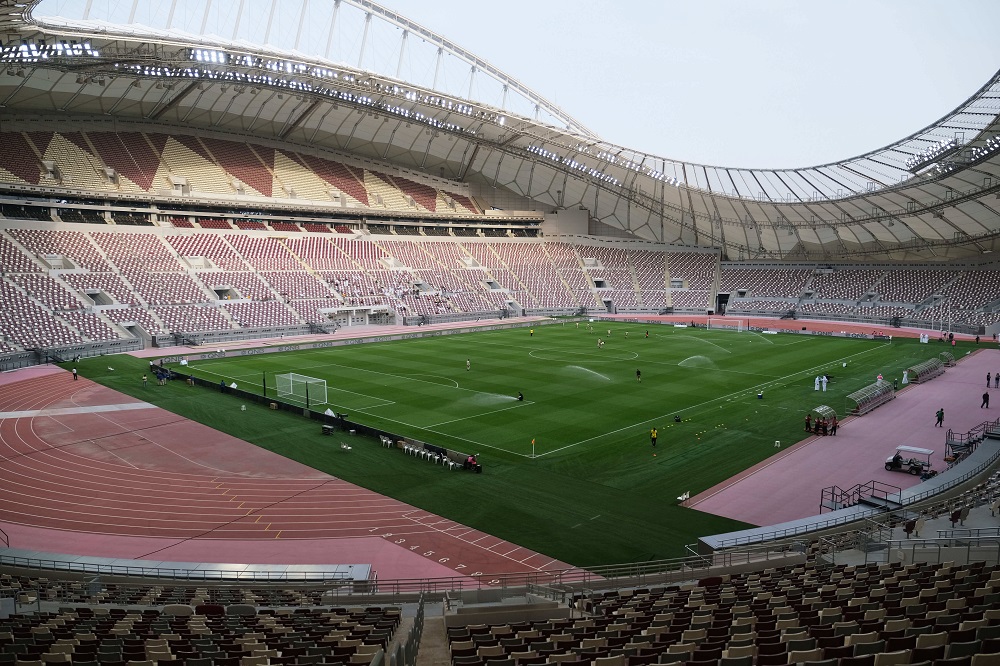 ---
Group B Match Fixtures
Date
Time
(local)
Group
Stadium
Match
Result
Nov. 21
4 p.m.
B
Khalifa International
England – Iran
Nov. 21
10 p.m.
B
Ahmed bin Ali
USA – Wales
Nov. 25
1 p.m.
B
Ahmed bin Ali
Wales – Iran
Nov. 25
10 p.m.
B
al-Bayt
England – USA
Nov. 29
10 p.m.
B
al-Thumama
Iran – USA
Nov. 29
10 p.m.
B
Ahmed bin Ali
Wales – England
➜ full World Cup 2022 match schedule
---
England – Iran Over/Under Pick
A forecast about the number of goals in the match between England and Iran must take several facts into account.
On the one hand, this is the first match for both teams at the 2022 World Cup, and it's not yet known how good their form will be. England's approach under Gareth Southgate is characterized by defensive stability.
What matters to the English is solely a win and three points. Whether they win by one or two goals will be of secondary concern to the pragmatic coach of the Three Lions.
In addition, Iran has slight advantages over England in terms of acclimatization to the desert climate. Since the Iranians are more likely to stand in the back and let the English attack, more running and concentration will be required on the part of England.

In the end, however, it all depends on how the game unfolds. If Iran manages to keep the score level for a long time and doesn't concede the first goal after just a few minutes, then this game definitely has an "under" tendency.
However, if England gets into the game well and scores early, the Iranians would have to open up their defense a bit and would definitely offer new spaces to the English. That being said, we're more likely to bet on a low result before the game.
Basically, this game is perfect for a live bet when it comes to "over/under"-betting. In Overlyzer's live section you can track the progress of the game even if you can't watch it live on TV and find your best betting strategy.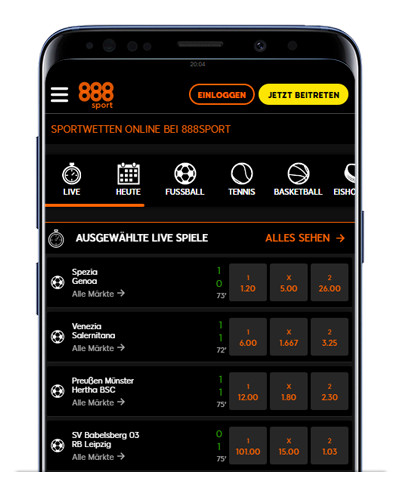 A reliable online betting platform provided by dedicated in-house built software, and a consistently attractive offer of popular and interesting sports make Betsson a favourite sports betting provider for many players worldwide.
Betsson Review
Sign up with Betsson and get 10 €/$/£ Free Bet
---
England – Iran Prediction
Patience is also an important factor when it comes to the question of the winner of the match. Even if England don't score right away and spend some time running up against the Iranian defensive wall, they shouldn't lose their composure.
Coach Southgate usually ensures that his players remain patient and do not throw their game plan overboard.
There are no two opinions about the quality of the two teams: England is of course more highly rated than Iran and should be clearly superior individually and as a team.
The Iranians will probably find few opportunities on the counterattack as well, because England will defend well with three centre-backs. Set-pieces are a good strategy for Iran, but again, it will be difficult to match England.
That's why we're betting on England.

---
England – Iran Correct Score Bet
So, we expect England to win, and not many goals to be scored. Accordingly, our only options are a 1-0 or a 2-0-win for the heavy favorites.
Sooner or later, England will crack the Iranian defense and score. To add a goal after that should be within the realm of possibility for the favorite.
Accordingly, we are betting here on a 2-0 victory for England, in which, of course, the best attacking players like Harry Kane or Raheem Sterling will play a key role.
For a bet on the first goalscorer in the match, captain Kane would also be a good choice, especially since he is also the regular penalty taker for England.

---
7 more interessesting betting markets and odds for England vs. Iran
Harry Kane to score at least 2 goals – best odds 7,50 @ Bet365
England to win + UNDER 2,5 goals in the game – best odds 2,60 @ 22Bet
England to score 2 or more goals – best odds 1,66 @ Bet365
England to win without conceding a goal – best odds 1,72 @ Betsson
England to miss a penalty – best odds 15,0 @ Bet365
Marcus Rashford to score first goal in game – best odds 6,00 @ 22Bet
10 or more corner in the game – best odds 2,37 @ Bet365
---
FAQ – Questions and answers about England – Iran at the World Cup 2022
When does England – Iran kick off?
The match between England and Iran will take place on the 21st of November 2022 at 1pm GMT. The match will be played at the Khalifa International Stadium in al-Rayyan. In Group B, it is the only match to be played in this stadium.
Where will England – Iran be broadcasted?
In the United Kingdom the game between England and Iran can be watched live on the BBC. In the United States Fox Sports will be the place to watch the game and in Canada the match will be aired on TNS.
Who are England's best players?
England's star is captain and target man Harry Kane. However, the English are loaded with stars in basically every position, such as Rice, Mount, Bellingham and Foden in midfield, Sterling, Grealish and Saka in attack or Alexander-Arnold and James at the full-back positions.
Who are Iran´s best players?
Iran's biggest stars can be found in the team's attack. Mehdi Taremi, FC Porto's striker, and Sardar Azmoun, Bayer Leverkusen's powerful attacker, are Iran's best-known players.
What are the England Iran betting odds?
The well-known English bookmaker Bet365 offers odds of @1.30 for an England victory. A draw brings odds of @5.00 and an unexpected win by Iran even odds of @11.00.
Are England favorites against Iran
England are the huge odds-on favorites in their opening game at World Cup 2022 against the team from Iran. If you bet 100€ on the Three Lions to beat Iran you will get 130€ back at most bookmakers in case of victory