Switzerland at the 2022 World Cup – Betting Odds & Tips
Switzerland is now a regular guest at World Cups and has made it to the round of 16 three times at the last four tournaments. This time, too, the team of coach Murat Yakin wants to advance to the knockout stage, which, however, will not be an easy task due to the strong group the Swiss are in.
We analyze the squad and the game plan of the Swiss national team and reveal the best sports betting strategies for Switzerland at the 2022 World Cup in Qatar.
Betting on Switzerland at the 2022 World Cup
---

---
Best Bookmaker for World Cup Betting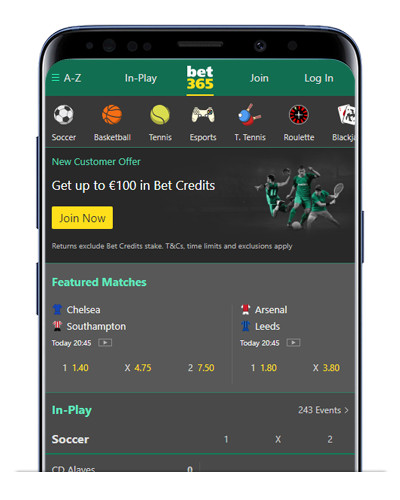 The most established name in world wide sports betting offers a huge range of betting options for new and experienced bettors. Bet365 is well known for great odds on sporting events from around the globe.
Bet365 Review
Sign up with Bet365 and get 100 €/$/£ Bonus
---
World Cup betting odds for Switzerland
Switzerland's best result at a World Cup was a long time ago. At their home World Cup in 1954, they were eliminated 5-7 in the quarterfinals against Austria after the highest-scoring game in World Cup history and have never made it that far in a World Cup knockout stage since.
Football World Cup 2022 Winners Odds – top bookmakers
---
No wonder, then, that bookmakers don't see the Swiss among the narrow favorites at the 2022 World Cup in Qatar, offering odds of @101.00 for betting tipps on the Swiss to win the World Cup.
Switzerland has never been in a World Cup final and it is not very likely that the Swiss will play for the title in this tournament. At our bookmaker test winner Bet365 you will find odds of @33.00 on a final appearance of Granit Xhaka and his teammates.
With Brazil, the absolute top favorites of this World Cup are in Group G, so the World Cup betting odds on Switzerland winning the group and advancing to the round of 16 differ greatly.
That Switzerland wins the group ahead of Brazil is rather unlikely and accordingly attracts high odds of @5.50.
The situation is different with a bet on Switzerland advancing to the round of 16, as the team is estimated to be about as strong as Serbia and stronger than Cameroon. For a promotion of the Swiss at Bet365 you can double your stake.
---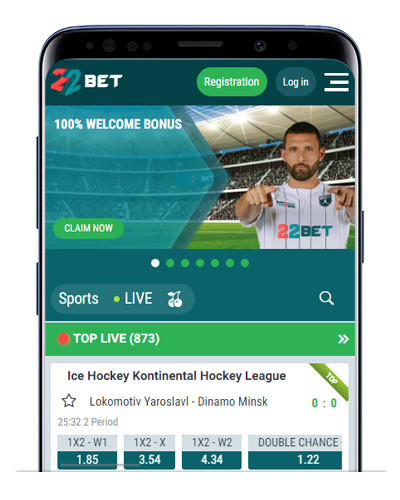 22Bet offers sports betting with high stakes and win limits. In addition, the betting company has a wide range of bets available. Customers who play with higher stakes and do not want to compromise on the betting selection will find 22Bet a great choice!
22bet Review
Sign up with 22BET and get 122 € Bonus
---
It is not likely that the top scorer of the World Cup will be Swiss. On the one hand, the Swiss caught a tough group, where there is no team against which you can expect a landslide win, and on the other hand, Murat Yakin's team is not known for a spectacularly attacking style of play against opponents who are on par.
In addition, of course, the Swiss team is not one of the favorites in this tournament and a far advance in the knockout stage would be a big surprise. Furthermore, there is not an absolute goalgetter in the team, who should be placed clearly above the other teammates in the Swiss offense.
Breel Embolo has the best cards in the Swiss attack for a regular spot in the 4-2-3-1 formation, but he definitely has competition in Haris Seferovic and Noah Okafor and a regular spot is not yet set for him.
Breel Embolo to be World Cup top scorer @ 101.00 / Bet365
Haris Seferovic to be World Cup top scorer @ 151.00 / Bet365
✚ check odds and favorites for betting on the world cup top scorer
---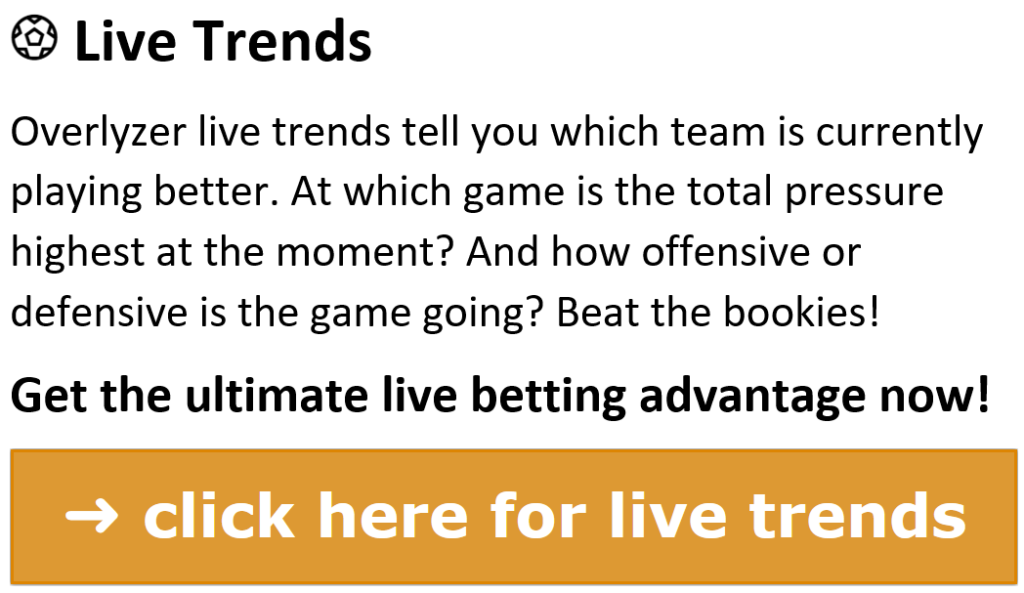 ---
Current form and results
Switzerland caused a minor sensation in the World Cup qualifiers in Group C, as Murat Yakin's team left behind the newly crowned European champions Italy in second place. This was to have disastrous consequences for the Squadra Azzurra, as Italy failed in the subsequent World Cup playoff in a completely surprising manner to the great underdog North Macedonia.

By the way, both images come from our revolutionary betting tool Overlyzer, which is a great help for every sports bettor when it comes to live betting.
---
➜ Register here to have access to our real-time data!

Beat the Bookmakers!
---
In eight World Cup qualifiers, the Swiss remained unbeaten against Italy, Northern Ireland, Bulgaria and Lithuania, picking up 5 wins and 3 draws. What was particularly impressive was that Switzerland only conceded two goals in those eight games.
The 2022 calendar year was largely a mixed bag for the Swiss, who initially lost their first three Nations League matches and also failed to win in friendlies against England (2-1) and Kosovo (1-1).
On the 12th of June, the tide turned: With a 1-0 home win over Portugal, revenge was achieved for the severe 4-0 defeat a week earlier. This obviously gave Switzerland a boost.
Coach Murat Yakin used the UEFA Nations League matches for some experimentation, such as switching to a 4-4-2 system. However, Yakin soon discarded this idea and switched back to the 4-2-3-1 formation.
In September, the Swiss finally pulled off one of the biggest sensations of this year's Nations League season. They won 2-1 away against Spain.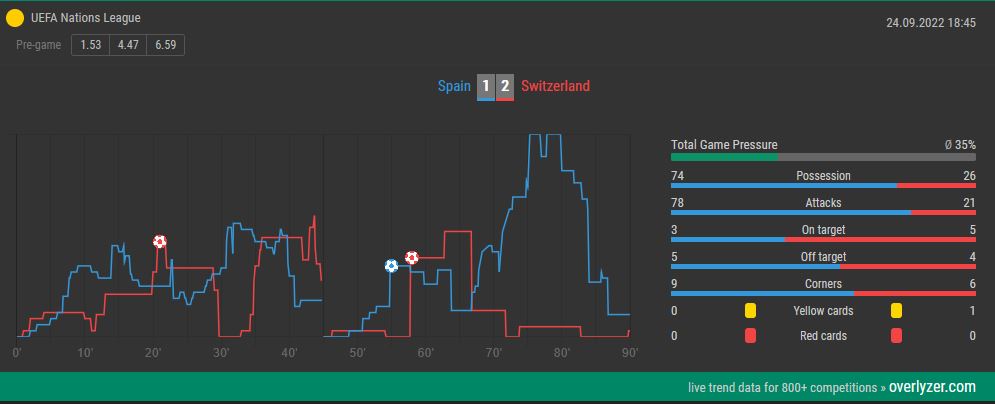 Switzerland managed to keep the game open for a long time against the clear favorite and struck at the right moments. In the second half, Switzerland skillfully defended the lead against the Spanish.
On the last matchday of the Nations League, a somewhat fortunate 2-1 victory over the Czech Republic followed as well. The Swiss didn't always perform brilliantly, but at least they were effective and managed to win their games.
Funfact: Switzerland was the first continental European country where soccer was played. British students and entrepreneurs founded the first clubs back around the 1870s. FC St. Gallen, which was founded on April 19, 1879, still exists today, making it the oldest existing soccer club in mainland Europe!
---
Further preparation and test matches
The Swiss have already scheduled a friendly match as their final preparation for the 2022 World Cup: exactly one week before the first group match against Cameroon, Switzerland will be testing against Ghana.
17 November 2022: Ghana – Switzerland
Further friendly matches before the tournament will be announced soon. We are constantly updating our list.
Switzerland international games in 2022
| | | | | | | | |
| --- | --- | --- | --- | --- | --- | --- | --- |
| Date | Opponent | Venue | Result | XG | Possession | Accuracy | Duels won |
| 26/03/2022 | England | A | 1 – 2 | 1.39 : 1.57 | 48,11% | 86,44% | 41,57% |
| 29/03/2022 | Kosovo | H | 1 – 1 | 0.95 : 0.82 | 58,40% | 86,23% | 51,21% |
| 02/06/2022 | Czech Republic | A | 1 – 2 | 1.53 : 1.00 | 60,22% | 84,63% | 41,44% |
| 05/06/2022 | Portugal | A | 0 – 4 | 0.22 : 3.92 | 46,26% | 83,86% | 42,86% |
| 09/06/2022 | Spain | H | 0 – 1 | 0.53 : 1.09 | 32,77% | 83,24% | 38,62% |
| 12/06/2022 | Portugal | H | 1 – 0 | 0.46 : 2.81 | 44,37% | 84,02% | 41,99% |
| 24/09/2022 | Spanien | A | 2 – 1 | 1.03 : 0.46 | 24,71% | 74,03% | 42,71% |
| 27/09/2022 | Tschechien | H | 2 – 1 | 1.41 : 2.02 | 54,08% | 83,54% | 48,90% |
| 17/11/2022 | Ghana | N | | | | | |
---
Match schedule for Switzerland at the 2022 World Cup
Switzerland will face Cameroon in the first group match. The match will take place on November 24, 2022 at the al-Janoub Stadium. Three points are almost a must here, as they will face the top favorites from Brazil in the second group match on November 28, 2022.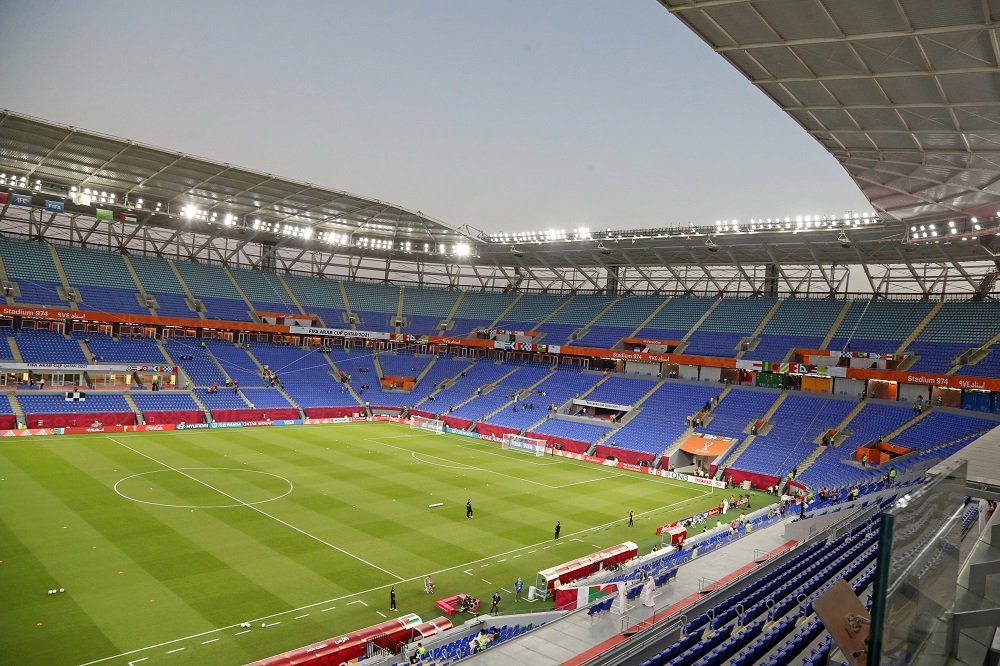 ---
The final match will probably decide who advances to the round of 16 when they face the Serbian side, who are rated almost exactly the same as Switzerland by the bookies, at Stadium 974 on December 2, 2022.
You can find a detailed analysis of the extremely exciting Group G here.
---
Switzerland World Cup squad
Murat Yakin usually relies on a 4-2-3-1 formation, although he also experimented with a 4-4-2, which did not work well in the Nations League. The crucial aspect is that Granit Xhaka feels more comfortable in defensive than in central midfield and prefers to have a playmaker in front of him. Should Switzerland need to play catch-up, they can switch to a 4-3-3, which should usually work relatively well from a 4-2-3-1.
In any case, Murat Yakin will bring his team's most stable system to the pitch at the World Cup, relying primarily on his strong defense and good collective, which conceded only two goals in eight games during the World Cup qualifiers.
The Swiss coach is known for his excellent ability to adjust his teams to their opponents, with an ever-increasing focus on defense, which is why under bets are often a good choice when the Swiss national team is playing.
---
Speaking of over/under betting! Do you already know our Over/Under tool? With it, you can see the probabilities of how many goals will be scored in a match and whether a match has an "over" or an "under" tendency before the game!
---
Switzerland goalkeepers
Switzerland has no less than three interesting goalkeepers in its squad, all of whom Murat Yakin could field without much of a headache. Yann Sommer and Gregor Kobel are under contract with the two Borussias in the German Bundesliga. Sommer has been a regular goalkeeper at Mönchengladbach for many years, while Kobel is an up-and-coming keeper at BVB who will surely become Switzerland's new No. 1 after Sommer ends his career.
The third keeper in the bunch is former Lucerne and Basel keeper Jonas Omlin, who has guarded Montpellier's goal since summer 2020. Philipp Köhn also secured a ticket to the World Cup in Qatar with strong performances at RB Salzburg.
Yann Sommer has by far the most experience, especially in major competitions such as World and European Championships, which will probably be the deciding factor for the regular spot in the Swiss goal.
GK – Yann Sommer (Borussia Mönchengladbach)
GK – Gregor Kobel (Borussia Dortmund)
GK – Jonas Omlin (HSC Montpellier)
GK – Philipp Köhn (RB Salzburg)

Switzerland center backs
In the central defense, it looks similar to the goalkeepers in terms of club affiliations, except that, as we know, at least two players can start in the center of defense, so there is a place for both Gladbach key player Nico Elvedi and former BVB central defender Manuel Akanji who just moved to Manchester City last summer.
The two defenders should be set as regulars, as they also harmonize excellently. With Fabian Schär, there would be another experienced option, who is currently under contract with Newcastle United.
CB – Manuel Akanji (Borussia Dortmund)
CB – Nico Elvedi (Borussia Mönchengladbach)
CB – Fabian Schär (Newcastle United)
CB – Eray Cömert (Valencia FC)


Switzerland fullbacks
Silvan Widmer came out on top at right back against Kevin Mbabu, who will not be travelling with the team to Qatar.
Ricardo Rodriguez will start on the left side of defence, although he is deployed in central defence at FC Torino.

RB – Silvan Widmer (1.FSV Mainz 05)

LB/CB – Ricardo Rodriguez (FC Torino)


---
---
Switzerland central midfield
There are several options in the defensive midfield position, with captain Granit Xhaka being the main man. Next to him usually Remo Freuler is playing, who works excellently together with Xhaka against the ball and hardly offers the opponent any open spaces.
Xhaka has indicated in interviews that he prefers the 4-2-3-1 formation because the defensive protection works better than in the 4-2-2, which is largely due to his sidekick Freuler.
With Djibril Sow, Denis Zakaria and Fabian Frei, there are several top options for the double-six positions.
On the attacking midfield position, there is not much need for discussion, as Xherdan Shaqiri still holds a regular spot in the Swiss national team, even after his move to Chicago Fire.
DM – Granit Xhaka (Arsenal FC)
DM/CM – Remo Freuler (Nottingham Forest FC)
DM – Fabian Frei (FC Basel)
DM – Denis Zakaria (Juventus Turin)
DM – Ardon Jashari (FC Luzern)
CM – Djibril Sow (Eintracht Frankfurt)
CM – Edimilson Fernandes (1.FSV Mainz 05)
CM – Michel Aebischer (FC Bologna)
CM – Fabian Rieder (BSC Young Boys)
CAM – Xherdan Shaqiri (Chicago Fire)


Switzerland attack
Renato Steffen can expect to be a regular at right attacking wing for the World Cup in Qatar, as he is expected to get preference over Christian Fassnacht. However, he faces a bit of danger from a young talent, as Salzburg's Noah Okafor can also make an appearance as a right winger and would bring a lot of dribble power to the Swiss attack.
On the left wing Ruben Vargas secured his spot.
In the position up front, Breel Embolo should be set, who brings a lot of skills that can be well needed as an attacker. The 25-year-old Monaco striker is very fast, physically strong and has a good technique. However, Embolo often needs many chances to score, which is why his goal scoring average in the national team is also expandable.
---
More options in the forward center are the aforementioned Noah Okafor and Haris Seferovic.
RW – Renato Steffen (VfL Wolfsburg)
RW – Christian Fassnacht (BSC Young Boys)
LW – Ruben Vargas (FC Augsburg)
ST – Breel Embolo (AS Monaco)
ST – Haris Seferovic (Galatsaray)
ST/RW – Noah Okafor (RB Salzburg)

Switzerland competition flair
Switzerland usually do a pretty decent job at major competitions, often advancing to at least the round of 16 at past World Cups and European Championships.
The fact that they rarely reach more is not because Switzerland is not a team of little competition flair, but because the 'Nati' cannot compete in quality with the very greatest teams on the planet.
Still, few teams are likely to be happy when drawn into a group with Switzerland, as the Swiss play very solid football and are anything but easy to beat. The team doesn't have the very biggest stars in the team, but is collectively strong and always well adjusted to the opponent.
Qualifying for World and European Championships has already become normal in Switzerland, so appearances on the world's biggest level don't give the Swiss national players sleepless nights.

---

---
Swiss World Cup history
Switzerland took part in a World Cup for the first time in 1934 and made it to the quarter-finals then, as it did four years later and in 1954, although it must be remembered that the first tournaments also featured fewer teams.
The craziest World Cup game of all time took place in 1954 in the quarterfinal match against Austria, which was lost 5-7 after a 3-0 lead. Austria scored an incredible five goals between the 25th and 34th minutes to turn around this extraordinary match, which also went down in the football history books as the Battle of Lausanne.
Fun fact: At the Stade Olympique de la Pontaise in Lausanne, the teams had to compete in temperatures of around 40 degrees in the shade. Will the players face similar temperatures in Qatar?
Switzerland has never made it to the quarterfinals of a World Cup since 1954, although they did make it to the round of 16 at the 1994, 2006, 2014 and 2018 tournaments.
At the last European Championships, the Swiss put the "round of 16 curse" to rest against the highly favored French and won the penalty shootout against the 1998 and 2018 World Champions after a 3-3 draw.
---
FAQ – Questions and answers about Switzerland at the 2022 World Cup
Are Switzerland in the 2022 World Cup?
Switzerland completed World Cup qualifying for Qatar without defeat, relegating favorites Italy to second place. Murat Yakin and his boys will take part in the 2022 World Cup in Qatar.
Who is the coach of Switzerland at the 2022 World Cup?
The coach of the Swiss national team is Murat Yakin and on August 9, 2021 he replaced Vladimir Petković, who accepted an offer from Girondins Bordeaux. Yakin was an international himself and was capped 49 times for Switzerland, scoring four goals.
Who are Switzerland's stars at the 2022 World Cup?
Unlike many other teams, Switzerland does not have any absolute top stars in its squad for the 2022 World Cup. However, captain Granit Xhaka, who is under contract with Arsenal FC in the Premier League, is the team's best-known player.
Who will Switzerland play against at the 2022 World Cup?
Switzerland will face Brazil, Serbia and Cameroon in the group stage. Brazil is the favorite in Group G, Switzerland and Serbia are on equal footing, while Cameroon is heading to Qatar for the World Cup as an underdog.
How many times has Switzerland been World Cup champion?
Switzerland has never won a World Cup title or reached a World Cup final or semifinal. The three quarterfinal appearances in 1934, 1938 and 1954 were the greatest successes to date.
Who is Switzerland's record national player?
Heinz Hermann played a total of 118 caps for Switzerland between 1978 and 1991, making him the record international of the country. Xherdan Shaqiri and Granit Xhaka each have over a hundred caps and could soon overtake Hermann.
Who is Switzerland's record goalscorer?
Former BVB striker Alex Frei was a goal-scoring star for the Swiss national team, scoring 42 goals in 84 games. The current FC Basel coach doesn't have to worry about his record at the moment, as no active player has scored anywhere near as many goals.